Strava figures show a surge in women cycling in 2020
Women led the charge as this year's uploaded activities boomed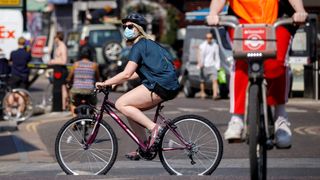 (Image credit: Tolga Akmen / Getty Images)
Strava has released its global figures for 2020, and despite a year of cancelled events and global lockdowns, the number of cycling, running and walking activities uploaded around the world has seen a huge increase. Compared with the same period from 2019, figures have doubled, most noticeably in the UK.
From its nine million UK users, Strava has seen the median number of activities uploaded by women aged between 18 and 29 rise by a massive 108 per cent. On a global scale, from 1.1 billion activities uploaded by 75 million users, the same age group is up 45 per cent year-on-year, while other age categories boomed by 52 and 65 per cent. In contrast, the global rise from men in all age categories only rose by around 10 per cent.
The largest increase coming from the UK can likely be attributed to the slightly lighter restrictions during lockdown that allowed people to go outside for daily exercise.
Simon Klima, Director of International Marketing at Strava, was quoted in The Guardian (opens in new tab) describing the increase as "nothing like we've seen before", and proclaimed that these statistics far surpassed Strava's projections.
He acknowledged the huge role women had to play in this increase and attributed it in part to reduced traffic during the lockdown.
"We've seen a real boost from women in terms of overall activity levels during the pandemic year," Klima explained. "There could be several reasons for that but in the past, our research has found that one of the biggest blocks for women to cycling is a perceived safety risk. But during the pandemic women perhaps felt safer to take to their bicycles, thanks to some temporary infrastructure improvements and quieter roads."
The number of women uploading cycling, running and walking activities wasn't the only thing to surge in 2020. While the huge boost in numbers could largely come down to more people signing up for Strava accounts this year, Klima notes that the data also shows that on average, many of its long-term users significantly increased their activity this year compared to 2019. It shouldn't come as a surprise to most, that indoor cycling boomed as well, thanks to many cyclists taking their training inside during lockdown. The growing popularity of virtual events and competitions has certainly had a part to play in this as well.
Every year Strava releases its Year in Sport report to glean insights into sports trends based on data uploaded that year, and despite the challenges we've all faced this year, it seems that 2020 has certainly not stopped avid pedallers from doing what they do best, and the surge in women riders can only spell out good things for the future of the sport.

Thank you for reading 5 articles in the past 30 days*
Join now for unlimited access
Enjoy your first month for just £1 / $1 / €1
*Read any 5 articles for free in each 30-day period, this automatically resets
After your trial you will be billed £4.99 $7.99 €5.99 per month, cancel anytime. Or sign up for one year for just £49 $79 €59

Join now for unlimited access
Try your first month for just £1 / $1 / €1
The latest race content, interviews, features, reviews and expert buying guides, direct to your inbox!
Mildred joined as Reviews Writer for Cyclingnews and BikePerfect in December 2020. She loves all forms of cycling from long-distance audax to daily errand-running by bike, and does almost everything on two wheels, including moving house, and started out her cycling career working in a bike shop. For the past five years she's volunteered at The Bristol Bike Project as a mechanic and session coordinator, and now sits on its board of directors.
Since then she's gone on to write for a multitude of cycling publications, including Bikeradar, Cycling Plus, Singletrack, Red Bull, Cycling UK and Total Women's Cycling. She's dedicated to providing more coverage of women's specific cycling tech, elevating under-represented voices in the sport, and making cycling more accessible overall.
Height: 156cm (5'2")
Weight: 75kg
Rides: Stayer Groadinger UG, Triban RC520 Women's Disc, Genesis Flyer, Marin Larkspur, Cotic BFe 26, Clandestine custom bike
The latest race content, interviews, features, reviews and expert buying guides, direct to your inbox!
Thank you for signing up to The Pick. You will receive a verification email shortly.
There was a problem. Please refresh the page and try again.