Remco Evenepoel: Roglic has no fear and can take time anywhere
World champion plays down expectations ahead of Giro d'Italia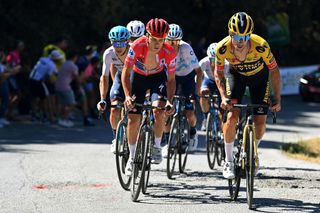 (Image credit: Getty Images)
Despite his own status as perhaps the hottest property in cycling, Remco Evenepoel believes Primož Roglič is the rider to beat at this year's Giro d'Italia, noting that he'll need to be particularly careful of the Slovenian's finishing.
Evenepoel made his breakthrough as a Grand Tour rider in August with victory at the Vuelta a España, breaking a run of three straight titles for Roglič, who crashed out with a shoulder injury in the final week.
The pair will meet again in May at this year's Giro d'Italia and, despite the presence of Geraint Thomas and Aleksandr Vlasov, will form the central rivalry at the Italian Grand Tour.
"At first, I was surprised because the week before they announced he was not going do it, so it was a bit special to read he was going to do it, but I'm very happy Primož is coming to the Giro," Evenepoel told reporters at Soudal-QuickStep's 2023 team presentation.
"I hope he can have a good preparation and has recovered well from his shoulder injuries. I just hope everyone can be in top shape and that it can be a very nice competition on a very hard course."
Asked if Roglič was the man to beat, Evenepoel added: "Of course, why not? He has more experience in Grand Tours than I do. He did the Giro already, finished third, and is still Primož Roglič, a triple Vuelta winner who has stood on the podium of multiple Grand Tours.
"Just looking at his palmarès, he'll be the best Grand Tour rider in the Giro next year. It'll be nice to race against him."
The Vuelta marked the first turn battle between Evenepoel and Roglič, and there was a sense of unfinished business. The young Belgian hit out early, dominating the first summit finish before taking full control in the mid-race time trial. Roglič, who'd abandoned injured from the Tour de France, began to make inroads in the second week, and it would have been fascinating to see how far he would have pushed Evenepoel in the final week.
Although their battle was cut short, Evenepoel had already learned a lot about the Jumbo-Visma rider.
"That he has no fear. He really wants to take the risks to take some time, and he can do it on every kind of finish - punchy finish, uphill finish, even flat finish. He's very strong and has a good sprint.
"He can take time everywhere, whenever he wants. That's something he we need to be careful of."
Despite bracing himself for a dust-up with Roglič, Evenepoel played down his status as a contender for the overall title at the Giro. It might seem doubly strange given that the World Championship and Liège-Bastogne-Liège were among his other 2022 conquests - and given he won them with virtuoso solos - but Evenepoel appears keen to calm the expectations that come with the rainbow jersey and especially with being the first Belgian Grand Tour winner in a generation.
"The main goal is a stage win, then the main pressure is off," Evenepoel said. "The GC you can never predict. You can have bad luck, a wrong moment, a bad day, get sick, but if you finished with a stage win, you still have a good Grand Tour.
"The goal can maybe be top-10," he added surprisingly, before slowly shifting his aim upward: "Or top-five, or the podium... then to win is a dream, but we begin with a stage win."
Besides, Evenepoel pointed out that the Giro isn't the be-all and end-all. There was clamour for him to take the rainbow jersey to the Tour de France in 2023, but his debut there will have to wait until 2024, at which point he will still be only 24 with years of Grand Tour contention ahead of him.
"The Giro is a new step in our career, a new experience, as a team as well," he said, with Soudal QuickStep having traditionally focused on sprinting and the Classics and a climbing unit still under construction.
"It's a big objective of mine for this year, but for sure, it's also the goal to take experience for the future as well."
In that respect, Evenepoel will hope the Giro provides confirmation of the formula that worked so well last summer, with a 'race-light, altitude-heavy' build-up already baked into his 2023 schedule.
"Everything was really clear for us after the Vuelta. What is good is we found the perfect balance between weight, power, food," Evenepoel said.
"I think we cannot expect any surprises anymore, talking about the preparation, so that's a relaxing feeling a few months before the Giro."

Thank you for reading 5 articles in the past 30 days*
Join now for unlimited access
Enjoy your first month for just £1 / $1 / €1
*Read any 5 articles for free in each 30-day period, this automatically resets
After your trial you will be billed £4.99 $7.99 €5.99 per month, cancel anytime. Or sign up for one year for just £49 $79 €59

Join now for unlimited access
Try your first month for just £1 / $1 / €1