On the start line at Flèche-Wallonne
The Classics return to Belgium
Image 1 of 56
Image 2 of 56
Image 3 of 56
Image 4 of 56
Image 5 of 56
Image 6 of 56
Image 7 of 56
Image 8 of 56
Image 9 of 56
Image 10 of 56
Image 11 of 56
Image 12 of 56
Image 13 of 56
Image 14 of 56
Image 15 of 56
Image 16 of 56
Image 17 of 56
Image 18 of 56
Image 19 of 56
Image 20 of 56
Image 21 of 56
Image 22 of 56
Image 23 of 56
Image 24 of 56
Image 25 of 56
Image 26 of 56
Image 27 of 56
Image 28 of 56
Image 29 of 56
Image 30 of 56
Image 31 of 56
Image 32 of 56
Image 33 of 56
Image 34 of 56
Image 35 of 56
Image 36 of 56
Image 37 of 56
Image 38 of 56
Image 39 of 56
Image 40 of 56
Image 41 of 56
Image 42 of 56
Image 43 of 56
Image 44 of 56
Image 45 of 56
Image 46 of 56
Image 47 of 56
Image 48 of 56
Image 49 of 56
Image 50 of 56
Image 51 of 56
Image 52 of 56
Image 53 of 56
Image 54 of 56
Image 55 of 56
Image 56 of 56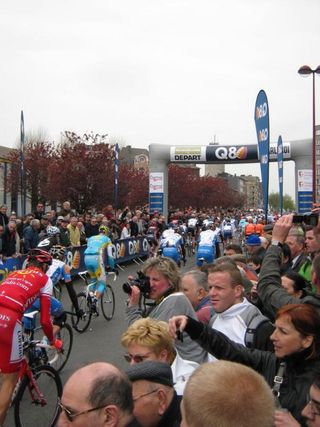 The 197-rider peloton gathered in Charleroi for the start of the 74th Fleche Wallonne on Wednesday as the Classics shift back into Belgium for the first time in a fortnight following Paris-Roubaix and t It was appropriate that the race began just south of the home of the European Union (Brussels) as Spain's cycling stars attracted the most attention at the start of the French-organised, Belgian race.
The commotion at the start caused by the presence of Alberto Contador (Astana) was matched only by the cheers that rang out as Amstel Gold Race winner Philippe Gilbert (Omega Pharma-Lotto) strode onto the stage. Held in the Walloon region of Belgium, Fleche and Sunday's Liege-Bastogne-Liege form a home-coming for the 27-year-old Wallonne cycling star. World champion Cadel Evans (BMC) was also popular, as was Andy Schleck (Saxo Bank) and was another local hero Maxime Monfort (HTC-Columbia).
Amstel's start list was severely impacted by the effects of the Icelandic volcano, but with teams and riders adapting to current travel restrictions, most of the scheduled field was able to get the race underway just before 11:30a.m. CET. Some of the Cofidis riders who competed in Turkey failed to make it and Oscar Freire (Rabobank) and Marco Pinotti (HTC-Columbia) stayed on after Amstel Gold Race to complete their rosters. Bradley Wiggins was on hand to ensure that Team Sky commenced the race with their full list of eight riders. Sky were one of the teams most representative of the shift in rosters that occurs at this time of the year, with Wiggins, Thomas Lövkvist, Steve Cummings and Chris Froome all starting their first major Classic of the season.
While team selections had been adapted for the Ardennes, so had the gear selections of the riders in the field. Philippe Gilbert was obviously feeling strong as he opted for a 41/25 low-range combination, while his former teammate and World Champion Cadel Evans (BMC Racing Team) had preferenced a more conventional 39/25. The BMC mechanic told Cyclingnews that some of the less experienced members of the team would be running 39/27 to cope with the 9.3 per cent gradient of the Mur de Huy. We will find out who had the right gear selection and the legs to turn it later today.
Cyclingnews' live coverage of the race has already began from atop the Mur de Huy and there will be full coverage and interviews after the race.
Cyclingnews Newsletter
Sign up to the Cyclingnews Newsletter. You can unsubscribe at any time. For more information about how to do this, and how we hold your data, please see our privacy policy