New cycling training app connects power and recovery data to tell you when to train
Data from Whoop, Zwift, Garmin and more are laid over a traditional training plan to help you hit your goals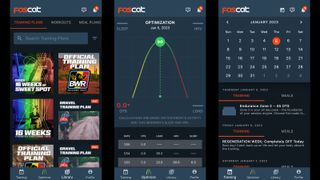 (Image credit: Future)
It's well known that the adaptation to training stimulus only occurs during the subsequent rest and recovery period. Therefore if done correctly, combining training data with recovery data has the potential to revolutionize the way athletes train. However, despite recovery apps such as Whoop having been around for more than a decade already, the integration of this data with training platforms is still in its infantry. Training Peaks overlays the data into its PMC (Performance Management Chart), it has been suggested as a 'coming soon' feature by Wahoo Systm and considered by TrainerRoad as a possible future development.
However, now, little-known American cycling training company FasCat Coaching has an app that takes the data and turns it into a simple view that helps its users decide when to train and when to take it easy. It's called FasCat, with the key feature being known as 'Optimize', and it is the brainchild of pioneering sports scientist Frank Overton.
Overton has been a cycling coach for 20 years. In the early 2000s, he worked alongside Dr Andrew Coggan to create terminology that is now commonly used worldwide, including the aforementioned PMC, as well as TSS (Training Stress Score) and others. In 2005, he invented - or perhaps more accurately, defined - Sweet Spot training, which involves training at the top of zone three, around 86-95% of FTP (Functional Threshold Power). He has previously worked with the USA Cycling national team and currently works with the Human Powered Health women's team.
The FasCat app can be paired with data from Whoop and Oura, the leading products that track health metrics such as heart rate variability to assign a 'Recovery' score. We're told Apple Watch support is in the pipeline too. It can also pair with Zwift, Wahoo, and Garmin to pull in training data from power meters or indoor trainers. The app then aggregates the data from both sides and calculates an 'OTS' or Optimized Training Score, as well as an 'Optimization' graphic that shows whether you are overtraining, training optimally, or could train harder. This takes the form of a needle on a dial, not unlike the rev counter on a car, and transitions from yellow (too easy) through green (optimal) into red (overtraining).
In an exclusive conversation with Cyclingnews, Overton confirmed that the app is already being put into practice in his position at Human Powered Health, and the actions and data it provides are being used to not only adjust the intensity of their riders' training but will also be used to decide which riders to take to which races in the coming season.
The app, which launched late in 2022, is priced at $34.99 per month as an ongoing subscription to the FasCat training program. This gives users access to the company's library of training plans and workouts, as well as meal plans, recipes and suggestions for off-bike strength and conditioning work.

Thank you for reading 5 articles in the past 30 days*
Join now for unlimited access
Enjoy your first month for just £1 / $1 / €1
*Read any 5 articles for free in each 30-day period, this automatically resets
After your trial you will be billed £4.99 $7.99 €5.99 per month, cancel anytime. Or sign up for one year for just £49 $79 €59

Join now for unlimited access
Try your first month for just £1 / $1 / €1
Get The Leadout Newsletter
The latest race content, interviews, features, reviews and expert buying guides, direct to your inbox!
As the Tech Editor here at Cyclingnews, Josh leads on content relating to all-things tech, including bikes, kit and components in order to cover product launches and curate our world-class buying guides, reviews and deals. Alongside this, his love for WorldTour racing and eagle eyes mean he's often breaking tech stories from the pro peloton too.
On the bike, 30-year-old Josh has been riding and racing since his early teens. He started out racing cross country when 26-inch wheels and triple chainsets were still mainstream, but he found favour in road racing in his early 20s and has never looked back. He's always training for the next big event and is keen to get his hands on the newest tech to help. He enjoys a good long ride on road or gravel, but he's most alive when he's elbow-to-elbow in a local criterium.
Get The Leadout Newsletter
The latest race content, interviews, features, reviews and expert buying guides, direct to your inbox!
Thank you for signing up to The Pick. You will receive a verification email shortly.
There was a problem. Please refresh the page and try again.