Mikkel Honoré the victim of a hit-and-run incident while training
Deceuninck-QuickStep rider released from hospital with no severe injuries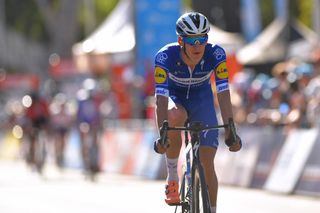 (Image credit: Getty Images)
Mikkel Honorè (Deceuninck-QuickStep) was the victim of a hit-and-run incident with a vehicle while training on Thursday, his team announced. The 23-year-old Danish rider was released from hospital with bruises and abrasions, but no serious injuries.
"Unfortunately, [Mikkel Honore] was the victim of a hit & run while training today. After being transported to the emergency room, he underwent several scans and investigations, which thankfully were normal, so he was released from the emergency room a few hours later," the team wrote on the official Deceuninck-QuickStep Twitter account.
Deceuninck-QuickStep confirmed that Honoré will take several days off the bike to recover from the incident before resuming training.
"Mikkel has a lot of muscle soreness and some scratches. He will rest for a few days before getting back on the bike. Let's all wish him a speedy recovery!"
Honore signed a two-year contract to join the Quick-Step Floors team at the end of 2018, after spending two months with the team as a stagiaire. He is currently in his second year with the successful WorldTour outfit.
He commented Thursday evening on social media that he was feeling fortunate to have no serious injuries.
"I was on a training ride when I was hit by a car that subsequently drove off. I feel that it must be time for a change and more attention on safety, so that we can all be better at sharing these beautiful roads, which I'm so lucky to be able to call my office. Can't thank Alice Gasparini (who races for Eurotarget - Bianchi - Vittoria -ed) enough for helping me after the incident."
Unfortunately, @MikkelHonore was the victim of a hit & run while training today. After being transported to the emergency room, he underwent several scans and investigations, which thankfully were normal, so he was released from the emergency room a few hours later. pic.twitter.com/faAewbNf1oJanuary 23, 2020
Cyclingnews Newsletter
Sign up to the Cyclingnews Newsletter. You can unsubscribe at any time. For more information about how to do this, and how we hold your data, please see our privacy policy