Coronavirus: Dirty Kanza postponed from May 30 to September 12
By Cyclingnews
4000 riders given options of new date, deferral to 2021 or a refund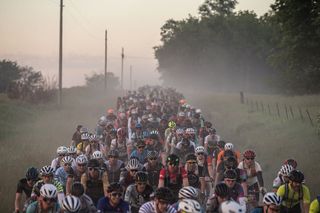 (Image credit: Wil Matthews)
The Garmin Dirty Kanza 200 gravel race has been postponed from May 30 to September 12 because of the uncertainty and the impact of the ongoing coronavirus pandemic. Cycling is still permitted outdoors in the USA but most events have been cancelled or postponed.
The Kansas race has become one of the biggest and most testing gravel races, attracting both professional riders and thousands of others looking for a personal challenge on dirt roads around the city of Emporia.
Colin Strickland won the men's race last year with a long-range attack, while Amity Rockwell won the women's race after being part of the two lead groups that broke ahead after 64 kilometres of racing.
Race owner Life Time announced the schedule change on Sunday evening, offering the 4,000 riders registered for the 2020 event the option of racing in September, deferring their ride until the 2021 edition of the race, or accepting a refund.
"The entire Dirty Kanza team has been working around the clock in order to make the best and most prudent decision for all of our athletes, volunteers, sponsors, vendors and the members of the Emporia community," the organisers said, giving further information in a series of Questions and Answers.
"It is with everyone's health and safety in mind that we are postponing the Garmin Dirty Kanza and Garmin Dirty Kanza XL presented by Salsa and moving the 2020 event to September 10th – 13th, with race day being Saturday, September 12th. It is our hope that we can all continue doing our part to 'flatten the curve' and can bring you all to Emporia in the fall. We will continue to work with local and regional health officials, as we have been doing, to monitor this ongoing situation.
"The decision to postpone has not been made lightly, and we understand that you will undoubtedly have questions. As always, we are here for you and want to make this transition as smooth as possible. We ask for your patience and grace as we all navigate these challenging times together."
Race co-founder Jim Cummins and the Dirty Kanza staff revealed they talked to several other organisers as dates in September became crowded with postponed events from the spring and summer.
Dirty Kanza's new date on the calendar is the week after Rebecca's Private Idaho event on September 3-6 and it falls on the same day as Grinduro California. The Pony Express 120 event in nearby Marysville, Kansas has agreed to move its date to October 17.
Sign up to the Cyclingnews Newsletter. You can unsubscribe at any time. For more information about how to do this, and how we hold your data, please see our privacy policy
Thank you for signing up to Cycling News. You will receive a verification email shortly.
There was a problem. Please refresh the page and try again.