Cooke: heading for the bullseye in Beijing
Nicole Cooke is one of cycling's outstanding talents, but a lack of victories in World Championships...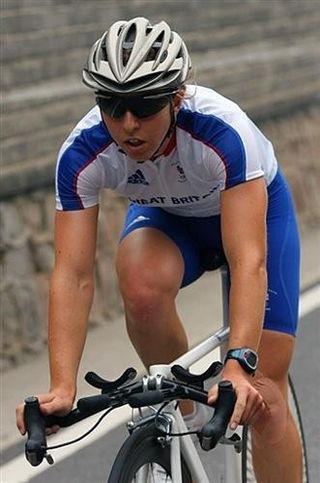 Nicole Cooke is one of cycling's outstanding talents, but a lack of victories in World Championships and Olympic Games leave a hole in the young Welshwoman's palmares, one that she is determined to fill. Cyclingnews' Ben Atkins has been following the British champion's progress on the way to this weekend's big showdown.
Nicole Cooke has had a plan this year: to win gold in the Olympic road race in Beijing. Balked at being denied the opportunity to go to Sydney in 2000 because of her then tender age of 17, she set out for Athens even more determined than usual. Fifth place from the group behind the winning move of Sara Carrigan and Judith Arndt could have been seen as a success by many, but it merely spurred Cooke on to make sure everything was right going into the race this time.
The plan for this season has been for Cooke to focus entirely on arriving in Beijing in her best possible condition, with the best team at her disposal. But what is it about the Olympic games that puts it so far above all the other races in the women's peloton? "Well, I think, probably as you saw at the Tour de l'Aude [where Cooke raced in May with her Great Britain team]," said Cooke, "even the prestigious stage races and races outside of the Olympics and the World Championships, they are prestigious and very competitive, but nothing in terms of the World's media that the Olympics gets.
"There's that," she continued, "and also the Olympics is the Olympics and I think definitely in women's cycling everyone wants to be on top form to try and win that race."
As well as getting Cooke's own form right, the second part of the plan has been to construct a Great Britain team that is powerful enough to support her; something that has been lacking in past championships. To this end, the Halfords-Bikehut team was created, incorporating much of the national federation in what British Cycling's performance director David Brailsford has referred to as a "Pro-Nat" set up. Because of its close ties to the national federation the team has been able to race under the Great Britain colours, drafting in Olympic team member Emma Pooley from the Specialized Designs for Women team to allow her and Cooke to race together.
"I think it's all about getting more experience together really," Cooke explained, "just spending time together training and racing, which we have been doing. It's not really so much them working for me, but us all working together, because as a team everyone will achieve more than if we go as individuals. I think that's really our mentality and approach. It's better to have a strong team that's united and strong tactics."
Cyclingnews Newsletter
Sign up to the Cyclingnews Newsletter. You can unsubscribe at any time. For more information about how to do this, and how we hold your data, please see our privacy policy