Eurobike 2019: Roundup, more tech, and the weird and wonderful
By Josh Croxton
Eurobike roundup, even more tech, and the odd findings at Eurobike 2019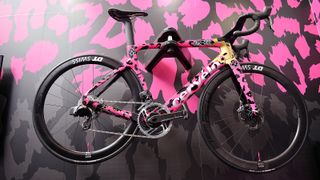 (Image credit: Josh Croxton)
Cyclingnews' time at Eurobike 2019 has now come to a close, the Eurobike blues are setting in and we're looking back fondly to our week in Friedrichshafen.
Yes, the days are gone where every major bike brand would launch their entire product range at the show, but Eurobike is still a launchpad for myriad manufacturers, who showcase their best bits and most recent releases.
This lack of routine opens the doors to varying trends at each edition of Eurobike, with 2019 being the year of the following three.
Eurobike 2019 saw the rise of the e-bike. Every corner of every hall featured more batteries than the Duracell Bunny's Christmas list. The Bianchi stand featured an enormous revolving carousel dedicated to their new e-MTB range, Park Tools got in on the act, launching an e-bike-specific chain cleaner, and Look launched a number of battery powered bikes, including a gravel-specific e-bike
Talking of gravel, this subsection of cycling can no longer be considered a niche. More people are riding gravel bikes than ever before, most bike brands offer a gravel-specific model, and Shimano are leading the trend with their GRX groupset, gravel race shoes, and gravel-focussed components such as handlebars and dropper posts.
Thirdly, we've all heard that #OutsideIsFree, but at Eurobike 2019, we learned that inside can be rather expensive if you want all the bells and whistles, however, there are definitely options for every budget. There's a huge demand for indoor cycling, and that was demonstrated by the vast quantity of indoor trainers on show. We reported on the launch of the Wahoo KICKR BIKE, but we also saw the Tacx NEO Bike Smart, the SRM Smart IT, and hundreds of turbo trainers to suit all budgets. Zwift launched in-game steering as well as the recreating the Yorkshire course ahead of the UCI World Championships.
Even more tech
With over 1400 exhibitors at Eurobike 2019, it's unsurprising that we missed a few things in our first Eurobike tech gallery, compiled after day two. Here, in our second Eurobike tech gallery, we bring you even more tech from our final day in Friedrichshafen.
Image 1 of 18
Image 2 of 18
Image 3 of 18
Image 4 of 18
Image 5 of 18
Image 6 of 18
Image 7 of 18
Image 8 of 18
Image 9 of 18
Image 10 of 18
Image 11 of 18
Image 12 of 18
Image 13 of 18
Image 14 of 18
Image 15 of 18
Image 16 of 18
Image 17 of 18
Image 18 of 18
Weird and wonderful
Throughout our time in Friedrichshafen, situated adjacent to the picturesque body of water that is Lake Constance, Cyclingnews encountered some of the most innovative, forward-thinking technology currently available in the cycling industry. However, there were a few items that stood out for a different reason. Some simply due to their extravagant paintwork, others due to material choice, and a particular bike that simply put function over form in the bid to be the fastest. Check out our weird-and-wonderful gallery below.
Image 1 of 10
Image 2 of 10
Image 3 of 10
Image 4 of 10
Image 5 of 10
Image 6 of 10
Image 7 of 10
Image 8 of 10
Image 9 of 10
Image 10 of 10

Thank you for reading 5 articles this month* Join now for unlimited access
Enjoy your first month for just £1 / $1 / €1
*Read 5 free articles per month without a subscription

Join now for unlimited access
Try your first month for just £1 / $1 / €1
Josh has been with us as Senior Tech Writer since the summer of 2019 and throughout that time he's covered everything from buyer's guides and deals to the latest tech news and reviews. On the bike, Josh has been riding and racing for over 15 years. He started out racing cross country in his teens back when 26-inch wheels and triple chainsets were still mainstream, but he found favour in road racing in his early 20s, racing at a local and national level for Team Tor 2000. He's always keen to get his hands on the newest tech, and while he enjoys a good long road race, he's much more at home in a local criterium.
Sign up to the Cyclingnews Newsletter. You can unsubscribe at any time. For more information about how to do this, and how we hold your data, please see our privacy policy
Thank you for signing up to Cycling News. You will receive a verification email shortly.
There was a problem. Please refresh the page and try again.