Best cycling backpacks
Get your laptop, clothes and lunch to work and back safely with one of the best cycling backpacks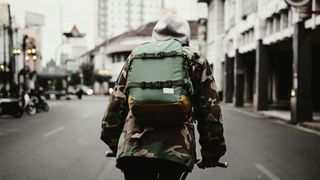 (Image credit: Andhika Soreng via Unsplash)
As cyclists, we often get hung up on things like frame weight, wheel depth, tyre width and power transfer, and we often forget that bikes are a really great way to get around. 
Getting some fresh air, avoiding packed trains and buses, and spending less time cooped up in a single-occupancy vehicle is good for the environment and even better for your physical and mental health.
One of the hurdles to this has always been transporting your belongings but with our guide to the best cycling backpacks, you can safely and securely transport yourself and your lunch to work, the shops, or anywhere else you need to go. Then once you arrive, our guide to the best bike locks will keep your steed safe while you go about your day.
Even with all the craziness in the world at the moment, travelling by bike is a fantastic way to get around. Just make sure you follow all social-distancing regulations to the letter. 
 How big? 
Backpacks come in all shapes and sizes, and how big you need will depend largely on where you're headed. If you just need somewhere to put your change of clothes, a smaller, lighter bag will suffice, while if you're carrying a laptop, lunch, spare clothes, shoes and equipment you'll use throughout your day, a bigger bag with a hip belt might be better.
We've found that somewhere between 20L and 30L seems to be about right. If you need something bigger, you're either a bike messenger or need to re-evaluate what you're bringing along on your commute.
Keep in mind that some features, like suspended mesh-back panels, or padded sleeves, may slightly reduce the overall capacity of your bag, or make larger items an awkward fit.
 What are you carrying?
A lot of bike commuters nowadays will have a laptop with them, and, if this is you, look for a bag that has a padded inner sleeve to keep it safe. Do you need to change into a pressed, wrinkle-free shirt when you arrive at your destination, or is your work attire a t-shirt and jeans? Bags with a larger main compartment will leave your clothes less crushed when you arrive at your destination.
A 90 percent chance of rain?
Do you live in Miami, Florida or Jackson, Wyoming? If the former, waterproofing can be a crucial factor you won't want to go without, while a removable rain cover would suffice for the latter. Still, you'll want something that prioritises airflow between your body and the bag, like a suspended mesh back.
Think about the harness
A backpack or messenger bag that digs into your shoulders when it's loaded up with your essentials is not going to make commuting by bike an enjoyable experience, so take a good look at the harness. 
At the very least, well-padded straps and a sternum strap will help to balance the bag on your back, while a waist strap will further stabilize the load and allow you to move some of the weight off your shoulders.
Sign up to the Cyclingnews Newsletter. You can unsubscribe at any time. For more information about how to do this, and how we hold your data, please see our privacy policy
Thank you for signing up to Cycling News. You will receive a verification email shortly.
There was a problem. Please refresh the page and try again.