Best women's bike shorts
Find the most comfortable women's bike shorts with our roundup of the best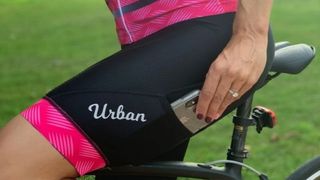 (Image credit: Urban Cycling Apparel)
The saddle is easily the most crucial of the three contact points between your body and your bike. It carries your weight for the majority of the time you spend on two wheels, which means choosing between good and bad bike shorts can make all the difference. A badly fitting pair can ruin even the shortest of rides, whereas the best bike shorts spells out hours of comfortable riding.
While it's important to have a well-designed chamois for improved comfort, it needs to be supported by quality materials constructed and cut specifically to keep everything in its place. That means no uncomfortable bunching, no restrictions to your movement while cycling, and no chafing or saddle sores.
Generally when choosing the best pair of bike shorts, your first decision will be whether you opt for waist shorts or bib shorts. Bib shorts are undeniably the best for comfort and performance, however waist shorts can make toilet breaks much more of a breeze. It's all down to personal choice, so we've included a mixture of the two in this list.
Chamois
Everyone's anatomy is different, so advising on the best chamois can been difficult. However, there are certain considerations you can take to help narrow your options down. It should fit close to the body, with the key areas of padding located in your sit bone area while in a riding position.
It's not just the thickness that will indicate comfort, but also the size and shape. Thicker endurance-focussed pads will place padding towards the rear of the chamois, allowing for a more upright position. Conversely, race-designed chamois will have more padding in the front to cater for an aggressive riding position.
Perforations and channels in the pad improve airflow and breathability to reduce heat and moisture build-up which can cause chafing. The use of antibacterial treatments keeps your shorts feeling fresh.
Material and straps
The best chamois in the world is no good if it doesn't stay in place while you're riding. Good bike shorts will have specifically shaped panels that allow structure and stretch to be focussed where it's most needed to achieve a close fit. This will also offer muscle compression and strategically place certain materials in key areas to maximise on their specific properties. For example, some panels benefit from being more breathable while other parts need to be hard-wearing.
Consider the properties of materials used when choosing a pair of bike shorts. Some provide protection in cold and wet conditions, while perforated mesh materials maximise cooling airflow on hot days. Materials can even be designed with dimpled surfaces to disrupt airflow for improved aerodynamics. If you are a year-round rider, it's worth investing in a couple of different bib shorts to suit a wide range of conditions.
High-end shorts will often feature flat-lock stitching: flat seams that offer a smooth transition between panels of fabric. This can reduce discomfort as well as aid aerodynamics.
When it comes to bike shorts, waist shorts are available, but bib shorts are more popular as they don't have a thick waistband that can dig in when riding, and even more importantly, they can't ride down and leave a gap between the top of your shorts and the bottom of your jersey. Instead, shoulder straps are used to hold the top of the shorts in place and keep the chamois in the correct position. These straps need to be stretchy, wide and ventilated to stop any pressure or irritation.
Extra features
Depending on your style of riding, there may be other features that appeal to you. Some shorts will feature pockets, which are extremely useful when you're riding all day and need to have snacks readily available without stopping. If you ride in warmer weather a lot of the time, it's also worth considering how much UV protection the fabrics offer to protect your skin from sunburn.
Specifically for women, it's important to think about bathroom breaks. If you're likely to be out riding in the middle of nowhere for long periods of time, you may well find yourself needing some time in the bushes, and that is where bib shorts can prove to be difficult. There are a lot of different styles of bib short straps available these days, and many of them are designed to make this easier. Look for bibs with magnetic clasps, halter necks or even zippered openings so you can quickly pee without having to get fully undressed.
Sign up to the Cyclingnews Newsletter. You can unsubscribe at any time. For more information about how to do this, and how we hold your data, please see our privacy policy
Thank you for signing up to Cycling News. You will receive a verification email shortly.
There was a problem. Please refresh the page and try again.