Best bike mirrors
Stay aware of what's behind you, with our pick of the best bike mirrors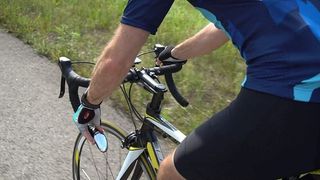 (Image credit: SprinTech)
Bike mirrors can be extremely useful to any cyclist who wants to monitor the traffic around them without having to constantly turn their head. Head turning can not only take a little longer than a quick mirror glance, but it can also potentially be hazardous if it results in losing control and swerving your bike out into traffic. If this is you, having a rear-view mirror can really help.
While they're mostly designed to be used by commuters, bike mirrors can be helpful in most cycling situations, particularly for road cyclists and cycle touring. However, there are so many different types of mirror on the market, how do you choose the best one for you?
That's where we come in. Here's our breakdown of all the things you should consider before investing, followed by our pick of the best bike mirrors available.
Type
Bike mirrors come in different guises, from handlebar-mounted mirrors, to mirrors that attach to your helmet or eyewear. When deciding which to go for, consider your riding habits and personal preferences.
Handlebar mirrors are a great option if you don't often leave your bike unattended because they're quite easy for opportunists to remove. Helmet and eyewear-mounted mirrors on the other hand are easy to carry with you, so you don't need to worry about leaving them vulnerable to theft. However, they do take getting used to.
Handlebar mirrors
These are the most common type of bike mirror, and they look very similar to the wing-mirrors you would find on a motorcycle. They're the easiest for most cyclists to use, because being mounted on the handlebar means you can achieve the perfect 'wing-mirror' view angle. They're also larger than helmet or eyewear mirrors, so you can see more of what's going on behind you.
It's worth bearing in mind that mounting handlebar mirrors to your bike will widen its width, making it slightly more difficult to fit through narrow spaces you may already be used to, as well as filtering through traffic.
Helmet mirrors
These smaller types of mirrors attach to either your helmet visor or your cycling glasses, keeping the lens in front of your eyes the whole time. This means less looking away from the road, as you only need to take a very quick glance. These mirrors are easy to mount, and generally most models will fit universally on all helmets or eyewear. Helmet-mounted mirrors tend to be better than eyewear ones, as they're not placed too close to your eyes. Eyewear mirrors, when used very frequently, can cause headaches, and this is important to consider when making your choice.
One great advantage of these, however, is that you can use them with any bike you ride, whereas handlebar mirrors will need to be detached and reattached if you tend to swap between multiple bikes. They're also very easy to store when not in use.
Materials
It's important to choose a mirror made from sturdy and reliable materials, since it will absorb some of the road vibrations as you ride. Some are made from plastic, while other more expensive models are made of carbon fiber. This is the best of the two if your budget allows, as it's the most durable. In the case of helmet or eyewear mirrors, look for one where the rod is made from a durable material like steel.
Also, consider the material of the lens itself. In some cases, they're made from plastic or resin, which can get scratched easily, and even lose their clarity over time. Opt for a lens made of glass, which will maintain its properties for much longer.
Shape
Bike mirrors generally come in three shapes: circular, oval, and rectangular. These will largely affect the size of the field of view they provide. Eyewear and helmet-mounted mirrors will most likely use a round mirror because the field of view it offers is very small. As an advantage, however, this also means it will weigh less.
Oval mirrors are the most commonly used, and you'll find them on both helmet-mounted and handlebar-mounted mirrors. They offer a much wider field of vision, which means you'll get a much better view of what's going on in the street behind you. Rectangular mirrors are less common these days, but they offer the largest field of vision. They will still sometimes be used for handlebar or helmet mirrors.
Sign up to the Cyclingnews Newsletter. You can unsubscribe at any time. For more information about how to do this, and how we hold your data, please see our privacy policy
Thank you for signing up to Cycling News. You will receive a verification email shortly.
There was a problem. Please refresh the page and try again.