Best bike cleaning products
Keep your bike looking shiny and new with our pick of the best bike cleaning products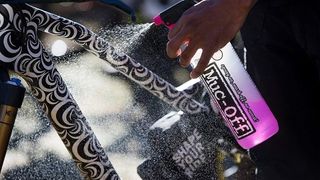 (Image credit: Muc-Off)
The most effective way of keeping your bike running correctly and safely all year long, is to keep it clean. Dirty components will wear out more quickly, so keeping everything shiny will extend the life span of your bike and its parts.
Of course, there's a huge array of bike cleaning products on the market, and it can be overwhelming when you're not sure what you need. To make things as simple as possible, we've provided a guide on all the things you need to give your grubby bike a new lease of life, along with a list of our recommended products.
Bike cleaning spray
First off, wet the bike and then apply a cleaning spray. This will be a diluted cleaning solution that can cut through mud and grime without harming the more delicate parts of your bike. Spray it all over the bike and leave for a few minutes, so it can work its magic. When you're ready, rinse or wipe it off. Most dirt should lift off with one treatment, though you may want to employ some extra tools for stubborn grime.
Bucket, hosepipe and sponge
It's very simple, but very effective. Once your bike is covered in cleaning spray, you're going to need some water to wash it off with, whether you opt for the latest and greatest pressure washer, or a good old-fashioned sponge and bucket.
Soak the bike well, and try to loosen any dirt that's stuck in place. Give it a good cleaning all over, and then refill the bucket with fresh water and go in for a second round. This will help get rid of any leftover residue from your cleaning products.
Brushes
Brushes can be really useful for removing the extra-stubborn mud that just won't budge. They come in a variety of bristle strengths, from soft to stiff, and each has its own job to do. For this reason it's better to buy a complete kit, ideally one that contains brushes of varying shapes and bristle texture.
Degreaser
Unfortunately soap and water can only do so much. For the oily parts of your bike, you'll need a good degreaser to break down grease and grime from your drivetrain and cassette. This is especially important because these are the most wearable parts of the bike, which can cost a fair amount to replace in one go. The presence of dirt in the drivetrain can accelerate the wearing down of the transmission, as well as reduce efficiency and impact your shifting performance.
Bike polish
Finally, when your bike is glistening like new, it's time to add some protective polish, ideally one that contains a moisture dispersant and PTFE (which is like Teflon). This will work to repel water from the bike, which prevents rust and corrosion, as well as giving it a shiny finish. That shine isn't just about making the bike look good, it keeps it cleaner for longer, because dirt has a hard time sticking to the PTFE (just like a non-stick Teflon frying pan).
As a final note, it's best to remove your wheels before you apply the polish, and be careful when spraying around brakes. The last thing you want is to contaminate your brake pads and make the bike unsafe.
Sign up to the Cyclingnews Newsletter. You can unsubscribe at any time. For more information about how to do this, and how we hold your data, please see our privacy policy
Thank you for signing up to Cycling News. You will receive a verification email shortly.
There was a problem. Please refresh the page and try again.