Paris-Roubaix 2018
April 8, 2018, Compiègne, France, Road - WorldTour
Refresh
Hello and welcome to Cyclingnews' complete race coverage of Paris-Roubaix.


For the very latest updates, please refresh your browser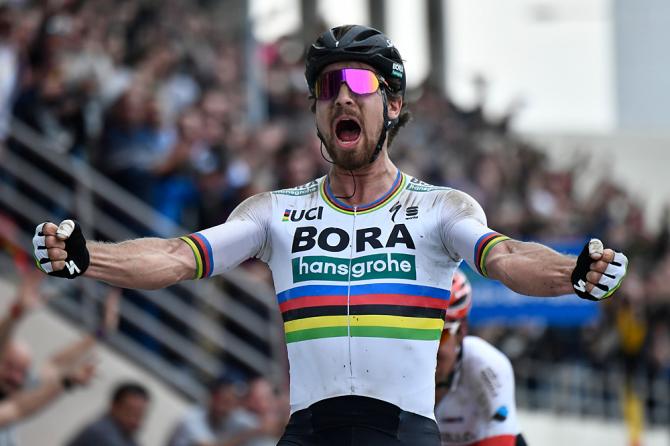 A very good morning to all our readers. We're in the French town of Compiègne for the start of the biggest one-day race of the year. It's Paris-Roubaix.
The riders are currently signing on, and we're around 55 minutes away from the official roll out. We'll be bringing you minute-by-minute coverage of the entire race, so sit back and enjoy the race.
A few things before we get started. At the top of the page you'll find all our quick-links to all the important pages, like our start list, run-down on contenders, main features, and route details. On the right hand side you'll find the complete list of pave sectors, and their rating in terms of difficulty. One * means easier, while ***** are reserved for the most difficult sectors. To help, I've highlighted in bold some of the key sectors. You're welcome.

@Cyclingnewsfeed Sun, 8th Apr 2018 08:09:01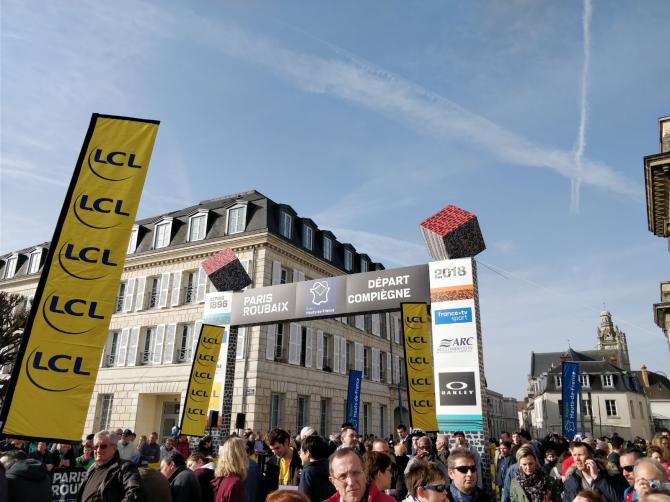 Around 45 minutes until we head out from the start, and in terms of weather, we've blue skies with a bit of cloud cover. The forecast for later is that there might be some rain. We've not had a truly wet Roubaix since 2002, and while some of the sectors will be muddy, the majority should be dry, if the rain holds off. We'll bring you more on the conditions later on.
Teams are signing on at the moment and we've had Suweb and Mitchelton in the last few minutes. BMC Racing, and Bora are yet to appear but they'll be off their respective buses soon. The biggest crowds surround the Bora bus - for Sagan obviously - and Quick-Step Floors who have utterly dominated the Spring season so far. Can any stem the tide today? We'll find out. Lets hear from the defending champion, shall we.
Greg van Avermaet:
Van Avermaet has not had that same zip this year, but he's still a genuine contender for the win today. He also had this to say last night.
"I think that sprint and punch are the same. If I have to sprint on the climbs then I can do it," Van Avermaet explained. "I think I'm strong enough, but I think that there are more guys focusing on me and not helping me to go. That is what has made the difference. I go a few metres, a bloc, and then they stop racing. That's how it goes and then we have a counter from Quick-Step. It's hard because they have three cards to play and most of the time I have one. That's how I get in a bad situation afterwards."
You can read the full story on Van Avermaet's thoughts, right here.
Peter Sagan:
Sagan has never won this race, he's never even made the podium and with only one Monument to his name, many fell that he's so far fallen short in the Classics. He has a chance today, but can he take on Quick-Step? Can he handle the cobbles? If you'd like a decent assessment of his chances, then read this story.

And Bahrain have just signed on. Haussler is the best chance for a top-ten result but also watch out for Cortina. He might be young but he was super strong in the break at Flanders and really caught the eye. Koren and/or Bozic for the break today?
191 Heinrich Haussler (Aus)
192 Borut Bozic (Slo)
193 Ivan Garcia Cortina (Spa)
194 Kristijan Koren (Slo)
195 David Per (Slo)
196 Luka Pibernik (Slo)
197 Wang Meiyin (Chn)
Back to Sagan for a moment though, and one of the most interesting sub plots in the last few days has been the mind games between him and ex-Quick-Step rider, Tom Boonen. When Sagan talked about riders racing against him, rather than trying to win, here's what Boonen had to say.
"I don't think Sagan really should talk about a lack of cooperation. He is the one who always starts to drag. He looks to see what is going on, and then he comes forward once and starts waving his hand. If you do that you have to keep your mouth shut."
Boonen, who won the Tour of Flanders three times and Paris-Roubaix four times, added: "He always tries to benefit from the work of other teams. There is nothing wrong with that, but then you do not have to say afterwards 'they do not work with me'."
That full story is right here and we'll have to see if Sagan does indeed keep quiet during and after the race, and lets his legs do the talking.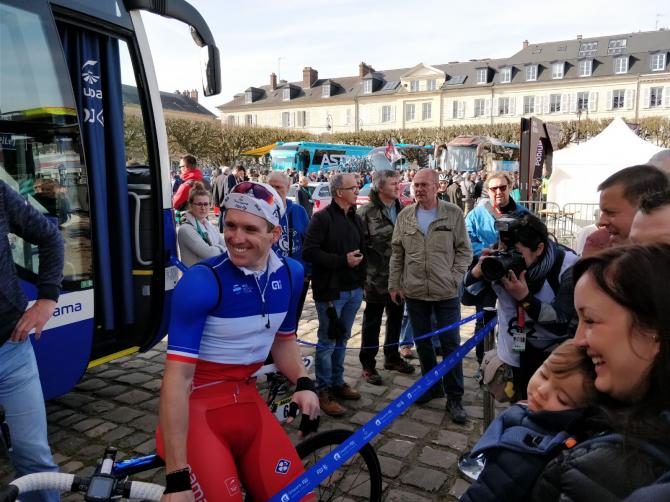 A nation expects.... France has not won this race since Guesdon caught the main contenders by surprise in 1997. That was in FJD's debut season, and they're still going with Madiot hoping that Demare can win today. The French rider is in decent-enough form but will need to save his bullets for the finale. He has a strong team, that's for sure, and better sprint than most when it comes to the velodrome. Can the former Milan-San Remo winner take his second Monument?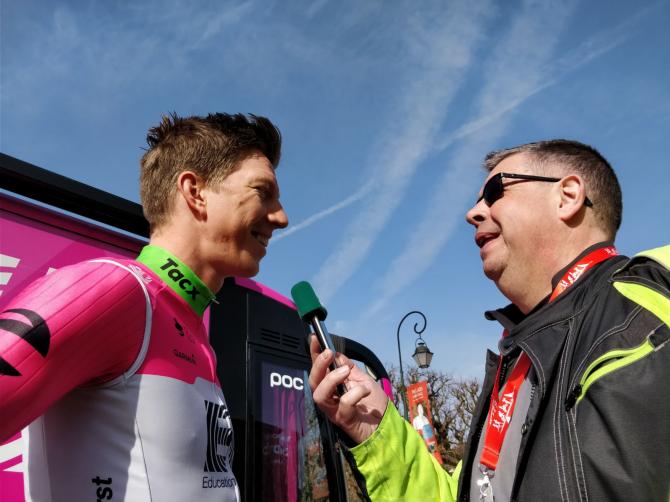 Sep Vanmarcke is another hopeful looking to end QuickStep's run of success in the Spring Classics. Can he win? Yes. Will he win? Eh, not so sure but the podium is certainly a strong possibility if he can avoid crashes and bad luck. The Belgian made the cut in our preview of the top contenders. You can find that article, here.
Just over 15 minutes until the riders set out through the neutralized zone. The early, light cloud cover has burnt off and we're left with perfect blue skies and sunshine.
And Quick-Step have started to make their way to the startline. Huge pressure on their shoulders but they're in such good form, and have their tails up, it won't really effect them. Their line up is stacked with potential winners and you can take your pick for Gilbert, Terpstra, Lampaert, and Stybar. Even Keisse could play a really important role late on.
11 Niki Terpstra (Ned)
12 Tim Declercq (Bel)
13 Philippe Gilbert (Bel)
14 Iljo Keisse (Bel)
15 Yves Lampaert (Bel)
16 Florian Sénéchal (Fra)
17 Zdenek Stybar (Cze)
Key for Van Avermaet today is going to be Kung. If he can play a similar role to Daniel Oss from twelve months ago, then Van Avermaet has a much greater chance of defending his crown. Here's the BMC Racing line up. Kung, Schar and even Roelandts are the core of that team around Van Avermaet.
1 Greg Van Avermaet (Bel)
2 Jean-Pierre Drucker (Lux)
3 Stefan Kung (Swi)
4 Jurgen Roelandts (Bel)
5 Michael Schär (Swi)
6 Nathan Van Hooydonck (Bel)
7 Francisco Ventoso (Spa)
I'm also looking forward to seeing what Trek Segafredo can do today. They have a former winner in their ranks but Stuyven and Pedersen are the two riders with the best form. Rast has made the line up, too. He's competed in 14 editions of the race, and finished fourth in 2011, when he teammate Cancellara took second.
41 John Degenkolb (Ger)
42 Koen de Kort (Ned)
43 Ryan Mullen (Irl)
44 Mads Pedersen (Den)
45 Grégory Rast (Swi)
46 Jasper Stuyven (Bel)
47 Boy van Poppel (Ned)
And what of Mitchelton Scott. Talk about Rast's record but Hayman has been in 17 editions of the race and won two years ago. This is more than likely his last outing but he's here with a strong-looking team. This race probably suits them more than Flanders, and they've got a couple of underdog cards to play in Durbridge and Trentin. Surely, Hayman will have a free role today, too, although it's unlikely he'll be allowed to go in the break again.
31 Mathew Hayman (Aus)
32 Jack Bauer (NZl)
33 Luke Durbridge (Aus)
34 Alex Edmondson (Aus)
35 Roger Kluge (Ger)
36 Luka Mezgec (Slo)
37 Matteo Trentin (Ita)
And we are officially rolling in the 2018 edition of Paris-Roubaix. Through the neutralized zone, as we see Van Avermaet give the TV crews a quick wave. Knees does the same, as we see Geraint Thomas call for the team car.
Team Sky and Katush are are on the front as we see Kittel is also back with his team car and having a natter with the Katusha DS. The flag will drop in just a few minutes as Evriti comes back from through the cars having needed a radio adjustment.
A compact group hits the first long stretch of flat roads, while the first sector of cobbles are still some way off. Here's a list of the first few sectors.
29 - Troisvilles (km 93.5 - 2.2 km) ***
28 - Briastre (km 100 - 3 km) ***
27 - Saint-Python (km 109 - 1.5 km) ***
26 - Quiévy (km 111.5 - 3.7 km) ****
25 - Saint-Vaast (km 119 - 1.5 km) ***
We've not mentioned him yet but he's still just stopped by the road side for a brief moment. It's Alexander Kristoff. Here's what he had to say this morning:
The form has been good but I've been sick from Paris-Nice a bit. I was hoping for more, for sure, but today is a day that I can change it. I don't have too good a history in this race before but you never know with Paris-Roubaix and sometimes it's a surprise winner and hopefully today that can be me.


What kind of race are you expecting?


Obviously, the weather conditions are good like they have been in the last years. I think we can expect it to be more or less like the past years. For sure, it will be a small group but it's always like this because it's such a hard race.


It is a different race to last year for you because you are the only leader in the team, how will that play out today?


For me, it's a slightly new situation. I have a new team but the race will be more or less the same. I think that the pave that were the most important will be the same.
About 40 riders have come back through the cars having dropped of clothing and needed some changes. The flag is going to drop in just a few minutes and we'll have our first attacks of the day.
@TeamSunweb Sun, 8th Apr 2018 09:09:11
No real action to report just yet other than Kristoff is back with the bunch. Sagan is doing the same as we continue to tap out a gentle pace through the neutralized zone.
Many are lining the roads to commemorate the 1918 Armistice. The peloton passes through the crowds.
There's warm applause for the riders, but we're about to get underway with the racing.
Quick-Step have put two riders on the front, even before the flat is lowered.
We're hearing reports that there's rain at the Arenberg Forest, one of the key sector of cobbles in the race.
At the back of the bunch Haussler is in conversation with a rider from Mitchelton. Stybar is also back there.
The peloton bunches up... Prudhomme appears from his sunroof, waves his flag and we're racing at the 2018 Paris-Roubaix.
255km remaining from 257km
Just the small matter of 255km and 29 sectors of pave to go.
No attacks just yet but the pace has certainly increased. Dimension Data look keen on making it into any early move that goes clear, as they have two men near the front.
At the back of the bunch Diller has called for a team car and already Quick-Step are marking moves.
And Bora are marking Quick-Step.
One rider has skipped up the road but two more are starting to track the move down. The bunch are in no mood to sit up, however, and it's all going to come back together.
Another dose of attacks with Cofidis, Bora and Quick-Step in contention but nothing is getting off the front at the moment. 250km to go. We'll be in Roubaix in no time, at this pace.
The bunch hit BAILLY, with around 5km covered and Cofidis fire off another attack and it's matched by Bauer from Mitchelton. Movistar also want in on the action, and chase the two-man group down. All together once more.
Still those two Quick-Step riders near the front, and their job is to make sure that no one dangerous slips away. Stybar is still at the back, mind, and just keeping out of trouble as he talks to his former teammate Chavanel. The Frenchman's team didn't make it to Flanders but they're here today. As we see Movistar attack again but the move isn't going anyway and it's shut down right away. That Movistar rider didn't really put in a complete attack, he was just testing the waters to see if anyone else would go with him.
A rider from Veranda is on the front now, in that kit that looks a lot like the Columbia colours of 2008. Only nicer.
We get our first shots of Sagan in the race. He's mid-pack and just minding his own business. He has a man near the front who is covering the early moves as we see Dimension Data attack. Once again the move is brought back, and we're all together.

@SadhbhOS Sun, 8th Apr 2018 09:32:29
This looks good. Bahrain Merida have attacked but alas Movistar close the gap. Or do they? The Movistar man sits up and the pace drops. The Bahrain chap keeps his head down and he quickly joined by three other riders. This move is the first serious attack of the. Who is chasing? Quick-Step of course. They don't want a rider from Cofidis, UAE or Bahrain Merida to go up the road.
In fact that Quick-Step rider has now jumped, he's trying to join the attack. This causes a response from the main field, and we're all back together again.
240km remaining from 257km
And four move go clear with Dimension Data and Delko both in the mix. We've covered around 15km so far.
Cofidis are trying to get across by they might have missed out this time.
The four leaders have opened up a 15 second gap, and they're working well together. The shape of the bunch is key though. If they're spread out then the move has a chance. Alas it's not, and they're more in an arrowhead formation. The chase is still on.
And it's all back together with 236km to go. The tailwind conditions are helping with the super-fast start as we see one lone rider jump clear.
At the start this morning, Sadhbh O'Shea spoke to Langeveld, who was third here last year and rode a fine Tour of Flanders last week.
I'm feeling good. It's one of the days that you're looking forward to all year. The sun is out and there will probably be some muddy sections but the condition is good so I'm looking forward to it.


What sort of race are you expecting?


There's a bit of wind and it's going to be a fast race. Like always in Roubaix, there will be a lot of things going on and I'll try to stay out of trouble and see what the final brings.


What were the feelings after finishing third last year?

It was one of the highlights of my career. Last year, I had a super day, the condition was also good. The condition is good now and hopefully I can have a super day now be in the final.


How well can the team take it to the others?


We have two good guys. With Vanmarcke we have a guy who has already been on the podium here and a couple of times in the top-four so with me also we have some experience. I've done the final a couple of times also. On paper, we should do the final but it's a one-day race and a lot can happen. I think we're ready and I think at the end of the day we'll ride for the victory and whatever it brings in the end it will be good.


Will you be looking to Quick-Step or riding your own race
?

For sure, they will play a role in the final because they have a super strong squad with four leaders but they are not the only team out there. For sure, we will take our responsibility but it's not everybody against Quick-Step but they will play a factor. They have four strong guys and they have a winner with Terpstra so we will see what happens.

It's Brice Feillu on the attack. Once a Tour de France stag winner (back in 2009) but now 32 years of age, he's taken a flyer and he's clear of the bunch. I might be wrong but that 2009 stage win in the mountains might be his own ever pro win... he win in Andorra, and I think Nocentini took the yellow jersey that day, and held it for over a week before Contador took control. Good Tour that. Anyway in the time I've taken to write all this Brice Feillu has been caught.

@Cyclingnewsfeed Sun, 8th Apr 2018 09:49:03
229km remaining from 257km
Movistar, Cofidis and Dimension Data again in the thick of the action but now it's Mitchelton who attack. 229km to go.
It's Jack Bauer who leads the four-man move with Cofidis and Delko there as well.
The lead group has swelled to five riders, with a few more looking to make contact but the bunch are right there and have closed the gap once more. Almost 30km covered and the peloton is still together.
But now there's a split. The bunch fracture after catching the Bauer group but it allows for a gap to open up. It's eventually caught as we see Quick-Step, once more marked by Bora, and Katusha hit the front. The WorldTour team are starting to get involved a bit more now.
And as the peloton regroup it's Bauer again who goes off the front. One, then two riders go with him as we see Dillier and a rider from Dimension Data jump across. We're riding at 64kph at the moment and it's flat-out.
221km remaining from 257km
221km to and two riders have a gap. They have about 10 seconds on the bunch, and the gap goes out. It's Wallays, and Robeet. 220km to go.
Here a summary of last year's race:



Winner: Greg Van Avermaet
Winner's Quote: In the end I was a bit afraid of Stybar because he wasn't working with us. I'm really happy to have finally won a Monument because I've had a long wait for this. I had a bit of bad luck before the Arenberg but the team did good work. Everybody was in the right place for me and Daniel Oss did really good work and everything came together for me.


Memorable moment: The decisive move took shape in installments over one of the least fearsome sectors of cobbles, at Templeneuve with 30 kilometres to go, as Van Avermaet, Stybar and Langeveld joined Gianni Moscon (Sky), Jasper Stuyven (Trek-Segafredo) and Jürgen Roelandts (Lotto Soudal) in pursuit of earlier attacker Daniel Oss (BMC). A lone chase attempt by world champion Peter Sagan (Bora-Hansgrohe) was interrupted by a puncture, and the septet out front quickly opened a lead of 30 seconds over the Boonen group behind.
Van Avermaet laid down a fierce acceleration on the jagged cobbles of the Carrefour de l'Arbre with 16 kilometres remaining and only Stybar and Langeveld were still with him out the other end, and that trio continued to augment its advantage over the rest of the field over the remaining three sectors of pavé.

Key sector(s): Mons-en-Pévéle, Templeneuve, Carrefour de l'Arbre
Best of the rest: Zdenek Stybar (Quick-Step Floors) and Sebastian Langeveld (Cannondale-Drapac)


What we wrote at the time: For a time it seemed as though Van Avermaet was destined, like Raymond Poulidor at the Tour de France, to become synonymous with missing out on the wins he coveted the most. That has all changed, and at times the BMC man has appeared unstoppable this spring, with a string of top results culminating in his first Monument victory ahead of Zdenek Stybar (Quick-Step) and Sebastian Langeveld (Cannondale-Drapac).


Complete top 10: 1 Greg Van Avermaet (Bel) BMC Racing Team 5:41:07
2 Zdenek Stybar (Cze) Quick-Step Floors
3 Sebastian Langeveld (Ned) Cannondale-Drapac
4 Jasper Stuyven (Bel) Trek-Segafredo
5 Gianni Moscon (Ita) Team Sky
6 Arnaud Demare (Fra) FDJ 0:00:12
7 André Greipel (Ger) Lotto Soudal
8 Edward Theuns (Bel) Trek-Segafredo
9 Adrien Petit (Fra) Direct Energie
10 John D