Live coverage
Giro d'Italia 2019: Stage 18
By PFletcher published
January 1 - June 2, Valdaora/Olang, Italy, Road - WorldTour
Refresh
Live coverage of stage 18 of the Giro d'Italia, a rare opportunity for sprinters in an otherwise mountainous final week.
Giro d'Italia sprinters have last chance of success in Santa Maria di Sala
Stage 17: Nans Peters wins from the break
Giro d'Italia: Nibali loses seconds and momentum to Carapaz
Carapaz: What Landa did was perfect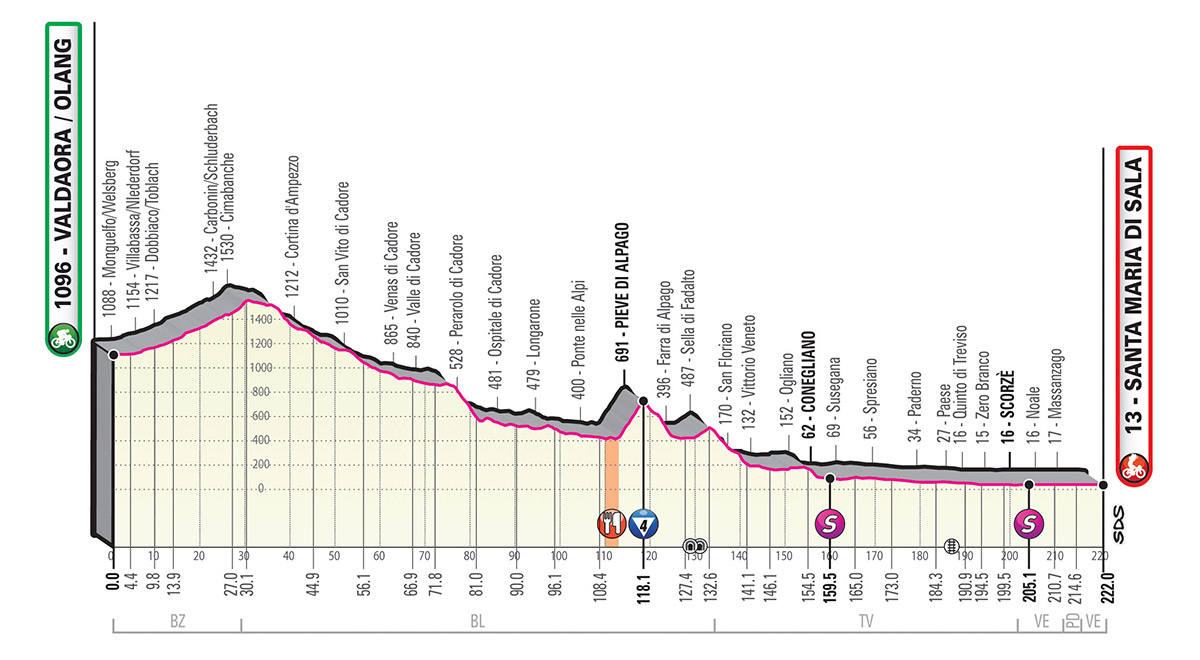 Good morning. The final week of the 2019 Giro d'Italia is built almost exclusively around the battle for the pink jersey, but amid the mountains there's room for a final hurrah for the sprinters, or what's left of them.
Stage 18 takes us from Valdaora, at 1096 metres, down to Santa Maria di Sala, just above sea level. It's another stage above the 200km mark but the net downhill means it won't feel too long. It starts with a moderate uphill section and there's a category-4 climb just beyond the half-way point, but this has bunch sprint written all over it.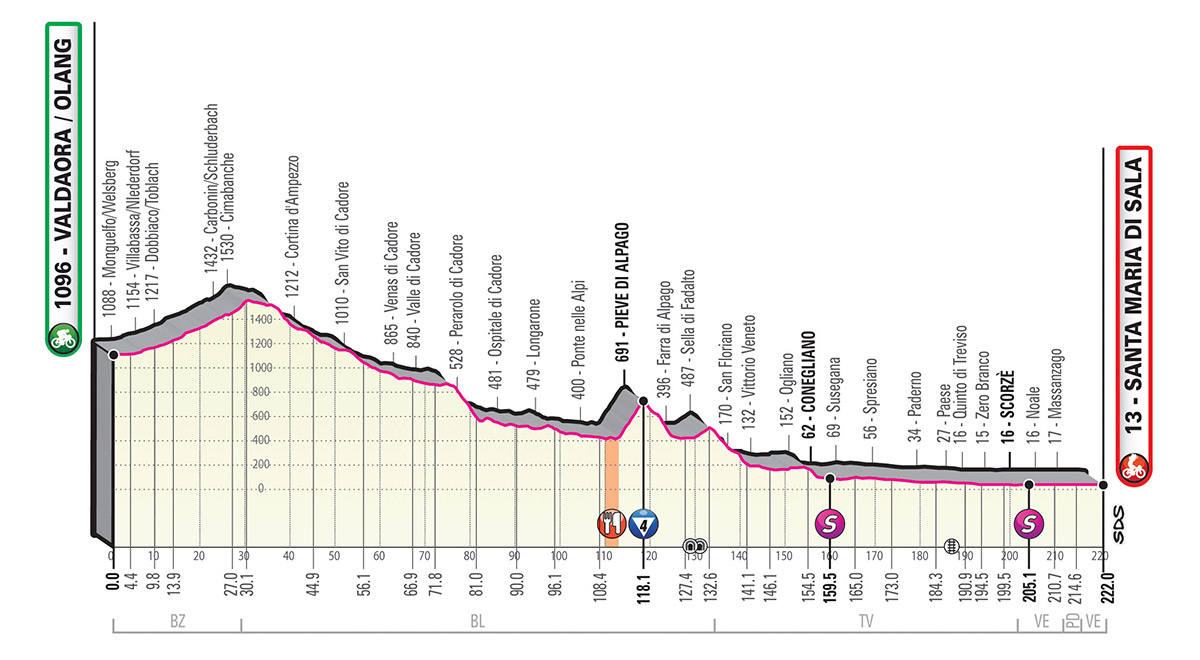 The riders are currently signing on. They'll roll out of Valdaora at 12 CET, so in around 20 minutes, with the race proper to be waved underway 10 minutes or so later.
Caleb Ewan, Elia Viviani, and Fernando Gaviria have all gone home, leaving us with just Arnaud Demare (Groupama-FDJ) and Pascal Ackermann (Bora-Hansgrohe) as the remaining top-tier sprinters. The Frenchman has won one stage, the German two. At this stage in the race, much will depend on how their legs have been sapped by the mountains that have dominated since the last sprint nine days ago.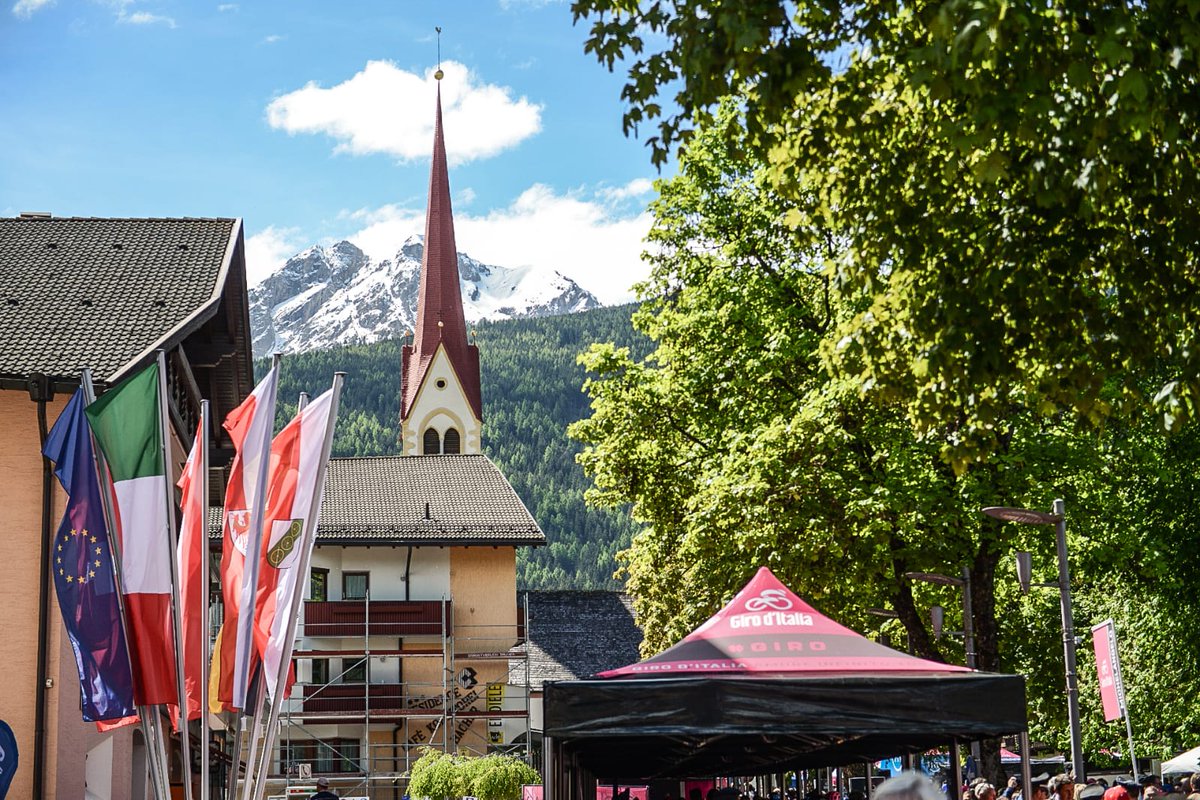 Today will also see the battle for the points classification come to the boil. Demare currently wears the maglia ciclamino but he leads by just 13 points. With 50 on offer to the stage winner, and 35 to the runner-up, today could be pivotal. There are also points on offer at the first intermediate sprint (20-12-8-6-4-3-2-1).
These are the exact points classification standings, by the way. No point including anyone else - it's a two-horse race.
1 Arnaud Demare (Fra) Groupama-FDJ 200 pts
2 Pascal Ackermann (Ger) Bora-Hansgrohe 187
Here's the overall leader, Richard Carapaz (Movistar) alongside best young rider Miguel Angel Lopez (Astana). Today should be a quiet affair for the general classification riders, although stranger things have happened at the Giro.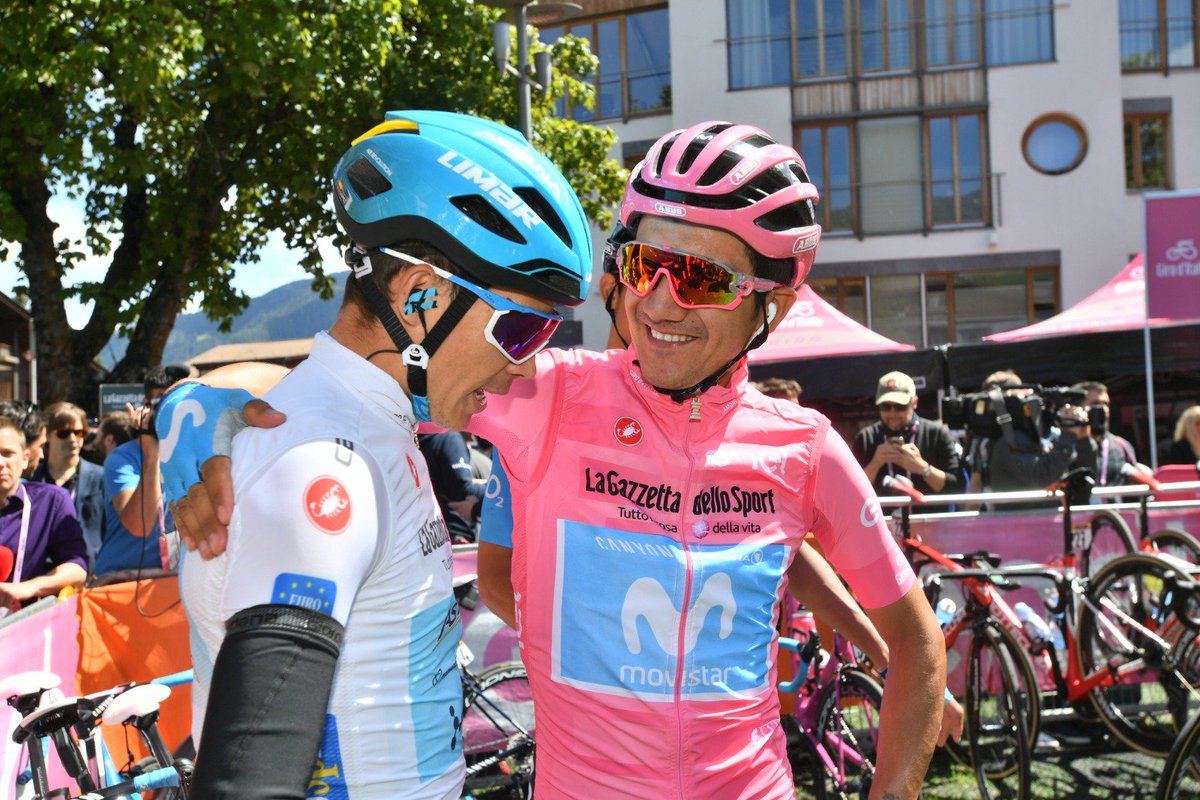 The riders are rolling, making their way through the neutralised zone.
Before we really get going, why not catch up on yesterday's action. The breakaway was successful again, with Nans Peters taking his first pro win, while the finale climb saw some minor but potentially significant skirmishes between the overall contenders. Report, results, photos at the link below.
Giro d'Italia: Nans Peters wins stage 17
Is this a sign? Arnaud Demare in his hotel room this morning.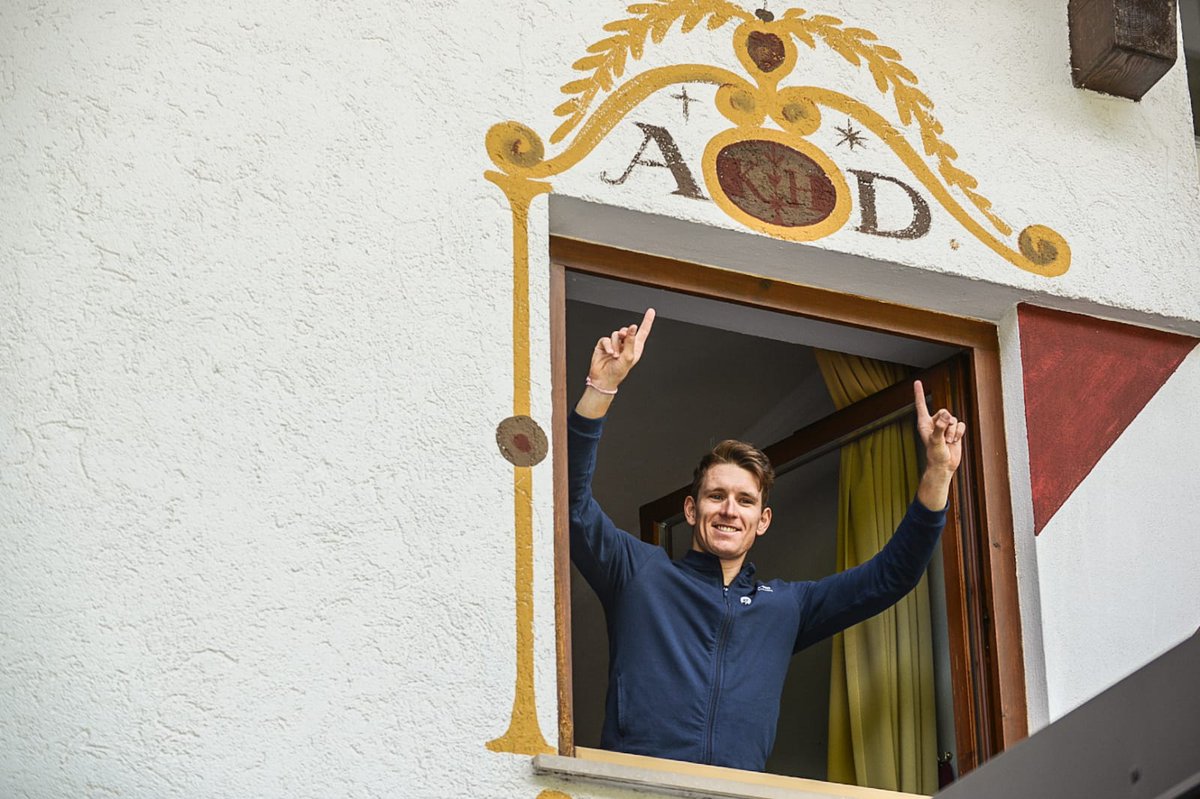 One non-starter today and that's former pink jersey wearer Valerio Conti (UAE Team Emirates), who has a saddle sore.
We're off!
The riders reach KM0 and the race is waved underway.
The breakaway attempts come instantly on this lightly uphill opening.
Six riders go clear but more are setting off now and it's not settled yet.
Interesting comments from Demare this morning, who says today is about defending the maglia ciclamino. One way of doing that, is by not having a sprint at all - if a breakaway is allowed to stay away, that takes the possible points off the table, making it impossible for Ackermann to come back and assuring Demare of the jersey.
The breakaway group swells but the pace is high and they're not going anywhere for the time being.
206km remaining from 222km
16 kilometres in and the peloton is still all together, strung out. The road continues to rise until the 30-kilometre mark.
The peloton splits briefly under the pressure but it's back together. It's not settling down, though, as the Italian Pro Conti teams fight to get riders up the road.
197km remaining from 222km
25km in and still nothing sticking. This has been a fast and furious start to the day.
The riders are coming towards the end of this early uphill section. 10 riders have opened a slim lead but it's nothing definitive.
It's still all together as the road now tilts downhill. The terrain is undulating but mostly of the gently downhill variety, all the way to the cat-4 climb with 115km on the clock and 107km to go.
The peloton splits in three...
The peloton stitches itself back together as we see another breakaway attempt of 10 or so riders.
Nico Denz, Matteo Montaguti, Mirco Maestri, Michael Schwarzmann, Jack Bauer, Enrico Battaglin, Michael Gogl, Tom Bohli, Damiano Cima...
They're the riders up the road but it doesn't look like they're going to stay away.
172km remaining from 222km
50km on the clock and still no break.
Denz, Cima, and Maestri try their luck again and this looks like it could be working.
164km remaining from 222km
Yep, the peloton has eased up and they're away, nearly two minutes up already. Finally, this is our break of the day.
Nico Denz (AG2R La Mondiale)
Mirco Maestri (Bardiani-CSF)
Damiano Cima (Nippo-Vini Fantini)
Interesting comments from Ackermann, speaking to Eurosport this morning.
"We cannot control the peloton today," says the German. "Five of us crashed in the last week, and we have two GC riders."
He says the maglia ciclamino is 'not the main goal'. "The main goal is to get to Verona after my crash. We don't know how the race will go today - maybe a big breakaway or maybe a sprint."
Not sure how seriously we can take that comment about the main goal being just to finish the Giro. Between him and Demare, it seems like there's a fair amount of bluffing and responsibility-shirking going on today.
So that's both Bora and FDJ who've hinted they won't exert themselves today, and for the time being they're being proved true to their word. It's Israel Cycling Academy, who have enjoyed a number of minor placings through Davide Cimolai, on the front of the peloton, looking to keep this break under control.
150km remaining from 222km
Ackermann's words are swiftly debunked as a Bora rider hits the front of the bunch. The gap is 2:30, which is a pretty tight leash considering the size and make-up of this break.
What to make of Nibali's performance yesterday? After his offensive on the Mortirolo the previous day, he was unable to follow Carapaz in the finale, losing seven seconds.
"Today I wasn't really on a good day," Nibali said. "But that's OK. We got through the stage quite well and, well, nothing else."
More here: Nibali loses seconds and momentum to Carapaz
Israel and Bora are trading turns at the head of the peloton, Israel's Guy Niv being the chief workhorse. Demare's FDJ teammates are very much taking a back seat.
Mikel Landa, who worked so well for Carapaz on the Mortirolo, went on the attack yesterday. When Nibali started to struggle Carapaz even went after him. No real sign of internal rivalry, though, at Movistar, who are having a superb Giro so far.
Carapaz: What Landa did was perfect

130km remaining from 222km
The three escapees are granted a little more leeway and the gap moves out to 3:30 with 130km to go.
Here's a shot of the break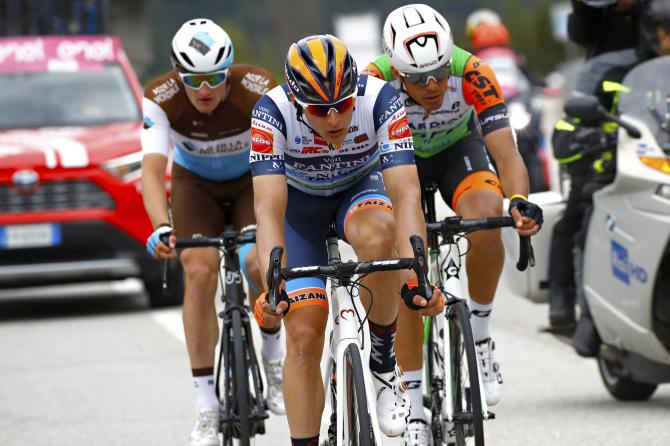 "With the team, we're a bit surprised by my good sensations at this point in the race. I've been recovering quickly, so there are a lot of things that so far have been going well. I hope that continues."
Arnaud Demare there, speaking to us yesterday. There's more in this stage preview piece.
117km remaining from 222km
It's still Israel and Bora doing all the work on the front of the bunch, keeping the break under four minutes. We're coming towards the feed zone and the only categorised climb of the day.
Today's stage is made marginally more interesting by the fight for the 'Fuga' - breakaway - classification. Basically, the rider with the most kilometres spent in a break wins, and two of today's escapees, Cima and Maestri, are right in the mix.
1 Marco Frapporti (Ita) Androni Giocattoli-Sidermec 816
2 Damiano Cima (Ita) Nippo-Vini Fantini-Faizane 760
3 Mirco Maestri (Ita) Bardiani CSF 570

No Frapporti up the road, so Cima is set to top the classification by the end of the day. Maestri might be closer, as he was in the break yesterday but it didn't count, because that was a group of 18 riders and it has to be no more than 10.
A fair few nature breaks in the peloton and the gap to the break goes out to 5:30.
110km remaining from 222km
The peloton hit the feed zone with a deficit of 5:50. The Giro has been pretty good since the first rest day but this is dragging us back, kicking and screaming, to that never-ending first week.
106km remaining from 222km
We have 106km to go and the break is at 6'19 while Bora continue to tap out a metronomic tempo on the front of the peloton.
The break are on the cat. 4 climb at the moment and they're continuing to work together. FDJ are not working as they want to protect the points jersey and they clearly don't want to help Ackermann have a chance on closing the gap to Demare in the classification.
The gap has dipped under six minutes again but there are a few drops of rain, falling both on the break and the peloton. 97km to go.
The peloton crest of the climb and make it down the descent without any problems as we see the gap continue to tumble. It's at 5'30 as the rain begins to fall a little heavier.
Back on the flat and there's a bit of a split in the main field. It doesn't look to be that serious at the moment but it needs to closed before it becomes an issue.
Back together. Although the rain continues the peloton has become one after that brief split. Dimension Data have put another man on the front in order to aid the chase.
90km remaining from 222km
Despite the bunch sitting up as a number of riders went back to the cars for rain jackets the gap has dipped to just over five minutes. 90km to go.
In the middle of the bunch we can see the Jumbo Visma jerseys as they rally around Roglic after a few bruising days in the mountains. Today, at this pace, it's basically a day off for the GC riders but they still need to concentrate, and especially so in these wet conditions.
85km to go and the gap is 4'26.
Bora have posted a few more of their roster to the front of the bunch in order to position Ackermann but we've still got 80km to go at this point.
The first intermediate sprint comes with 62.5km to go, so in around 15km time. There are maglia ciclamino points on offer, so we should see Demare and Ackermann come to the fore. Provided the three breakaway riders stay clear and take the first helpings, there will be points for the peloton as follows: 6, 4, 3, 2, 1.
Dimension Data are doing a fair bit of work in the peloton. Their sprinter Giacomo Nizzolo is no longer here, having abandoned after stage 12, but Ryan Gibbons might have a go for them today.
An innocuous crash in the bunch as Luke Durbridge and Lukas Owsian hit the deck on the grass verge on the left-hand side. Both are back on their feet.
63km remaining from 222km
The gap to the break has been reduced to 2:50 as the leaders come into Conegliano for the intermediate sprint.
Maestri takes the points at the sprint. There's no contest, and they just roll through. Cima is second in the intermediate sprints classification but didn't want to reach out there.
And here comes the battle from the peloton
Demare and Ackermann clip off the front of the bunch, each with teammates.
Guarnieri leads Demare out, Ackermann on the wheel.
Demare hits out and takes it. Ackermann just sat up in the end there and didn't really make any effort to rival the Frenchman.
So, that's six points to Demare and four to Ackermann. The points classification now stands as follows:
1. Demare: 206
2. Ackermann: 191
Demare is still panting a little as he gets some food on board. He made a fair effort there but it shouldn't be anything that will hamper him for the finishing sprint on a stage such as this.
56km remaining from 222km
After that excitement, the gap between the three-man breakaway and the peloton stands at 2:55.
50km remaining from 222km
Inside 50km to go now and the peloton have eased up again slightly, allowing the gap to grow to 4:20.
One of our most-read stories yesterday concerned that bike change from Roglic in Como. Some newspapers speculated about mechanical doping, but Movistar director Max Sciandri explained that he'd picked up the broken bike and taken it to the finish on his car. He even gave a Movistar bike to Antwan Tolhoek, who'd given up his for Roglic, and went as far as changing the pedals so he could ride it. Full details here.
40km remaining from 222km
Under the 40km-to-go banner and the breakaway trio are really starting to work hard now. Denz is gasping for air as he does his turn. They still have 4:30 but the peloton are also riding at a strong tempo so they're having to fight to conserve their lead.
4:30 with 40km to go is a handy lead for these three. It will depend on the impetus in the peloton but we're several sprinters down and one of the stronger sprint teams aren't working. It's certainly not beyond the realms of possibility.
35km remaining from 222km
35km to go now and 20 seconds has been knocked off the breakaway's lead. QuickStep have now posted a representative to assist with the chase.
So that's four teams working now: Israel, Bora, Dimension Data, QuickStep. Still not a peep from FDJ, and they could benefit by having more riders for Demare in the finale.
Denz and Maestri nearly skid out on a tight left-hand bend. They're all-in from here to the finish.
27km remaining from 222km
It's panic stations in the bunch. There are enough teams with enough numbers, and they're bringing the gap down, but it's still 3:21 with 27km to go.
Having let the break out to 6:20, the peloton brought the break back to 2:50 by the intermediate sprint, but then they let that fly out to 4:30 in the blink of an eye. Since then, the Denz, Maestri, and Cima have been going full gas.
The gap hits 3 minutes with just over 24km to go.
Serry is QuickStep's representatives. Israel have now sent Krists Neilands up, while Dimension Data are also committing multiple riders.
Bora hit the front now with three riders. So much for not working today.
20km remaining from 222km
With 20km to go, the gap is down to 2:33. It's coming down steadily, but they're still in with a shot here.
The peloton have taken a minute in the last 10km, pretty much in line with the standard formula. At that rate, the break would have it, though the peloton should complete the final couple of kilometres much quicker.
We're coming up to the second intermediate sprint, but it won't matter much. There are no maglia ciclamino points on offer and the break will only be worried about working together and trying to hold off the peloton.
16km remaining from 222km
Cima leads them across the intermediate sprint line in Scorze. Naturally, there's no contest. They're already going close to their maximum now anyway.
Israel send Conor Dunne to the front now, and Dimension Data use Enrico Gasparotto. All hands on deck here.
Bora have most of their team up here. Despite Ackermann''s bluffing, they're fully going for this.
15km remaining from 222km
15km to go and the gap hits the two-minute mark.
This really is touch and go now. Denz, Maestri, and Cima have a great shot at victory here.
As you can see, there are a few tight corners in the closing kilometres. Anything technical will favour the escapees.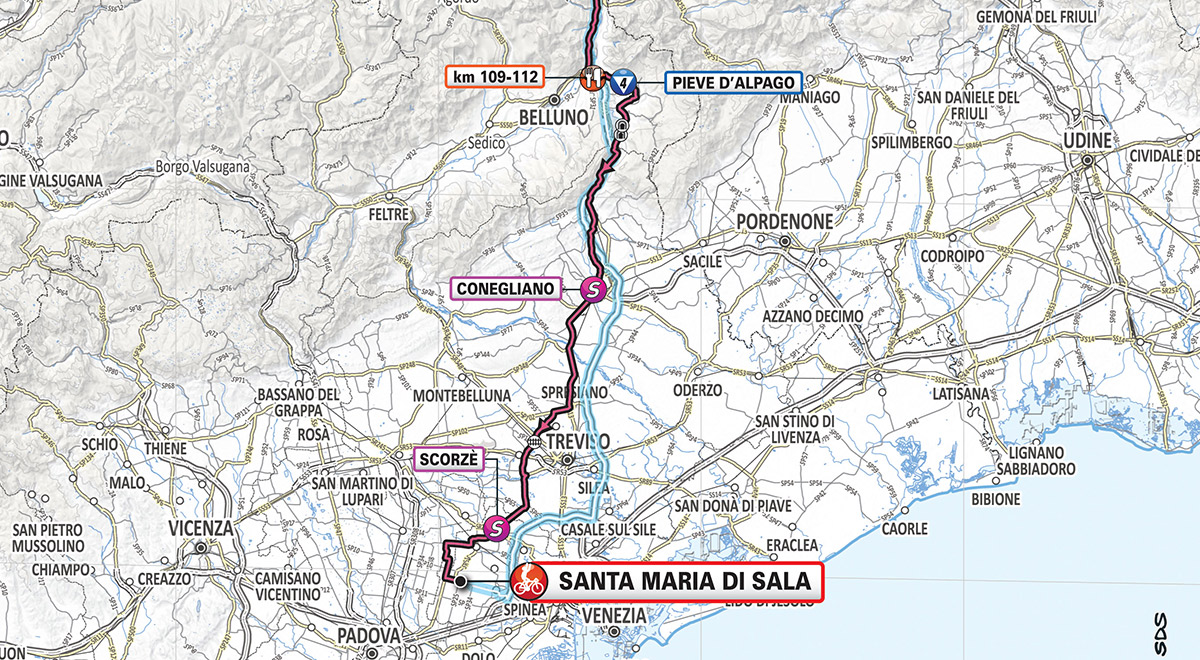 A three-man break might have seemed pretty unthreatening but Denz, Maestri, and Cima are putting in a huge effort here.
12km remaining from 222km
The gap is starting to fall a little quicker now. 1:25 with 12km to go.
10km remaining from 222km
There's the 10km-to-go banner. 10km of pain for our three leaders, but the pain will quickly be forgotten if they make it to the line. The gap is 1:07. It's still doable but it's going to be close!
Bora still the most active at the head of the peloton. Israel, too, who have worked all day. QuickStep and Dimension Data are still doing turns but even with four teams they're struggling here.
A 90-degree bend and a roundabout. A group of three can get through much more easily than a peloton, and the trio stem the tide. 8km to go and still 1:02....
And now Lotto Soudal make an appearance. But it's looking like it might be too little too late.
7km remaining from 222km
7km to go and it's 57 seconds.
More fresh legs in the peloton, but they've had the numerical advantage for a good while now, and they're not bringing the gap down quickly enough.
QuickStep ramp it up a notch now, as Israel and Dimension Data slip back.
Carapaz and Movistar are positioned just behind the first couple of riders in the peloton. They'll need to keep safe until the 3km-to-go banner, where GC times are neutralised in the event of crashes.
5km remaining from 222km
48 seconds still for our breakaway trio. They'll be starting to believe now.
Another 90-degree left-hander. Bora and QuickStep continue to lead the peloton but it's a really tough ask now. 40 seconds with 4.3 to go.
Denz, Maestri and Cima continue to press on together. No room for game-playing here. They'll need to collaborate fully in order to have a chance.
3km remaining from 222km
As I write that, Denz attacks.
The German seemed the strongest rider of the three and he takes flight, but they're bringing him back.
Denz is brought back, and it's exactly this sort of thing that could ruin their collective chances.
2km remaining from 222km
2500 metres to go and the gap stands at 30 seconds.
In the peloton they're running out of resources, but up front they're back working together.
2km remaining from 222km
Lotto Soudal come back to the front to lift it once more but it looks like it's too late now. The leading three are still doing turns. 24 seconds the gap.
1km remaining from 222km
Under the flamme rouge and into the final kilometre. 17 seconds is the gap. Here we go.
They can't mess around too much here. The peloton is in sight, baring down...
Drama! The peloton is advancing but the leading trio are into the final few hundred metres.
Cima opens the sprint but the peloton are coming back!
Wow. The other two are caught at the last and Ackermann comes through from the peloton but Cima holds on to take Nippo's first-ever Giro victory!
Well, what had seemed a fairly dull Giro stage gets a remarkable finale.
That's an unbelievable sprint from Cima, who eased clear of the fading Denz and Maestri. Ackermann and the rest came roaring past those two, and breezed past Cima at the end - but on the wrong side of the line. The German repeatedly bashed his bars in frustration as Cima punched the air, and that should make for a quality finish-line photo.
Top 10
1 Damiano Cima (Ita) Nippo-Vini Fantini-Faizane 4:56:04
2 Pascal Ackermann (Ger) Bora-Hansgrohe
3 Simone Consonni (Ita) UAE Team Emirates
4 Florian Senechal (Fra) Deceuninck-QuickStep
5 Ryan Gibbons (RSA) Dimension Data
6 Manuel Belletti (Ita) Androni Giocattoli-Sidermec
7 Davide Cimolai (Ita) Israel Cycling Academy
8 Arnaud Demare (Fra) Groupama-FDJ
9 Sean Bennett (USA) EF Education First
10 Mirco Maestri (Ita) Bardiani CSF
No change on GC. Here are the standings.

1 Richard Carapaz (Ecu) Movistar Team
2 Vincenzo Nibali (Ita) Bahrain-Merida 0:01:54
3 Primoz Roglic (Slo) Team Jumbo-Visma 0:02:16
4 Mikel Landa (Spa) Movistar Team 0:03:03
5 Bauke Mollema (Ned) Trek-Segafredo 0:05:07
6 Miguel Angel Lopez (Col) Astana Pro Team 0:06:17
7 Rafal Majka (Pol) Bora-Hansgrohe 0:06:48
8 Simon Yates (GBr) Mitchelton-Scott 0:07:13
9 Pavel Sivakov (Rus) Team Ineos 0:08:21
10 Davide Formolo (Ita) Bora-Hansgrohe 0:08:59
Ackermann was visibly frustrated there, but even though he didn't win the stage he has taken back the maglia ciclamino...
By my calculations, these are the new points classification standings.
1. Ackermann - 226
2. Demare - 214
That's pretty poor from FDJ, who decided to pass up a chance for a stage win in favour of defending the points jersey. They did cave late on and started working at the death but have been left empty-handed on both counts.
The jersey is now Ackermann's unless Demare goes into a break... in the mountains...
"It was a very long stage, it was intense only at the beginning then it was pretty quiet. I had the support of the team once again," says Richard Carapaz, who will enjoy another day in pink.
"It will be a very important test tomorrow, but I am very confident I can keep the maglia rosa."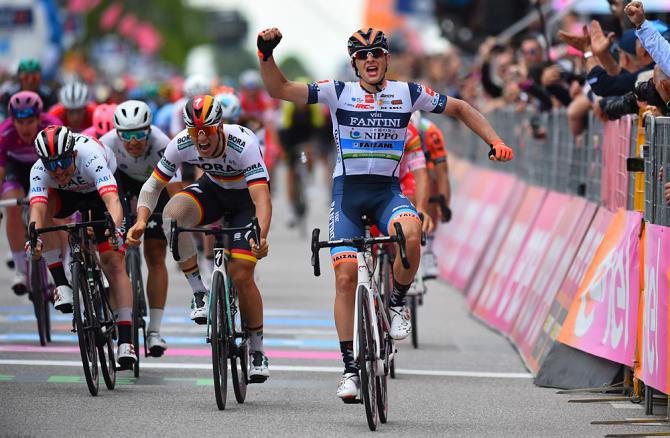 "I can't believe what just happened," says Damiano Cima.
"I've spent so many kilometres in breakaways during this Giro. I thought I'd never make it but I've won today. It's insane. It's the dream of a lifetime."
25-year-old Cima has won the Tour of Xingtai and a stage of the Tour of China, but safe to say this is the biggest moment of his career.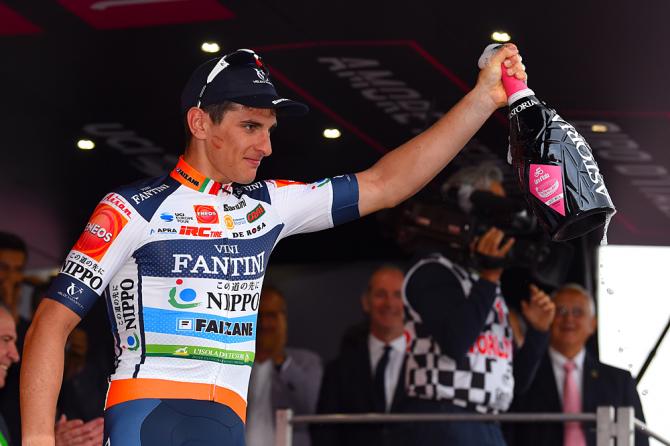 This is what we have coming up tomorrow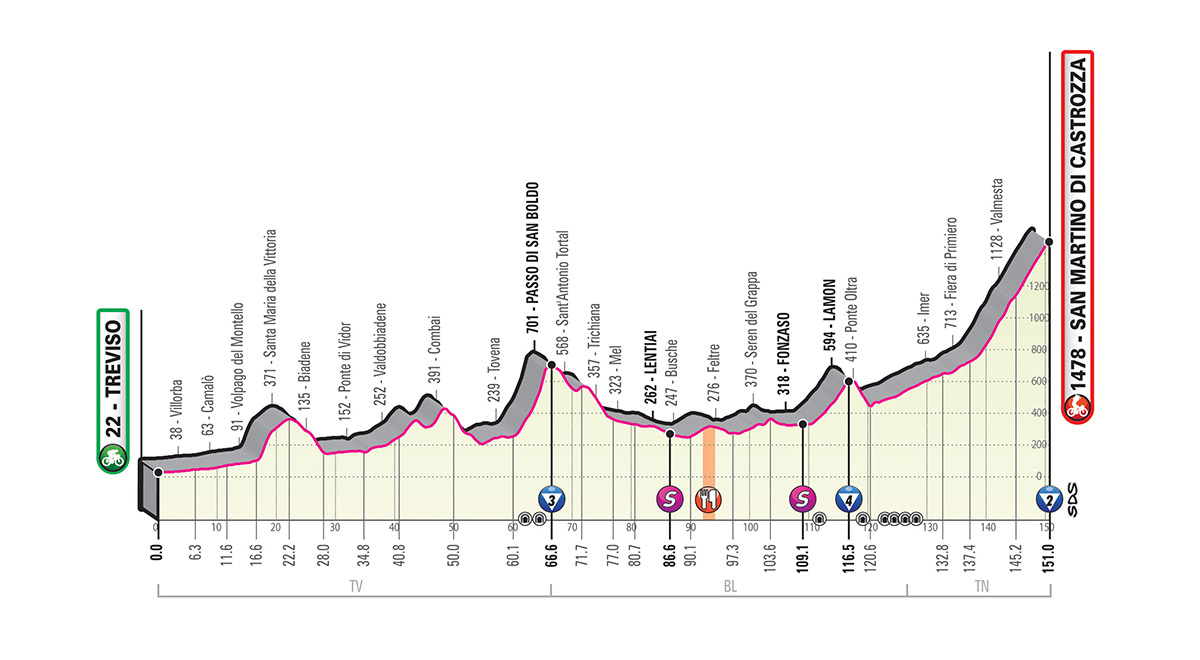 Sign up to the Cyclingnews Newsletter. You can unsubscribe at any time. For more information about how to do this, and how we hold your data, please see our privacy policy
Thank you for signing up to Cycling News. You will receive a verification email shortly.
There was a problem. Please refresh the page and try again.