As it happened: No GC fireworks on shortened Giro d'Italia stage 13 as Rubio wins from breakaway
Re-live the action from the false start to the top of Crans Montana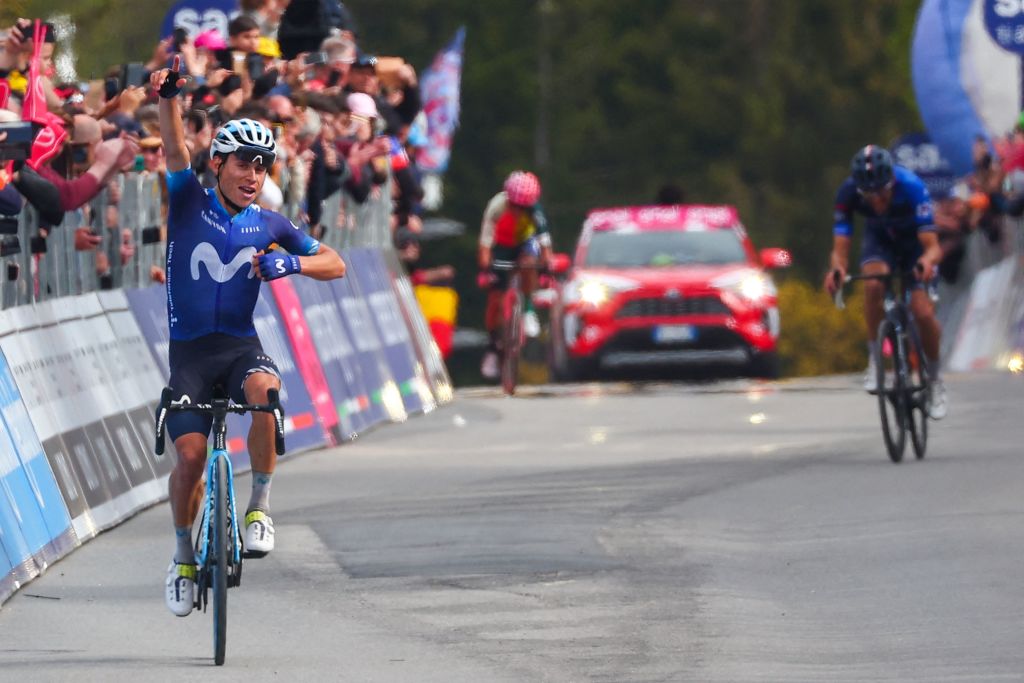 Giro d'Italia: Rubio beats Pinot, Cepeda to win abbreviated mountain stage 13
Refresh
Good morning, and welcome to the mountains.
After a couple of time trials, some sprints, a few breakaways, and an opening-week mountain stage that fell totally flat, we are finally digging into the serious business at this Giro d'Italia. Stage 13 takes us over two Alpine beasts before heading for a summit finish at Crans-Montana. Not to be missed!
Today's menu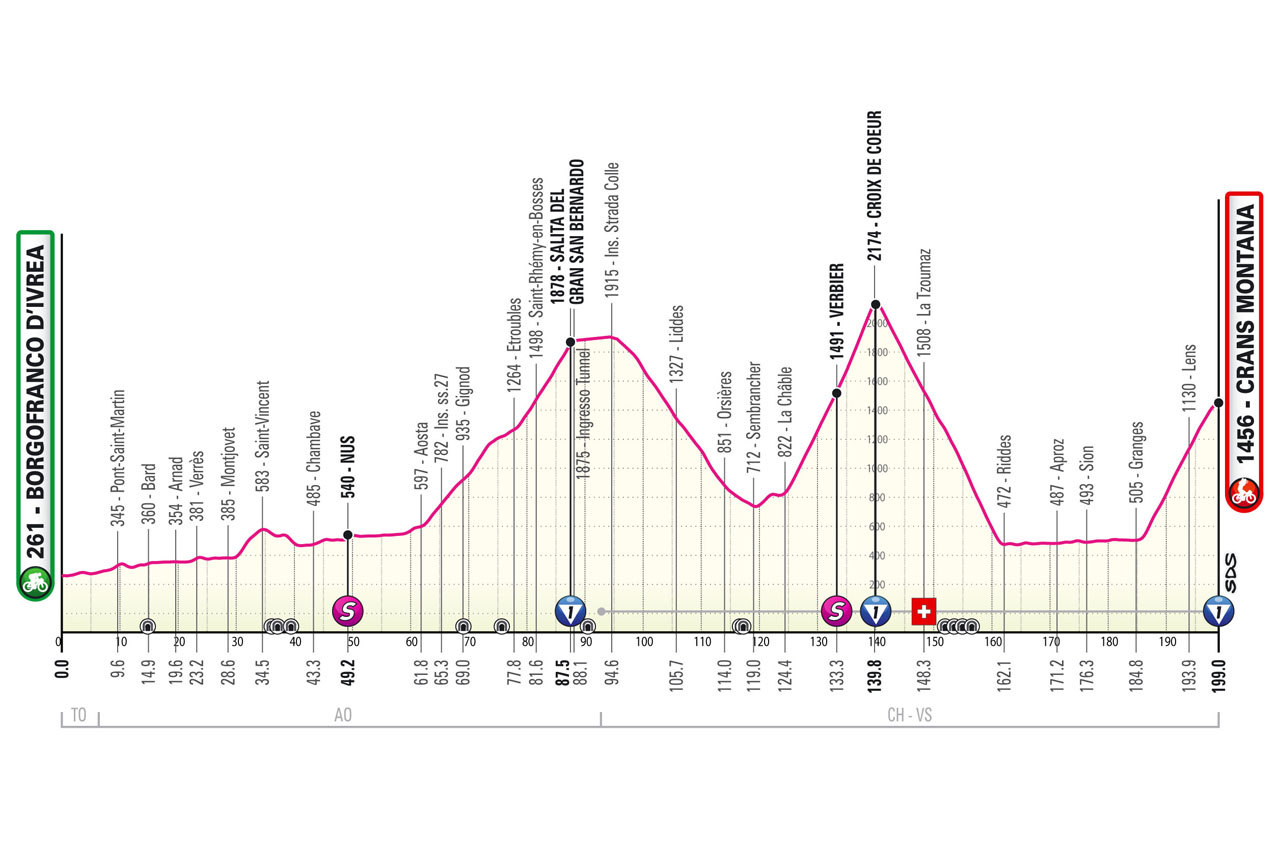 We begin with the news that there could be yet more disruption to this Giro.
As if it hasn't rained enough, it's absolutely bucketing down in the Alps. Rumours have been swirling all week about the descent off the Croix de Coeur, which has been flagged as dangerous after recent snowfall. At the start in Borgofranco d'Ivrea right now, discussions are ongoing as to a potential re-routing.
Of course, this stage was already re-routed and downgraded. The Gran San Bernardo looks big on the profile, doesn't it, but in reality it should tower over the Croix de Coeur. The true summit, all the way up at 2,469 metres, should have been the Cima Coppi as the highest point in this year's Giro, but snowfall made it unscalable, and instead we are stopping at 1875 metres and literally going through the mountain in a tunnel.
🇮🇹 RACE: @giroditalia The way we are swimming 🏊🏼‍♀️ to the start… What a nice day! #Giro #GirodItalia #AstanaQazaqstanTeam pic.twitter.com/rRe00SvKIoMay 19, 2023
Possible shortening of the stage
We're hearing that the stage could be shortened to around 80km, skipping the San Gran Bernado entirely.
Confirmed: stage shortened
What I just outlined has been confirmed by race director Mauro Vegni. Stage 13 of the Giro d'Italia will start in Sembrancher in Switzerland at 14:24 local time, effectively cutting the first 119km from today's route. The stage will be 80km long, tackling the Croix de Coeur and its descent as normal before heading up the Crans Montana summit finish.
This has come about after discussions between riders, teams and the Giro organisers. The UCI's extreme weather protocol has been triggered and a compromise has been reached.
Here's the race director, Mauro Vegni
"There was a request from the riders and to change the route of the stage because of the extreme weather protocol.
"The real time news from Switzerland is that the conditions are much better there than here in Italy
"I have to say it's never easy to find an agreement because everyone has their own interests. My interest is the Giro."
The riders are gathering on the start line. They're actually going to roll out and ride through the neutral zone to kilometre-zero, at which point they'll get into their team buses and be driven to Switzerland.
It's a very short neutral zone today, so in fact the riders will ride the neutral zone in the driving rain, then ride back to the start area, to just get back in the buses.
Cycling. You wouldn't want it any other way.
Mood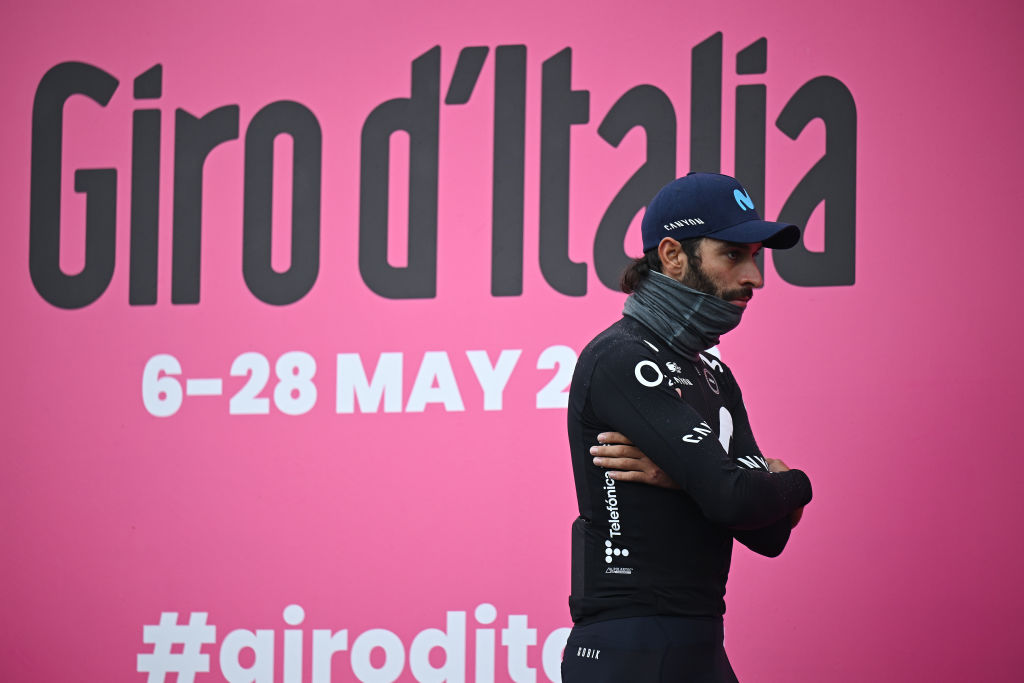 The scene at the start.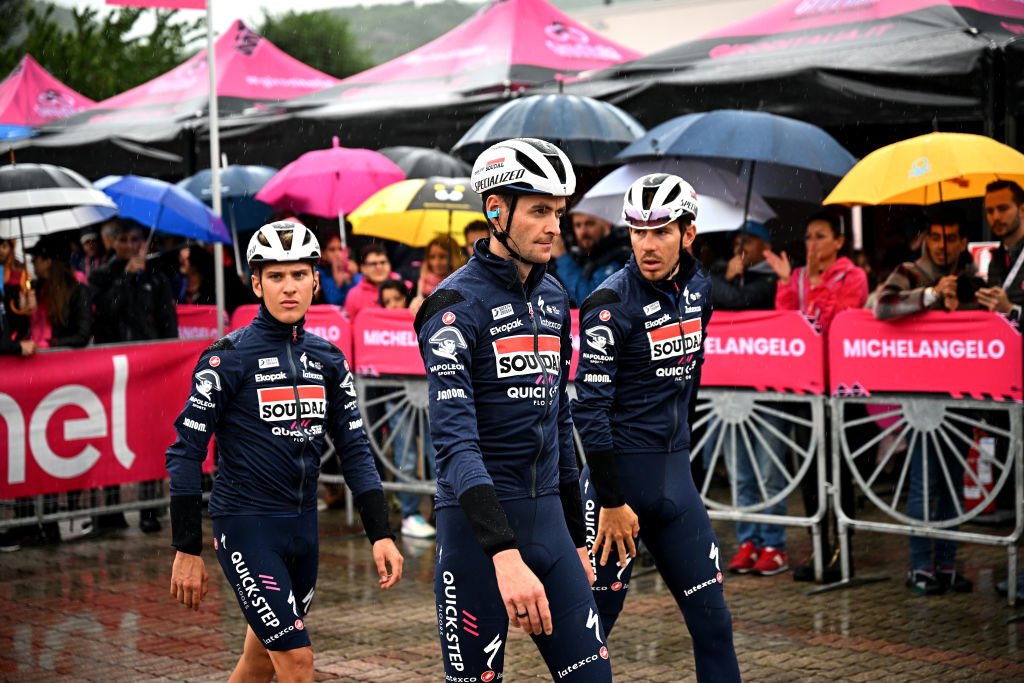 Here's Eolo-Kometa's Lorenzo Fortunato
"We'll only do the last two climbs, right? We were ready to do the whole thing but I think it was a great decision. It's a pity for the public, but the other day in the mountains when it was very cold, there weren't many fans, which was understandable. There'll still be spettacolo with this stage - maybe even more."
Here's the new stage profile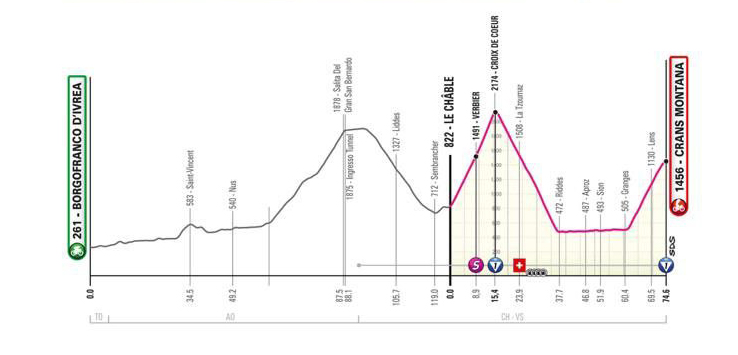 At 74.6km, it's slightly shorter than we first thought. We might still be starting in Sembrancher but it looks like we'll have a mini improvised neutral zone before kilometre-zero in La Châble, which is the exact foot of the Croix de Coeur.
Starting one of the biggest mountains of the 2023 Giro right from the gun? Carnage.
"You need to take the best decision to safeguard the riders," says Bahrain Victorious' Jonathan Milan. "I think it's the best thing"
The riders are on the start line and they're going to roll out here
They're off. Stage 13 of the Giro d'Italia is officially underway. Only it will last just five non-racing minutes before everyone turns around and goes back to the buses.
The start is being maintained to honour the agreement with Borgofranco d'Ivrea, who have made significant investments and plans to host the start of a stage of the Giro. There's pink stuff everywhere and it's a real shame for the town and its cycling fans, who, to give them their due, have still turned out in big numbers to see this.
Here's what race leader Geraint Thomas has to say
"There was a big chat last night with the CPA. All the teams voted on what they wanted to do. To be honest, I think it's a good decision. I think it's still going to be a super hard stage. It just means we're not in this cold, wet weather for even longer," the Welshman tells Eurosport/GCN.
"We've seen so many guys going home with sickness, so if we want to get to Rome with at least 50 guys, it's a good decision. It's still going to be hard racing, so I think it's a decent compromise.
"If anything, it makes it tougher. We're starting at this second climb. It's a tough climb. There's no warming up. It's going to be super hard. There's going to be a lot of attacks straight away. For us, we've got to try and keep it simple, keep doing what we're doing, communicating well, and try and control that first climb."
There are pink balloons everywhere here.
Only pro cycling would make the Giro d'Italia peloton ride several neutralised kilometres in the rain, then jump on the team bus and start 120km away 😂 Football equivalent is team doing keepy-uppies on waterlogged pitch for the fans then driving to a different stadiumMay 19, 2023
The riders have now left the town centre and they're approaching km0
And now they turn off. The road is blocked and they're guided left onto a small road that will loop them back around.
Some of the buses have in fact moved. Intermarché and QuickStep have managed to get theirs right up to that turn-off, so an extra bit of time in the dry for those riders. Marginal gains.
Most of the buses have in fact been moved, with many in a nearby industrial yard and the riders all now parking their bikes and stepping onto their buses.
The riders have soaked through a layer of clothing already. They'll get into some dry casual gear and settle in for a 100km drive.
Not all the riders are happy about this decision. Here's Jack Haig.
"I've seen we're starting the last two climbs but to be honest I don't fully agree because one of the main reasons that we didn't want to do the middle climb was because the road surface on the downhill