Live coverage
Giro d'Italia stage 7 - Live coverage
By Patrick Fletcher published
All the action on a flat stage that could be hit by crosswinds
Refresh
Hello there, and welcome to a one-star stage of the Giro d'Italia. Before you take off, though, let me tell you that 30km/h winds are blowing right across our route from Matera to Brindisi. On paper, it's one of the shortest, flattest stages of the race but in practice it could turn out to be a dramatic and pivotal day.
You should be able to see the stage profile at the top of your screen but what's really interesting today is the map. We're tracking more or less due east and the wind is more or less coming from the north, so almost directly across the route. 30km/h gusts are strong enough to blow a peloton into echelons, although exposed roads are also needed.... and, according to our resident Italian Stephen Farrand, we have them in the second half of the parcours as it nears Brindisi.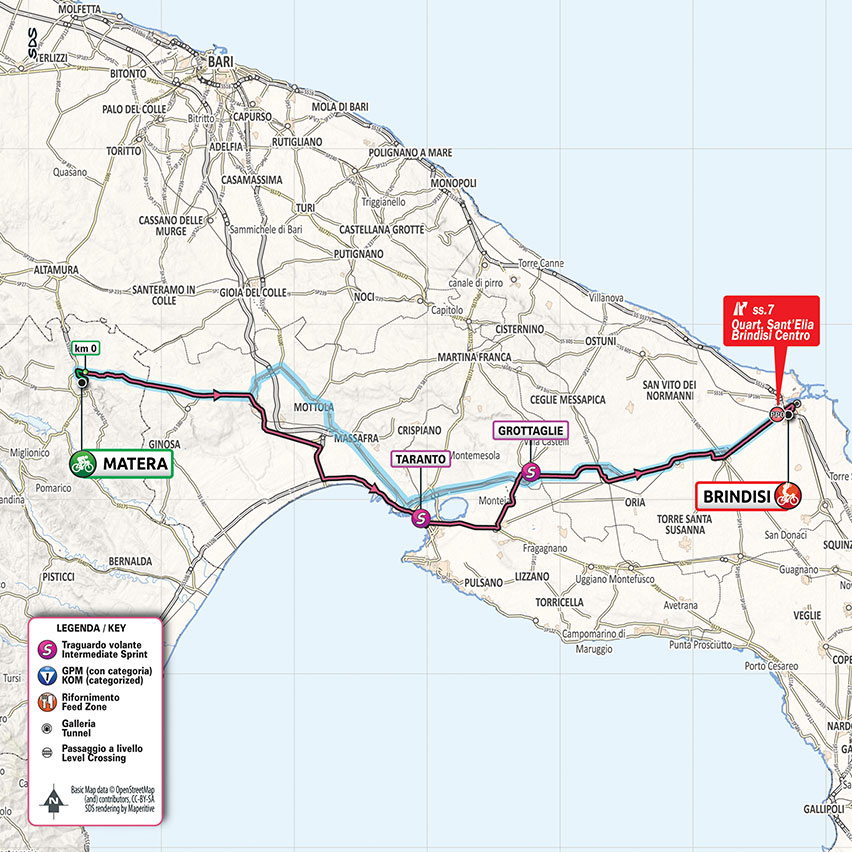 The riders have all signed on and are heading to the start line. They'll roll out of Matera at 13:00 local time, so in just under 10 minutes, and they'll spend around 10 minutes in a neutralised zone before the action kicks off.
Plenty of riders have been warming up on the rollers ahead of this stage. Everyone's aware of the threat of the wind and no one wants to be caught out if it kicks off early.
Arnaud Démare there, winner of two stages already at this Giro - yesterday's a sensational triumph on an uphill finish that has seen many anoint him as the sprinter of 2020. Given the flat terrain, he's the big favourite today in a bunch sprint, and even if the crosswinds hit, you'd back the Frenchman - who also has Classics pedigree - and his strong team to be up at the front.
The riders are still behind the race director's car, making their way through the narrow streets of Matera.
Before we get going, for more on Démare's win yesterday, plus all the standings ahead of today's stage, here's the link you need.
We're off!
The flag has dropped and we're away. Here come the first attacks.
Thomas De Gendt - who else - is looking to get up the road. He moves clear with three others in the opening metres.
The peloton is spread across the road and it looks like those four riders have gone clear without fuss and without much interest from anyone else. As for the crosswinds, we mentioned the action may well come later, and it's a quiet start for now.
The cameras pan to a wind turbine, which is... barely even turning. The forecasts don't seem to be coming true for now. That said, the wind does look to be stronger, and the roads more open, nearer to the coast and Brindisi.
We've got a lone counter-attacker who has missed the breakaway boat. It's Bardiani's Fabio Mazzucco, but they're not waiting for him.
The four in the breakaway are:
Thomas De Gendt (Lotto Soudal)
Josef Cerny (CCC Team)
Marco Frapporti (Vini Zabù-KTM)
Simon Pellaud (Androni-Giocatolli-Sidermec)
Here we go!
Slow start, but Deceuninck-QuickStep - echelon masters - have just started sprinting at the head of the peloton...
Splits already as the Belgian team pile on the pressure. Mitchelton-Scott have missed this and Yates is chasing already in a mini group between two larger bunches.
The front bunch splits again as a rider pulls out and leaves a hole in the gutter. Jumbo are also up there.
We now have a front echelon of only around 30 riders!
Fuglsang and Majka are caught out!
Jumbo-Visma have numbers up front, including Kruijswijk, and they're collaborating with QuickStep to drive this on. Démare is in there.
We have around 12 riders in the second group, with Fuglsang and Majka. The Yates group is a few seconds further back, and there are other groups close at hand behind them. Those groups at the back look like they'll come together.
Those groups do come together and settle into one larger peloton. This all depends on organisation and numbers now, and whether enough teams can mount a proper chase. The gap to the front echelon has yawned out.
Pello Bilbao (Bahrain McLaren) is also caught out behind. He was second overall at the start of the day.
125km to go
The breakaway's lead is cut to 55 seconds and if this carries on like this, they might not be out there for much longer.
Groupama, Lotto Soudal, and Sunweb are also present up front, albeit not with the same numbers as QuickStep and Jumbo. They're helping to drive it on now.
Vincenzo Nibali is present and correct up front.
The splits have stopped and those groups have stabilised. We have the small front echelon, followed by that larger bunch with Fuglsang etc. There are more riders that have even been spat out of the back of that group, so it's not like Fuglsang and the others have a full complement of teammates to chase.
The front echelon is just 15 seconds down on the break now. They're 40 seconds ahead of the Fuglsang group!
As well as Démare, Fernando Gaviria (UAE Team Emirates), Elia Viviani (Cofidis), and Michael Matthews (Sunweb), and Peter Sagan (Bora-Hansgrohe) are in the front group.
Sagan has a teammate with him up there. It's Bodnar, and they're rotating through, despite their GC man Majka behind caught behind.
120km to go
Breakaway caught!
A short day out front for De Gendt, Cerny, Frapporti, and Pellaud.
We'll get a list of the names in the front group to you shortly, but from a QuickStep point of view, it'd be quicker to name who isn't in it: Pieter Serry. The other seven, including the maglia rosa Joao Almeida, are all up there.
EF and Astana are leading the chase group, with Ineos prominent as well.
That chase group is starting to thin out now. There are only around 40 in there, versus 30 up front.
The road dips downhill now. The gap has come down to 20 seconds.
To recap, among the big names caught out are: Fuglsang, Majka, Yates, Bilbao, Vanhoucke, Pozzovivo. The GC contenders safely up front are Almeida, Nibali, Kelderman, Kruijswijk.
Ineos are helping to drag this back and they're close. 17 seconds now, as the riders up front continue to push on.
Yates has been dropped from that chase peloton! I mentioned it had reduced in number but it looks like it was a full-on split. Pozzovivo and Vanhoucke are also back there in what is now the third group on the road.
That third group, where Yates himself is doing turns, is a minute down!
The Fuglsang group is inching ever closer, but it's taking a long hard effort to close this down. 13 seconds is the gap now with 102km to go.
The riders are going through the town of Palagiano now, where the buildings offer some protection from the wind.
The Fuglsang group is within touching distance now, at seven seconds.
Into the final 100km and it eases out to 10 seconds again as they head back out onto exposed roads.
It's more of a tailwind now as we head down to Taranto, so it's fast, and hard to chase.
It's amazing how this gap is holding at around 10 seconds. The two groups look so close on the road but they can't quite finish the job at the moment.
As I write that, the two groups both string out into single files and they almost come together. Astana look to fire Fuglsang across but the groups are splitting again.
And now it does come back! The rest of the riders in that group make contact and we have a front group of around 70 riders, followed by what's now the main chase group, with Yates, Pozzovivo, and Vanhoucke, at 50 seconds.
Lotto Soudal are thrashing it out on the front of that chase group, with De Gendt among those hammering it out for white jersey Vanhoucke, who comes through for a turn of his own. NTT also have some numbers and it's those two teams taking control.
After those two groups came together up front, the pace has eased slightly as everyone catches their breath and takes stock of the situation. That could allow the chase group to make inroads.
Echelon shots never disappoint and the first ones from this stage are in...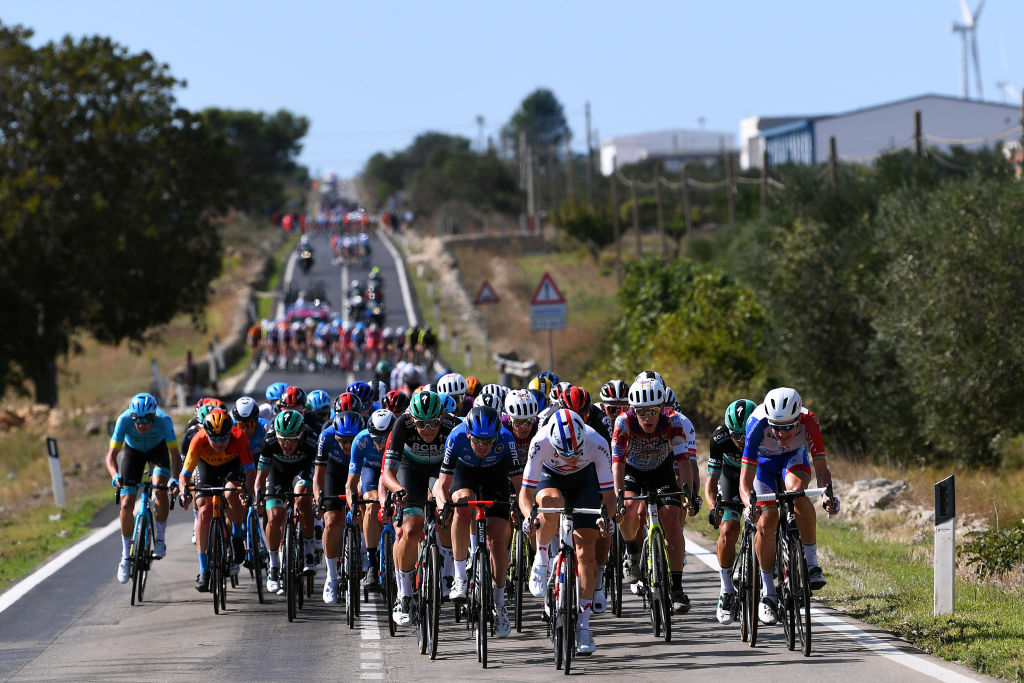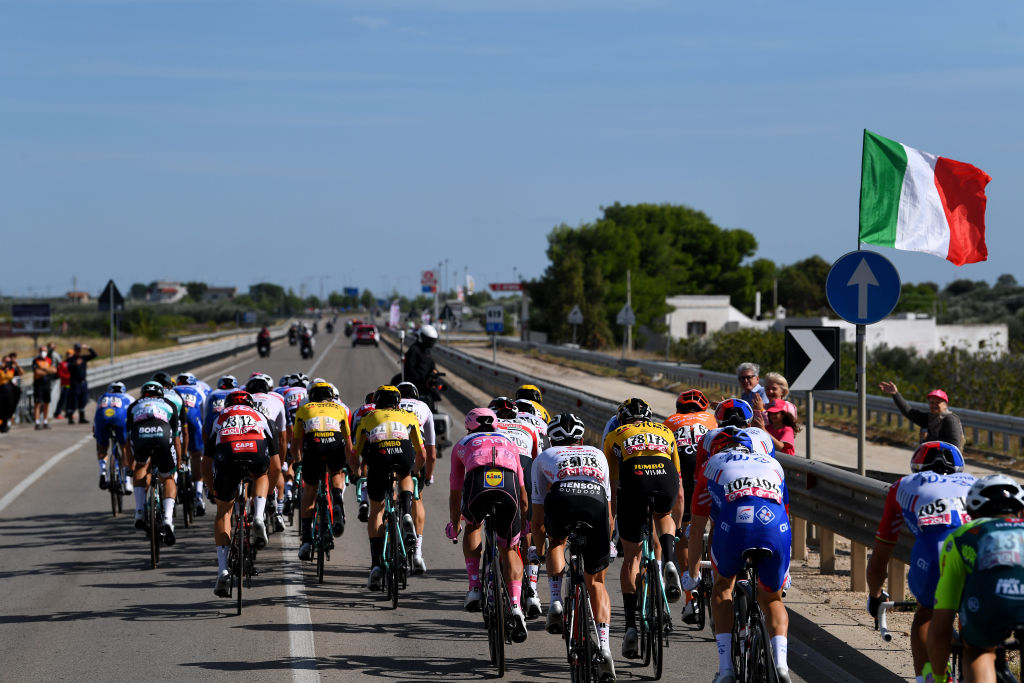 The gap is holding at 50 seconds as the riders press on up front. It's not frantic anymore, but there are so many riders in there, and most of them are calmly rotating through.
The front group can do this all day long, given the numbers, but it's still desperate back in the chase, which is being marshalled mainly by De Gendt and Campenaerts.
It looks relaxed in the front group, and QuickStep look to take some control, putting Keisse on the front ahead of Almeida. Tony Martin, however, shakes his head and comes through to raise the tempo a little.
87km to go
The opening 50km have absolutely flown by. Just a couple of hours left in this stage, but it's still a long way to the finish and it can't be full gas all the way. It has definitely settled down up front, and the gap to the chasers falls to 40 seconds.
Yates, Pozzovivo, Vanhoucke close to 30 seconds now, and it looks like this might well come back. It's still a desperate chase, though, as they know it could kick off again up front at any moment. A lot of tired legs in that group already.
Bora are riding in that third group. They have Sagan and Majka up front but Patrick Konrad is ninth overall and was caught out.
It's all calming down at the front. The pace has eased completely and the chase group is certainly going to get back in now.
82km to go
There we go. All back together. The chase group is finally back on, and our three main groups have all eventually stitched back together. There are plenty of riders who have been left behind, but the majority of the race, including all the stage and overall contenders, are now in one big peloton.
Simon Pellaud, who was in the short-lived early break (remember that?), immediately goes on the attack.
And he's joined now by Marco Frapporti. Just De Gendt and Cerny to go and the band will be back together.
Things have slowed slightly now but the stage so far has been run off at close to 55km/h.
Pellaud and Frapporti have opened a small gap as they head into Taranto on the sea. Intermediate sprint coming up.
The front two have 10 seconds as they head along the coast road. We should see Démare and Sagan battle it out for the remaining points behind.
Half-way down the peloton there's a touch of wheels and a number of Sunweb riders are down. Vanhoucke is also caught up and Fuglsang is held up but back on his way.
No injuries from that crash. Fuglsang and Vanhoucke are chasing with teammates behind the Lotto Soudal car. Hindley is there for Sunweb.
Amid that crash, Viviani was first from the bunch at the intermediate sprint, ahead of Démare and Sagan. Démare therefore extends his lead in the maglia ciclamino standings to 40 points.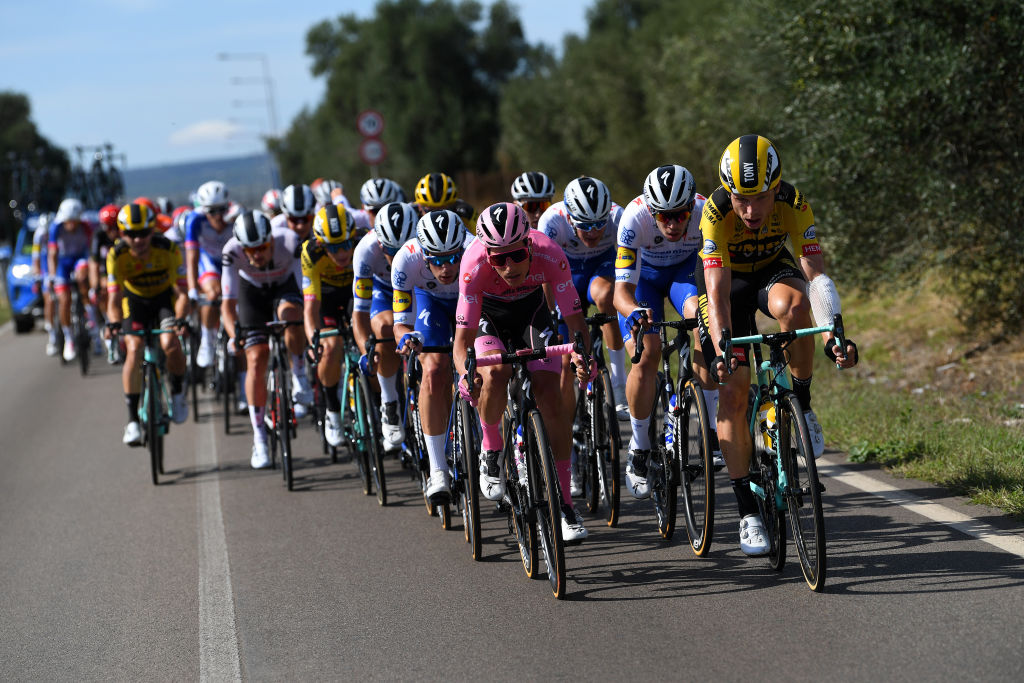 A reminder of the map. We're leaving Taranto and heading east and then north for another intermediate sprint in Grottaglie. It'll be more of a headwind on that section, and the towns will provide shelter from the wind. However, it's then a crosswind for the final 50km, and it gets stronger and more exposed the nearer we get to Brindisi. Things have come together and calmed down, but there's plenty of potential left in this stage...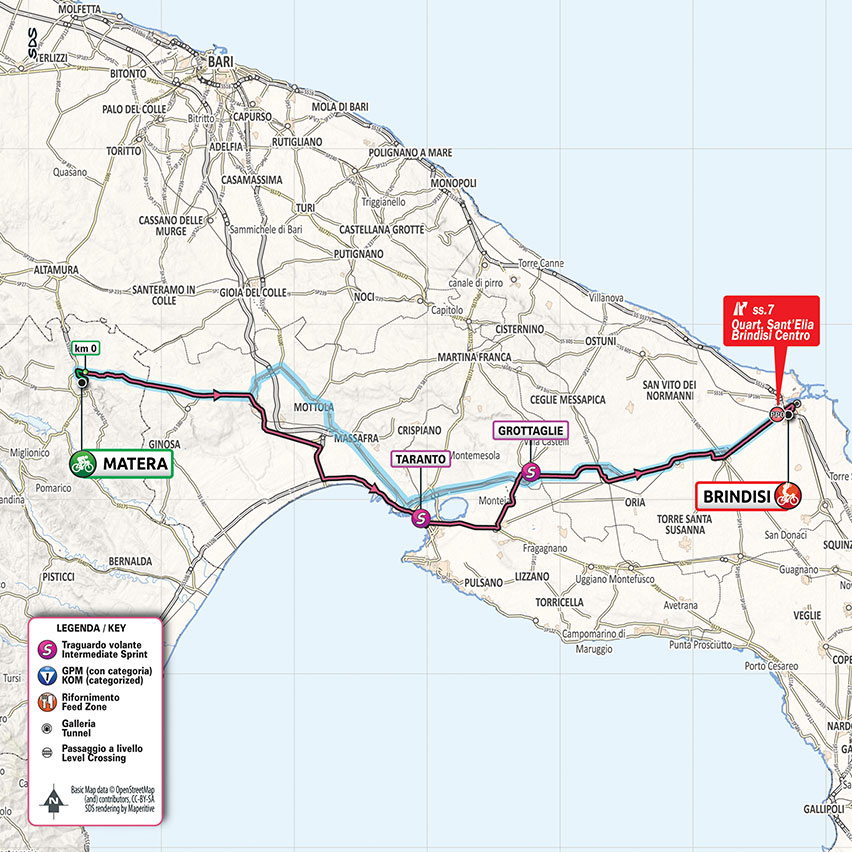 The 50 or so riders who were left at the back of the race have themselves come back now. So we have more or less a complete peloton out there, 23 seconds behind a new breakaway of Pellaud and Frapporti, with 68km to go.
Pellaud and Frapporti are still 10 seconds ahead of the peloton.
With things calm for the first real time since we fired up this live blog, we bring you the major news of the day, which is the cancellation of Paris-Roubaix. The 118th edition of the Hell of the North, and the inaugural edition of the women's Paris Roubaix, will not take place in 2020, and we'll have to wait until 2021, when it'll be back in its usual April slot.
Paris-Roubaix cancelled after COVID-19 cases rise in northern France
"I have to tell my guys that if they were French or Italian I would already have two contracts for you."
While I'm plugging stuff, this feature by Daniel Benson is well worth your time. Daniel speaks to rider agent Robbie Hunter and a number of other key figures to find out why there's such a shortage of African riders - and in particular Black African riders - in the WorldTour.
Transfer Mechanics: The struggles facing African riders trying to break into the WorldTour
Pellaud and Frapporti are still just dangling out there. The riders in this peloton are well aware of the continued threat of crosswinds and no one wants to be caught out when it next kicks off. Plenty of teams have formed into trains and are looking to stay organised and well positioned before the wind strikes again.
We're around 5km from that second intermediate sprint. Things should remain as they are until then but after that all bets are off.
57km to go
Pellaud and Frapporti are caught. All back together once more.
Trek, Sunweb, Astana all prominent as teams get organised at the head of the peloton.
Groupama move up on the left. The intermediate sprint is coming up in just over a kilometre but there are no ciclamino points on offer here - just intermediate sprints classification points. However, there are bonus seconds, so will we see Almeida or any other GC hopefuls nudge out?
Crash!
Another one on the rise to this sprint, and it's a Groupama rider who's down.
The FDJ rider accelerates straight into his teammate's wheel. A really sloppy one. Pink jersey Almeida has to unclip and someone bashes into him for the second time in two days.
The Groupama rider is back on his way and Almeida is already back in second position in the bunch.
51km to go
They head through the intermediate sprint and it's a bit of a non-event. Boaro and Ballerini are the first over the line but simply by virtue of leading the peloton at that particular moment.
Ok, we're through the intermediate sprints and out of town now. 48km to go and we're heading back out onto more exposed roads, where the wind is coming from the left-hand side. QuickStep are back on the front in numbers and it could kick off at any moment.
Puncture for Tony Martin. Not great timing. Not the worst, though.
This is a much bigger one. Nearly half the bunch is held up right under the 45km to go banner.
We have barriers in the road as several riders are still down. Loads more held up but on their way again.
It's a pinch point under that banner and it looks like an EF rider who touches a wheel on the right and crashes left, causing a domino effect through the middle of the pack. Almeida is just ahead of it.
Amanuel Ghebreigzabhier (NTT) looks to be the worst off. He's back on his feet, thankfully, but it looks like his Giro could be over.
Filippo Ganna (Ineos) is in a four-man chase group at 1:25. Pozzovivo is in another 20-rider group much nearer to the main peloton.
They haven't knocked it off in the main peloton. No one is attacking it but the threat of crosswinds is still there and they're still braced for action, so there's no real truce to let things reform after that crash.
Bilbao is with Pozzovivo in that 20-rider chase group, but now they make it back to the peloton.
Sean Bennett (EF) looks pretty banged up back down the road, and it might have been the American who sparked the spill.
CCC are leading what is now the main chase group. Zakarin caught up once again.
Vanhoucke has also been caught out for the umpteenth time today. What a day the young Belgian is having, after such a bright start to the race. He's in the chase group at 1:10.
Jumbo-Visma hit the front of the bunch now with 35km to go
With 45km remaining, @GannaFilippo was caught up in a crash and is with @jcastroviejo chasing to get back into the peloton - their group is 1'12" back. Filippo says he's ok though 👌 pic.twitter.com/Ekq1xJBF17October 9, 2020
We've got a little more clarity on the chase groups now. CCC, with Zakarin, are leading the first chase group at 35 seconds. Around 25 riders in there. Further back, at 1:13 is the larger Vanhoucke/Ganna group. At least 30 riders in that one.
Lotto Soudal are, understandably, leading the chase in that third group. Another desperate chase for Vanhoucke and his teammates.
27km to go
QuickStep, Astana, Jumbo, Sunweb all prominent up to the front of the main bunch. All on high alert but no big accelerations just yet.
The Vanhoucke group is coming back to the Zakarin group now. We could soon have one big chasing peloton, but will they get back to the front of the race. At more than a minute, it's hard to see it happening.
Groupama-FDJ also have numbers towards the front of the main bunch. Démare is the big favourite, especially with a lead-out. This group, however, can still blow apart between now and the finish.
24km to go
The two chase groups come together, so we have a large chase peloton - containing Vanhoucke and Zakarin - one minute behind the main bunch, containing the rest of the contenders for both the stage and overall title.
Things have slowed somewhat up front, and the gap to the chasers has fallen significantly.
We're on a wide highway and the peloton is bunched up, signifying that the speed isn't so high. The chase group, meanwhile, is single file, and they're within sight now.
21.5km to go
Back together!
The chasers do come back to the front and it's a sigh of relief from Vanhoucke and Zakarin. After so much action, with countless splits caused by the wind and crashes, the peloton is more or less back together, as one, just over 20km from the finish line in Brindisi.
20km to go and the pace ramps up a notch, but I'm not sure if we're going to get any more crosswind action now. Once we get into town, in just over 10km, it's more sheltered.
The speed is up as teams get organised
Big acceleration now!
We're heading right out of a roundabout and the change in direction could see the wind hit.
We're up over 60km/h as Keisse hits the front for QuickStep.
They come through another roundabout and off the main highway, and it bunches up again.
Keisse turns around and waves his arm at his teammate Ballerini, and perhaps the Italian wasn't quite quick enough in towing Almeida up when Keisse made that acceleration.
Back together and we head into the town of Mesagne. It's sheltered now and it looks like we're going to see a pretty big bunch sprint today. Just over 15km to go!
QuickStep have set up on the left with five riders in front of Almeida. Ineos and Mitchelton, who've been caught behind the splits a fair bit today, are also on the nose now.
The riders leave town and head back onto wide open roads. The front of the pack is bunched up but there's a single file line at the back.
Groupama have set up on the right.
Can anyone beat Démare? Sagan has blown hot and cold so far - he was so close a few days ago but was so disappointing yesterday. Gaviria and Viviani will have their best shot so far, while we'll see if Hodeg or Ballerini sprint for QuickStep.
It's a cross-headwind, and the riders are slightly protected by the highway barriers. QuickStep accelerate and the pace is high but this is all about positioning now and not too dissimilar from a normal bunch sprint run-in.
10km to go
Here we go then. Final 10,000 metres!
Groupama are through the middle now, with Lotto Soudal, who somehow look to have come through unscathed with Vanhoucke, on the right. QuickStep are holding on the left.
NTT have also learned their lessons. Campenaerts is on the front for them alongside QuickStep, Pozzovivo in the wheel.
A word about the finale
It's technical. There's a roundabout with 4km to go, and then between 2.2km-to-go and 1.2km-to-go there are no fewer than four 90-degree bends. It's twisty and turny and the bunch will naturally fracture as they go through. The final kilometre is straight but it could be a messy one, and there's an opportunity for someone to try and spring a surprise.
Anyway, we'll find out about that soon enough. 6Km to go!
Almeida got a little lost just there. We're still out on the big highway and he's over on the right, with Knox gesturing to him and trying to guide him back to safety. Finally, he's back on the left behind the reorganised QuickStep train.
5km to go
Into the final 5,000 metres and still we have QuickStep on the left, Groupama through the middle. Israel are moving up now on the right. They have Cimolai and Barbier.
Here we go then. This is the big roundabout with 4km to go. QuickStep have the front as it lines out.
QuickStep need to get Almeida to the 3km banner, where GC times are neutralised in the event of a crash. Then they might think about a lead-out, but Groupama have numbers and look determined here.
Jumbo hit the front now, with two riders in fonot of Kruijswijk.
We're through the 3km banner and still Jumbo have the front. UAE move up here. Gaviria has Richeze and Molano for the leadout
2.5km to go and now Jumbo lead through the first 90-degree bend
It's dead straight to the line now. 1Km to go and Groupama now take it up!
Demare has two men in front of him with 700m to go
Now down to one with 500m to go. UAE move up now
Demare opens up and hits the front!
Arnaud Démare (Groupama-FDJ) wins stage 7 of the Giro d'Italia
It's a third stage victory for Démare, and another convincing one. Sagan was second but never threatened to come around. Matthews was third, just ahead of Swift. Hodeg and Ballerini were both up there for QuickStep, along with Barbier. Viviani was well down and Gaviria didn't even sprint in the end.
That was a funny old sprint in the end. Démare had a solid lead-out but they got swamped a little in the final 400m. Richeze comes up and bumps Démare off the wheel of his last man Guarnieri, and then Ballerini launches a long-ranger. Démare surges past Guarnieri and into the slipstream of the Italian, before moving out and breezing clear.
Sagan clearly had one tactic: get on Démare's wheel. He did that and was propelled forward but he was powerless to get out in front or even alongside. It looks like Gaviria and Hodeg brush shoulders and maybe that's why Gaviria stops sprinting. Either way, in the last 100m there's a big gap back to Swift, who Matthews just pips at the line.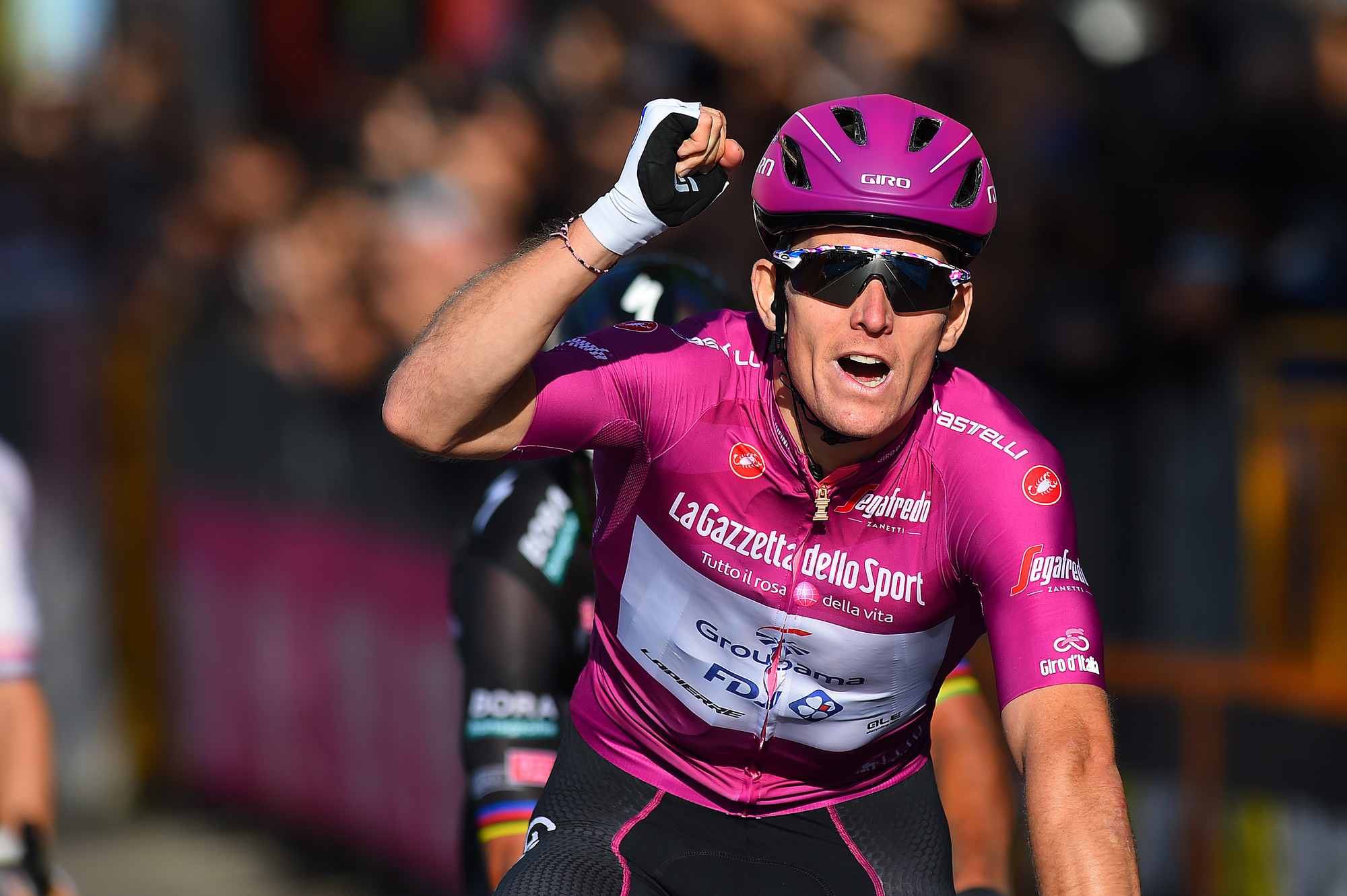 Results
1 Arnaud Demare (Fra) Groupama-FDJ 2:47:28
2 Peter Sagan (Svk) Bora-Hansgrohe
3 Michael Matthews (Aus) Team Sunweb
4 Ben Swift (GBr) Ineos Grenadiers
5 Alvaro Jose Hodeg Chagui (Col) Deceuninck-Quickstep
6 Rudy Barbier (Fra) Israel Start-Up Nation
7 Davide Ballerini (Ita) Deceuninck-Quickstep
8 Enrico Battaglin (Ita) Bahrain McLaren
9 Filippo Fiorelli (Ita) Bardiani CSF Faizane'
10 Elia Viviani (Ita) Cofidis
General classification after stage 7
1 João Almeida (Por) Deceuninck-Quickstep 24:48:29
2 Pello Bilbao (Spa) Bahrain McLaren 0:00:43
3 Wilco Kelderman (Ned) Team Sunweb 0:00:48
4 Harm Vanhoucke (Bel) Lotto Soudal 0:00:59
5 Vincenzo Nibali (Ita) Trek-Segafredo 0:01:01
6 Domenico Pozzovivo (Ita) NTT Pro Cycling 0:01:05
7 Jakob Fuglsang (Den) Astana Pro Team 0:01:19
8 Steven Kruijswijk (Ned) Team Jumbo-Visma 0:01:21
9 Patrick Konrad (Aut) Bora-Hansgrohe 0:01:26
10 Rafal Majka (Pol) Bora-Hansgrohe 0:01:32
After some strange splits in the initial results, things have been amended and there is no change on GC. After such a dramatic day, many will be breathing a sigh of relief.
Let's hear from Démare
"Having fantastic teammates made the difference today. It was amazing what they did for me. It was a very fast stage with echelons and then a tailwind and lots of crashes. It was very nervous. Fortunately things calmed down but it was also a fast sprint.
"There was a lot of wind until four kilometres to go and the final was twisting, making it difficult to move up. I waited a bit to open up my sprint and saw Sagan was behind me. But it was okay, it was perfect."
Report, results, photos at the link below.
Here's a replay of the sprint
Démare doesn't have rivals and wins the third sprint out of three in Brindisi. Watch now the Last Km!Arnaud Demare non ha rivali e vince la terza volata su tre a Brindisi. Ecco l'ultimo chilometro!#Giro pic.twitter.com/Vw0Jed3gaYOctober 9, 2020
Sagan actually waved his arm at Démare beyond the line. It seemed he was unhappy about the Frenchman moving across the road. He does go quite far to the right, only leaving Sagan with a really narrow corridor along the barriers, but it's a gradual rather than a sudden movement. Take a look at the video and let us know what you think.
Another view of it and a view of the exchange between the pair beyond the line
'Riders shall be strictly forbidden to deviate from the lane they selected when launching into the sprint and, in so doing, endangering others.'The deviation is there, but hard to say he was endangering Sagan with that. Sagan didn't like it, though. #Giro pic.twitter.com/NJ52n57t64October 9, 2020
Encore auteurs d'un travail impeccable : mesdames et messieurs, les équipiers d'Arnaud Démare ⤵️ pic.twitter.com/EVtIOzMu05October 9, 2020
Another day in pink for Almeida
"Sometimes it was really scary, especially in the final, everyone was nervous and wanted to be at the front. But I have a perfect team and they did a perfect job," he says.
"I had two guys with me and when they got tired in the final kilometres, I just had to ride in up front. I think the maglia rosa makes me stronger, mentally too. Tomorrow is another day in pink."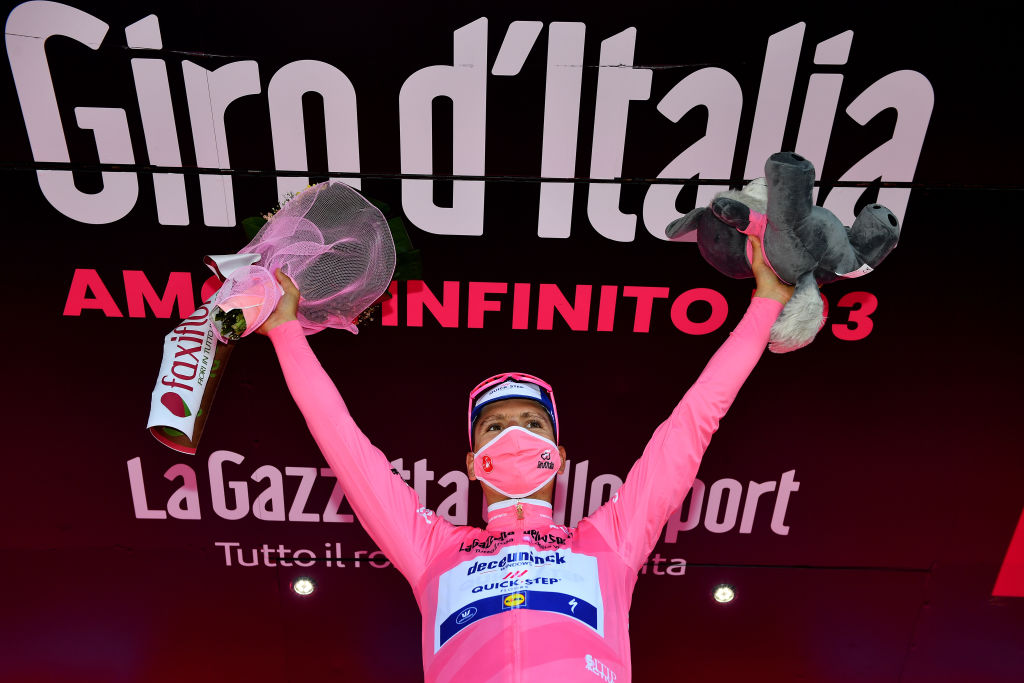 Of all the unnecessary reasons to crash, the easiest to fix must be the gantries marking every 5km. 60kph peloton gutter-to-gutter has to suddenly get 2m narrower to fit between a sign telling us the same thing as our head units and directors. TV viewers also have a graphic.October 9, 2020
Sign up to the Cyclingnews Newsletter. You can unsubscribe at any time. For more information about how to do this, and how we hold your data, please see our privacy policy
Thank you for signing up to Cycling News. You will receive a verification email shortly.
There was a problem. Please refresh the page and try again.