Live coverage
Giro d'Italia stage 13 – Live coverage
By Daniel Benson published
All the live race text action from Cervia to Monselice
Refresh
Long time no see.

Welcome to our live coverage from stage 13 of the Giro d'Italia. We are in Cervia this morning and most of the bunch still in the race have signed on and are ready to race. We should be underway in about 20 minutes.
This should, in theory, end in a reduced bunch sprint as we have two fourth cat climbs in the finale but who knows how the stage could play out today. Demare will be looking for his fifth win of the race but will Groupama be content to the work on the front throughout the stage or will Cofidis and UAE once more do the work as they look for their first stage wins in the race?
Leaving Galzignano Terme, the riders will enter the Euganean hills, ancient volcanoes that overlook the Padovan-Venetian plain, where there are two fourth-category climbs. The first to Roccolo (averaging 8.3 per cent over 4.1km) comes in two parts, the first rising up the Muro di Vallorta, where the gradient briefly touches 20 per cent, and the second continuing to Roccolo, where there's another abrupt ramp that's almost as steep.
Leaving Rivadolmo there's a second "wall", this time the Muro di Calaone, which is just a tad under 10 per cent gradient for 2.1 kilometres. Like the Vallorta, it takes a narrow, twisting route through dense woodland and offers the chance for punchy climbers to ambush the sprinters. Cresting this climb, there are 16 kilometres to cover io the finish, initially winding through a series of small villages until, on the approach to Monselice, the road runs straight and wide. This will give the sprinters' teams an opportunity to reel in any riders who have taken flight.
The run-in is comparatively straightforward, until an extremely sharp left-hand bend 400 metres from the line. The battle to be in the vanguard at this point will be especially fierce, as whichever team secure it will probably win the day.
The biggest news from yesterday came from EF. They decided they could/should/would go home if everyone else wanted to. No one did, however, and the UCI have slapped down their requests to end the race early. Here's that story. The American team has stated that they will leave the race if they return one positive test, which seems entirely fair after Jumbo Visma put their rider and staff first earlier in the race.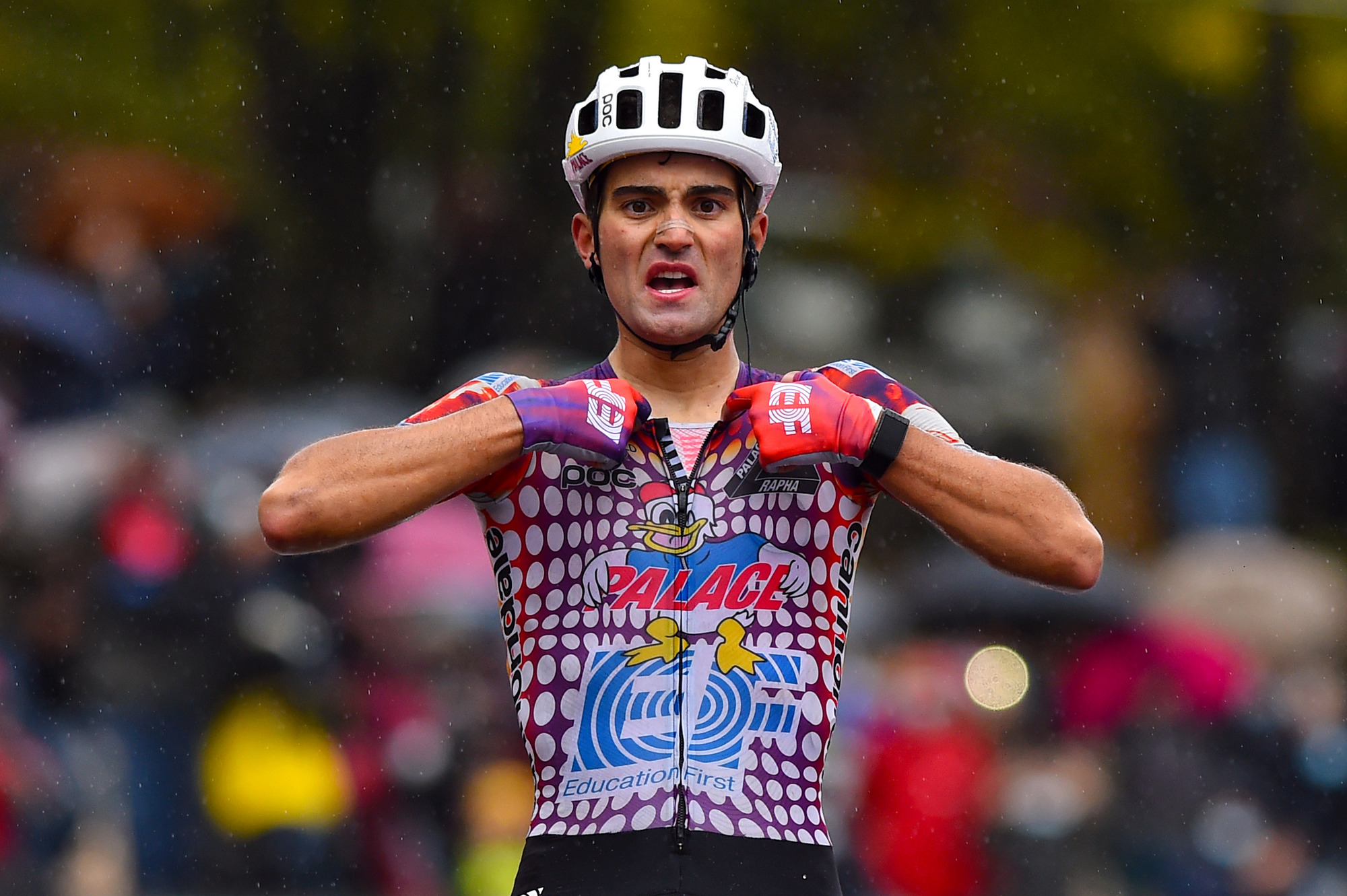 Meanwhile, the president of all things on two wheels, David Lapparient, has told us all that cycling has the global pandemic 'under control'.

'The efforts that cycling has been taking have been paying off but we must not let go' says the UCI president.
Before we get underway, here are the GC standings heading into the stage:

General classification

1 Joao Almeida (Por) Deceuninck-Quickstep 49:21:46
2 Wilco Kelderman (Ned) Team Sunweb 0:0:34
3 Pello Bilbao (Spa) Bahrain McLaren 0:0:43
4 Domenico Pozzovivo (Ita) NTT Pro Cycling 0:0:57
5 Vincenzo Nibali (Ita) Trek-Segafredo 0:01:01
6 Patrick Konrad (Aut) Bora-Hansgrohe 0:01:15
7 Jai Hindley (Aus) Team Sunweb 0:01:19
8 Rafal Majka (Pol) Bora-Hansgrohe 0:01:21
9 Fausto Masnada (Ita) CCC Team 0:01:36
10 Jakob Fuglsang (Den) Astana Pro Team 0:02:20
What a stat: a @deceuninck_qst rider has been GC leader in 21% of stage race days in 2020 (.1 and above)👉 32 race days with a Deceuninck Quick Step rider as GC leader: Almeida (10), Evenepoel (9), Bagioli (3), Steimle (3), Alaphilippe (3), Jakobsen (2), Honoré (1), Bennett (1) pic.twitter.com/eyOXEUyukYOctober 15, 2020
Lappartient did have this (below) warning ahead of the Vuelta, which is due to start next week. As far as we know all of the invited teams are going to be on the startline. Mitchelton were undecided but had internal meetings on Wednesday and will race.
"The efforts that cycling has been taking have been paying off. But we must not let go; the danger is still there. If we want the Vuelta to take place, we'll have to make the protocols even stricter, as Spain has been hit even harder than Italy."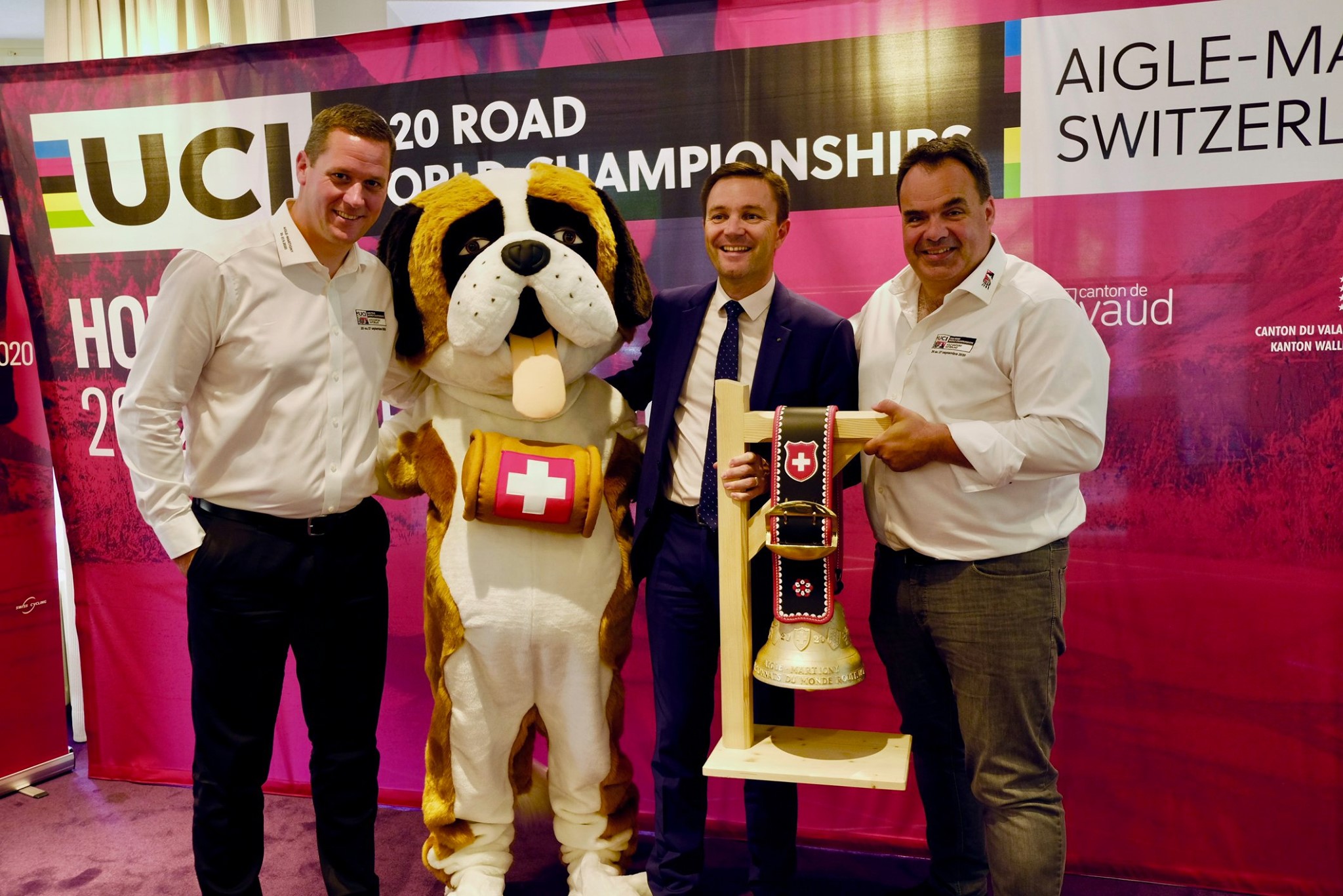 A bit more on the Vuelta before we head back to the Giro action and Sunweb have just announced their line-up.
#LaVuelta20 The guys who will be repping our colours across Spain @lavuelta👊🏻🇳🇱 @ThymenArensman 🇬🇧 @markdon99 🇩🇪 Max Kanter🇦🇺 Robert Power🇩🇪 Martin Salmon🇦🇺 @mjstorer_au 🇩🇪 @JashaStterlin 🇧🇪 @IlanWilder 💻https://t.co/jqfjil9SrO pic.twitter.com/qYmhxFRroMOctober 16, 2020
And here's Thomas de Gendt, who didn't get a huge bonus to race the Giro, but here neatly sums up the vibe within the peloton.

"I have to be honest: my head is not really in the race after the news of the 17 infected police officers," De Gendt said to Sporza in Cesenatico.
"Things are going badly in this Giro. We have been discussing with the riders in the team for 20 minutes about whether or not to start because we are starting to feel unsafe."
"There have been more than 10 cases and yesterday I heard several riders coughing. It's the cold season, but in the long run you can't concentrate anymore," he said.
"Some riders prefer not to start, others do. Everyone is free to do so. I'm one of the riders who would rather not start. Everyone chooses for themselves.
"If you stop, it's over. But you can continue until it's too late. Do I feel unsafe? It's going the wrong way. It's not so much for myself as for my family. I don't want to infect anyone – I'm concerned about that."
And we are racing on stage 13 of the Giro d'Italia. All the teams signed on, and we're underway.
We've rattled through the first 9km of the stage and there's no sign of a breakaway.
As you would expect, Androni have been firing riders up the road but no luck so far, as now we see De Gendt move towards the front of the action. It's mostly flat for the opening 150km of today's stage but the wind direction could be crucial later on.
De Gendt hasn't taken a win this season and he admitted that his legs weren't great at the Tour de France but the main problem with being Thomas De Gendt is that everyone wants to be in the break with you, so as soon as he moves the front he's followed by a dozen riders right away. It makes is doubly hard to make it into the break.
14km of the stage covered and still no break.
Ineos will unveil their Vuelta a Espana line up later on today (probably) and they've changed their eight-man roster a couple of times in the last few weeks. Here's the latest on their team. It's highly likely that this will be their squad for Spain but they - like all teams - have until 72 hours before the race to make any changes.
18km raced and it's been a rapid start to the stage but still no breaks. Nothing.
Breaking news just in: Équipe Paule Ka collapse after title sponsor stops funding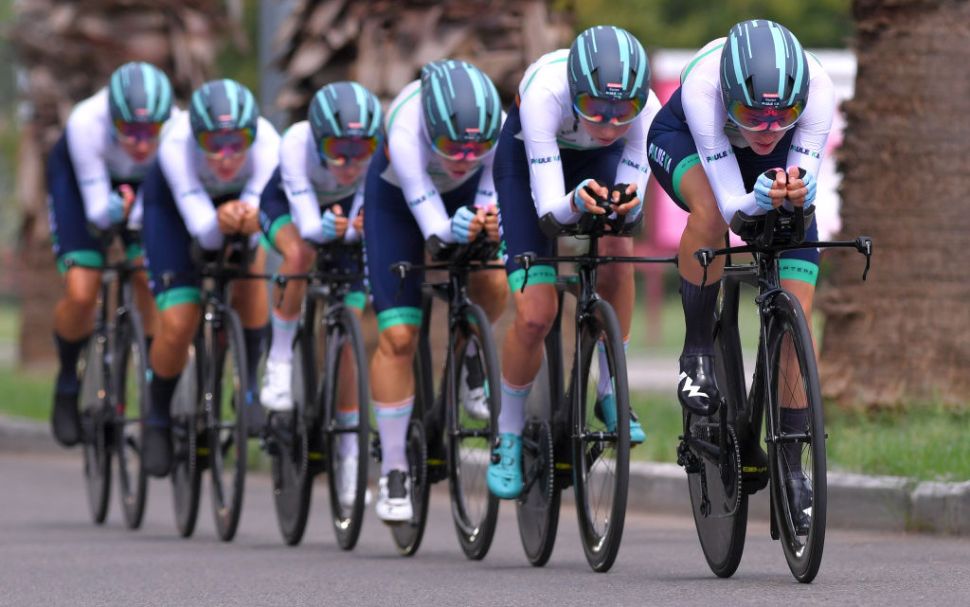 Meanwhile at the finish the sun is out and there's very little wind to speak of.
Sagan is perhaps the main favourite for the stage today. He has the form and the confidence after his earlier win in the race. The two climbs in the final give him the chance to drop Demare before the sprint as we finally see a break move clear with 160km to go.
The leaders in the break are: Bouchard (AGR), Pellaud (ANS), Ravanelli (ANS), Contreras (AST), Tonelli (BCF), Vanhoucke (LTS), Rota (THR) and they have 2'57 with 150km remaining.
So Androni have two more riders in the break as we see Bora hit the front and set the pace for the peloton. They're keeping the gap at around 3 minutes as we see the peloton line out.
Benedetti, who was in the break yesterday, is on the front right now, before Navarro moves up for ISN and takes a long turn. They missed the break today and won't be happy as we see the GC teams group together in the main field.
Pellaud in the break for the second time in two days as we see the gap hold at 2'47 with 146km to go. We have our break of the day but they're not being given a huge amount of wiggle room at this point.
The bunch take a few more seconds off the break's lead and it's down to 2'20 with 141km to go. There's some interest from Cofidis - who haven't won a stage yet - who have joined the chase. The seven leaders are working well but on these long, flat and exposed roads it's really hard to build up an advantage.
Navarro, who has been top-ten in both the Tour and the Vuelta continues to drive the peloton along. The 37-year-old is out of contract at the end of this season but he's putting in a shift here for ISN who already have a stage win through Alex Dowsett.
No pressure on QuickStep or Almeida at the moment as they sit back and let other teams do the work. The problem for the break at this point is that they are continuing to lose time with the gap down to 1'59.
Ineos have also lined out their riders near the front of the bunch but they're not yet contributing to the chase. They're going to save their powder for the two climbs in the finale and the possible reduced bunch sprint.
It's still Navarro, who used to ride in the mountains for Alberto Contador, who sits on the front of the peloton. He's brought the gap to the leaders back to 1'45 with 128km to go.
In other news, Michael Matthews has reportedly tested negative for COVID twice since his Giro d'Italia exit. Sophie Smith has the scoop right here.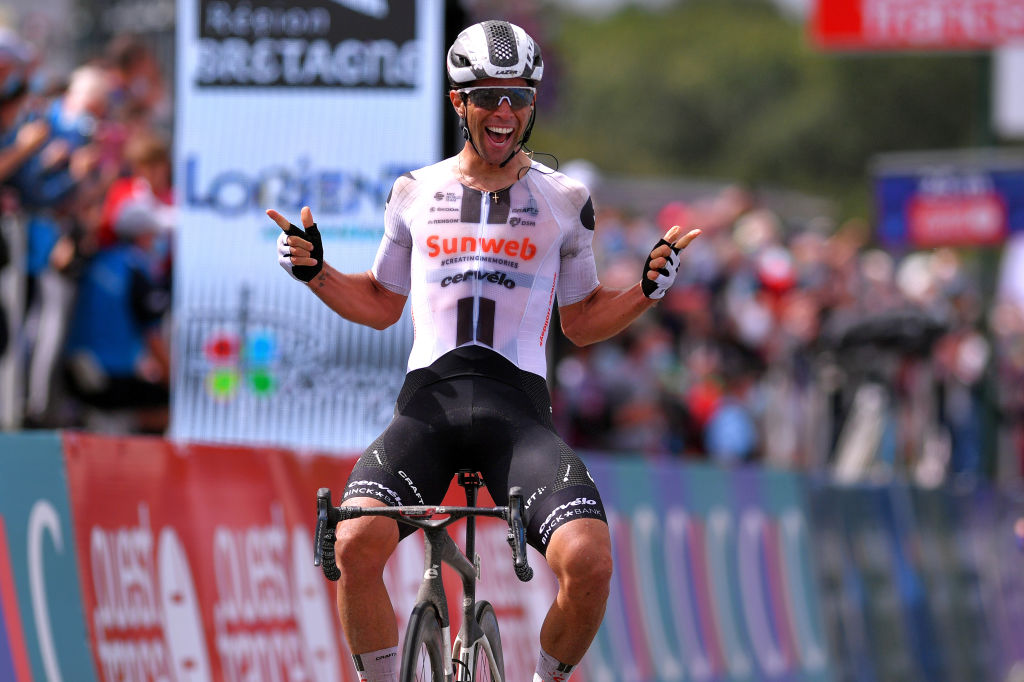 Almeida, in pink, just sits in the QuickStep line towards the front of the bunch. He's got the TT tomorrow and could well extend his lead in the overall standings. He leads Wilco Kelderman at present, and here's a reminder of the GC heading into today's stage:
General classification

1 Joao Almeida (Por) Deceuninck-Quickstep 49:21:46
2 Wilco Kelderman (Ned) Team Sunweb 0:0:34
3 Pello Bilbao (Spa) Bahrain McLaren 0:0:43
4 Domenico Pozzovivo (Ita) NTT Pro Cycling 0:0:57
5 Vincenzo Nibali (Ita) Trek-Segafredo 0:01:01
6 Patrick Konrad (Aut) Bora-Hansgrohe 0:01:15
7 Jai Hindley (Aus) Team Sunweb 0:01:19
8 Rafal Majka (Pol) Bora-Hansgrohe 0:01:21
9 Fausto Masnada (Ita) CCC Team 0:01:36
10 Jakob Fuglsang (Den) Astana Pro Team 0:02:20
It's been a relatively uncomplicated stage so far with the seven man break forming early on and now the bunch content to just keep them at a safe distance. 124km to go.
There's a bit of a cross-wind right now but nothing too serious at the moment. That could change later on though the further we get into the stage but right now the leaders have 1'58, so the gap is up for the first time in almost an hour.
2'10 now, so the main field has eased up as we see a few dark clouds appear overhead.
Trek Segafredo, who other than Nibali were MIA yesterday, have gathered near the front of the bunch as they protect their GC chances. Today will be about keeping Nibali out of trouble and making sure that he starts tomorrow's TT as fresh as possible.
Some news just in, Ilnur Zakarin to join Gazprom-RusVelo in 2021. He was of course looking for a team after it was confirmed that CCC were leaving at the end of the season.
A reminder of our leaders: Bouchard, Contreras, Pellaud, Ravanelli, Rota, Tonelli and Vanhoucke. They have 1'50 over the peloton with 113km to go as Bora once more lead the chase.
Navarro is back on the front for ISN with Bodnar on his wheel and we've 107km to go and the gap is holding at 1'53.
Situation
With 100km to go the leaders, Bouchard, Contreras, Pellaud, Ravanelli, Rota, Tonelli and Vanhoucke have 1'43 over the peloton.
Simone Ravanelli, from Bergamo, is racing his first Grand Tour. He's got a few decent results to his name, mostly on home soil, but his job today will be to pull the break along for as long ass possible. He's in the break alongside his more experienced teammate Simon Pellaud. The rider from Switzerland was fifth yesterday.
The bunch have to be careful here because if they continue like this they'll make the capture of the break far too early. The gap is currently down to 1'30 with 97km to go.
The bunch race through the feedzone with 90km to go and that easing in pace allows the break to take a few more seconds.
Sunday see the Tour of Flanders take place. You can find our men's preview here, and our women's preview here. We'll have live text coverage for both races this weekend.
De Gendt, who was almost in the break this morning, is near the back of the bunch and calling for the team car.
Pellaud is going clear up front and he takes maximum points at the intermediate after a big attack. Nice move from the Androni rider, which was covered by his teammate.
Back in the bunch and Demare is moving up as he wants what's left of the points. There's only one point on offer and Demare has a 36 point lead over Sagan. Demare takes the point, no contest. The Bora leader is saving everything for the sprint finish.
Ballerini has as cut on the left side of his face. Something has hit him, and it doesn't look like he has fallen. The Italian is back with the medical car and receiving treatment and should be fine as the medic looks to stem the blood flow.
68km to go and the gap is down to 1'24. We have another intermediate sprint and then those two fourth cat climbs in the finale.
Ballerini is back with the peloton and looks fine to continue. 65km to go.
It's still Bora on the front and they've been there since the breakaway moved clear. Ineos remain tucked in just a few bike lengths back as the pace continues to rise. Sunweb are just keeping Kelderman out of trouble as we see a few more teams, like Movistar, move up.
Ganna is keeping Swift out of harms way and it looks like Ineos are working for the British national champion at this point. The gap to the leaders though is moving out, and it's back to 2'21 with 56km to go.
We're off the wider roads now and onto twister and more undulating terrain.
At this rate the break will decide the up-coming sprint for the intermediate and possibly the first 4th cat but Bora will need to put more effort into the chase at some point. They'll get no help from Demare and FDJ at this point.
The gap is 2'18 with 49km to go.
ISN are still interested in the chase and they have Zabel and Cimolai for the final. Dowsett is moving up and so is the maglia rosa, so the stage is finally starting to come to life.
Some technical roads as we race through a small town and there are even some cobbles as the gap starts to drop again. It's at 2'07 with 46km to go.
NTT have now come to the front and the sun is back out.
Sagan is right at the front now and Cofidis are bring Haas up as well. There's a real fight for position as we head towards the first climb of the stage.
We've still got the intermediate sprint to come but Ineos have already hit the front and lifted the pace. 39km to go and the gap is at 1'39.
The break are working well but they simply don't have the needed firepower at this piont, not with so many teams now chasing from behind. The seven leaders have 1'24 with the intermediate sprint coming up.
Pellaud once more clips off the front and tries to take the intermediate sprint. No contest and we now head towards the two finishing climbs.
Bahrain for Bilbao hit the front and Demare is also there as he will try and survive the two climbs.
Pellaud has now been dropped by the break.
Contreras has also been dropped so we're down to just five leaders as Bahrain continue on the front of the main field.
Out front and Simone Ravanelli is solo and clear but the rest of the break are coming back and the bunch is at 54 seconds.
Simone Ravanelli has been caught as the road starts to climb and some of the break have been caught by the bunch with Sagan in second wheel.
Tonelli is now leading with Bouchard on his wheel as Demare is losing ground back in the peloton as Bora turn the screw.
All the GC riders are in contention too as they won't want to miss any split.
31km to go and Demare is dropped and we're only on the first climb as Bora keep the pace nice and high.
The maglia rosa is right where he needs to be, and near the front of the peloton.
Bouchard and Tonelli continue with just a few seconds on the chase and Demare is digging deep to keep the bunch in sight. It's going to be tough to come back from this though.
The Demare group are only about 100m back. So about 10 seconds.
Demare has his entire team around him.
Swift is third wheel on the climb, so it's looking good for the national champion.
Demare is losing more time to Sagan bu we still have one more climb after this to come.
Bouchard and Tonelli crest the top of the climb together as Bora and now Astana set the pace for the peloton.
The Demare group are now 40 seconds down on the maglisa rosa and Sagan group.
Even if Demare can come back on the descent he still has one more ascent to come with 30km to go and Bouchard taking the maximum points on the climb.
Rapid descent, and it's really technical as the bunch reach the top of the climb too.
There are only about 30 riders in the Sagan/maglia rosa group. Is Ulissi there because he could be really dangerous in the finale?
If Sagan wins today and Demare doesn't come back then it's the Bora rider who will take over in the points competition.
24km to go and the two leaders have 26 seconds of a lead. They will surely be caught on the final climb.
Demare is fighting to come back but he's still 30 seconds down on the Sagan group.
Demare is closing and this is really impressive from the Frenchman. If he makes it back though can he survive the final ascent?
Demare comes back and right away hits the the front of the peloton with his team. And they're now setting the pace, while the two leaders have 37 seconds with 19km to go.
Onto the final climb and it's a really tough ascent with some sections at 20%.
33 seconds now for the two leaders and they are starting to struggle.
Demare is holding on and climbing well.
Conti takes over for UAE and Ulissi.
Sagan is near the back of the group and Ulissi goes for it with 17km to go as Demare is slipping back and the bunch is breaking up.
Lots of splits and Fuglsang has to make up some ground. Ullisi has slowed a bit but remains on the front as a few more riders come back. Sagan is just about in contention as with 17km to go Bouchard and Tonelli are caught.
Movistar attack with Torres as the leading group lines out. Demare and Sagan are not out of this just yet even though they have lost some ground.
All the GC riders, including Fuglsang as we see Tao Geoghegan Hart attack over the top of the climb.
Knox shuts that one down. Sagan is about 10 seconds down but will come back on the descent. Where is Demare?
15km to go now and it's all to play for because if they sit up in the front group then Sagan and Demare will come back.
Race radio say that Demare is at 30 seconds. That's not impossible to close.
QuickStep are not sitting up and that means Sagan isn't going to come back without a fight. He's at 15 seconds and doesn't have any teammates with him. Almeida is now a contender for the sprint.
A few riders are now helping Sagan.
Demare is still at around 30 second as we see Knox leading the front group as they don't want Sagan to come back.
Demare is at 54 seconds so that's going to be tough with 11km to go. Sagan is still at 15 seconds.
Swift and two teammates are now riding with Sagan. This is going to be close.
Almeida has three men on the front now but Demare is slowly coming back with the gap at 46 seconds.
Into the final 9km and it's too close to call but Sagan is now a 20 seconds, so the gap is going back out.
24 seconds to Sagan group with Masnada leading the front group.
Five riders are rotating on the front of the Sagan group but they can't match the QuickStep pace.
Demare has the Sagan group at 15 seconds so they're closing but with only 6km to it's all too late as Felline crashes on the descent. He's on his feet though.
Ulissi is in that front group and he was so important to establish the split on the final climb. He's a real contender for the sprint. Honore is there too, Almeida of course as well.
Sagan finds a bit more energy and with a group of four he closes the gap to 26 seconds but there's only 26 seconds to go.
3.5km to go and surely Sagan can't come back from this.
Just under 3km to go and the GC riders are going to decide the stage.
We're coming into the final 2km and there's no way back for Sagan now.
GC riders sprinting is always hard to predict when it comes to winners but always entertaining.
They launch with 600m to go. QuickStep lead out.
Almeida moves up, so does Konrad and Ulissi. The Italian is looking good but has he gone too early?
They're not going to come around him and Ulissi has the stage, this second in this year's race and then his eighth in total.
It was either Konrad or Almeida for second and third and they'll have bonus seconds on GC too but Ulissi takes stage 13 of the 2020 Giro d'Italia.
It's Almeida who takes second and another six seconds on GC.
1 Diego Ulissi (Ita) UAE Team Emirates 4:22:18
2 Joao Almeida (Por) Deceuninck-Quickstep
3 Patrick Konrad (Aut) Bora-Hansgrohe
4 Tao Geoghegan Hart (GBr) Ineos Grenadiers
5 Mikkel Frølich Honoré (Den) Deceuninck-Quickstep
6 Sergio Samitier Samitier (Spa) Movistar Team
7 Jakob Fuglsang (Den) Astana Pro Team
8 Pello Bilbao (Spa) Bahrain McLaren
9 Vincenzo Nibali (Ita) Trek-Segafredo
10 Jai Hindley (Aus) Team Sunweb
General classification
1 Joao Almeida (Por) Deceuninck-Quickstep 53:43:58
2 Wilco Kelderman (Ned) Team Sunweb 0:0:40
3 Pello Bilbao (Spa) Bahrain McLaren 0:0:49
4 Vincenzo Nibali (Ita) Trek-Segafredo 0:01:07
5 Patrick Konrad (Aut) Bora-Hansgrohe 0:01:17
6 Jai Hindley (Aus) Team Sunweb 0:01:25
7 Jakob Fuglsang (Den) Astana Pro Team 0:02:26
8 Tao Geoghegan Hart (GBr) Ineos Grenadiers 0:02:51
9 Sergio Samitier Samitier (Spa) Movistar Team 0:08:49
10 Mikkel Frølich Honoré (Den) Deceuninck-Quickstep 0:32:04
Let's hear from our winner:

"We did a great job on the last climb and the team set-up me up perfectly. We dropped the sprinters and reduced the peloton to a small group. I was tired after doing the climb so fast but McNutly was fantastic in the way he lead it out. I saw I'd got my wheel ahead and won. I've been on form all season. I didn't expect to win another stage but it's a great feeling."
Sign up to the Cyclingnews Newsletter. You can unsubscribe at any time. For more information about how to do this, and how we hold your data, please see our privacy policy
Thank you for signing up to Cycling News. You will receive a verification email shortly.
There was a problem. Please refresh the page and try again.