WADA imposes four-year ban on Russia from international sports
By Kirsten Frattini published
Russia excluded from Tokyo Olympic Games over doping controversy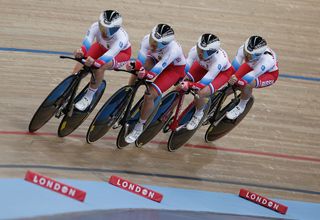 (Image credit: Getty Images Sport)
The World Anti-Doping Agency's (WADA) Executive Committee has unanimously endorsed a four-year period of non-compliance for the Russian Anti-Doping Agency (RUSADA).
The endorsement was made by a 12-member WADA Executive Committee at a meeting in Lausanne on Monday. It has based its decision on the 26-page recommendations made by the independent Compliance Review Committee (CRC), established in 2015 to monitor anti-doping organisations.
The decision means that Russia's flag, name and anthem will be banned from international sporting events, including the upcoming Tokyo Olympic Games. Russia could also be stripped of hosting any world championships for sports governed by the International Olympic Committee.
It is still unclear how WADA's latest ruling will affect Russian cyclists at the 2020 Tokyo Olympic Games and the various UCI world championships.
"The ExCo's strong decision today shows WADA's determination to act resolutely in the face of the Russian doping crisis, thanks to the Agency's robust investigatory capability, the vision of the CRC, and WADA's recently acquired ability to recommend meaningful sanctions via the Compliance Standard which entered into effect in April 2018. Combined, these strengths have enabled the ExCo to make the right decisions at the right time," WADA President Sir Craig Reedie said in a press release.
According to WADA, however, Russian athletes will be able to compete in international sporting events if they can show that they are clean competitors, for example, that they are not implicated in positive doping tests and their data has not been manipulated.
State-sponsored doping scandal
Russia has been accused of a state-sponsored doping scandal that dates back to the 2014 Sochi Olympic Games. Doping controls were tampered with to prevent them from testing positive. They were also accused of manipulating lab data in the Moscow anti-doping laboratory.
In 2016, Richard McLaren led an investigation that detailed hundreds of positive doping tests that had disappeared, including 26 that came from cycling. Some Russian athletes were then excluded from competing at the Rio Olympic Games that summer. At the 2018 PyeongChang Winter Olympics Games, Russian athletes were allowed to compete under a neutral flag.
WADA then reinstated RUSADA in September of 2018, under key compliance conditions agreed to by WADA's Executive Committee.
WADA found last month, however, that RUSADA's critical reinstatement conditions were not fulfilled in that the Moscow data are neither complete nor authentic. WADA found that RUSADA had manipulated anti-doping laboratory data it was required to provide to the agency in an attempt to discredit whistleblower Grigory Rodchenkov.
According to WADA, the CRC recommendation outlines the key facts, which are mainly derived from the reports of WADA I&I and the forensic experts. The reports conclude that the Moscow data was intentionally altered prior to and while it was being forensically copied by WADA in January 2019.
The reports also found that some data were removed, others altered and, in some cases, system messages were fabricated in an effort to hamper the work of WADA investigators. In addition, measures were taken to conceal these manipulations by back-dating of computer systems and data files in an attempt to make it appear that the Moscow data had been in their current state since 2015.
"For too long, Russian doping has detracted from clean sport," Reedie said. "The blatant breach by the Russian authorities of RUSADA's reinstatement conditions, approved by the ExCo in September 2018, demanded a robust response. That is exactly what has been delivered today. Russia was afforded every opportunity to get its house in order and re-join the global anti-doping community for the good of its athletes and of the integrity of sport, but it chose instead to continue in its stance of deception and denial. As a result, the WADA ExCo has responded in the strongest possible terms, while protecting the rights of Russian athletes that can prove that they were not involved and did not benefit from these fraudulent acts.
"On behalf of the ExCo, and of the many WADA stakeholders that supported the CRC recommendation, I would like to thank the members of the CRC for their expert and considered recommendation, as well as WADA I&I and the forensic experts for their skill, diligence and perseverance in getting to the bottom of this highly complex case."
WADA concluded that its Executive Committee endorsed the entirety of the CRC recommendations.
WADA stated that it will now send a formal notice to RUSADA, asserting non-compliance with the requirement to provide an authentic copy of the Moscow data. It is also proposing the following consequences, to come into effect on the date on which the decision that RUSADA is non-compliant becomes final and to remain in effect until the fourth anniversary of that date.
Series of Consequences:
Russian Government officials/representatives may not be appointed to sit and may not sit as members of the boards or committees or any other bodies of any Code Signatory (or its members) or association of Signatories.
Russian Government officials/representatives may not participate in or attend any of the following events held in the Four-Year Period: (a) the Youth Olympic Games (summer and winter); (b) the Olympic Games and Paralympic Games (summer and winter); (c) any other event organized by a Major Event Organisation; and (d) any World Championships organized or sanctioned by any Signatory (together, the Major Events).
Russia may not host in the Four-Year Period or bid for or be granted in the Four-Year Period, the right to host (whether during or after the Four-Year Period) any editions of the Major Events.
Where the right to host a Major Event in the Four-Year Period has already been awarded to Russia, the Signatory must withdraw that right and re-assign the event to another country, unless it is legally or practically impossible to do so. In addition, Russia may not bid for the right to host the 2032 Olympic and Paralympic Games, irrespective of whether the bidding takes place during or after the Four-Year Period.
Russia's flag may not be flown at any Major Event staged in the Four-Year Period.
Neither the President, the Secretary-General, the CEO, nor any member of the Executive Board/Governing Board of either the Russian Olympic Committee or the Russian Paralympic Committee may participate in or attend any Major Event staged in the Four-Year Period.
Russian athletes and their support personnel may only participate in Major Events staged in the Four-Year Period where they are able to demonstrate that they are not implicated in any way by the non-compliance with conditions including (without limitation) that they are not mentioned in incriminating circumstances in the McLaren reports, there are no positive findings reported for them in the database and no data relating to their samples has been manipulated, and that they have been subject to adequate in-competition and out-of-competition testing prior to the event in question according to WADA, in accordance with strict conditions to be defined by WADA (or the Court of Arbitration for Sport (CAS), if it sees fit), pursuant to the mechanism foreseen in ISCCS Article 11.2.6. In this circumstance, they may not represent the Russian Federation.
Given the aggravating factors that are present in this case, RUSADA must pay all WADA's costs on this file incurred since January 2019 and, in addition, a fine to WADA of 10% of its 2019 income or USD 100,000 (whichever is lower). This is the maximum fine available under the rules and all monies must be paid before the end of the Four-Year Period.

Thank you for reading 5 articles this month*
Join now for unlimited access
Enjoy your first month for just £1 / $1 / €1
*Read 5 free articles per month without a subscription
after your trial you will be billed £4.99 $7.99 €5.99 per month, cancel anytime. Or sign up for one year for just £49 $79 €59

Join now for unlimited access
Try your first month for just £1 / $1 / €1
Kirsten Frattini is an honours graduate of Kinesiology and Health Science from York University in Toronto, Canada. She has been involved in cycling from the community and grassroots level to professional cycling's WorldTour. She has worked in both print and digital publishing, and started with Cyclingnews as a North American Correspondent in 2006. Moving into a Production Editor's role in 2014, she produces and publishes international race coverage for all men's and women's races including Spring Classics, Grand Tours, World Championships and Olympic Games, and writes and edits news and features. As the Women's Editor at Cyclingnews, Kirsten also coordinates and oversees the global coverage of races, news, features and podcasts about women's professional cycling.