Toon Aerts to start Zolder with four rib fractures
By Cyclingnews
Belgian champion leads World Cup after Iserbyt's abandon in Namur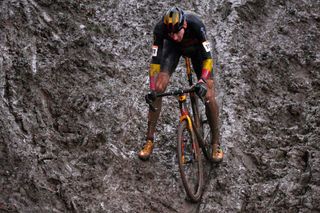 (Image credit: Getty Images Sport)
Toon Aerts is planning to start in the UCI Cyclo-cross World Cup in Zolder on Thursday despite having not one broken rib as previously reported, but four fractures - the result of a crash on the final lap of the World Cup in Namur on Sunday.
"Starting in Zolder is no extra risk for his rib injury," his Telenet Baloise team said on Twitter.
Aerts had a thrilling back and forth battle with world champion Mathieu van der Poel on a rain-sodden circuit in Namur. The course, thick with mud and freezing cold puddles, became treacherous as the race went along.
Aerts led into the final lap but made several mistakes that allowed Van der Poel to rejoin. He crashed hard into a wooden pole on a descent deep into the finale and struggled to remount as Van der Poel rode on to victory.
The Belgian champion went on to finish second and, thanks to the abandon of compatriot Eli Iserbyt due to hypothermia, took over the World Cup series lead.
Initial x-rays showed one non-displaced rib fracture, but additional examinations on Tuesday showed four fractured ribs.
.@ToAerts werkte een testritje af naar en op het parcours van de Azencross in Loenhout. Na afloop werd in overleg met de medische staf en ploegleiding beslist dat Toon van start gaat in de wereldbekercross in Heusden-Zolder. Starten vormt geen extra risico voor de ribblessure. pic.twitter.com/Clkr10iQArDecember 25, 2019
Sign up to the Cyclingnews Newsletter. You can unsubscribe at any time. For more information about how to do this, and how we hold your data, please see our privacy policy
Thank you for signing up to Cycling News. You will receive a verification email shortly.
There was a problem. Please refresh the page and try again.