Science in Sport updates Beta Fuel with focus on endurance
By Josh Croxton published
New 'game-changing' formula available in chew bars, gels and drink mix powder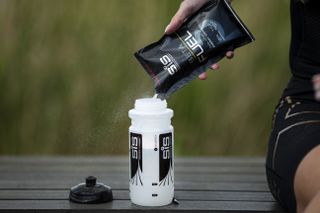 (Image credit: SIS)
Science In Sport has today unveiled a new product for riders who take their nutrition seriously.
The new Beta Fuel formula has been launched with some lofty claims. With Science In Sport stating it is "the most complete and innovative fuelling solution on the market".
The original Beta Fuel formula was developed in conjunction with Team Sky, and the brand claims it is the product that fuelled Chris Froome's famous 80km breakaway victory on stage 19 of the 2018 Giro d'Italia. It prided itself on its 2:1 blend of maltodextrin to fructose, which is widely accepted as enabling greater carbohydrate ingestion.
Today's update to that formula switches those ratios to a 1:0.8 ratio of maltodextrin to fructose, claiming even greater performance benefits.
The brand claims it is formulated to support rides beyond the two and a half hour threshold, adding that the new ratio is able to enhance exogenous carbohydrate oxidation by up to 17 per cent, when compared to a 2:1 blend.
Science in Sport also claims that the combination will increase the percentage of ingested carbohydrate that is oxidised from 62- to 74 per cent.
It is no use having a potent energy mix in your nutrition that isn't easily absorbed, and Science In Sport has taken this into consideration with its development of the latest Beta Fuel formula, claiming that it has been developed to reduce the symptoms of gastrointestinal distress and nausea - put more plainly, this means it has been made to be more easily digestible. Exactly how Science In Sport has attempted to achieve this is unconfirmed, but its drink mix powder is given an isotonic osmolality to make it more readily absorbed by the body, while also maintaining a neutral pH.
Despite making the same claims with the original Beta Fuel formula, Science In Sport is today reiterating the claim, stating that new Beta Fuel enables the body to absorb up to 90 grams of carbohydrate per hour.
The new formula is applied to three products within the range.
Firstly, a drink mix, from which a single serving will provide 80 grams of carbohydrate. Secondly, the formula is available in the form of an energy gel, from which each will provide 40g of carbohydrate as well as nootropics, which SIS claim will aid cognitive function. And thirdly, chew bars, which are made up of two 20g chews with an 'easy-chew' formula.

Thank you for reading 5 articles this month* Join now for unlimited access
Enjoy your first month for just £1 / $1 / €1
*Read 5 free articles per month without a subscription

Join now for unlimited access
Try your first month for just £1 / $1 / €1
Josh has been with us as Senior Tech Writer since the summer of 2019 and throughout that time he's covered everything from buyer's guides and deals to the latest tech news and reviews. On the bike, Josh has been riding and racing for over 15 years. He started out racing cross country in his teens back when 26-inch wheels and triple chainsets were still mainstream, but he found favour in road racing in his early 20s, racing at a local and national level for Team Tor 2000. He's always keen to get his hands on the newest tech, and while he enjoys a good long road race, he's much more at home in a local criterium.
Sign up to the Cyclingnews Newsletter. You can unsubscribe at any time. For more information about how to do this, and how we hold your data, please see our privacy policy
Thank you for signing up to Cycling News. You will receive a verification email shortly.
There was a problem. Please refresh the page and try again.