Riccardo Riccò handed lifetime doping ban
By Cyclingnews
"I was a talented little bully, an idiot who threw away money and a career"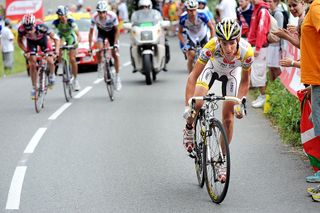 (Image credit: Getty Images Sport)
Former Italian rider Riccardo Riccò has been banned for life by Italian anti-doping authorities after being found guilty in yet another doping investigation.
In 2015, Riccò was accused of trying to buy EPO and testosterone after being caught red-handed with two dealers by Italian police in a car park in the Tuscan town of Livorno, according to reports in Italian media.
Although he no longer has a racing licence, the Tribunale Nazionale Antidoping banned him for life. Riccò was also ordered to pay a fine of €4,000 and €378 costs.
According to the Italian newspaper Corriere della Sera, the 2015 police investigation that snarred Riccò and lead to his life-time ban is called Operation "Pista Ciclabile" - "Bike Path".
The Italian anti-doping authorities have banned a number of people involved for a total of 100 years, these include another former rider and a former professional football player. The drugs were allegedly stolen from a hospital and then sold on to a number of athletes.
Riccò won stages at the Giro d'Italia and was the best young rider in 2008 but tested positive for the blood-boosting drug CERA during that year's Tour de France. He served a two-year ban and made a comeback in 2010 but his career ended when he was rushed to hospital in 2011 after allegedly carrying out a transfusion with an infected bag of blood he had kept in his fridge at home.
He was suspended for 12 years but continued to ride a bike. He was invited to take part in several Gran Fondo events and announced his record attempts on cycling biggest climbs. After the 2015 accusations, Riccò moved to Tenerife and opened an ice-cream parlour but has recently returned to Italy to continue producing ice-cream.
Riccò's phone was switched off when Cyclingnews tried to contact him.
Riccò confessed to doping during his career in an interview with Corriere della Sera last summer when he opened a new ice-cream shop in Vignola, with his wife Melissa, who he met after the 2015 investigation.
"I was a talented little bully, an idiot who threw away money and a career. I'f I'd managed my anger and my ability with the maturity I have now, I'd have won the Tour and the Giro. But my destiny was clear: we don't get to decide when we grow up," Riccò was quoted as saying.
"I doped massively because it seemed like an inevitable choice if I wanted to win: the investigation and controls have proven that. But it was the doping of the desperate, they caught me when they wanted to."
Riccò claims a friend offered him a lifeline by offering to teach him how to make ice-cream. He first met Meillsa at his fruit supplier.
"I used my passion, dedication and attention to detail of my past to make a success of it. Without Melissa, her strength and her love, I wouldn't have succeeded. For her I was Riccardo, not 'il Cobra', as I was nicknamed in cycling. 12 years ago I looked down on the world from the podium of the Tour but I knew I was a cheat. Today, if a child says my ice-cream is good, I'm happy. I can go home satisfied without having to look over my shoulder.

Thank you for reading 5 articles this month* Join now for unlimited access
Enjoy your first month for just £1 / $1 / €1
*Read 5 free articles per month without a subscription

Join now for unlimited access
Try your first month for just £1 / $1 / €1
Sign up to the Cyclingnews Newsletter. You can unsubscribe at any time. For more information about how to do this, and how we hold your data, please see our privacy policy
Thank you for signing up to Cycling News. You will receive a verification email shortly.
There was a problem. Please refresh the page and try again.