Lelangue readies for BMC training camp
With BMC Racing Team's January training camp just a few days away, Directeur Sportif John Lelangue...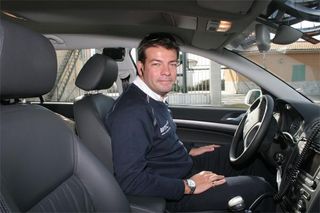 With BMC Racing Team's January training camp just a few days away, Directeur Sportif John Lelangue is making final preparations for the 15-day gathering. Beginning his second full year with the team, Lelangue learned a lot from the past year.
"The big advantage I have this year over last is that I have had the chance to follow most of our riders for an entire year," Lelangue said. "I have a 12-month history with the guys on the team in 2008 and I have been working with the few new riders since November; we have really kept good contact."
For the already close-knit group, riding will be the focus at camp. BMC is hosting just one two-week camp in January instead of one in December and one in January. "We have found that a longer camp in January where we can fine tune the training the guys have done since November, works much better for us than splitting them into two camps," Lelangue said.
"The January camp will always have time taken up for team photos and medical testing, but this way we can also have the time to reconnoitre Tour of California stages, and get the team going to the Tour of Qatar ready for their particular stages like the team time trial." Managers will get three training blocks of five days each to work with their riders. "We can have three periods of ramping up intensity for four days to have a fifth day for recovery, which is a very good way to put on the finishing touches," Lelangue said.
The team is seeing very little turnover from 2008 to 2009. "We still have a large core group from last year which works very well together," Lelangue said. "And of the new riders, the four new Swiss members are all very familiar and friendly with each other, as their Mallorca mini training camp proved, and Chad Beyer is well known from his time on the US National team."
The team is preparing for the early season races. "Each rider has been working on his training regime since November," Lelangue said. "I have been keeping track of their progress by having weekly discussions with everyone so we know where they all are in terms of intensity." The riders have known the first two months of their racing schedules since November, which has helped guide them in their preparations.
"We are not a ProTour team with big leaders targeting goals like the Tour or the Classics, rather every race we consider to be our main objective," Lelangue said. "We are certainly focused on performing well in UCI events, and will have to be more conservative in our tactics, so that we are more prominent in the final hour of every race we do."
However, rather than just animating the race as it so often did in 2008, the team is under orders to focus on results. "For each race we need to enter at least the top 10, and all our riders know that we will build the teams for the April and May events on the strength of their February and March performances. Gavin and I have told the guys that we will field the best team for any given event, and they have to be ready to prove themselves throughout the year."
Lelangue said overall the team's attitude is more competitive and winning-oriented. "The attitude is totally different from last year, but we have earned our confidence."
Cyclingnews Newsletter
Sign up to the Cyclingnews Newsletter. You can unsubscribe at any time. For more information about how to do this, and how we hold your data, please see our privacy policy