Inaugural Serenissima Gravel 'more technical than Strade Bianche'
34 riders confirmed for first gravel race expressly for pro riders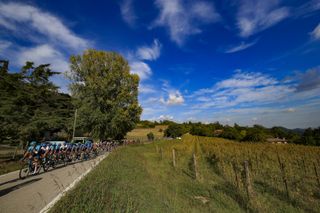 (Image credit: Bettini Photo)
If you build it, they will come? Perhaps, although the distribution problems that have plagued the bike industry since the beginning of the coronavirus pandemic have also had an impact on the size of the field at the inaugural Serenissima Gravel, the first gravel race designed expressly for professional riders.
The race is being organised by Filippo Pozzato as part of his Ride the Dreamland series of events in the Veneto this week, but not all of the teams participating in the Giro del Veneto and Sunday's Veneto Classic will line out here. Of the WorldTour squads, only Astana, Cofidis, Intermarché-Wanty-Gobert Matériaux and Qhubeka NextHash will be on the start line in Jesolo on Friday morning.
"The riders are happy to race, but some teams don't have the material at this time of the year," Pozzato said during a reconnaissance of the final part of the course on Thursday morning. "It's a historically difficult moment for getting material, but we're happy to start with this now and then build over the next two or three years."
Equipment availability wasn't the only issue in assembling the start list. One star of the peloton and his bike sponsor were very keen to participate in the Serenissima Gravel, but his trade team – which will lose both said star rider and bike supplier in 2022 – nixed the idea.
For Androni-Sidermec, meanwhile, the problem was finding enough fit riders to fill out the roster, particularly given that there are precious UCI points up for grabs in the 1.1 Veneto Classic on Sunday. "We have eight riders injured and we can't take any risks before the race on Sunday," manager Gianni Savio told Cyclingnews.
No matter, the Serenissima Classic is by Pozzato's own admission something of an experiment, and given the narrow and technical nature of the circuit, it's perhaps as well that the pioneering peloton will be composed of just 34 riders. The event will, in any case, help to gauge the potential of such events for professionals in the future. And the timing is apt, too, given that it was recently confirmed that a UCI-sanctioned gravel racing series and World Championships will take place in 2022.
That development has led inevitably to something of an existential debate over the true nature of gravel racing. Lengthy, unsupported and inclusive pro-am events are the norm in a discipline that has seemed to develop almost as an antidote to road racing.
The Serenissima Gravel, by contrast, is exclusive to professionals, is just 132km in length and features three laps of an 11km finishing circuit.
For some, such an event seems to contravene the 'spirit' of a nascent discipline, where the journey matters at least as much as the result. Nathan Haas, who lines out for Cofidis on Friday, takes a more nuanced view.
"In the long term, I don't think it's going to be the style of how gravel plays out. But right now, gravel is a space where there are no rules, it's evolving and it can be what it wants," Haas told Cyclingnews.
"Unbound isn't affected by the UCI World Championships and the UCI World Championships for gravel won't be affected by this pro race. The more times I can get on a bike and race, and put a smile on my face, is a lucky day, so I'm super excited for Friday.
"The wider gravel community aren't super into this thing, they think it's against the spirit of what gravel is. But I see sport in a completely different light. For instance, the Bay Crits in January in Australia aren't designed like the Tour de France, but it's still an important part of the cycling culture and cycling history of Australia."
While gravel races have become increasingly more popular with pro riders eager for a break from the strictures and pressures of the WorldTour, there is perhaps only limited appetite among their number for incorporating multiple gravel events into a typical season. It is, Marc Hirschi reckoned, best saved for special occasions.
Hirschi's UAE Team Emirates squad will not line out on Friday, and though he expressed enthusiasm about the Serenissima Gravel as a stand-alone event, he was sceptical about adding more gravel into existing road races. Strade Bianche's growing popularity since its launch in 2007 has already seen dirt road sections added to events such as Gent-Wevelgem, Paris-Tours and even the Tour de France in recent years.
"I think it makes the race more interesting, but if you put it too often, it loses a bit of its attractiveness," Hirschi told Cyclingnews. "So I think some races like Strade Bianche or a Giro stage is fine, but if it happens too much, it loses a bit of what is special."
The race
The Serenissima Gravel takes place over 132.1km between Lido di Jesolo and Piazzola sul Brenta, approximately 100km of which is over gravel or dirt. There are eight different sectors, with the final one covered three times on an 11.1km circuit around the Palladian-style Villa Contarini.
The early part of the race takes the 34-strong gruppo along the Venetian lagoon and onto the dirt roads of the Sile Regional Natural Park before riders tackle the Treviso-Ostiglia greenway. Unlike Strade Bianche, there is precious little climbing to speak, but the race's gravel sectors are, by and large, of a more twisting and rockier nature. The narrow tracks on the finishing circuit, in particular, could provoke surprises. Or, as Pozzato put it: "This is more technical than Strade Bianche."
The most familiar names in the peloton, meanwhile, come from the WorldTour. Astana line out with Alexey Lutsenko, Fabio Felline and Davide Martinelli. Nathan Haas headlines the Cofidis line-up with Fernando Barcelo. Giro stage winner Taco van der Hoorn is on hand for Intermarché-Wanty together with Boy van Poppel.
Italian mountain bike coach Mirko Celestino is managing an Italian selection composed of men with cyclo-cross and mountain bike experience, including Luca Braidot and Jakob Dorigoni, while Samuele Zoccarato lines out for Bardiani-CSF.
Picking a winner from the pioneers in such a novel event is anyone's guess. In keeping with the spirit of gravel racing, perhaps, the journey is more important than the outcome. Whatever the result, the experiment will be worth watching.
"I think it's awesome that guys like Pozzato are putting on events and trying to sort of explore the space of gravel and see what it can mean for amateurs, professionals and I think even most importantly for the bike industry on the whole," said Haas. "It's a huge growing space and without bike companies, we wouldn't have professional cycling."

Thank you for reading 5 articles in the past 30 days*
Join now for unlimited access
Enjoy your first month for just £1 / $1 / €1
*Read any 5 articles for free in each 30-day period, this automatically resets
After your trial you will be billed £4.99 $7.99 €5.99 per month, cancel anytime. Or sign up for one year for just £49 $79 €59

Join now for unlimited access
Try your first month for just £1 / $1 / €1
The latest race content, interviews, features, reviews and expert buying guides, direct to your inbox!