Ellingworth: The easy option would be not signing Mark Cavendish
'This is ballsy and if Mark doesn't succeed, it won't be for not trying' says Bahrain-Merida boss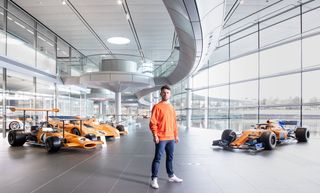 (Image credit: Bahrain-Merida)
The Bahrain-Merida team has made several important signings ahead of the 2020 season but none more high profile or ambitious than the recruitment of Mark Cavendish from Dimension Data.
The 34-year-old has struggled for two years owing to poor health and a long-standing virus but new Bahrain-Merida manager Rod Ellingworth – the man who masterminded Cavendish's 2011 Worlds win – is fully behind the attempt to rebuild Cavendish's career.
"It's a challenge but I believe that he can win," Ellingworth told Cyclingnews during a long interview at McLaren's headquarters.
"That's why he's here. I've been really straight with him and he's not here on mate's rates. I've been really clear and told him that he's here to do a job. With everyone on the team, I want them to be clear and know why they're here. Some are developing riders, some are here to help to win and some are winners. I've told Mark very clearly that he's a bike rider and you're either here to win or help to win."
Read more
Cavendish's hugely successful 2016 season was the last time the British rider was at the peak of his powers. In that year he dovetailed his track and road progammes almost perfectly, winning consistently through the year before taking four stage wins at the Tour de France and wearing the yellow jersey for a day. He finished second in the World Championships later in the year and claimed the same spot in the Olympic Omnium.
It took until August of 2018 before Cavendish's Epstein-Barr virus was made public and almost another full calendar year before the British rider stated that he was over the illness.
The 2019 campaign still proved to be a tough one for the Manxman, who missed out on Tour de France selection in controversial style and then used his final races of the season to build towards the new year. Cavendish recently rode Six Day London on the track and will ride the Ghent Six this week.
He now leaves Dimension Data for Bahrain-Merida and a chance to link up with Ellingworth, who believes that the rider must take a lucid and uncomplicated approach to race from now on.
"I just think that he needs to keep it simple and get back to what he does really well," Ellingworth said.
"There's a window where he struggled due to illness and I think he was mentally battered through that. My job is to make sure that we support him as best as we can and then we'll see what we can do."
"I've also told him that he's not old and that he's experienced. He's only 34 and in the grand scheme of things he's not an old man, he's a young man. Yes, he's had some problems with illness and the team issues. You look at that team and it's been tricky but if you take all that away what are you left with? Someone who only a few years ago was a prolific winner and that 2016 season was phenomenal.
"I don't think it was really reported enough but to win the World Madison championships, go to the Tour and win all those stages and wear yellow, take second at the Olympics and then second in the Worlds. Just the athletic ability to swap from one discipline to another other is pretty phenomenal. Like him or not he's a world-class athlete."
Even with Ellingworth's trust and Bahrain-Merdia's complete support, there is certainly no guarantee that Cavendish can find his winning legs again. However, behind the scenes he is said to be more motivated than ever, brushing away any talk of retirement, and with a newfound hunger that can often come when athletes change their environments.
Cavendish and Ellingworth have also bonded over the fact that Ellingworth was knocked down with the exact same virus that derailed Cavendish during his own brief stint while riding on the continent.
"I've been honest with him and said that there is a point where athletes can't seem to do it anymore and if we've got to that point then that's fine. He can still be here, do a really good job and be a fantastic ambassador for our team and our sport but there's a real desire to win again and the way I look at it is that you've got to go for it.
"It would be bloody easy to say no but this is ballsy and if Mark doesn't succeed it won't be for not trying. We're going full-hog and I would stand up tall to anyone who said otherwise. If someone puts their balls on the line like that it's pretty admirable."
Ellingworth is clearly determined to make Cavendish's move to Bahrain-Merida work out. While he acknowledges that his and Cavendish's reputation will be judged on the move, the former head of performance at Team Sky is dreaming of a scenario that looked unlikely during the last two years.
"What if he does turn it around and he does win a stage at the Tour and that whole Tour dream is alive again? I'm up for it, I think it's brilliant, so let's go."

Thank you for reading 5 articles in the past 30 days*
Join now for unlimited access
Enjoy your first month for just £1 / $1 / €1
*Read any 5 articles for free in each 30-day period, this automatically resets
After your trial you will be billed £4.99 $7.99 €5.99 per month, cancel anytime. Or sign up for one year for just £49 $79 €59

Join now for unlimited access
Try your first month for just £1 / $1 / €1
Get The Leadout Newsletter
The latest race content, interviews, features, reviews and expert buying guides, direct to your inbox!
Daniel Benson was the Editor in Chief at Cyclingnews.com between 2008 and 2022. Based in the UK, he joined the Cyclingnews team in 2008 as the site's first UK-based Managing Editor. In that time, he reported on over a dozen editions of the Tour de France, several World Championships, the Tour Down Under, Spring Classics, and the London 2012 Olympic Games. With the help of the excellent editorial team, he ran the coverage on Cyclingnews and has interviewed leading figures in the sport including UCI Presidents and Tour de France winners.