Canyon ZCC and Verve Cycling combine to lead the fight against digital doping
By Josh Croxton published
Partnership will see the eRacing team pioneer dual-recording and data transparency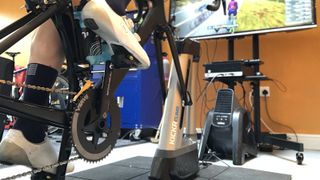 (Image credit: Canyon ZCC)
Canyon ZCC, the world's first eRacing team that competes solely via digital platforms such as Zwift, has today announced a partnership with Verve Cycling, makers of the renowned InfoCrank power meter that is also used by British Cycling.
The partnership is more than just a tool for power measurement and post-race analysis, though. The collaboration aims to set a precedent when it comes to calibration of equipment and transparency of data during digital racing.
The team is also partnered with Wahoo Fitness and has access to the American brand's ecosystem of indoor cycling equipment, including the Wahoo Kickr, Kickr Climb, and Kickr Headwind. By pairing the Verve Infocrank with the Wahoo Kickr, the team will become the first team in eRacing whereby every rider will have the same primary and secondary power source, and will upload both datasets to ZwiftPower for enhanced verification.
Whether intentional or not, digital doping - a result of poorly calibrated equipment - can vastly affect a race's outcome, and while both Zwift and ZwiftPower have means to spot and eject suspected riders, the Canyon ZCC team wants to lead the way in data accuracy.
"Unlike all other cycling disciplines where the data is secondary; often utilised only after the race, the opposite is true of eRacing where the data is the race," Explains Canyon ZCC team manager, Rhys Howell. "I had two criteria: I wanted the most accurate product I could find and I wanted the most bullet-proof product that couldn't suffer from miscalibration. I firmly believe we've found that product and are excited to be working closely with Verve both with their hardware and software to help make Canyon ZCC the most accurate team in eRacing."

Thank you for reading 5 articles this month* Join now for unlimited access
Enjoy your first month for just £1 / $1 / €1
*Read 5 free articles per month without a subscription

Join now for unlimited access
Try your first month for just £1 / $1 / €1
Josh has been with us as Senior Tech Writer since the summer of 2019 and throughout that time he's covered everything from buyer's guides and deals to the latest tech news and reviews. On the bike, Josh has been riding and racing for over 15 years. He started out racing cross country in his teens back when 26-inch wheels and triple chainsets were still mainstream, but he found favour in road racing in his early 20s, racing at a local and national level for Team Tor 2000. He's always keen to get his hands on the newest tech, and while he enjoys a good long road race, he's much more at home in a local criterium.
Sign up to the Cyclingnews Newsletter. You can unsubscribe at any time. For more information about how to do this, and how we hold your data, please see our privacy policy
Thank you for signing up to Cycling News. You will receive a verification email shortly.
There was a problem. Please refresh the page and try again.