Caleb Ewan 'heartbroken' at missing out on home Road World Championships
'I believe I deserved to be there' says Australian sprinter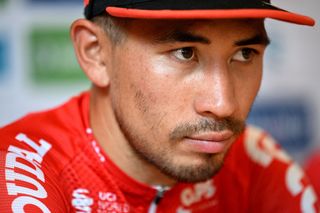 (Image credit: Getty Images Sport)
It hasn't been the easiest of seasons for Caleb Ewan (Lotto Soudal) but while his Giro d'Italia and Tour de France may not have gone to plan it had always seemed there was one of the biggest goals of the season still to look forward to, a rare home Road World Championships in Wollongong. However, the Australian rider has now confirmed he has missed out on team selection for the race which has loomed so large in his targets for the year.
The 266.9km course for the elite men's road race with almost 4,000m of elevation gain spread over numerous small climbs certainly isn't one that is expected to come down to a big bunch finish. Still the length of the climbs on the Road World Championships course from Helensburgh to Wollongong has left some fast finishers like Ewan, who has shown an increasing ability to hang in on the shorter climbs over recent seasons, with hope they may be able to try and break through in a select group sprint.
The Australian selectors, however, have decided the rider who was born in nearby Sydney isn't the best option for the Wollongong course, with reports that he wasn't in the team confirmed by Ewan late Thursday, right after the 28-year-old rider won stage 1 in Meiningen at the Deutschland Tour which had several climbs along the way.
"This one felt really good! Especially after the bad news that I won't be at my home world championships this year," Ewan said in an Instagram post.." To be honest I don't have much to say on the matter other than I'm heartbroken I won't be there to represent my country and that I believe I deserved to be there. Anyways, sob story over."
The full Australian team for the Road World Championships was set to be announced earlier this week, however this was delayed to allow for time to hear two appeals on the selections. It was not disclosed which squad – men's, women's or U23 – that the appeals were about.
Michael Matthews, who won the U23 men's world title when the World Championships were last held in Australia in 2010, is considered a likely candidate as a leader of the team, with the BikeExchange-Jayco rider having won on the steep ascent to the Mende Aerodrome on stage 14 of this year's Tour de France.
During the off season Ewan had said of the World's course: "If I'm honest, it's harder than I'd want, but I think it's definitely something within my capabilities. I'll have to be going very, very good to be able to win there, but that's my plan."
However, up until the Tour of Deutschland stage win on Thursday – by Ewan's standards at least – it has been a lean results patch in recent months with bad luck, illness and injury all weighing on Ewan. The Australian failed to take a victory at either the Giro d'Italia or Tour de France and before the Tour of Deutschland stage he had been without a win since the Tour of Turkey in April. The rider also recently pulled out of the Australian team for the Commonwealth Games after he didn't recover in time after having shoulder surgery to remove a plate to try and address ongoing shoulder issues.
While Ewan has made his disappointment clear at missing out on selection for the World Championships, his continued presence in Europe accumulating points will be a potential positive side effect for his Lotto Soudal team, who is fighting relegation from the WorldTour.

Thank you for reading 5 articles in the past 30 days*
Join now for unlimited access
Enjoy your first month for just £1 / $1 / €1
*Read any 5 articles for free in each 30-day period, this automatically resets
After your trial you will be billed £4.99 $7.99 €5.99 per month, cancel anytime. Or sign up for one year for just £49 $79 €59

Join now for unlimited access
Try your first month for just £1 / $1 / €1