Not a betrayal, just business: Visentini, Roche and the 1987 Giro d'Italia
By Barry Ryan
'Why would I go to a Carrera party? To see the guys who made me lose the race?'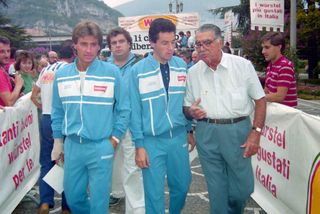 (Image credit: Sirotti)
This article was originally published on Cyclingnews in 2017. 
Rage was written across Roberto Visentini's face as he crossed the line in Sappada, doomed rage. Almost seven minutes had passed since Stephen Roche had completed stage 15 of the 1987 Giro d'Italia, and the Irishman was already being helped into the maglia rosa when Visentini wheeled deliberately to a halt in the middle of a scrum of reporters and photographers.
On stepping from his bike, he cast his eyes balefully towards his teammate on the podium. If nothing else, the man had a sense of theatre. "I want to come up," Visentini called out, pointing to his own grimy pink jersey, before RAI television's Giorgio Martino thrust a microphone in his direction.
"It looks like you've got something to say," Martino began.
"I've got a lot of things to say," Visentini said darkly.
"Let's start saying them, then," Martino responded.
"Niente. I'll tell you tomorrow, maybe it's better," Visentini said. "But there's going to be people going home tonight."
He was wrong, and deep down, he probably already knew it. Visentini, in his anger, was fixated on betrayal, but the decision makers at Carrera were focused on business. Next man up.
"When you win the Giro d'Italia, you can spend the money any way you want," Roberto Visentini says, his voice rasping over the phone from his home above Lake Garda. The charge levelled at him through his career, by press and peers, was that he could have won a lot more had his devotion to the austere life of the professional cyclist matched his reported enthusiasm for la bella vita. It is, understandably, a characterisation Visentini resents to this day. "The people who say that are ignorant, basta. But then again, there weren't a lot of correct people in cycling."
Given that much of his family's considerable wealth was derived from the gloomy business of funeral direction, it was perhaps only fitting that Visentini would prove a rather morose kind of playboy. Handsome, talented, moneyed and with a penchant for expensive cars, Visentini had all the accoutrements of a would-be superstar, but for much of his career, his light was obscured.
His greatest failing was perhaps the simple fact that he was neither Francesco Moser nor Giuseppe Saronni, the men whose running battle for hearts and minds defined Italian cycling in the early 1980s. The tifosi have long inclined towards a binary view of the world – Binda and Guerra, Coppi and Bartali – and Visentini didn't fit into the equation. For all his gifts, Visentini's exploits were met with curiosity rather than affection.
Much of the coolness towards Visentini from his fellow riders, meanwhile, stemmed from his background. Cycling is historically a working-class sport, and a man without a visceral need to make his money from racing bikes tended to be viewed with suspicion. "He came from a rich family," says Valerio Piva, a contemporary in the Italian gruppo in the 1980s. "Clearly he had talent but he didn't have the same desire to make his living from cycling. He always seemed to have this attitude that cycling wasn't the most important thing in his life."
A native of Gardone Riviera, near Salò, Visentini's natural gifts were evident as a schoolboy racer, and underscored when he won the inaugural junior World Championships in Lausanne in 1975. He turned professional in 1978, but only truly began to deliver on his promise when he placed second to Saronni at the 1983 Giro.
The following year, however, the same race exposed the demons of Visentini's more brittle nature. When the organisers removed mountain passes from the route in the final week, ostensibly due to snow, Visentini complained, justifiably, that they had done so primarily to favour Moser, a lumbering climber. His challenge then collapsed in the closing days after he became discommoded by continuous abuse from Moser's fans on the roadside.
Two days after that Giro, at least according to lore, an indignant Visentini took a saw to his bike and hacked it into pieces for team manager Davide Boifava. "I brought the pieces to Boifava in a plastic bag," Visentini says now. In later years, the same incident erroneously came to be attached to the aftermath of the 1987 Giro, and Visentini did little dispel that impression when he spoke to La Gazzetta dello Sport about it in 2012. Some stories are so good they bear repurposing.
Boifava, in any case, talked Visentini out of thoughts of early retirement in the summer of 1984. "He was always given to strange behaviour," Boifava says. "I remember he said to me once, 'I don't even know why I ride at all.'" Visentini returned to wear the maglia rosa for nine days in 1985 before being forced out by illness, but the stars finally aligned in 1986. For once, his health and morale made it around Italy intact, and he saw off both Saronni and Moser to win the Giro on his 29th birthday.
At last he was at the summit, though he remained burdened with a reputation as a figlio di papa – a spoilt daddy's boy. Reading between the lines of contemporary reports, it's not hard to detect a strain of tacit disapproval towards Visentini's ever more bouffant, George Michael hairstyle, or his undimmed passion for motors. "He always treated cycling like it was a game rather than a job," tuts Giuseppe Martinelli, who raced against Visentini and joined Carrera's management in 1988.
The other stage race leader at Carrera was viewed with scepticism of a different kind throughout 1986. Stephen Roche was a high-profile signing from La Redoute but, hampered by a knee injury, endured a wretched debut campaign at the team. Roche's mechanic Patrick Valcke came with him from France, and worked in solitude amid Carrera's close-knit staff, straining to decipher their dark murmurings about the man they dubbed the 'Phantom Rider.'
It is not altogether surprising, then, that Visentini claims he did not feel threatened by Roche's arrival at Carrera. "We had a normal relationship, like regular teammates, with no problems," he says. Although Roche was aggrieved that Visentini had looked to emphasise his status as the team's alpha during the Trofeo Baracchi two-up time trial at the end of 1986, he agrees they were never at odds prior to the 1987 Giro. "We had a good relationship other than that," Roche says. "We were both very much into cars. I remember he had a big Mercedes 190 Turbo, and we tore around Brescia in it one night."
Roche's status had changed by the time the 1987 Giro rolled around, however, after his sparkling spring form delivered Tour de Romandie victory in the build-up to the race. He wasn't lacking in motivation, either. In mid-April, Fagor had made overtures about a contract for 1988, and with more formal talks set to take place ahead of the Tour de France, Roche knew that nothing would strengthen his hand in negotiations quite like a Grand Tour win. Yet Visentini, as defending champion, still blithely assumed that he would lead Carrera at the Giro, while Roche would target the Tour de France.
At the start in San Remo, Boifava was reluctant to anoint a team leader, simply stating that the road would decide. "They set out as equals, on the same level," Boifava says now. "We decided whoever took the maglia rosa in the San Marino time trial would be helped by the other." Roche and Visentini's markedly similar characteristics as riders only exacerbated Boifava's dilemma. Both strong time triallists who could climb with the best, it was difficult to envisage precisely where they might be separated.
Visentini won the short prologue in San Remo to claim the first maglia rosa, before Roche responded by landing the novel – and dangerous – downhill time trial the following afternoon, which sent the riders screeching down the descent of the Poggio. When Carrera, inspired rather than impeded by the posturing of their leaders, won the team time trial to Camaiore on stage 3, Roche took possession of the pink jersey, while Visentini moved back up to second overall.
Visentini carelessly coughed up seconds to Roche when he was caught napping in the finale at Montalcino, but he scored a psychological victory when the Irishman's solo attack on the Terminillo came to naught two days later. They remained locked in their positions atop the overall standings as the Giro travelled back up the Adriatic coast in the second week. By the time they reached Rimini, Roche had spent ten days as race leader, but the pink jerseys cluttering his suitcase counted for little when Visentini trailed him by just 25 seconds ahead of the uphill time trial to San Marino on stage 13.
A couple of days beforehand, Tuttosport journalist Beppe Conti asked Boifava which rider he would follow during the time trial. "The weaker," came the gnomic response. Boifava turned out to be a man of his word: he drove the car behind Roche, and, in the space of 46 kilometres, Visentini seemed to put an end to two weeks of shadowboxing with one knock-out blow.
Roche complained he was still feeling the effects of his crash in Termoli five days previously, but Visentini still beat him by some 2:47 to divest him of the maglia rosa. In the overall standings, he now had a buffer of 2:42. The road had spoken. Visentini was leader of Carrera. The Giro was as good as his.
These days, Roche tends to flip into auto-pilot when asked to recount his 1987 season and his treble of Giro, Tour and Worlds, not out of weariness, but simply out of habit. Besides, like the audience at a pantomime, every interviewer already knows the story. Roche, ever-obliging, trots out all the old lines to knowing nods.
Like a latter-day Odysseus, Roche's anecdotes tend to emphasise his cunning. In the hotel on the night of the San Marino time trial, so his version goes, he and his disciple Eddy Schepers sat watching a television interview in which Visentini flatly dismissed the prospect of riding the Tour in return for Roche's support at the Giro.
There and then, Roche resolved to go on the offensive on the medium mountain stage to Sappada two days later, on the eve of the race's entry into the Dolomites. "Visentini was over with the journalists saying, 'Roche will ride for me at the Giro but I'm not going to the Tour, I'm going to the beach,'" Roche says.
Visentini, unsurprisingly, disputes the claim. "No, that's bollocks," he says. "I was always very professional and I was going to go to the Tour to prepare for the World Championships and the races at the end of the season. That was the way the team had planned it. The Giro d'Italia was for me and he was going to lead at the Tour de France. That was the plan."
They can at least agree that their entwined destinies turned on the sinuous descent of the Forcella di Monte Rest in the Carnic Prealps on stage 15, though, to this day, Roche glosses over the fact that hurtling down the gravel-strewn strada regionale 355 constituted a direct challenge to the maglia rosa. "There was no intention to attack him," he says, not entirely convincingly.
Visentini, for his part, didn't even notice that Roche had scrambled down the mountain and bridged across to the leaders. "I didn't realise he'd attacked at all. We were on the descent and riders were taking a drink or eating a sandwich and so on, when this group slips away," Visentini says. "If the maglia rosa is in crisis, then you can go for it, but if he's strong and you attack him by surprise, that's not right. I didn't even realise Roche was in the group. We let the them go and they built up a lead of four or five minutes. And that's how it all happened."
Not quite. There were still 80 kilometres and two climbs to come before the finish at Sappada, and on the long, flat approach to the Sella Valcalda, Roche's own Carrera team – rather than the rival Panasonic or Supermercati Brianzoli squads – massed on the front to close him down. "It was up to the other teams to chase, but the management reminded us that Visentini was the leader and told us to ride behind Stephen, though I wouldn't ride on the front of the peloton," says Schepers.
Roche had Ennio Salvador of Gis Gelati for company in the break, 1:30 ahead of the bunch, when Carrera's second-in-command Sandro Quintarelli drove up alongside him to relay Boifava's orders to desist. From the back seat – and in French, which Quintarelli didn't speak – Valcke told him to do precisely the opposite. "Quintarelli started shouting to Boifava, 'Patrick's just told Stephen to keep riding!'" Valcke laughs.
Back in the peloton, Visentini was growing increasingly flustered, driven to distraction by what he deemed to be Boifava's procrastination. "Boifava should have sent the team to the front to ride full gas and chase him down, but that didn't happen," he says, a version contradicted by Schepers.
Boifava reckons Visentini should never have allowed himself fall into the predicament to begin with. "He made a mistake by sitting in the middle of the gruppo coming up to such a dangerous descent," Boifava says. "And the thing is, he was actually very good on descents. A leader can't let a group like that go away. If he wanted Roche to help him, he should have been up there with him."
It is easily overlooked, but the Carrera contingent's efforts brought the bunch back to within sight of Roche at the base of the Valcalda, where Visentini was part of the counter-attack that bridged across to the leaders. He remained in touch over the top, and was still clinging on ahead of the final haul towards Sappada, where Schepers refused Boifava's entreaties to go back and help him.
Physically, Visentini still seemed capable of offering resistance, but his mental resilience had been stretched to breaking point, which seems to have been Roche's objective in the first place. "He was very uptight and we knew if we could make him panic and blow his brains, that would be a good scenario, you know," says Roche.
Already guttering, Visentini's hopes were snuffed out altogether once left to his own devices, and he slowed almost to a standstill as Roche and the Giro rode away from him. His strength deserted him completely on the stiffest section of the final climb, where only Mauro-Antonio Santaromita of Magniflex offered any assistance, and he limped to the finish on the plateau over the top. Up ahead, Roche was also beginning to flag, but he did enough to stay in the group that came home behind stage winner Johan van der Velde.
Immediately after the finish, Roche held a brief, anxious conflab with Schepers and Valcke in a tent where journalists were watching the race on television, before he was ushered towards the podium. He had done just enough to take the pink jersey, five seconds ahead of Tony Rominger. Five seconds that made all the difference.
Carrera Jeans founder Tito Tacchella watched the stage on television at the company headquarters in Caldiero, near Verona, and decided to travel to Sappada immediately to diffuse the situation. A helicopter was ordered, but somewhere above Treviso, Tacchella was compelled to turn back by air traffic control. Ronald Reagan was holidaying at the five-star Villa Condulmer Hotel in Mogliano Veneto ahead of the forthcoming G7 summit in Venice, and a no-fly zone was enforced over the area for the duration of the president's stay.
It did little to disabuse Tacchella of the importance of his own diplomatic mission. A man didn't need to read Patrick Kavanagh to understand Homer had made the Iliad from such a local row. The short hop to Sappada became a three-hour trek by car, and it would be after 10pm before Tacchella arrived at the Hotel Corona Ferrea.
Cloistered in their rooms, Roche, Valcke and Schepers all claim they feared they would be sent home for their combined insubordination, particularly given that Visentini hailed from the same Brescia hinterland as Boifava and was, for all his eccentricities, part of the furniture at Carrera. Visentini, however, laughs joylessly at the idea that the Carrera management ever entertained the notion of pulling the maglia rosa from the race.
"The directors were never going to take that decision. It didn't work like that because Carrera was only interested in winning the Giro, full stop," he says. "I counted for zero. And the others counted for zero. All that counted was winning the Giro. They had the maglia rosa. They weren't going to send him home."
Boifava confirms as much. The topic was never even broached with Tacchella. "No, no, no, no, no. We never spoke about sending Stefano home. Never. Absolutely not. My job was to win the Giro, basta," he says. "The main thing was that Carrera, who were spending billions of Lira, won the Giro, whether it was with Roche or Visentini."
Not a betrayal, just business.
The following day's stage was the tappone, the toughest leg of the Giro, a 214-kilometre trek through the Dolomites to Canazei by way of the Passo Sella, Passo Pordoi and the Marmolada, though neither Roche nor Schepers seem to have been daunted by the mountains so much as the opprobrium of sectors of the tifosi.
"It really felt like it was la guerra up there," Schepers says. It is curious, mind, that Roche's various accounts of the final week of his Giro have focused so much on the ire of the fans when the rancour of his stable-mate Visentini was surely as intimidating.
On that stage to Canazei, Visentini not only tested Roche's mettle by accelerating repeatedly when the road climbed, but also by taking some erratic lines through corners when it descended. Roche later claimed that Visentini deliberately tried to cause him to crash on one of the descents that day, and for once, their respective accounts tally. "Yeah, that's true," Visentini says matter-of-factly. "I went very close to him. I wanted to put him off the road."
In the end, Visentini's own Giro ended in a crash, as he suffered a fractured wrist in a fall on the penultimate day and didn't even start the final time trial to Saint-Vincent in Valle d'Aosta, where Roche sealed overall victory, 3:40 clear of Robert Millar.
While Roche drove through the night with Schepers to celebrate his Giro triumph quietly in the early hours of Monday morning at home in Sagy on the outskirts of Paris, Visentini was already at his villa on Lake Garda, brooding over his future in the sport.
Although he lingered in the peloton until 1990, it was a flickering existence; his career effectively died at Sappada. On retirement, Visentini gladly faded out from the cycling milieu altogether to concentrate on running his family's undertaking business. In the quarter of a century since, he has never admitted to the merest nostalgia for the impalpable world he used to inhabit in cycling.
Schepers maintains Visentini is the only rider who has failed to attend any of the periodic team reunions organised by Carrera in Verona. Visentini is bemused by the very idea that anyone might expect him to show up. "Why would I go to a Carrera party? To see the guys who made me lose the race?" he says. "I'll gladly go and spend time with friends and enjoy myself, but a party with the guys who made me lose the Giro d'Italia? Come on."
Visentini's thoughts on Roche and his account the 1987 Giro, meanwhile, are blunt. "He's always talked bollocks," Visentini says, more in weariness than in anger. "He's always said false things. He's not reliable."
Barry Ryan's book The Ascent: Sean Kelly, Stephen Roche and Irish Cycling's Golden Generation is available here.
Sign up to the Cyclingnews Newsletter. You can unsubscribe at any time. For more information about how to do this, and how we hold your data, please see our privacy policy
Thank you for signing up to Cycling News. You will receive a verification email shortly.
There was a problem. Please refresh the page and try again.