New Giant Propel gallery: BikeExchange Jayco's Tour de France bike
By Josh Croxton published
And an unreleased pair of Cadex wheels too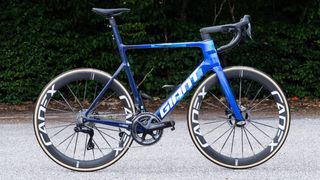 (Image credit: Josh Croxton)
Just last week, ex-pro Tony Martin accidentally on purpose leaked some pictures of a new Giant bike onto his Instagram page. Based on its recent addition to the UCI-approved frames list and its fairly clear aero design, we put two and two together and deduced that it was a never before seen Propel, the aero bike within Giant's range.
Luckily for our egos (and for fans of the Giant aero road platform), we were right. Proven by the fact that during the buildup to the Tour de France, all eight riders from Team BikeExchange Jayco have been doing their recon rides aboard the same bike, this time in full Giant branding and team livery, and most importantly, the Propel model name.
As we mused in our earlier post, Giant looks to have steered away from the hyper-aero focus, like you'll see on the new Scott Foil for example. Instead, Giant has made the Propel more of an all-rounder, with shallower tubes and what we can only presume (representatives from Giant were on hand to stop us from checking) will be a lighter total weight.
Luckily, we were permitted some time with the bike, so we got up close with the one that Luke Durbridge will use for the next three weeks, and squeezed the team mechanics for as much info as we could, to bring you as many of the gory details on this as-yet-unreleased road bike as possible.
Firstly, and perhaps most importantly, was the mechanics' confirmation that, despite all riders intending to use the Propel on flat stages, the lighter weight TCR will return to service on the mountainous days. This proves, at least for the time being, that Giant isn't planning to 'do a Specialized' and kill off one of its bikes in favour of the one-bike solution.
However, with our arms well versed in approximate bike weights from all of our various galleries from Tours gone by, we were suitably impressed with the lightness of Durbridge's size XL bike, estimating it at the low sevens (kilograms) with tubular wheels. With that, it feels to us that the Propel will make more sense for most buying consumers than the brand's lightweight TCR.

Thank you for reading 5 articles this month*
Join now for unlimited access
Enjoy your first month for just £1 / $1 / €1
*Read 5 free articles per month without a subscription
after your trial you will be billed £4.99 $7.99 €5.99 per month, cancel anytime. Or sign up for one year for just £49 $79 €59

Join now for unlimited access
Try your first month for just £1 / $1 / €1
As the Tech Editor here at Cyclingnews, Josh leads on content relating to all-things tech, including bikes, kit and components in order to cover product launches and curate our world-class buying guides, reviews and deals. Alongside this, his love for WorldTour racing and eagle eyes mean he's often breaking tech stories from the pro peloton too.
On the bike, 30-year-old Josh has been riding and racing since his early teens. He started out racing cross country when 26-inch wheels and triple chainsets were still mainstream, but he found favour in road racing in his early 20s and has never looked back. He's always training for the next big event and is keen to get his hands on the newest tech to help. He enjoys a good long ride on road or gravel, but he's most alive when he's elbow-to-elbow in a local criterium.