Best women's cycling gloves: mitts and full-finger gloves for year-round cycling
Our pick of the best women's cycling gloves for riding in all weather conditions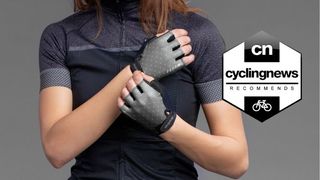 (Image credit: GripGrab)
The best women's cycling gloves will not only improve your grip on your handlebars and keep your extremities warm, they'll also protect your hands in the event of a fall. After all, there's nothing worse than road rash on the palms of your hands.
They come in both half- and full-finger options and feature different levels of padding (if they have any at all). While some are designed for adding comfort, others are claimed to be more aero than your skin. Which type you choose will depend largely on your style of riding and your personal preference.
The weather plays a huge role, too. If you're with us in the northern hemisphere, you're more than likely wrapping up as much as possible to keep your digits from freezing off, and pairing your best winter cycling gloves with your best winter cycling jacket, best winter bib tights and best winter cycling socks.
Of course, the weather is rarely predictable, which is why it's useful to have an array of cycling gloves to hand: mitts for the days when the sun powers through, windproof gloves for frosty mornings, waterproof gloves for downpours, and full-on winter gloves for when you need them.
We've rounded up our pick of the best women's cycling gloves for riding year-round, and if you're after some buying advice, jump ahead to our guide on how to choose the best women's cycling gloves.
Best women's cycling gloves
Why you can trust Cyclingnews Our expert reviewers spend hours testing and comparing products and services so you can choose the best for you. Find out more about how we test.
Comfortable, lightweight and excellent at keeping the biting wind at bay
Specifications
RRP:
£42.00 / $45.00 / €40.00
Reasons to buy
+
Comfortable
+
Low-bulk
+
Windproof
+
Withstand light-to-medium rain
+
Adjustable Velcro cuff
+
Touchscreen compatible
Reasons to avoid
-
Not suitable for deep winter riding
-
Once they're wet, you're staying cold
-
The fingers came up long
We reviewed the Specialized Prime Series thermal gloves earlier this year and awarded them 4.5 stars thanks to their comfortable fit and ability to keep the biting chill at bay.
They are ideal for the shoulder seasons rather than the depths of winter, with their windproofing capabilities, exceptional fit and dexterity, not to mention the warmth offered despite their low bulk.
They're best reserved for dry weather though, as they only hold up against light-to-medium rain showers, and once they're wet, your hands will stay cold.
For a full breakdown of why we like these gloves, take a look at our Specialized Prime Series Thermal WMN Glove review.
Liv Passion Women's Long-Finger Gloves
Designed by women, for women
Specifications
RRP:
£26.99 / $37.00 / €TBC
Reasons to buy
+
Women's specific brand
+
Gel padding
+
Affordable
Reasons to avoid
-
Snug fit
-
Touchscreen compatibility is temperamental
We'd be remiss to not kick off a list of the best women's cycling gloves without mentioning Liv. The sister brand to Giant is one of the few cycling brands run by women, for women. Its products, from its gloves to its bikes, are designed from the ground up with women's bodies and unique anatomy in mind. It's for this reason that, although available in sizes small, medium and large, they generally tend to have a snug fit in the anticipation of women having smaller hands on average than men's.
The Passion Long Finger gloves are a great entry-level women's cycling glove for the between-seasons weather when it's not quite warm enough for mitts, but winter gloves are overkill. The anti-slip leather palm is designed to offer superior grip on the handlebars, even in wet weather, and features plush gel padding to cushion the heel of your hand, enabling you to ride in comfort for longer.
A terry cloth nose-wipe on the thumb and touchscreen-compatible fingertips (though these vary in response rate) make up the final features of these very affordable gloves.
Rapha Classic Gloves
Ideal for cold, crisp and dry days on the bike
Specifications
RRP:
£80.00 / $110.00 / AU$140.00
Reasons to buy
+
Beautiful finish
+
Premium materials
+
Minimal panels for maximum comfort
Reasons to avoid
-
Wouldn't stand up too well to heavy rain
Rapha's wares are well known and loved by many a road cyclist, mainly due to their premium fabrics and luxury feel. The Classic Gloves are no different, with a soft blend of nylon, polyester and elastane on the main body for unrestricted movement and comfort while gripping, and a durable leather palm that prevents unwanted slipping.
Constructed from as few panels as possible, the minimal seams contribute to a comfortable fit and minimises any risk of chafing. The exterior of the gloves are DWR treated to provide a reasonable level of water resistance, while the outer membrane offers some wind protection to keep the chill at bay.
Available in two colours, Rapha's Classic gloves feel as luxurious as their price tag implies, though we'd advise against taking them out in very heavy rain, as they can become sodden and lose their sleek finish.
Velocio Signature Softshell Gloves
Excellent warmth-to-weight ratio
Specifications
RRP:
£65.00 / $79.00 / AU$99.00
Reasons to buy
+
Lightweight and non-bulky
+
Water beads off the surface
+
Excellent wind protection
When the mercury drops and you need to keep the feeling in your digits, you most often end up reaching for a pair of thick winter gloves to do the job. In some cases, the battle to stay warm culminates with your hands shrouded in bulky materials that can make the minimal movement to shift gears a lot more effort than it needs to be.
Perfecting that sweet spot between warmth and lightweight materials may be a black art, but Velocio's Signature Softshell gloves have pretty much nailed it. Their warmth-to-weight ratio is excellent, withstanding temperatures as they creep toward zero, but feeling lightweight enough to offer the dexterity you need to perform basic tasks on the bike.
The DWR-coated windproof softshell outer keeps the biting chill away from your fingers, while water simply beads and runs off its surface. Inside, it's fleece-backed, for a soft and warm feel against the skin.
Endura Women's Windchill Gloves
Excellent for keeping the biting cold at bay
Specifications
RRP:
£29.99 / $47.50 / €35.90
Reasons to buy
+
Warmth without compromising dexterity
+
Reflective details and bright colours
Reasons to avoid
-
No adjustability in the fit
Endura's Windchill gloves are designed to block out the cold bite of winter, while retaining much-needed dexterity. Silicone print features on the polyurethane palm and fingertips, while gel padding protects the heel of the hand, under the thumb, and beneath the knuckles.
The stretch cuff is designed to provide a snug fit, while reflective details and bright colour blocks help your hand signals to be seen in low-light.
SupaCaz SupaG Clarino Long Gloves
Eye-catching minimalist cycling gloves
Specifications
RRP:
£41.20 / $55.00 / €TBC
Reasons to buy
+
Bright colours
+
Silicone on palm
Reasons to avoid
-
No adjustability in the fit
If all you want in a glove is a bit of abrasion-protection in a crash, and perhaps a bit of pizzazz, then the SupaCaz SupaG Long will keep your palms road-rash free and your fingers warm while adding some style to your wardrobe in the process. We particularly love this Oil Slick colouring.
With a snug aero cut, the mesh-backed SupaG gloves are based around lightweight fabrics and use a slip-on design. The palm is made from perforated Clarino leather, while the silicone SupaCaz logo offers added purchase on the controls.
Sealskinz Waterproof Women's All Weather Cycle Gloves
The best women's cycling gloves for winter's worst weather
Specifications
RRP:
£45.00 / $65.00 / €60.00
Reasons to buy
+
Anti-slip lining
+
Excellent control and dexterity
+
Holds up to all weather conditions
Reasons to avoid
-
Thick cuffs can make layering difficult
These all-weather gloves from Sealskinz are waterproof, windproof and reflective. The three-layer construction promotes warmth, durability and waterproofing, and consists of an outer layer of polyester, polyurethane, nylon and elastane. Meanwhile, the 100 per cent polyurethane membrane in the middle helps to keep water out and the warmth in, and the 100 per cent polyester inner layer feels soft against the skin.
They also feature an anti-slip lining that's designed to offer control and dexterity, without any bunching or slipping inside. The only downside is that the cuff is pretty thick, which can make it difficult to tuck under a jacket sleeve.
Castelli Women's Perfetto RoS Glove
All-weather protection with neoprene and Gore-Tex Windstopper fabric
Specifications
RRP:
£74.00 / $69.99 / €88.58
Reasons to buy
+
Gore-Tex Infinium Windstopper material
+
Neoprene continues to insulate when wet
+
Castelli Damping System for extra comfort
With a combination of Gore-Tex Infinium Windstopper fabric and a neoprene stretch cuff, the Perfetto RoS gloves are well equipped to handle most weather conditions. Silicone zones across the palm offer good grip, while Castelli's women-specific sizing delivers a snug fit that's easy to pull on and off again.
The gloves feature the Castelli Damping System, which aims to prevent numbness and discomfort caused by gripping the bars for prolonged periods. It combines foam cushioning and protection in key areas of the palm to damp road vibration.
Best women's cycling mitts
MAAP Pro Race Mitts
Features an Elastic Interface one-piece moulded palm for ultimate comfort
Specifications
Padding:
Elastic Interface
RRP:
£70.00 / $75.00 / €65.00
Reasons to buy
+
Innovative Elastic Interface one-piece moulded palm
+
Strategic padding where it's needed
+
Seamless palm for zero chafing
+
Breathable open mesh upper
Reasons to avoid
-
Might take some getting used to if you prefer highly padded gloves
Earlier this year Elastic Interface - known predominantly for its superb chamois technology - paired with several major apparel brands to release models of cycling gloves with its brand new one-piece moulded palm design. Among these was MAAP, who featured the seamless moulded palm on its Pro Race Mitt, and we've got a pair in for testing, so a review is forthcoming.
What we can say is that so far they've been very impressive, and the rubberised one-piece palm offers exceptional grip and comfort. It features strategically placed pads where they're needed most, and offers superior damping without the need for bulky gel padding. This might take some getting used to if you've always preferred bulkier palms, but we highly recommend giving the new EIT palm technology a try.
Liv Passion Women's Short-Finger Gloves
A summer mitt alternative to the Passions listed above
Specifications
RRP:
£19.99 / $37.00 / €TBC
Reasons to buy
+
Plush gel padding
+
Velcro closure for secure fit
+
Pre-curved thumb construction
In a similar vein to the long-fingered version listed above, these fingerless Passion gloves from Liv make an excellent entry-level option to those new to road cycling. Ideal for summer, the Passion mitts share many of the same features with their long-fingered sibling, including the reinforced Amara leather palm and Plush Gel padding to absorb some road chatter and lessen arm fatigue.
The thumb area is pre-shaped to facilitate a comfortable and effortless grip, while the stretchy fabric allows your hand to move freely and doesn't restrict where it's not supposed to.
The only thing to consider, as with the long finger version, is that sizing comes up fairly snug, so you may wish to size up where possible.
Velocio Luxe Gloves
Luxurious fabric meets anti-vibration padding
Specifications
RRP:
£39.00 / $49.00 / €TBC
Reasons to buy
+
Luxury by name, luxury by nature
+
Strategically placed padding to damp vibrations
+
UPF50 protection
Reasons to avoid
-
Unisex, so runs large
-
Slow drying
If you're a fan of Velocio's bestselling Luxe bib shorts, then you should know what to expect from the silky smooth fabric that also finds its way onto these mitts. If you've not experienced the Vermont brand's Luxe fabric yet, then trust us when we say the adage 'luxury by name, luxury by nature' rings true here.
Velocio's Luxe fabric, a blend of polyamide and elastane, is durable and lasting while feeling ultra soft against the skin, making for a precise fit that doesn't restrict your movement. The synthetic leather palm features padding in strategic placements to damp vibrations from the road and reduce fatigue. It also offers superb grip to keep you feeling in control at all times.
Since these are designed for use in the summer, it goes without saying that the back panel offers UPF50 sun protection, while mesh panels between the fingers (known as fourchettes) offer breathability and air flow.
Rapha Brevet Mitts
Durable and hard-wearing gloves designed for long-distance riding
Specifications
RRP:
£60.00 / $80.00 / €70.00
Reasons to buy
+
Minimal stitching to prevent chafing
+
Military-grade abrasion resistance
+
Memory foam padding
Rapha's Brevet range - named after the timed, long-distance cycling events also known as audax - is designed to cope with long hours (even multiple days) of use. Whether you're attempting your first 100k or taking on the legendary 1,200km Paris-Brest-Paris Randonneur event, you want kit that's going to keep up with you and last the long-haul.
Rapha's Brevet mitts are constructed with a high-grade synthetic suede palm originally developed by the US military, to provide all the abrasion resistance you could need. Strategically placed memory foam padding is there to cushion the most nerve-sensitive areas of the palm. Meanwhile, the back panel is bonded rather than stitched to prevent chafing and hold the gloves together after thousands of kilometres' use.
Considering the amount of time your hands will spend rested against the handlebar, and holding your weight during steep climbs out of the saddle, the Rapha Brevet mitts could be the kit choice that makes or breaks your long-distance ride.
Specialized BG Sport Gel
Women's Body Geometry fit with gel padding
Specifications
RRP:
£25.00 / $25.00 / €25.90
Reasons to buy
+
Strategically-placed gel padding
+
Breathable upper mesh
The Specialized BG Sport Gel women's gloves are comfort and endurance-oriented, with strategically placed gel pads throughout the palm. Additional foam padding is also included in key contact areas.
The breathable upper mesh provides a comfortable fit, while the Microwipe thumb provides a way of brushing away sweat. The Velcro strap wrist closure provides easy adjustment and makes putting the gloves on and taking them off easy and convenient.
GripGrab Women's Rouleur Gloves
Simple all-rounders that look great
Specifications
RRP:
£25.95 / $33.50 / €31.06
Reasons to buy
+
No-fuss
+
Great colour options
Reasons to avoid
-
Not suitable for long rides
The Rouler gloves from GripGrab are simple all-rounders with foam padding in the synthetic suede palm, while the Velcro wrist closure and pull-off tabs make fitting and removal easy on the go.
The foam padding is ideal for shorter road rides, and would be less suitable for long-distance cycling. Available in an array of colours, they're a well-priced pair of mitts that look good and do a simple job.
How to choose the best women's cycling gloves
It's easy to get a little lost while navigating the sheer amount of women's cycling gloves available, so we've made it easier for you to choose the best. Here are several factors to consider, which should help you narrow down your options to something that will truly suit your needs.
Which size gloves do I need?
Like with any clothes, fit can vary massively from brand to brand. Further to this, cycling gloves will vary in fit depending on the cycling discipline they're intended for. Aero and race gloves will fit as close to the skin as possible, while winter or commuter gloves will likely feel bulkier, looser and more relaxed.
You should generally opt for a snug fit that doesn't restrict your dexterity or range of movement. If gloves are too tight they can cut off circulation, whereas a too loose fit can cause bunching and hotspots, or even blisters.
To ensure you get the right size, buy them from a shop where you can try them on, or failing that, consult the brand's sizing chart and use a dressmaker's tape measure to get accurate measurements.
Which palm type is best?
Leather or synthetic? Padding or no?
Women's cycling gloves come with various levels of padding. Racing mitts, for example, offer minimal cushioning, while more plush gel-padded gloves can keep your palms comfy for hours on end.
When it comes to padding, there are two different schools of thought. Most brands will prioritise cushioning the heel of your hand, while others like Specialized, for example, place the padding in the middle of the palm to alleviate nerve pressure. What works for you will come down to personal preference and the type of terrain you're riding. After all, glassy Swiss tarmac doesn't require padded cycling gloves, while hours of washboard gravel likely does.
Most cycling gloves tend to have a palm made from synthetic leather, which is both breathable and durable against general wear, tear and abrasion.
Half-finger or long-finger?
Half-finger cycling gloves - or mitts - are generally the norm for road riding, especially in the warmer months of the year. They're usually made from a lightweight and breathable fabric over the back of the hand, while a synthetic-leather palm helps to protect against abrasion. With your fingertips exposed, you have full dexterity and can use smartphones and touchscreen devices with ease.
Full-finger gloves are also available and come into their own during the winter months when the frosty mornings start to nibble away at our digits. These can often include technical materials for windproofing and waterproofing.
What other features should I look for?
Well, if you're anything like us, as soon as you start pedalling, your nose starts to run. Look for cycling gloves with a nose wipe on the thumb, ideally made from fleece or terry cloth, both of which are softer on the skin and provide better camouflage for stowaway bogeys.
The latest race content, interviews, features, reviews and expert buying guides, direct to your inbox!
Mildred joined as Reviews Writer for Cyclingnews and BikePerfect in December 2020. She loves all forms of cycling from long-distance audax to daily errand-running by bike, and does almost everything on two wheels, including moving house, and started out her cycling career working in a bike shop. For the past five years she's volunteered at The Bristol Bike Project as a mechanic and session coordinator, and now sits on its board of directors.
Since then she's gone on to write for a multitude of cycling publications, including Bikeradar, Cycling Plus, Singletrack, Red Bull, Cycling UK and Total Women's Cycling. She's dedicated to providing more coverage of women's specific cycling tech, elevating under-represented voices in the sport, and making cycling more accessible overall.
Height: 156cm (5'2")
Weight: 75kg
Rides: Stayer Groadinger UG, Triban RC520 Women's Disc, Genesis Flyer, Marin Larkspur, Cotic BFe 26, Clandestine custom bike
The latest race content, interviews, features, reviews and expert buying guides, direct to your inbox!
Thank you for signing up to The Pick. You will receive a verification email shortly.
There was a problem. Please refresh the page and try again.