Best women's cycling base layers
A good women's cycling base layer should be a key part of your wardrobe, as it keeps you fresh and comfortable all year round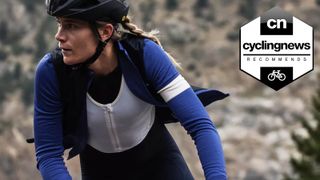 (Image credit: Rapha)
When it comes to wearing weather-suitable cycling kit, never overlook the benefits of a good quality base layer. Designed to be figure-hugging in order to wick away moisture from the skin, the best women's cycling base layers should accommodate curves where needed, and fulfil all the other duties expected of them.
At this time of year, base layers should provide an extra layer of warmth to help you regulate your core temperature and feel comfortable on the bike. When it's warmer out, their job is to help you manage moisture build-up to stay fresh and cool, as well as keeping body odour in check.
There are lots of options to choose from, like differing fabrics and technical materials, or natural fibres versus synthetic ones. Some of the best cycling base layers are designed for specific weather conditions, so sleeve-length, cut, and thickness will also have a part to play.
When it comes to the best women's cycling base layers, the fabrics and technologies are much the same as men's and unisex options. The key is in the cut. To do its job properly a base layer must comfortably hug your figure and sit flush against your skin, so if you have a curvy figure, you probably need a women-specific base layer for the ultimate comfort and fit.
To make the decision easier, we've rounded up a list of the best women's cycling base layers on the market, for a variety of budgets.
Here's what to look for when choosing a women's cycling base layer
Best women's cycling base layers for keeping warm
Why you can trust Cyclingnews Our expert reviewers spend hours testing and comparing products and services so you can choose the best for you. Find out more about how we test.
The Gore Windstopper is perfect for keeping you warm on crisp morning rides
Specifications
Sleeve Options:
Long / short / sleeveless
Material:
88% polypropylene, 8% elastane, 4% polyamide
Price:
£79.99 / $90.00 / €79.95
Reasons to buy
+
Warm and windproof
+
Comfortable against the skin
+
Ventilation points where it makes sense
+
Short sleeve and sleeveless options as well
Reasons to avoid
-
The windproof membrane doesn't wick moisture away well
If you're riding in blustery conditions, keep the cold out and protect your core with some windproof kit. Gore's Windstopper membrane has been designed specifically for this purpose, to counteract wind chill and provide an impenetrable barrier between you and the gales.
With its comfortable close fit, the Windstopper base layer creates a thin but powerful addition to whichever warmth strategy you opt for. Pair it with a single jersey for a little protection, or make it part of a full-blown winter layering system. The Gore Windstopper membrane is an essential part of any serious all-weather cyclist's wardrobe.
The Windstopper membrane is water-repellent and features on the areas most likely to feel the full brunt of the elements: the front and shoulders. The back, as well as the under-arm panels, are constructed from an open mesh to disperse heat and cool you down.
Read our Gore Windstopper base layer review for more.
Exceptionally soft and ideal for transitional seasons
Specifications
Sleeve options:
Long / short / sleeveless
Materials:
51% Merino Wool / 49% Polyester
Price:
£80.00 / $99.00 / €TBC
Reasons to buy
+
Wide size range
+
Comfortable and warm
+
Nice long body and sleeves
+
Exceptionally soft hand-feel
+
Wicks sweat effectively
Reasons to avoid
-
Lack of colour choice
-
Fabric susceptible to pulling
Part of a trio of merino mesh base layers in Velocio's women's kit range, the long-sleeve version impressed our reviewer with its exceptionally soft hand-feel and the comfort and warmth it provides. While it's not a cheap item, it's certainly versatile and is sure to add warmth and moisture-wicking to your cycling wardrobe for several seasons. It's also durable enough to last a fair few years as well.
Even in its long-sleeve guise, the Merino Mesh base layer is impressively lightweight, and it packs down nice and small, which makes it an excellent option for bikepackers and anyone else wanting to travel light with spare layers.
We've not even mentioned the merino wool yet, which is a wonder material for cyclists. Providing natural antimicrobial and moisture-wicking properties, it also helps you stay warm even when wet, and is stretchy enough to allow you to move freely.
Check out our Velocio Women's Merino Mesh long sleeve base layer review for even more.
Endura Baabaa Blend long sleeve base layer
Endura's Baabaa Blend combines the benefits of merino wool with moisture-wicking synthetic fibres for overall performance
Specifications
Material:
80% Lyocell, 20% Merino wool
Price:
£47.99 / $64.99 / €57.44
Reasons to buy
+
Forget-you're-wearing-it comfortable
+
Remains odour-free over multi-day us
Reasons to avoid
-
Can overheat on warmer days
Endura's Baabaa Blend base layer combines merino wool with Lyocell synthetic fibres to offer an all-in-one package of thermoregulation, odour control and sweat management. Once again it's a great option for layering or wearing as a standalone top.
The Baabaa Blend base layer gets ethical brownie points too, as the merino used is non-mulesed (meaning the cruel practice of mulesing is not involved in its production). What results is a soft and itch-free blend of natural and synthetic fibres that's so comfortable you'll forget you're wearing it.
The fit is pretty relaxed, meaning it works well as a standalone long-sleeve top or an upper layer with something else underneath. It's still reasonably form-hugging though, with no uncomfortable bunching when paired with a fitted jersey.
We have reviewed the men's Endura Baabaa base layer and found it works best at lower temperatures, as its warming properties can be a bit too much on milder days.
Read our Endura BaaBaa Blend base layer review for more information.
Rapha Women's Pro Team Thermal Base Layer
A winter-ready base layer with an integrated face covering and ponytail port
Specifications
Materials:
84% polyester, 16% spandex
Price:
£70.00 / $95.00 / €85.00
Reasons to buy
+
Warm and quick-drying
+
Varying fabric weights for bulk where it matters
+
Integrated face covering and ponytail port
Reasons to avoid
-
Race cut won't be for everyone
-
Pricey
When you're cycling in the dead of winter you're often relying on some kind of neck gaiter to help keep the chill out of that more sensitive area, not to mention your face and ears. While a separate gaiter is a handy thing to have around, sometimes one garment that does it all is preferable, and in this case perhaps you'll be endeared to Rapha's unique winter base layer with an integrated face covering.
Essentially a very long turtleneck, you can fold it over to double up the warmth around your neck, or pull it all the way up to cover your chin, cheeks, nose and ears for extra warmth against the biting winds. There's even a ponytail port at the back, which both helps it stay up, and enables you to ride comfortably.
dhb Women's Merino M200 base layer
Grab the versatility offered by merino wool for a bargain price, in a range of colours
Specifications
Sleeve Options:
Short / sleeveless
Material:
100% Merino wool
Price:
£45.00 / $60.00 / €53.87
Reasons to buy
+
Value for money
+
Versatile
If you're looking for the coveted properties of merino wool without spending the last of your savings, then dhb offers a fantastic value merino base layer too. M200 signals the weight of the wool used, and this particular base layer is more geared towards winter riding. A lighter M150 version is also available.
Merino wool is a dab hand at naturally regulating body temperature, and stays fresher for longer. While we do recommend regularly washing your base layer, you may find yourself able to take it on a multi-day ride and come out almost fresh as a daisy.
The yarn is superfine, promising a soft and comfortable mid-weight base layer that will see you through the colder months. You can layer it up all winter and then wear it on its own once temperatures rise. It's also comfortable enough to wear off the bike, thanks to the close but relaxed fit.
Madison Isoler Mesh women's base layer
Madison's Isoler Mesh base layers are comfortable and competitively priced
Specifications
Sleeve Options:
Long / sleeveless
Material:
75% polyester, 20% polyamide, 5% elastane
Price:
£24.99 / $N/A / €N/A
Reasons to buy
+
Seamless circular knit construction
+
Budget-friendly
Madison's Isoler Mesh base layer is another budget-friendly option that offers basic performance, great for entry-level cyclists exploring what the world of lycra has to offer. There are two versions available: long-sleeved or sleeveless, providing options for year-round training.
The Isoler Mesh base layer is constructed from a circular knit design, meaning more comfort thanks to the lack of seams. The binding on the neck and arm openings are soft to the touch and irritation-free. It comes in a close race-fit, but is completely unrestrictive and works well both on and off the bike.
At this price point, it doesn't have any bells and whistles but this base layer is covered by a limited lifetime warranty, and is perfectly fine if you're only just getting into cycling.
Brilliant performance in a wide range of temperatures
Specifications
Sleeve Options:
Long / short
Material:
94% Polyester / 6% Elastane
Price:
£60.00 / $75.00 / €54.90
Reasons to buy
+
Body-mapped construction
+
Impressive comfort
+
Lightweight with long sleeves
Reasons to avoid
-
Could be softer against the skin
Sportful's Bodyfit Pro long sleeve base layer is hugely versatile and ideal to handle autumn and spring, plus mild winter temperatures. It offers an excellent fit with nice long sleeves, and sits at a comfortable point on the hips without feeling too long and leaving you with a lot of bulk to tuck into your bib tights.
Its clever dual-layer construction features a single lightweight external facing, and a three-dimensional internal lining that contains channels for adding bulk and thermal insulation. By trapping air between the channels, it not only seals in warmth but also allows the body to breathe through the thinner and more breathable backing.
We've tested out the men's version of this base layer, so check out our Sportful's Bodyfit Pro long sleeve base layer review for all the details that come with the women's version as well.
Best women's cycling base layers for keeping cool
Rapha Women's Pro Team Mesh Base Layer S/S
Designed for riding on the hottest days
Specifications
Material:
90% polyester, 10% elastane
Price:
£50.00 / $70.00 / €60.00
Reasons to buy
+
Exceptional breathability
+
Comfortable, stretchy and relaxed fit
+
Classic Rapha aesthetic
Reasons to avoid
-
Pricey for a summer base layer
Designed for use on the hottest days when you'd usually be tempted to skip the extra layer, Rapha's Pro Team Mesh base layer is lightweight and breathable to help you stay cool and dry. It draws sweat away from the skin and dries quickly, which helps to regulate your core temperature and avoids those destabilising wind chills from fast descents with wet skin.
The fit is close but relaxed, so it can do its job. The garment is constructed from a super-light open mesh polyester with high-stretch, high-wicking side panels, and excellent breathability all over. It was developed with feedback from the Canyon//SRAM pro team, comes with free repairs courtesy of Rapha, and it's a very nice piece of kit to have.
Assos Women's Summer baselayer
High performing and breathable, with multiple options available for all-weather riding
Specifications
Sleeve Options:
Short / sleeveless
Material:
97% Polypropylene, 3% Carbon
Price:
£60.00 / $89.00 / €71.82
Reasons to buy
+
Super breathable
+
Seamless side for zero chafing
+
Carbon/Polypropylene blend for exceptional moisture-wicking
Assos' Summer base layer is designed to keep you dry on the sweatiest rides, with its Carbon/Polypropylene blend that provides exceptional moisture-wicking performance.
It's also designed to be comfortable, with a circular seamless tubular knit, which means the main body of the garment is stitched in one piece without any side seams, so there's less potential for chafing and irritation - the last thing you need when you're hot and bothered.
Its close-to-body fit enables it to move moisture away from your skin efficiently, while there's ample stretch to allow you move freely and comfortably.
Castelli Women's Pro Issue 2
The Castelli Pro Issue 2 base layer is performance-focused and promises a sweat-free ride
Specifications
Sleeve Options:
Short / sleeveless
Price:
£46.00 / $54.99 / €55.06
Reasons to buy
+
Ideal for UK summer
+
Pairs well with aero jerseys
If you're not looking for warmth from your base layer, then the Pro Issue 2 will keep you fresh and dry without causing you to overheat. This mid-range base layer from Castelli is designed to be worn in milder temperatures, from 15-25 degrees Celsius.
The Castelli Pro Issue 2 is made from a light 3D mesh fabric that uses capillary action to draw sweat away from the skin, making for a dry and comfortable ride. Minimal collar seams and a single flat hem around the waist mean there are fewer irritation points.
The Pro Issue 2 has a snug fit that sits flat without bunching up. It pairs well with aero jerseys, or anything with a tight collar, so there's no need to compromise on performance.
The only downside is that Castelli is notoriously biased towards the svelte Italian physique, so it may not be the best option for curvier bodies. Always check the size guide before buying online.
dhb Lightweight Mesh base layer
The performance offered at this price is hard to beat
Specifications
Sleeve Options:
Long / short / sleeveless
Material:
93% polyester, 7% elastane
Price:
From £25.00 / $32.00 / €29.93
Reasons to buy
+
Superb value
+
Antibacterial finish
If you're looking to spend a little less, Wiggle's budget-friendly brand dhb has some cards up its sleeve. The dhb Lightweight Mesh base layer, for example, is both performance-focused and great value for money.
It's treated with a Polygiene antibacterial finish to combat body odour and keep you feeling fresh. The open mesh knit successfully wicks away sweat while trapping air to regulate body temperature.
To help with layering, all stitching is flat-locked and there are minimal seams. Overall it's a good base layer that won't break the bank, however, sizing does come up small so be sure to check Wiggle's size chart before purchasing.
Stolen Goat Mesh sleeveless base layer
A lightweight base layer to inject some fun into your cycling wardrobe
Specifications
Sleeve Options:
Sleeveless
Material:
80% Polyester, 20% elastane
Price:
£35.00 / $49.00 / €48.00
Reasons to buy
+
Fast-drying
+
Bright colours and patterns
Stolen Goat is known for its fun and colourful cycling kit, and its lightweight base layers are cut from the same cloth. With three colourful pattern options, you'll be proud to unzip at the top of a climb. Of course, if this doesn't sound like you, there's a low-profile white version as well.
Constructed from four-way stretch AirMesh that's super breathable, this sleeveless base layer is ideal for summer rides. The race fit hugs your form perfectly and moves with you, making it a comfortable option when you're likely to feel hot and bothered. The fabric is fast-drying and moisture-wicking too.
Far be it from you to be mistaken for a fair-weather cyclist, however, the Stolen Goat Mesh base layer could also be a great piece of kit to wear year-round when paired strategically with warmer jerseys and jackets. Unfortunately, it doesn't come with any sleeved options.
How to choose the best women's cycling base layer
What's the best material for a cycling base layer?
Different materials perform best in different environments, so it's important to consider what kind of riding you'll be doing when choosing a base layer. You'll mostly find yourself choosing between synthetic and natural fabrics, though nowadays there are plenty of garments that blend the two.
Man-made synthetic materials are often geared towards warmer weather, as they excel in sweat management and cooling. Natural materials on the other hand, like merino wool, aren't as efficient at wicking or drying, but they are great thermoregulators across a broad range of temperatures. This makes them really versatile, plus they keep you warm even when wet, and are more odour-resistant.
How should a cycling base layer fit?
For a base layer to properly do its job, it should fit like a glove. Sitting flush with the skin allows it to wick away sweat, while the closer the cut, the less chance there is of bunching (which is really unpleasant if you're layering on top of it).
There are unisex options that may suit a more slight physique, but if you're curvier we strongly recommend choosing a women-specific cut.
If you're racing, opt for a performance fit with flat-lock stitching, an aggressive cut and a wide collar to fit seamlessly below skinsuits. More casual riders can opt for a relaxed cut. Let the material's stretch provide the comfort and fit you need.
Do I need a different base layer for the seasons?
While you could certainly get away with one type of base layer all year round, there are several qualities that you might want to consider tailoring for summer and winter especially.
For example, some base layers have different sleeve lengths to choose from. Opt for short or sleeveless if you're riding in hot or unpredictable weather. They can easily be combined with other layers, such as a jersey, or arm warmers to keep your bases covered when the temperature drops.
For cold weather rides, go for long sleeves. They can also be worn beneath other garments to create a winter layering system when you're heading out in arctic conditions.
What other features should I look for in a base layer?
Some base layers offer a level of compression support, to increase the blood flow to your muscles, delay fatigue and improve your performance. It also helps to reduce recovery time so you can train harder.
If you're looking for something specific, pay attention to the extra features that are sometimes on offer, as they generally relate to specific riding conditions. For example, really thin mesh panels offer superior breathability while training at maximum effort in the hottest climes. On the other hand, water resistance, windproofing, a high-cut collar and perhaps even an integrated balaclava hood might be considered in the colder months.
The latest race content, interviews, features, reviews and expert buying guides, direct to your inbox!
Mildred joined as Reviews Writer for Cyclingnews and BikePerfect in December 2020. She loves all forms of cycling from long-distance audax to daily errand-running by bike, and does almost everything on two wheels, including moving house, and started out her cycling career working in a bike shop. For the past five years she's volunteered at The Bristol Bike Project as a mechanic and session coordinator, and now sits on its board of directors.
Since then she's gone on to write for a multitude of cycling publications, including Bikeradar, Cycling Plus, Singletrack, Red Bull, Cycling UK and Total Women's Cycling. She's dedicated to providing more coverage of women's specific cycling tech, elevating under-represented voices in the sport, and making cycling more accessible overall.
Height: 156cm (5'2")
Weight: 75kg
Rides: Stayer Groadinger UG, Triban RC520 Women's Disc, Genesis Flyer, Marin Larkspur, Cotic BFe 26, Clandestine custom bike
The latest race content, interviews, features, reviews and expert buying guides, direct to your inbox!
Thank you for signing up to The Pick. You will receive a verification email shortly.
There was a problem. Please refresh the page and try again.