Best bike stands
These bike stands will help make storing and repairing your bike a breeze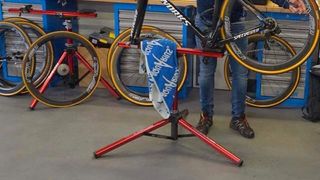 (Image credit: Feedback Sports)
Bike stands are a great way keep your bike stable, secure and upright when storing it, cleaning it or repairing it. 
Some say it's a cardinal sin to flip your bike upside down when doing repairs, and when working on your bike at home, there is a better way; a bike stand. They come in all shapes and sizes and the best stands will make jobs like cleaning your chain considerably less laborious. 
Bike stands designed with repairs in mind will hold your bike off the ground so that you can get at the components and spin the cranks to fix and clean it. Bike stands designed for storage, on the other hand, will simply keep your bike from toppling over, and can be designed to hold your bike on the floor, walls or even suspended from the ceiling. 
Like anything else, you get what you pay for and higher-end stands will often utilize better materials, have improved clamping mechanisms and greater adjustability.
Below, we run down the most important considerations when buying repair stands, as well as a roundup of our favourite storage, repair and cleaning bike stands available. 
The clamp
Far and away, the most important thing on a repair stand is the clamp. You want something that's quickly adjustable with one hand and offers plenty of purchase without heaps of clamping force, this is especially important if you're grabbing onto a carbon frame. 
We would recommend you always clamp down onto the seatpost, because if something does go wrong, a crushed seatpost is a lot cheaper to replace than a top tube. Although, for quick and simple jobs, we tend to rest the bike's top tube into horizontally-aligned clamp jaws, and using gravity to hold the bike aloft, reducing the need for any clamping force at all.
The jaws should be lined with soft rubber not only to prevent scratches but a tacky compound also requires less clamping force. We also like clamps that have a quick release; when you're trying to hold a bike up with one hand, endlessly spinning a knob two-dozen times can be testing. That said, a degree of fine adjustment is also needed so you don't crush delicate components.
Workstand foldability
If you're anything like us, garage space is at a premium; shared with cars, camping gear, ski gear, lawnmowers, hedge trimmers... you get the idea. With this lack of space, most of us don't have room for a fixed work stand with a heavy pedestal base. There are heaps of folding bike repair stands available, the majority are sure-footed and stable, and will fold down small enough to be easily stowed. 
Two factors to keep an eye on are how compact the stand is when broken down, and the folding procedure. Race-style stands usually pack down considerably better than their clamp-based relatives. 
Angle adjustment
Being able to tilt your bike is crucial when you're trying to get a bubble to rize to the top of a hydraulic brake line or get a better angle for straightening a derailleur hanger. On a clamp-style stand, look for those that allow the head to be easily tilted and then locked down rigid.
Replaceable jaw protectors
A work stand is an investment and should outlast most of your bikes. With that in mind, look for a stand with replaceable jaw protectors that are readily available. 
Sign up to the Cyclingnews Newsletter. You can unsubscribe at any time. For more information about how to do this, and how we hold your data, please see our privacy policy
Thank you for signing up to Cycling News. You will receive a verification email shortly.
There was a problem. Please refresh the page and try again.