Best bike repair stands
These bike repair stands will help make storing and repairing your bike a breeze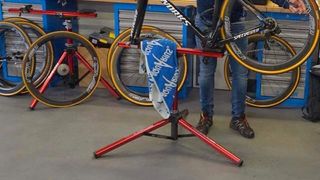 (Image credit: Feedback Sports)
Bike repair stands are a great way keep your bike stable, secure and upright when storing it, cleaning it or repairing it. They come in all shapes and sizes and the best stands will make these jobs considerably less laborious.
Bike repair stands will hold your bike off the ground so that you can reach the components and spin the cranks to fix and clean it. Bike stands designed for storage, on the other hand, will simply keep your bike from toppling over, and can be designed to hold your bike on the floor, walls or even suspended from the ceiling.
Here are the best storage, repair and cleaning bike stands available, followed by our guide to choosing the right one for your needs.
Perfect for families
Store three bikes with just one stand
If you're looking for a stable, strong and secure bike stand, and you want to store multiple bikes, this CyclingDeal stand is a great option. With powder coated steel construction, it'll be sturdy enough to withstand a beating. Given it's three bikes wide, it'll be more stable than a single bike option, and the holding sections are designed to hold tires of all widths.
Push in and store
Best for e-bike owners
If you have a bike to store in your home or garage, then this is a brilliant little system that folds for easy transport and storage when not in use.
It is designed to be used with almost all wheel sizes, ranging from kids bike to 29er mountain bikes up to 2.4 inches in width.
It's super sturdy thanks to its wide base, and the folding mechanism allows you to simply push your wheel into place, rather than lifting your bike. This makes it suitable for people with heavy bikes such as e-bikes or mountain bikes.
Budget-friendly
The best stand for traveling roadies
The CXWXC Bike Repair Stand is constructed from durable alloy and features a sturdy and stable V-shaped base with rubber feet. Work on any bike that weighs up to 60 pounds in confidence, using the adjustable height and clamping system to tailor the stand to your needs. The lock and release system is reliable and easy to use as well.
It's better suited for home use rather than commercial. While the materials it's made from are strong and of good quality, the way to get the most value out of this budget-friendly repair stand is to not expose it to the demands of commercial use. For the home mechanic who only needs to maintain their own bike(s), this stand should stand the test of time and offer exceptional value.
Best overall
The gold standard in portable bike stands
The Feedback Sports Pro Elite bike repair stand is lightweight, sees quality finishing and is arguably the best clamp on the market. There is a reason that, at just about any cycling event around the world, you'll find these work stands kicking around. The tubing is made from aluminum and the three-legged stance is stable even on uneven ground.
While the red anodized tubing is immediately recognisable, it's the ratcheted dial clamp that sets the Feedback Sports Pro Elite apart. With ratchet teeth placed in 5mm intervals, squeezing the jaws together with your hand will get you within one turn of the adjustment knob of the stand supporting the weight of your bike. Even better when a repair is complete, the clamp is released with the push of a button.
Best for racers
The best race-style repair stand you can buy
With a sliding mount, the Park Tool PRS-22.2 Team Issue Repair Stand can hold any bike, connecting the front or rear dropouts and supporting the bottom bracket without any adaptors to keep track of - it's also the best of the bunch if you're dealing with thru-axles. The main beam is fore and aft adjustable to customize the balancing point and the bottom bracket support can be tailored to your bike's specific needs.
The Team Issue Repair stand has been updated and now spins more easily to allow access to the bike at any angle without moving your feet. At 12.5lbs, it's relatively light and breaks down flatter than any other Park Tool stand.
Most reliable
Solid, durable and doesn't break the bank
The Park Tool PCS-10.2 Home Mechanic Bicycle Repair Stand is well-constructed, sturdy and stable, and user-friendly, making it an ideal bike stand for your home workshop or garage.
Park Tool is a well-known and trusted brand in the world of bicycle mechanics, and the PCS-10.2 folding repair stand is a great candidate for anyone with at least a semi-permanent workshop (it's foldable, but is still quite heavy to move around, so it's best if you don't need something super-portable).
The two-legged base creates a platform that is stable enough for hard-wrenching efforts, while the vertical tubes, with their teardrop-shaped profile, helps to keep the bike's center of gravity balanced.
The simple clamping system has enough range of adjustment to work with almost any bike, making it a great all-round and versatile workhorse.
Best for e-bikes
Heavy-duty folding stand ideal for home use
This Park Tool stand has a maximum weight capacity of 100lbs, making it suitable for pretty much any bike you can throw at it, including most e-bikes. If you need something that can take a lot of weight, this is the one for you.
With a four-point leg system, the Park Tool Deluxe stand is ideal for home use. It's available with two different clamps; one with an adjustable linkage and a micro-adjust cam clamp. Both of these are top-end, shop-level clamps meaning the bike can be adjusted at any angle and the jaw protectors are replaceable and readily available.
The legs are made from powder-coated steel tubing and are a bit wobbly on uneven ground. When you lift the stand up the legs collapse flat meaning the work stand can be tucked into a corner or down the side of a cabinet or closet.
Great value
A capable and thoughtfully designed model for those on a budget
This bike stand from Bike Hand has one of the lowest retail prices when it comes to home repair stands, making it an excellent option if you don't want to spend a lot. Don't assume that with the low price you'll be getting low quality, as this is in fact excellent value for money. The repair stand itself is compact when fully collapsed and lightweight, making it easy to maneuver into place. It includes a tool tray so you can keep all your most used items and small parts within reach at all times, and is operated with easy-to-use clamp and angle adjustments.
While it does feature a lot of plastic parts that may wear over time, if you're only just starting out doing bike repair at home, or only plan to use this once in a blue moon, we see no reason why it shouldn't last a decent length of time.
The clamp
Far and away, the most important thing on a repair stand is the clamp. You want something that's quickly adjustable with one hand and offers plenty of purchase without heaps of clamping force, this is especially important if you're grabbing onto a carbon frame.
We would recommend you always clamp down onto the seatpost, because if something does go wrong, a crushed seatpost is a lot cheaper to replace than a top tube. Although, for quick and simple jobs, we tend to rest the bike's top tube into horizontally-aligned clamp jaws, and using gravity to hold the bike aloft, reducing the need for any clamping force at all.
The jaws should be lined with soft rubber not only to prevent scratches but a tacky compound also requires less clamping force. We also like clamps that have a quick release; when you're trying to hold a bike up with one hand, endlessly spinning a knob two-dozen times can be testing. That said, a degree of fine adjustment is also needed so you don't crush delicate components.
Workstand foldability
If you're anything like us, garage space is at a premium; shared with cars, camping gear, ski gear, lawnmowers, hedge trimmers... you get the idea. With this lack of space, most of us don't have room for a fixed work stand with a heavy pedestal base. There are heaps of folding bike repair stands available, the majority are sure-footed and stable, and will fold down small enough to be easily stowed.
Two factors to keep an eye on are how compact the stand is when broken down, and the folding procedure. Race-style stands usually pack down considerably better than their clamp-based relatives.
Angle adjustment
Being able to tilt your bike is crucial when you're trying to get a bubble to rize to the top of a hydraulic brake line or get a better angle for straightening a derailleur hanger. On a clamp-style stand, look for those that allow the head to be easily tilted and then locked down rigid.
Replaceable jaw protectors
A work stand is an investment and should outlast most of your bikes. With that in mind, look for a stand with replaceable jaw protectors that are readily available.

Thank you for reading 5 articles this month* Join now for unlimited access
Enjoy your first month for just £1 / $1 / €1
*Read 5 free articles per month without a subscription

Join now for unlimited access
Try your first month for just £1 / $1 / €1
Mildred joined as Reviews Writer for Cyclingnews and BikePerfect in December 2020. She loves all forms of cycling from long-distance audax to daily errand-running by bike, and does almost everything on two wheels, including moving house, and started out her cycling career working in a bike shop. For the past five years she's volunteered at The Bristol Bike Project as a mechanic and session coordinator, and now sits on its board of directors.
Since then she's gone on to write for a multitude of cycling publications, including Bikeradar, Cycling Plus, Singletrack, Red Bull, Cycling UK and Total Women's Cycling. She's dedicated to providing more coverage of women's specific cycling tech, elevating under-represented voices in the sport, and making cycling more accessible overall.
Height: 156cm (5'2")
Weight: 75kg
Rides: Liv Devote, Genesis Equilibrium Disc 20, Triban RC520 Women's Disc, Genesis Flyer, Whyte Victoria, Cotic BFe 26, Clandestine custom bike
Sign up to the Cyclingnews Newsletter. You can unsubscribe at any time. For more information about how to do this, and how we hold your data, please see our privacy policy
Thank you for signing up to Cycling News. You will receive a verification email shortly.
There was a problem. Please refresh the page and try again.