Best bike floor pumps
The best floor pumps for all your tire inflation needs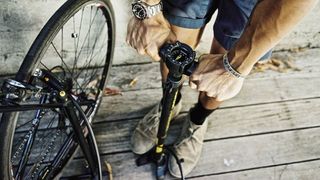 (Image credit: Topeak)
Choosing the best bike pump is very much dependent on your tire inflation needs. If you're looking for a pump to quickly top up your tires before you head out the door, you'll likely want a floor pump.
Punctures are a pet peeve for any cyclist. They can strike at any time no matter how robust your tires might be - even chunky mountain bike tires aren't immune.
Having a good pump at hand is important to avoid being stranded at the side of the road or sitting at home unable to go for a ride because of a flat tire. Floor pumps are the best for big inflation duties, be that at home or in the car park before a race.
Otherwise known as track pumps, floor pumps are the most efficient method for inflating tires at home. With a wide steady base, a large air chamber and being able to use your weight to push the handle makes inflation much quicker and easier than a handheld pump. Floor pumps also have long hoses, which makes reaching valves simple, even if a bike is mounted on a work stand.
Most floor pumps will include a pressure gauge so that tire pressure can be set up accurately. An analogue gauge is simple and easy to read, however, some offer digital gauges for easier reading.
As the forces that are put through floor pumps are greater than hand pumps, investing in a high-quality pump - rather than cheaper plastic designs - is worthwhile. Often, high-end brands will offer spare parts and replacement seals should you need to service your floor pump.
Best overall
An excellent all-rounder for newbies and pros alike
Another one from Topeak's Joe Blow range, the Sport III offers excellent all-around pumping performance. Where you need durability, you have metal parts, and where you need to save weight, you have plastic. It's well-designed and built, as is the easy-to-read pressure gauge.
A user-friendly and versatile pump that can be appreciated by newbies and pros alike, the head design is great, while the accuracy is top-notch. The Joe Blow Sport III provides solid performance and is a good choice for any cyclist.
Runner up
Lezyne's material choice and finishing makes this a professional-grade tool
Lezyne's CNC Digital Drive Pump is a professional pump with its aluminum construction and finish. Lezyne has specced a digital gauge for clear readings which measures to a claimed accuracy of 97 per cent.
Lezyne has redesigned the valve head, the new ABS1 Pro uses a chuck that flips between Presta and Schrader and securely screws onto the valve. The valve head has a valve-core tool that is integrated on the rear of the unit for tubeless systems.
Lezyne offers a range of seal kits and spares should you need to service your pump or wish to fit different valve heads, extenders or hoses.
Best value
Great value for money option
With the BV pump, you get many of the same features you'd find on other floor pumps in this list: high maximum capacity of 160 PSI, an easy-to-read pressure gauge to help you set your desired air pressure, and a smart reversible valve head that works with both Presta and Schrader Valves. The head has a lever to lock it into place, preventing slipping and leaking, and enabling a firm grip.
The oversized handle is ergonomically designed to be easier to grip and more comfortable to use than its competitors. Meanwhile the long steel barrel allows more air to be pushed through with each pump, making it easier and faster to pump. The extra long hose has a 360-degree pivot to make pumping as easy as possible, while the stable and durable base helps the whole thing to sit pretty while you get the job done.
Premium choice
Built to last a lifetime
If you're seeking a blend of performance and durability at any cost, then may we introduce you to Silca. The premium brand's tools are highly sought after for their exemplary build quality and incredible performance.
The Pista Plus pump is built with a durable, high-strength steel barrel, topped with a lathe-turned Ash wooden handle, the base features a dial that's accurate to within two per cent, and it's compatible with both Schrader and Presta valves.
The price might be high, but you'll only buy it once, as it's built to last you a lifetime.
Alternative
Battery powered inflator
If the idea of pumping your tyres up manually sounds like too much effort, then this battery-powered inflator is the ideal solution.
Suitable for up to 150psi, this is suitable for all sorts of inflation duties. It comes with various attachments so it can pump up everything from bike tires to basketballs, car tires to airbeds and more. The shape of it means it can also fit in your bottle cage, should you need to take it with you on your next bike ride.

Thank you for reading 5 articles this month* Join now for unlimited access
Enjoy your first month for just £1 / $1 / €1
*Read 5 free articles per month without a subscription

Join now for unlimited access
Try your first month for just £1 / $1 / €1
Mildred is a Reviews Writer for Cyclingnews who loves all forms of cycling from long-distance audax to daily errand-running by bike. She does almost everything on two wheels, including moving house, and started out her cycling career working in a bike shop. For the past five years she's volunteered at The Bristol Bike Project as a mechanic and session coordinator, and now sits on its board of directors. Since then she's gone on to write for a multitude of cycling publications, including Bikeradar, Cycling Plus, Singletrack, Red Bull, Cycling UK and Total Women's Cycling. She's dedicated to providing more coverage of women's specific cycling tech, elevating under-represented voices in the sport, and making cycling more accessible overall.
Height: 156cm (5'2")
Weight: 75kg
Rides: Liv Devote, Genesis Equilibrium Disc 20, Triban RC520 Women's Disc, Genesis Flyer, Whyte Victoria, Cotic BFe 26, Clandestine custom bike
Sign up to the Cyclingnews Newsletter. You can unsubscribe at any time. For more information about how to do this, and how we hold your data, please see our privacy policy
Thank you for signing up to Cycling News. You will receive a verification email shortly.
There was a problem. Please refresh the page and try again.