Best bike chain cutters
By Ian Radstock
Split, break and cut your bike chain with ease with this selection of pliers and splitters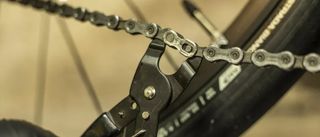 (Image credit: Future)
Whether it's to replace it entirely, to remove it for cleaning, or to repair it in the event of damage, your bike chain will require a specific tool in order to remove it. 
Sometimes, your chain will be fitted with a split-link, which is specifically designed to be split open, so that you can remove the chain from your bike. To split open this link, you'll need a pair of chain pliers, which as the name suggests, are pliers created for the sole purpose of splitting these links open. 
If your chain isn't fitted with a split link, the required tool will be a chain splitter - otherwise known as a chain breaker. This is a tool designed to remove the pin from one of the links and effectively provide the same end result of breaking the chain open. This tool also will also allow you to remove links from a damaged chain or a brand new chain that is too long for your needs. 
Below, we run through a pick of the best options for each need. 
Sign up to the Cyclingnews Newsletter. You can unsubscribe at any time. For more information about how to do this, and how we hold your data, please see our privacy policy
Thank you for signing up to Cycling News. You will receive a verification email shortly.
There was a problem. Please refresh the page and try again.