Best arm warmers for cycling
The best arm warmers offer versatile protection from the elements while remaining comfortable and easily removed when necessary. Here's our roundup of the best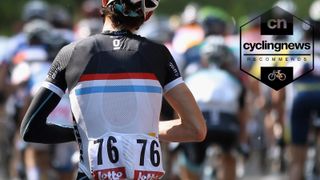 (Image credit: Getty)
Arm warmers are one of the most versatile ways to protect yourself in cold or changeable conditions. They come in plenty of different shapes and sizes, from heavy-duty thermal construction with windproof panels protecting your joints, to lightweight materials designed to fend off UV rays.
They can be worn with just about any jersey, then peeled off and stuffed in a rear pocket when the sun comes out, making them a quick and easy way to protect yourself from variable temperatures.
The use case options for arm warmers is a list as long as your arm itself. The humble arm warmers can serve as a backup option stuffed into your pocket on those warm-but-cloudy days, they can be paired with a short sleeve jersey to form a versatile replacement for your long-sleeved option, they can be pulled on at the top of a long Alpine descent at the height of summer. They can even form a second (or third) sleeve on the coldest of winter days, where a winter jacket and waterproof layer still don't cut it.
Here is some advice on how to choose a good quality, well-fitting pair of arm warmers, with our pick of some of the best available to buy.
Size and cut
Like most cycling gear, getting the right size warmers is paramount: too loose and they'll fall down; too tight and at best, they'll cause discomfort, but could lead to affected circulation and numb hands. The same applies when it comes to length: if they are too short, there will be an awkward, chill inducing gap below your sleeve; on the other hand, too much material will make for an uncomfortable bunch of fabric around your wrists.
When trying on warmers watch out for folds in the bend of the elbow. While some warmers are just a tube of fabric, others are articulated to accommodate bent elbows. The skin in this area is surprisingly sensitive, and over time bunched fabric can chafe, and will only get worse as sweat and/or rain is introduced. Watch out for warmers with lots of crisscrossing seams, as these are less pliable than the surrounding fabric and can often cause bind points.
Fabric
Most arm warmers are made from 'Roubaix' fabric, which is basically a fleece-lined lycra and nylon blend.
A few brands such as Defeet and Rapha also make knitted warmers out of merino or synthetic fibre. These come in several sizes and are usually devoid of seams.
There are plenty of basic warmers on the market that are essentially just fabric tubes; however, some also see panels of windproof fabrics sewn in over the joints or have received a durable water repellent (DWR) treatment.
Grippers
As cyclists, we aren't known for our biceps, but thankfully, most arm warmers have silicone grippers around the top cuff to prevent them from slipping down our t-rex-like arms. Most brands place these on the inside of the cuff to grip the skin, while others place them on the outside, so they grab onto your sleeve.
DWR
Many warmers feature some definition of a durable water repellent (DWR) treatment. This is a fabric treatment that binds to the individual fibres and creates microspikes that increase the contact angle water droplets have with the fabric. These mini-pegs force droplets to maintain their surface tension and roll off the material rather than spreading out and seeping in.
DWR treatments are not permanent and wear off over time, however, there is a range of wash-in or spray-on treatments available. 10 minutes in the tumble dryer can do wonders for extending the life DWR treatments.
Best overall
Well thought-out panelling and hydrophobic treatment
Pearl Izumi updated its best-selling thermal arm warmer with 'PI Dry' hydrophobic treatment, allowing them to shed rain and road spray. They are anatomically cut, with the left and right arm warmer labelled as such.
Pearl Izumi has also updated the gripper around the top cuff to prevent pulling and added reflective logos for increased visibility. Should you want to go full day-glow they are also available in fluorescent yellow.
Most water-resistant
Superior hydrophobic treatment acts just like a wetsuit
Not to be confused with the lightweight laminated fabric seen in the Gabba jersey, Castelli's Nanoflex fabric gets a DWR treatment to keep airborne moisture from soaking in. The latest version uses a lighter material on the back to help the fabric conform to tight angles and to prevent pinching with seams routed down the outside of the arm.
The Nanoflex + warmers also have a double-sided gripper around the top so it can grab onto your arm and jersey to prevent them from falling down.
Best fit
Long, anatomical cut delivers a precise and ergonomic fit
As the name suggests, the Sportful Fiandre NoRain warmers use nanotechnology to keep moisture from soaking into the fabric. To be clear, they are not waterproof and you'll need a jacket for that kind of protection, but they keep a surprising amount of moisture out.
Those with long arms will be happy to learn the NoRain warmers feature a lengthy cut that helps avoid gaps between the arm warmers and your jersey or gloves. They've also got reflective logos and a single-seam construction to reduce the risk of chafing. Silicone grippers hold them in place, while the anatomical cut keeps them soft, stretchy and breathable.
Budget option
Thermal arm warmers that won't break the bank
The RockBros thermal arm warmers are made from nylon and spandex to create a thermal lining that retains heat while wicking away moisture. They're held in place by a non-slip strip, and are surprisingly lightweight for a thermal arm warmer. There's no bulky material in sight, leaving you able to move freely.
The nylon and spandex blend is breathable enough to prevent you from 'boiling in the bag', while the mid- and lower portion of the warmer also sees reflective detailing and logos.
Best value
Budget-friendly arm warmers with multiple color options
Not everyone wants to wear black, so the array of color options you can choose from with these ArmoRay arm warmers will most likely offer something to match your favourite kit. What's more, you've even got the option to buy them in multi-packs for a bargain, so you're never going to be without them on a cold morning that also happens to be laundry day.
Most thermal
A winter-ready arm warmer that fits beautifully
While the Gore Bike Wear Thermo arm warmers don't have any of the laminated, technical membrane fabrics for which the brand is best known, they do possess a unique take on the gripper.
The wide elastic cuff on the wrist and bicep are made from a lighter fabric and seem to hang on pretty well. The bulk of the garment is made from a fleece-lined Roubaix-style fabric and the warmers have an asymmetric design, meaning they are left and right arm-specific.

Thank you for reading 5 articles this month* Join now for unlimited access
Enjoy your first month for just £1 / $1 / €1
*Read 5 free articles per month without a subscription

Join now for unlimited access
Try your first month for just £1 / $1 / €1
Mildred joined as Reviews Writer for Cyclingnews and BikePerfect in December 2020. She loves all forms of cycling from long-distance audax to daily errand-running by bike, and does almost everything on two wheels, including moving house, and started out her cycling career working in a bike shop. For the past five years she's volunteered at The Bristol Bike Project as a mechanic and session coordinator, and now sits on its board of directors.
Since then she's gone on to write for a multitude of cycling publications, including Bikeradar, Cycling Plus, Singletrack, Red Bull, Cycling UK and Total Women's Cycling. She's dedicated to providing more coverage of women's specific cycling tech, elevating under-represented voices in the sport, and making cycling more accessible overall.
Height: 156cm (5'2")
Weight: 75kg
Rides: Liv Devote, Genesis Equilibrium Disc 20, Triban RC520 Women's Disc, Genesis Flyer, Whyte Victoria, Cotic BFe 26, Clandestine custom bike
Sign up to the Cyclingnews Newsletter. You can unsubscribe at any time. For more information about how to do this, and how we hold your data, please see our privacy policy
Thank you for signing up to Cycling News. You will receive a verification email shortly.
There was a problem. Please refresh the page and try again.