Vuelta a España stage 5 - Live coverage
Another flat stage with a threat of crosswinds
Refresh
Hello there and welcome along as the Vuelta a España continues with another flat stage. This is a kind overall route for the sprinters and a potential third opportunity in the space of four road stages. However, we're heading to Albacete, and that means wind...
I feel like the wind was overhyped three days ago. The word 'echelons' seems to send people into a weirdly manic state of excitement, and they were widely promised last time, but not delivered. Today's route was designed with the so-called 'abanicos' in mind, but it looks like more of a headwind for the most part, and not that strong... so I'm not going to add to the hype. We could well see a repeat of stage 2, in that teams will be constantly vigilant today, but perhaps not willing to lay it on the line. We shall see.
This is the scene in Tarancón, where we're starting out today.
❤️ ¡Recibimiento especial para @jesushl90 y @joherradalopez en Tarancón!Tarancón ❤️ Herrada#LaVuelta21 pic.twitter.com/EwynyPEwN3August 18, 2021
It's another blue sky - hot sun day, and we're not far away from the start. The riders have all signed on and are making their way towards the start line, because the roll-out is coming up on the hour. It's a 15-minute neutral zone before we're actually racing.
The riders are on the move, on their way to kilometre-zero.
Before we get properly underway, now's the time to catch up on yesterday's action. Full report, results, photos in the link below.
Here's Jakobsen at the start this morning, wearing the green jersey as leader of the points classification. His sprint was so strong yesterday that he'd have to be considered the favourite again today.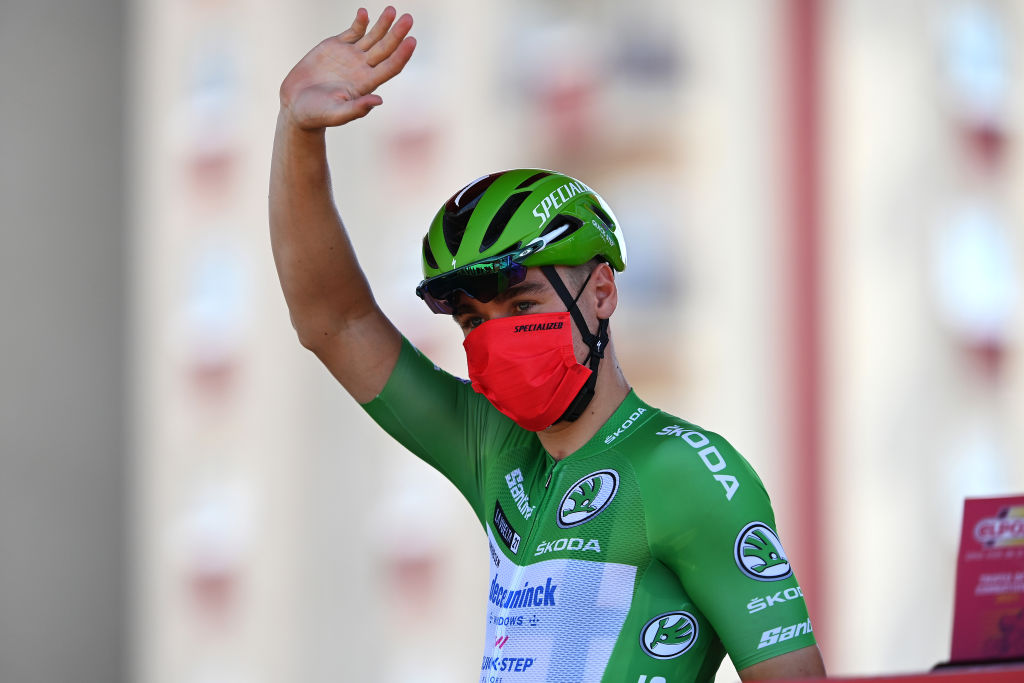 We're off!
The riders reach km0 and the stage is waved underway
Three riders on the attack, from the Spanish Pro Conti teams.
It's Pelayo Sanchez (Burgos-BH), Oier Lazkano (Caja Rural-Seguros RGA), and Xabier Mikel Azparren (EUskaltel-Euskadi).
This looks very much like our breakaway of the day as they quickly move out to two minutes.
On each of the three flat stages so far we've had small breaks made up entirely of riders from the local second-division teams: Burgos-BH, Euskaltel-Euskadi, and Caja Rural. Azparren was in the break three days ago.
Rein Taaramae survived a late crash yesterday and enjoys his second day in the red jersey today...
"I spoke to Roglic about how long everything takes, with the podium ceremony and the press, and he said 'welcome to my world'," Taaramae revealed this morning.
"I hope I can keep the jersey today. We have a good team but we're not going to fight for this jersey at all costs. We try to do good but the real objective is to try and get a high GC position with Louis Meintjes and to try to win another stage. Every day in this jersey is a super bonus."
The gap to the three escapees goes out to five minutes as Taaramae's teammates do the early pace-setting.
Pelayo Sanchez is the highest rider on GC in this break but is next to no threat, lying 90th at 10:26.
Want to see Peter Sagan 'shredding it' on a mountain bike (I'm as old as 30 now and believe that's what the kids say), then here's the link you need.
After 35km, the gap has stabilised at 5 minutes.
We're about to hit a little rise in the road which is as close as we're going to get to a climb today.
A bit more on the wind, we're largely heading south east today and it's more or less a headwind in these early stages. From 100km to go to 50km it does come more from the side as we head straight along to La Roda, but it's looking like more of a head-cross wind (tail-cross is what usually does the most damage). Then the organisers have thrown in two changes of direction - due south and then west into Albacete. The first bit will be back into a direct headwind and then it's more of a cross wind again on the final section, but again more of a head-cross. What's more, it's not even that strong, so all that could well be irrelevant!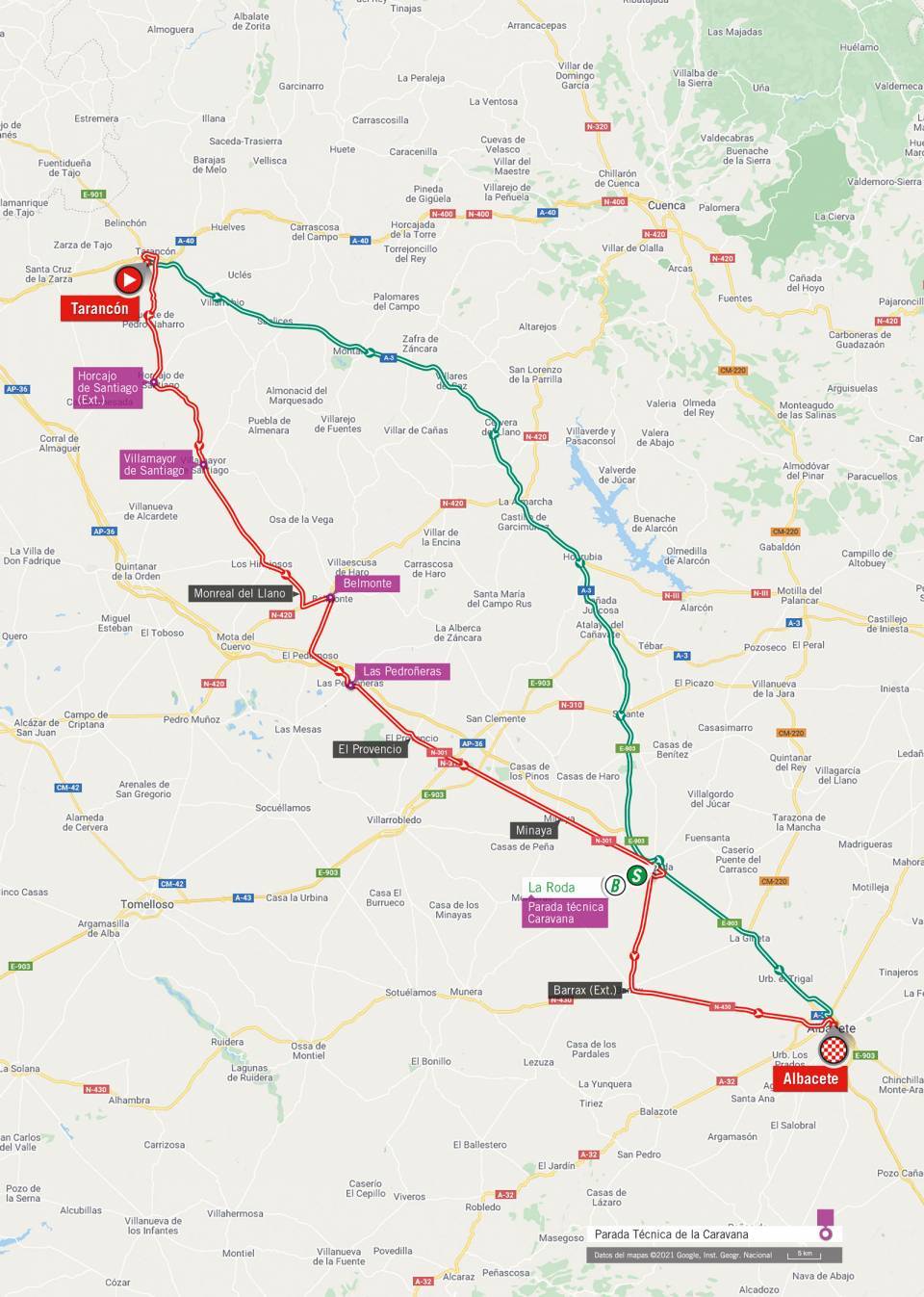 The organisers will be somewhat frustrated today. They designed this stage specifically with echelons in mind, throwing in those direction changes late on. You can normally rely on a stiff westerly in these parts so they'll be a disappointed to have a plodding south-easterly on the big day.
The breakaway covered 38.5km in the first hour.
132km to go
The three leaders have stretched their advantage out to seven minutes.
In case you missed it, my colleague Laura Weislo has written a piece on Katie Compton's four-year doping ban, examining the intricacies of the case
Alpecin-Fenix and Deceuninck-QuickStep have sent riders up to the head of the peloton to assist Intermarché with the pace-setting today. It's all very relaxed at the moment.
108km to go
The gap has started to drop, coming down to 6:20 now.
Here's our breakaway trio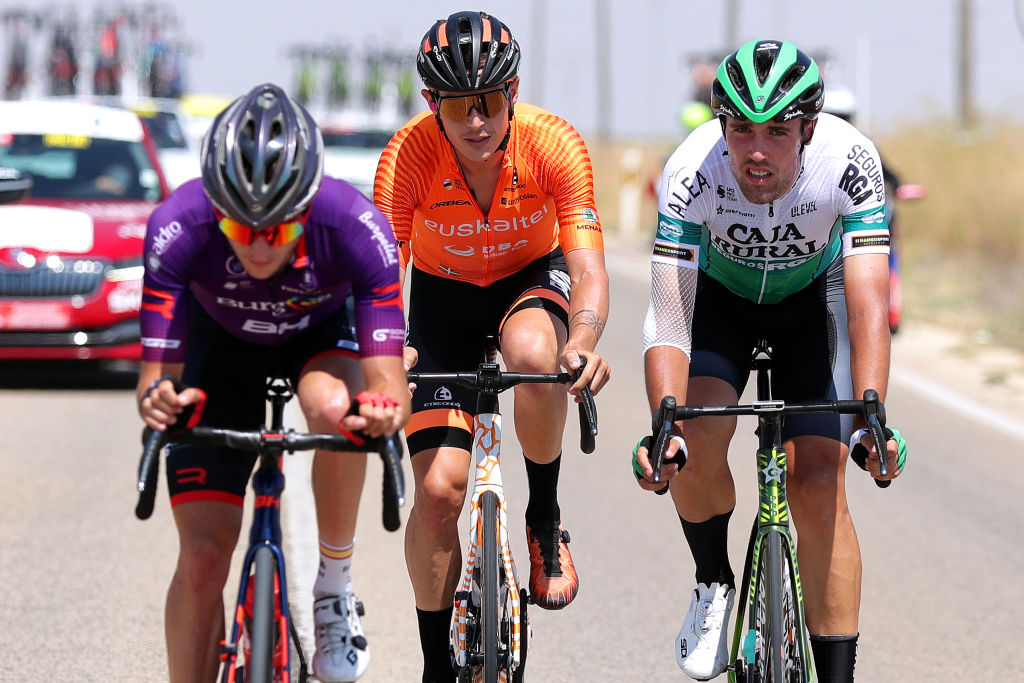 The average speed so far has been a relatively sedate 39km/h, although the headwind does account for that somewhat.
99km to go
We're into the final 100 now and the gap continues to fall slowly but surely. 5:35 now and the peloton have things well under control.
The gap falls to 4 minutes with 91km to go.
QuickStep, FDJ, and Alpecin are all contributing a man to the pace-setting, with Taaramae's teammates still up their shouldering their responsibilities.
It's another hot one out there today
🍼Do you need more water, @FabioJakobsen? 😜💦¿Alguien tiene agua para nuestro ganador de ayer? 💚#LaVuelta21 pic.twitter.com/sIU3utjaLQAugust 18, 2021
80km to go
Our three escapees continue to lose ground. 2:30 is their advantage with 80km to go.
We have an intermediate sprint coming up with 53km to go, which should provide some action, but so far it's been as quiet a day as you can imagine.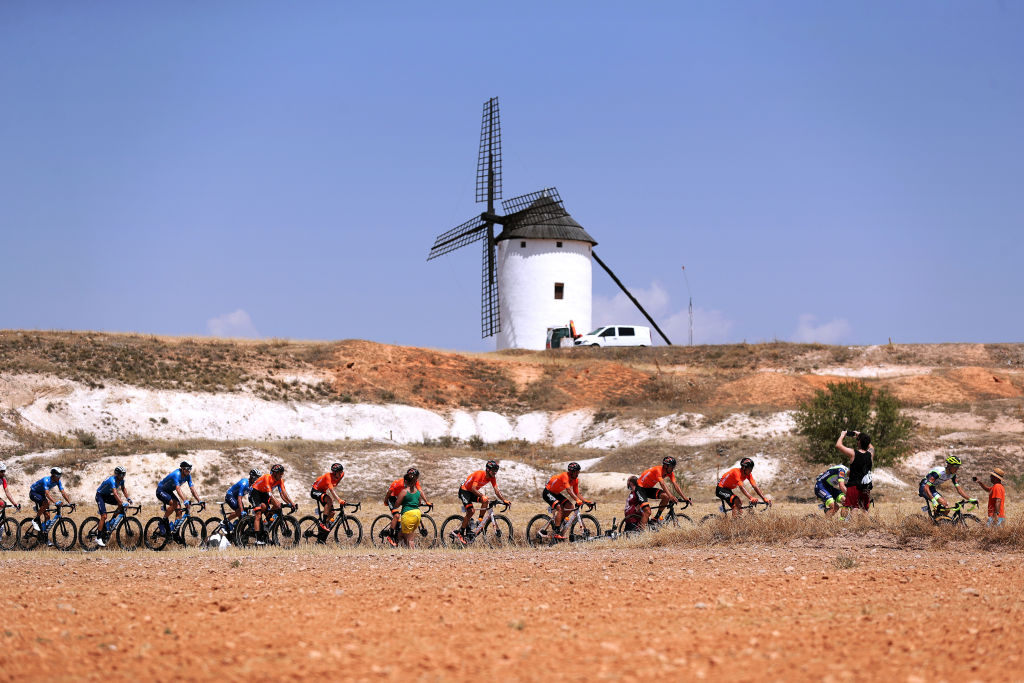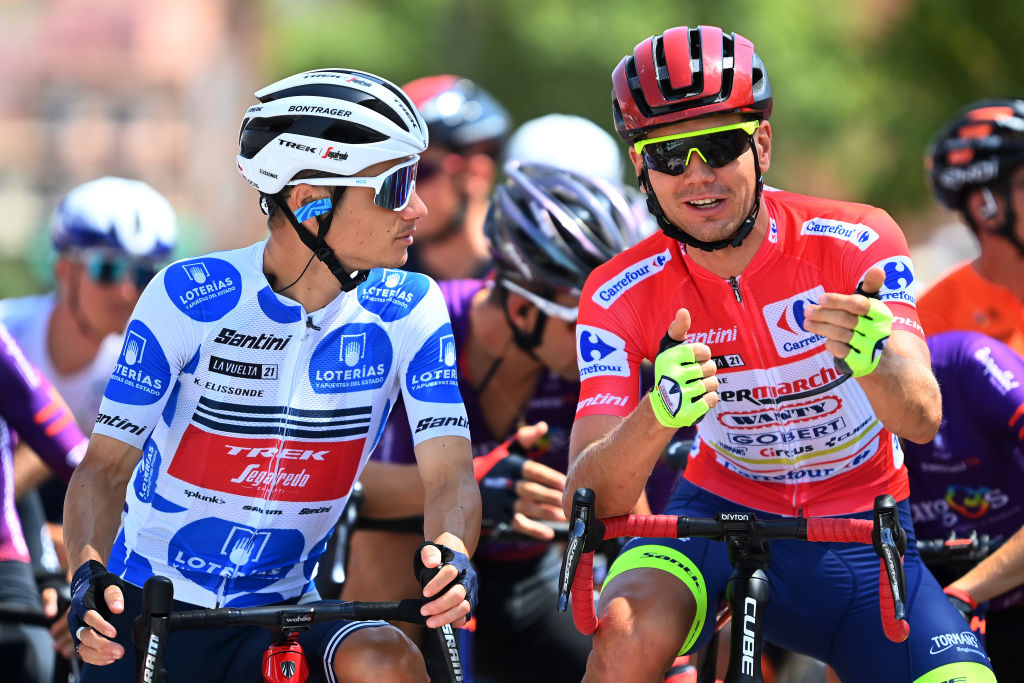 We're a few kilometres away from the intermediate sprint, but the green jersey is still chilling out at the back of the bunch.
The sprint is also the point of our change of direction, in La Roda. We turn south into a headwind, but then with 30km to go it turns again into a more direct westerly direction, and that's where the wind will be coming from the side, getting stronger the closer we get to Albacete.
Team DSM have moved up on the right-hand side. They did this on the last stage that had a threat of crosswinds, keeping Romain Bardet safe. There doesn't seem any danger yet, and that's a bit of a change after Alpecin, FDJ, and QuickStep have been calmly rotating up front for the last 100km.
The three leaders have a lead of three minutes as they ride into La Roda.
The trio come into the town centre and here comes the intermediate sprint
Lazkano opens it up, Sanchez goes for it as well, Azparren lags behind.
It's a close one but Lazkano does enough to grab maximum points.
The peloton comes into town now and we'll see a sprint for the remaining points.
Philipsen and Demare both have a hit-out. Jakobsen sits it out.
Here are the results from the intermediate sprint
1. Lazkano: 20 points / 3 bonus seconds
2. Sanchez: 17 / 2
3. Azparren: 15 / 1
4. Philipsen: 13
5. Démare: 10
We've now turned south and we have a change in the peloton. It's no longer a line controlled by the sprinters' teams, but more spread out, with a number of teams organising themselves together towards the head of affairs.
Jumbo, Astana, Ineos, EF, Movistar have all taken up prominent positions.
They're riding into a headwind at the moment so nothing big's going to happen for the time being but with 30km to go we turn west for the run-in to Albacete, and that's what everyone seems to be preparing themselves for. It's hardly blowing a gale, but it's been picking up all day and gets stronger the closer we get to Albacete. Even if nothing splits, it should be a frantic run-in today.
39km to go
The gap to our three-man breakaway comes down to 2:08.
Here's Primoz Roglic in the peloton a little earlier.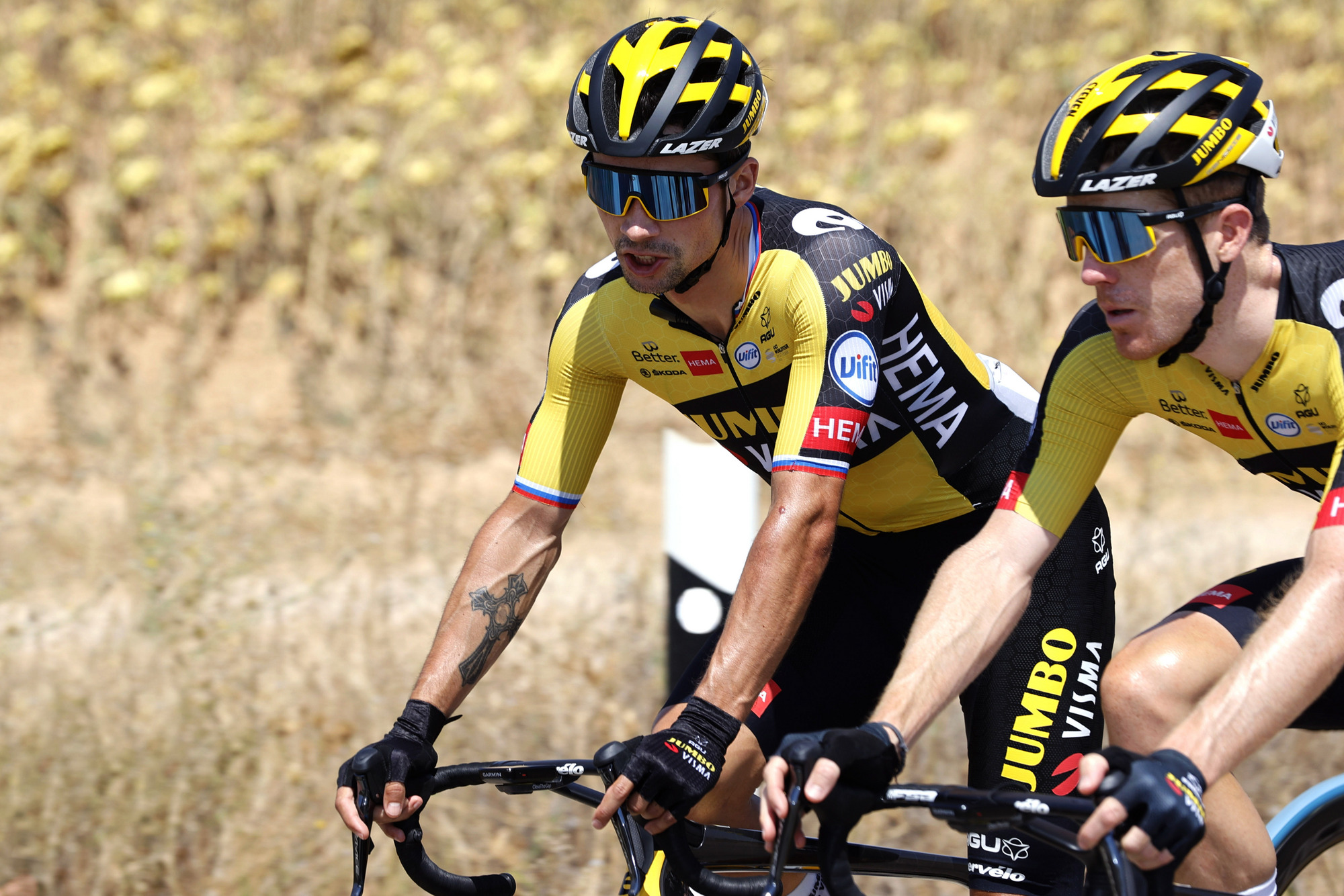 34.5km to go
The breakaway starts to crumble. Sanchez is dropped.
Jumbo-Visma have gathered on the right-hand side of the road as riders grab some supplies ahead of the turn.
Lazkano and Azparren are the two remaining riders out front and they're now riding into Barrax, where we'll have that change in direction.
The leaders take the turn and are heading out of town, where the roads soon become exposed. The peloton is two minutes behind.
Ineos take it up on the left, Jumbo-Visma accelerate with a full train on the right
A notable acceleration as Pavel Sivakov hits the front for Ineos. Bernal is in the wheel
Bernal gestures to Sivakov to knock it off.
An Israel rider hits the front now. He's constantly looking around.
Everyone's on high alert here, but does anyone actually want to give this a go?
A few accelerations to push riders towards the front but it's just a case of staying safe for now.
Quinn Simmons and Kiel Riejnen take it up for Trek on the right.
Landa's Bahrain team are prominent, Ineos are still together on the left, but Jumbo have split up a little.
It's Narvaez leading the Ineos train at the moment, with Van Baarle in the wheel. Bernal is behind the Dutchman, and he's followed by Yates and Pidcock.
Movistar make their presence felt on that left-hand side of the road now.
It's pretty calm out there, considering. The wind gets stronger closer to Albacete so we could still see him action closer to home but everyone seems attentive rather than proactive.
22.5km to go
The leading duo are still 1:30 clear of the bunch.
And then there was one... Azparren tries desperately to keep his gear turning over but, after a final effort out of the saddle, he swings out, sits up and watches Lazkano drift away.
Azparren looked pretty empty there and he'll be back in the bunch very soon, and probably out the back of it as well. Meanwhile Lazkano continues his effort and actually finds a few more seconds over the peloton.
FDJ and QuickStep accelerate...
The wind is coming from the right and those two teams lead a mini charge on the left.
The charge eases off slightly. EF were caught well far down the pack there and will breathe a sigh of relief.
Fraile comes through to give it another nudge.
And now his Astana teammates come through to keep the pace high.
Luis Leon Sanchez has Vlasov in the wheel and they've got a gap!
A bit of a scramble behind as the pair drift clear, and now they're brought back.
EF now hit the front with Carthy in tow. That was a wake-up call for them.
Lazkano is fading now. He looks tired and he looks around, and can see the bunch, which is now 35 seconds behind him.
It's Cerny who's driving things forward for QuickStep but it doesn't look like it's splittable.
15.5km to go
All together. Lazkano is caught by the advancing peloton.
Cerny pulls aside. His work is done and QuickStep's presence diminishes. FDJ are still well positioned near the front.
Bora and Trek move up and now Astana sprint their way to the forefront.
Alpecin-Fenix, UAE, and BikeExchange all have numbers near the front now. The pace is high but not frantic anymore. It's not going to be an echelon day today.
12km to go and more than half the field have been held up
The race leader Rein Taaramae is down again. Not sure if any GC contenders have bee caught up
Ineos have their numbers up in the front group. Roglic is there as well.
We have around 40 riders left out front. Will they push on?
The crash happened close to the front and looked like a touch of wheels, sending a ripple through the middle of the bunch, and then bringing those towards the back of the bunch to a complete halt.
Romain Bardet is down. That's DSM's leader and he was in good form.
The pace has been knocked off up front. A second group is working its way back.
Movistar were victims of that crash and they're scrambling at the head of that seconds group.
EF, UAE, Alpecin, Ineos, Jumbo, QuickStep were all well positioned and were out of trouble
The second group joins the front to make one big peloton again, although plenty of riders are still behind, some of them still nursing their wounds.
Mikel Nieve and Mads Wurtz Schmidt hit the deck but Bardet looks to be the most high-profile faller.
Bardet is back on his bike but he's already 4:30 behind. His GC ambitions are going up in smoke here.
Bardet is with teammate Chris Hamilton. The back of his jersey is torn and this is going to be a massively disheartening day for the Frenchman
Taaramae is back on his way but is well down on the peloton, which is moving at a fast pace once more. He'll be waving goodbye to the red jersey today.
The red jersey is in a small chase group at 1:25. He doesn't have any teammates with him...
5km to go
In a flash we're into the final 5, and Alpecin have control of the bunch as we head for another sprint finish
And now Taaramae gets some teammates dropping back for him. But they're already 1:40 behind and the pace in the peloton is only going to increase now.
Kenny Elissonde is second overall and present and correct up front, so the Frenchman is heading into the red jersey.
Bora hit the front now with 3km to go
And once again, for the third time today, LL Sanchez sprints forward with Vlasov on his wheel and just sweeps him out to the front of the race.
It's getting messy now as we come into town. 2.5km to go and Alpecin take it back up
Almost another crash as riders swing out
Here come UAE now, surging to the front
1.5km to go and UAE have two riders on the front. They're sprinting with Molano today.
And now a QuickStepper hits the front.
They take a sweeping right-hander into the home straight
Alpecin lead it out with three
FDJ are too far down on the left as Alpecin continue on the right
Jakobsen had to come from far back and just grabbed second, but couldn't deny Philipsen.
Here comes Taaramae to the finish. He's leading his own teammates as he gives it everything to the line. The damage is more than two minutes.... he stops the clock on 2:20, and that's his spell in the red jersey over.
We await confirmation but Elissonde looks like the new leader of the Vuelta a España
Results

| Pos. | Rider Name (Country) Team | Result |
| --- | --- | --- |
| 1 | Jasper Philipsen (Bel) Alpecin-Fenix | 4:24:41 |
| 2 | Fabio Jakobsen (Ned) Deceuninck-QuickStep | |
| 3 | Alberto Dainese (Ita) Team DSM | |
| 4 | Juan Sebastian Molano Benavides (Col) UAE Team Emirates | |
| 5 | Piet Allegaert (Bel) Cofidis | |
| 6 | Jon Aberasturi Izaga (Spa) Caja Rural-Seguros RGA | |
| 7 | Jordi Meeus (Bel) Bora-Hansgrohe | |
| 8 | Riccardo Minali (Ita) Intermarché-Wanty-Gobert Matériaux | |
| 9 | Reinardt Janse Van Rensburg (RSA) Qhubeka NextHash | |
| 10 | Arnaud Demare (Fra) Groupama-FDJ | |
General classification after stage 5

| Pos. | Rider Name (Country) Team | Result |
| --- | --- | --- |
| 1 | Kenny Elissonde (Fra) Trek-Segafredo | 17:33:57 |
| 2 | Primoz Roglic (Slo) Jumbo-Visma | 0:00:05 |
| 3 | Lilian Calmejane (Fra) AG2R Citroën Team | 0:00:10 |
| 4 | Enric Mas Nicolau (Spa) Movistar Team | 0:00:20 |
| 5 | Miguel Angel Lopez Moreno (Col) Movistar Team | 0:00:26 |
| 6 | Alejandro Valverde (Spa) Movistar Team | 0:00:32 |
| 7 | Giulio Ciccone (Ita) Trek-Segafredo | |
| 8 | Egan Bernal Gomez (Col) Ineos Grenadiers | |
| 9 | Mikel Landa Meana (Spa) Bahrain Victorious | 0:00:44 |
| 10 | Gino Mäder (Swi) Bahrain Victorious | 0:00:45 |
They got it wrong yesterday but that was a great performance from Alpecin-Fenix. They were prominent throughout the day, and delivered a brilliant lead-out in the final kilometre, putting Philipsen on the perfect platform as his rivals scrambled off the back foot. The young Belgian's initial acceleration was impressive, and took him away from the rest. Jakobsen had to move out to the left and started to make up ground in the final 75 metres but by then it was too late.
Bardet is only just coming to the finish. 12 minutes have passed since Philipsen won the stage. A huge blow to the Frenchman, who looked so promising at the recent Vuelta a Burgos. GC is over and he'll have to turn to breakaway stage wins now.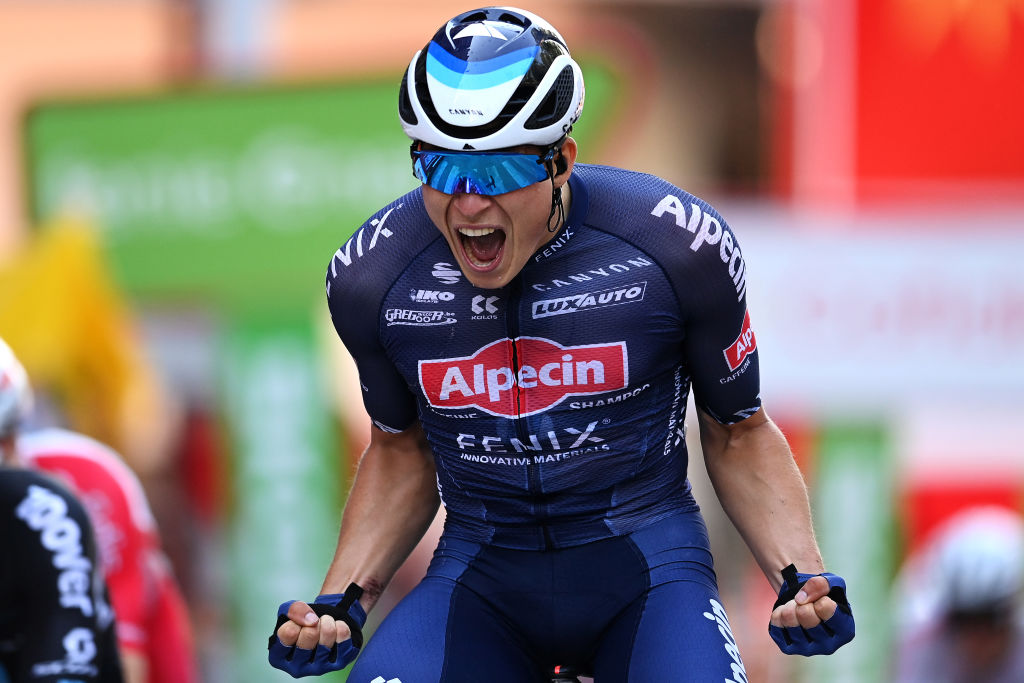 Let's hear from the stage winner
"It makes it even more beautiful if you see the final five kilometres how we were there together all with the team. I cannot describe that. This team, we haven't been riding so long together but it's incredible what we all do for each other, and I think it's so beautiful to finish it off together.
"After yesterday I was a bit disappointed that I couldn't do my sprint how I wanted but to win today is super nice to turn a page from yesterday and enjoy this moment together with the team."
Philipsen is now also back in the green jersey as leader of the points classification
"It's not particularly that I'm already thinking about the end of the Vuelta and the green jersey but it's nice to wear it day by day and then we'll just see how far we can get."
#LaVuelta21🎙 "A crash happened in front of me. I managed to avoid it, but riders behind ran into me. I changed bikes and started to chase the peloton. It was impossible to close the 1 minute gap. It is a pity to loose the jersey in this way."- Rein Taaramäe📷@cyclingmedia_ag pic.twitter.com/jUq9phX1oLAugust 18, 2021
And now we can hear from the new overall leader, Kenny Elissonde
"This is not the way I wanted to take jersey, but we know in cycling that when there's wind there's risk. Ok, I don't like it, it was not a pleasure, but at the end of the day I cannot do anything else. It is what it is.
"It's still incredible to wear the jersey. After the Tour and Olympics I took it easy, my team said 'Kenny, go to the Vuelta and see day by day', and look. It's incredible. It's super cool."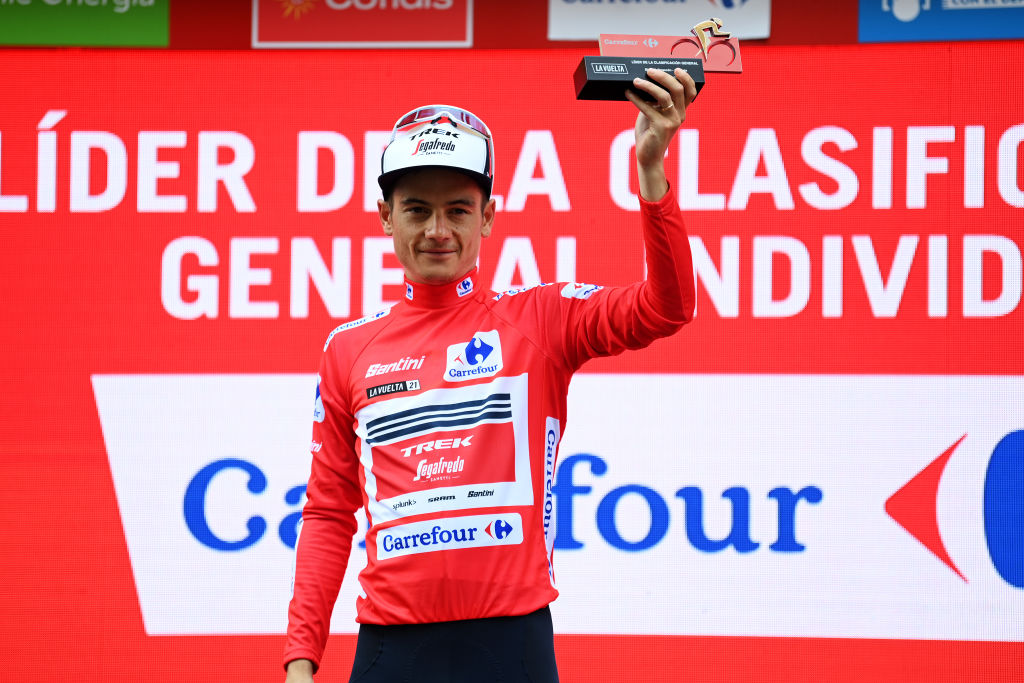 Full report, results, photos all at the link below

Thank you for reading 5 articles in the past 30 days*
Join now for unlimited access
Enjoy your first month for just £1 / $1 / €1
*Read any 5 articles for free in each 30-day period, this automatically resets
After your trial you will be billed £4.99 $7.99 €5.99 per month, cancel anytime. Or sign up for one year for just £49 $79 €59

Join now for unlimited access
Try your first month for just £1 / $1 / €1