Ten Dam: Unbound Gravel is about power not positioning
Former WorldTour rider found do-it-yourself support the most stressful part of gravel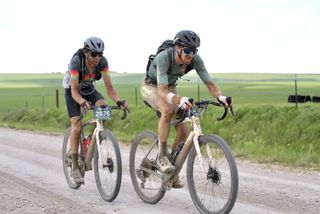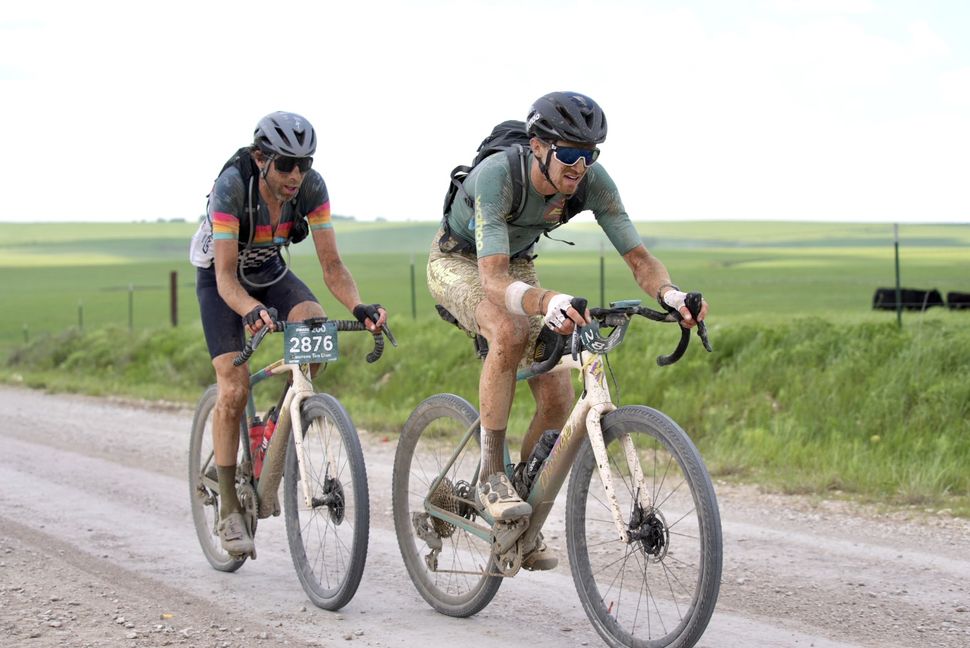 (Image credit: Wil Matthews)
Laurens ten Dam now has two podiums in big US gravel races this year, taking second to Ian Boswell in a two-man duel at Unbound Gravel 200 on Saturday, but the stress on a gravel surface in a race is still there and on a different level than what he experienced at the WorldTour level for 17 years.
He retired in 2019, last racing for CCC Team, and took up bike packing and gravel events. In 2021, he traveled from Europe to the US to return to major competitions, but this time all off-road as a gravel grinder rather than on pavement with a big-budget team.
"After 20 miles, I think it was, I had a puncture and I had to plug it. It was the first time I had to do that in a race. I was nervous," Ten Dam said while raising his arm, showing media at a post-race press conference how he wanted to react by calling for team support, like he would have in a WorldTour race.
"I know I have to do things myself, but still it was natural [to ask for help]. It is definitely not what I am used to. That was stressful."
Ten Dam started with the Rabobank team on the Continental level in 2003, then moved up to the WorldTour ranks by 2009. He's ridden all three Grand Tours, with top 10s at the Vuelta (2012) and Tour (2014).
He won the 155-mile Gravel Locos in May, holding off Colin Strickland, the defending Unbound Gravel champion who finished fifth this time out. In both races, he said the differences between road and gravel are still vast and he's still adjusting, from plugging your own tire to riding in a mass group for 50 miles.
"Once you have a pace line with 20 guys, that's pretty nice. I told Ted [King] at Gravel Locos before the race I thought he was crazy racing with a broken collarbone three weeks after [his] crash. But then two hours into the race I told him, 'now I understand'. It's totally different than what I was used to," the 40-year-old Dutch rider said.
"So stress level is there, for the gear. If you flat, or have a bad moment, that's it, you're just gone. But it's more about power than positioning. At the end, if you have the power, you will win. That's what nice about it. I was not the best guy in positioning anyway. I'm happy with how it all unfolded."
The race unfolded neatly in clouds of dust in the Flint Hills of Kansas with a five-rider break forming 125 miles into the 206.8-mile skirmish. Four former WorldTour roadies – Ten Dam, Boswell, King and Peter Stetina, who was runner-up in 2019 - pounded the dirt alongside endurance and gravel veteran Colin Strickland, the defending champion.
In the final 10 miles, Boswell and Ten Dam battled the wind together for the showdown in Emporia, Boswell taking the win. Both retired from pro road competition in 2019, and both rode Unbound Gravel for the first time. They'll both have lots of stories.
"I talked to a few friends of mine today, and there are so many stories. Like one guy, his CO2 is like a pen, it just broke so he had to ask people for air. The second time, he just flatted. Another guy, he went to a farm. Knocked on the door and just asked for a pump, in Kansas. I said, 'how many bikes do you think those people own?'
"Every story is different, and that's the beauty of this race I think. So I was supposed to be here with a crew of five, but actually I made it with two. I want to show all my friends next year what we did," added Ten Dam.
"You really have to have the experience in this event before you really know [what to do]. My dad will pick me up at the airport on Tuesday and I can tell him what I have done, but he won't have one clue what I have done."
Ten Dam said he'll be back to Kansas and wants to bring a lot more company. "My friends will be in the back of the pack, but they'll still be there and enjoy themselves."

Thank you for reading 5 articles in the past 30 days*
Join now for unlimited access
Enjoy your first month for just £1 / $1 / €1
*Read any 5 articles for free in each 30-day period, this automatically resets
After your trial you will be billed £4.99 $7.99 €5.99 per month, cancel anytime. Or sign up for one year for just £49 $79 €59

Join now for unlimited access
Try your first month for just £1 / $1 / €1
The latest race content, interviews, features, reviews and expert buying guides, direct to your inbox!
Jackie has been involved in professional sports for more than 30 years in news reporting, sports marketing and public relations. She founded Peloton Sports in 1998, a sports marketing and public relations agency, which managed projects for Tour de Georgia, Larry H. Miller Tour of Utah and USA Cycling. She also founded Bike Alpharetta Inc, a Georgia non-profit to promote safe cycling. She is proud to have worked in professional baseball for six years - from selling advertising to pulling the tarp. She has climbed l'Alpe d'Huez three times (not fast). Her favorite road rides are around horse farms in north Georgia (USA) and around lavender fields in Provence (France), and some mtb rides in Park City, Utah (USA).
The latest race content, interviews, features, reviews and expert buying guides, direct to your inbox!
Thank you for signing up to The Pick. You will receive a verification email shortly.
There was a problem. Please refresh the page and try again.