Speed and skiil at US profesional crit nationals
By Mark Zalewski, North American Editor There are more than a few signals that summer is winding...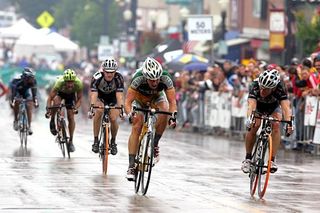 By Mark Zalewski, North American Editor
There are more than a few signals that summer is winding down in the US -- back to school sales, the Labor Day holiday, two-a-day football practices... but for cyclists racing in a suburb of Chicago knows as Downers Grove is a fair sign the summer crit season is coming to a close. Some dream of a stars and stripes jersey (stars and bars according to some unwitting announcers) while lower category racers look to make a name for themselves or simply experience racing on the same figure-8 course. Triumph and tragedy combine here every August, specifically in the infamous turn 8 – a place where races, as well as careers, are often defined.
For 2008 one of the stories is the size of the pro men's field, which on the pre-registration lists is slightly smaller than usual at just over 60. Much of this can be attributed to the Tour of Utah happening at the same time, with the climbing specialists happy not to be fighting for wheels over 100 laps. What this has done is smlightly boiled down the field to the fast and (for lack of a better term) furious. Former winners on the start sheet include Tony Cruz (BMC), Rahsaan Bahati and Kayle Leogrande (Rock Racing) as amateurs, Brad Huff (Jelly Belly), who won both as an amateur and pro, and defending pro champ Kirk O'Bee (Health Net-Maxxis)
But noticeably off the list is the entire Toyota-United team, except for Aussie Hilton Clarke who eats criteriums for breakfast and is having a fast crit season. No Ivan Dominguez or former winner Henk Vogels on the start. As well, some teams are undermanned, including O'Bee's Health Net team with only three other riders, including Karl Menzies who is coming off a serious injury.
Cyclingnews Newsletter
Sign up to the Cyclingnews Newsletter. You can unsubscribe at any time. For more information about how to do this, and how we hold your data, please see our privacy policy