Qhubeka NextHash struggling to pay riders and staff
By Daniel Benson published
Update: Team says 'there is no fear in terms of the team's sustainability and its future'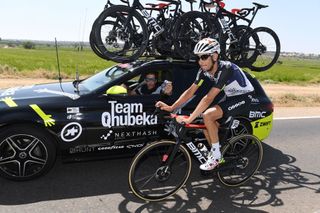 (Image credit: Getty Images)
Cyclingnews has learned that the Qhubeka NextHash management are struggling to pay riders and staff their August salaries and that the team are waiting on sponsors to deposit funds in the squad's bank account.
Riders and staff were informed of the news by the management on Monday afternoon via email.
"We have experienced an unexpected delay with partner payments and are currently awaiting the arrival of sponsorship money to reflect in our Dutch bank account to pay August salaries," the email said.
"As soon as the sponsorship money reflects; payments will be made. On behalf of the management team, I apologize for this unexpected delay."
Cyclingnews reached out to the team for an official comment on Monday evening and received the following response on Tuesday.
"It's already been well documented that this season has been a challenge just to keep the team on the road," Damian Murphy, head of PR and marketing at Qhubeka NextHash said, adding that the management had found solutions that meant the team was here and has had a pretty good season.
"It's been a different season in that sense because of the nature of how the team has been financed this year, for sure there could be hiccups, but what we can appreciate from our team management is they've always been very open and honest and have communicated the scenarios to the team."
Murphy said it was disappointing that what was meant to be an internal email came to light but the focus wouldn't change, with the team at the Vuelta to race till the finish, a strong team at the Benelux Tour and the Tour of Britain coming up which was an important event for future partnerships that the team is working on.
"For us, nothing changes. We have full confidence in what the management are doing and, to be honest, there is no fear in terms of the team's sustainability and its future," said Murphy.
It's not clear which sponsors have yet to properly fund the team but question marks were initially raised about financial stability back in August when they changed their name from Team Qhubeka Assos to Qhubeka NextHash on the eve of the Tour de France.
A spokesperson from Assos told Cyclingnews: "We have been and continue to be very proud to support the team and the Qhubeka charity and can confirm we have fulfilled our commitments to the program and much more and hope that the team can continue to 2022 and beyond."
The team has endured a rocky few years in terms of seeking sponsorship, with Assos effectively saving the team at the last minute last winter when it looked as though team manager Doug Ryder would be forced to close it. NextHash came on board with a five-year deal in June.
NextHash joined the team as a cryptocurrency and blockchain partner. Ryder hailed the partnership, which he said would enable the team to develop new, interactive approaches to engage with its fans.
"I am incredibly happy to welcome NextHash, our official cryptocurrency and blockchain partner, into our family of partnerships and into our team name for the remainder of 2021," Ryder said.
"The whole sports industry is moving towards a digital universe and this long-term partnership will help us innovate and develop new and interactive approaches to engage with our fans.
"We look forward to being ahead of the curve with the latest technologies to offer our fan community new experiences."
Just a month before the team was confirmed, Belgian rider Victor Campenaerts said that the team needed a new sponsor (opens in new tab) to keep going in 2022 and beyond.

Thank you for reading 5 articles this month*
Join now for unlimited access
Enjoy your first month for just £1 / $1 / €1
*Read 5 free articles per month without a subscription
after your trial you will be billed £4.99 $7.99 €5.99 per month, cancel anytime. Or sign up for one year for just £49 $79 €59

Join now for unlimited access
Try your first month for just £1 / $1 / €1
Daniel Benson was the Editor in Chief at Cyclingnews.com between 2008 and 2022. Based in the UK, he joined the Cyclingnews team in 2008 as the site's first UK-based Managing Editor. In that time, he reported on over a dozen editions of the Tour de France, several World Championships, the Tour Down Under, Spring Classics, and the London 2012 Olympic Games. With the help of the excellent editorial team, he ran the coverage on Cyclingnews and has interviewed leading figures in the sport including UCI Presidents and Tour de France winners.