Kohl describes doping "double life"
Austrian tells of two-year clean period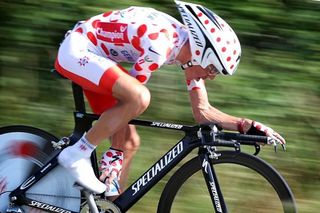 Bernhard Kohl has continued to reveal details of his own doping practices carried out during his six-year professional career.
A doping cyclist "leads a double life," according to Kohl. "How should an athlete respond as other to always say that he is clean, and to vehemently deny anything else. Although he knows: I am not clean."
Interviewed in the Swiss newspaper nzz.ch, the Austrian said that not 100 percent of the peloton doped. "There are a few riders who are clean, that may well be – but it's not very many."
"You have your good friends in the field, and you know what they do – and they have friends, too. There is a fairly large circle of riders that you know about."
Kohl tested positive for CERA during the 2008 Tour de France, where he finished third and won the King of the Mountains ranking. He was given a two-years suspension, and has provided a full confession. Kohl subsequently announced his retirement from the sport and is currently cooperating with various law enforcement and anti-doping agencies.
It is also clear to the riders during a race, who has taken what, according to the former Gerolsteiner rider. "You know the riders long enough to know what their style is, when they are doing well or poorly," Kohl said. "You look at each other and know, okay, you are doing the same thing as I am."
Kohl also admitted that during his professional career, there was only one period where he did not engage in doping practices; from 2003 to 2004, while riding for the Rabobank Continental Team. "Doping played no role there, as far as I could tell. That was my cleanest time. I was shown that it was possible without doping."
Kohl said that he was not worried about testing positive. Many substances are still undetectable, he noted. "And when you have a product in your body that can still be found after eight or nine hours, you close the door, turn off your mobile phone, turn out the lights. And if the doorbell rings, you don't open the door."
The 27-year-old said that he still considers himself the third-place finisher of the 2008 Tour de France "I know how hard I worked for that success and how I got that success in comparison to the others." He still has the third-place trophy and King of the Mountain jersey, and won't give them back. "They are well hidden."

Cyclingnews Newsletter
Sign up to the Cyclingnews Newsletter. You can unsubscribe at any time. For more information about how to do this, and how we hold your data, please see our privacy policy