Inadequate specification and fatigue testing key to Australia's Olympic handlebar failure
By Simone Giuliani published
Report says technical process and policy scant at Australian Cycling Team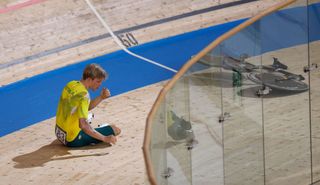 (Image credit: Getty Images Sport)
AusCycling on Thursday released the independent report into the pursuit handlebar failure during the men's Team Pursuit qualifying at the Tokyo Olympic Games, saying that while a number of factors contributed, two were critical – an inadequate specification for custom-built handlebars and a lack of adequate fatigue testing.
"Like most failures, there is no one cause for this event, there is however a prime cause which had more impact than any other," the investigation said in its executive summary.
"The prime cause of the Australian Cycling Team Base Bar failure was an inadequate Specification and then in use, exposing the Base Bar to athlete rider forces some one-and-one half times that Specified. The subsidiary causes can be classified as inadequate governance: inadequate functional configuration control and physical configuration control."
Australian Team Pursuit rider Alex Porter came crashing down on to the track when a Bastion Cycles CA-06 Base Bar, on an Argo 18 bike, appeared to snap off at its attachment point. The team of Porter, Sam Welsford, Leigh Howard, Kelland O'Brien and Luke Plapp qualified fifth in a restart, losing the opportunity to compete for gold and silver after the equipment failure, but they did fight back to take a bronze medal.
The report into the incident and lead up to it, prepared by Mechanical and Aeronautical Engineer John Baker, delivered 19 recommendations. Of those 14 were for AusCycling, all of which it said it would implement.

"We commissioned the independent report in the full knowledge that it could produce uncomfortable findings,'' AusCycling CEO Marne Fechner said in a statement.
"We also said that we'd regard it as an opportunity to learn and get better. Today is a critical step toward that goal, and we are committed to ensuring that our elite programs benefit from world-class systems, processes and culture."
The recommendations for AusCycling ranged from the employment of qualified and experienced people, to processes including independent review of crucial steps and traceability, plus quality control. It also recommended that Bastion Cycles components for which full justification and satisfactory in-service experience was held, be reinstated to full use.
"Operating at the limits of both human and technological performance will always result in opportunities to learn and grow," said Bastion co-founder, Ben Schultz in a statement. "It is heartening to know that the quality of our products was not the primary cause of the failure, but we also have work to do to improve our capabilities and knowledge base."
There were also five recommendations for Bastion Cycles in the report. They included to identify whether a 0.29mm protrusion in front of an attachment bolt was within tolerance and to provide recommended fastener attachment values to match the component's design and material type.
"You don't fail until you give up. We have always said that no matter what the results of the report were, we would treat this as an opportunity to learn and become stronger as people, and as an organisation," said Schultz. "In team sport, we win together, lose together and critically, learn together. Bastion is committed to working with AusCycling and the team as we address each of the recommendations and work towards the future."
The process
The Australian Cycling Team commissioned the Bastion Cycles base bar when a bike geometry change was needed as the Pursuit Team starting technique altered and a smaller bike frame was used to improve aerodynamic performance.
"The Australian Cycling Team Specified the required Base Bar with a Computer Aided Design electronic drawing of the outer skin along with testing to an International Standard; the timeframe to design and make was reduced from ten to four months," said the report executive summary. "The Titanium material specified was lighter and stronger than steel but more sensitive to fatigue damage. Fatigue testing Specified was reduced by the Australian Cycling Team from 200,000 to 50,000 cycles."
The report said the 3D printed bar mates to a machined steering fork and immediately in front of the most forward attachment bolt was a .29mm elevated area which raised the local stress.
"Even without this mismatch, the high rider forces would have precipitated a failure elsewhere on the Base Bar," said the report.
"The design, manufacture and laboratory test of the Base Bars were all properly controlled and completed as specified. Contemporary design methods for static and fatigue performance were used whilst the constrained fatigue tests were conducted in full and the results provided to the Australian Cycling Team."
The report said that on top of the reduction of the 200,000 test cycles to 50,000 test cycles by the Australian Cycling Team, processes and checks and balances were deficient, with a number of opportunities to detect any bar deterioration ahead of the Olympic Games lost.
"Whilst an organisational structure was in place for the Australian Cycling Team, there were scant policies or processes in a technical sense and individuals made it up as they went along," said the report summary. "An Equipment Steering Group was formed with a vison of 'zero failure rate'; disappointingly there was scant documented structure behind the vision to implement it nor was this vision conveyed to Bastion Cycles. A comprehensive Bicycle Build Book was drafted but when issued, only partially covered the technical aspects."

Thank you for reading 5 articles this month*
Join now for unlimited access
Enjoy your first month for just £1 / $1 / €1
*Read 5 free articles per month without a subscription
after your trial you will be billed £4.99 $7.99 €5.99 per month, cancel anytime. Or sign up for one year for just £49 $79 €59

Join now for unlimited access
Try your first month for just £1 / $1 / €1
Simone joined the team as Production Editor based in Australia at the start of the 2021 season, having previously worked as Australian Editor at Ella CyclingTips and correspondent for Reuters and Bloomberg.
The latest race content, interviews, features, reviews and expert buying guides, direct to your inbox!
Thank you for signing up to Cyclingnews. You will receive a verification email shortly.
There was a problem. Please refresh the page and try again.