Does Dauphiné success guarantee Tour de France victory?
By Susan Westemeyer The Critérium du Dauphiné Libéré has long been considered the preparation race...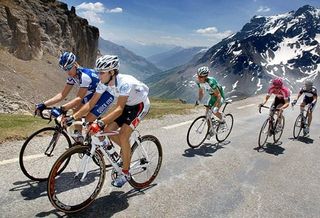 By Susan Westemeyer
The Critérium du Dauphiné Libéré has long been considered the preparation race for the Tour de France. If you do well in the Dauphiné, you will do well in the the Tour, is how the theory goes. From looking at the last nine years is this a golden rule or just a rash assumption?
If your name is Lance Armstrong, then yes, you did well in both races. However few other riders have replicated their form in both races. Andrei Kivilev finished fifth in the Dauphiné and fourth in the Tour in 2001. Iban Mayo finished second and sixth in 2003. In 2005, Alexander Vinokourov finished fifth in both races. And last year, Cadel Evans was the runner-up in both, while Alberto Contador was sixth in the Dauphiné and yet went on to win La Grande Boucle.
Some Dauphiné winners went on to either crash out of the Tour (Christophe Moreau in 2001 and Iban Mayo in 2004). Others simply bombed once they got to the Tour (Vinokourov 1999, Iñigo Landaluze 2006). And some were so focused on the Dauphiné that they simply peaked too soon. (Iban Mayo 2003, Levi Leipheimer 2006)
Here is a year-by-year look at the 1999 to 2007 editions.
1999
Rewind to 1999, and the cycling world watched in awe as a fresh-faced Kazakh by the name of Alexander Vinokourov became the surprise winner. A second year professional with the short-lived but highly entertaining Casino team, the 25 year-old turned out an exemplary performance in the mountains. Rather ironically, we labelled the Kazakh as 'part of a new generation of riders that provide a fresh image in the face of the doping scandals.' 'Vino' had already won a stage and the overall at the Volta a Valenciana, and two stages at the Midi Libre, all before his stage win and the overall at the Dauphiné.
Going into the Tour de France as a rank outsider, he finished a creditable 35th, but over an hour down. He fell back on the first time trial, when he lost over six minutes on the 56-kilometre course to Lance Armstrong. ...
Cyclingnews Newsletter
Sign up to the Cyclingnews Newsletter. You can unsubscribe at any time. For more information about how to do this, and how we hold your data, please see our privacy policy