CAS acquits Landaluze on technicality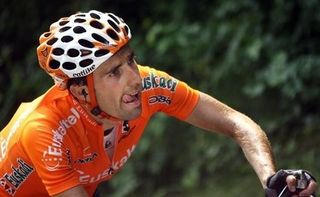 Inigo Landaluze has been acquitted of charges of testosterone doping stemming from the 2005 Dauphiné Libéré, the Court of Arbitration for Sport announced Wednesday. The CAS ruled that a mistake in lab procedures was serious enough "to invalidate the anti-doping test", but emphasised that it "does not constitute a declaration of innocence".
The Spanish federation ruled in May 2006 that the doping analysis showed "an incomplete process not in accordance with all applicable legal requirements", and acquitted the Euskaltel rider. In June, the UCI appealed that decision and asked the court to suspend the rider for two years.
During the appeal, Landaluze argued that errors had been made in the analysis process conducted by the Châtenay-Malabry lab. The court rejected most of his arguments, but upheld one. "It has indeed been established that the person who conducted the analysis of the B sample was also involved in analysis of the A sample, thus in violation of the international standard applicable to the accredited laboratories," read the court's statement.
"The panel considered that the violation of this technical direction was likely to affect the results of the analyses. The panel has considered that the non-compliance with the standard constituted a procedural flaw serious enough to cause the invalidation of the anti-doping test."
Despite recognising a procedural flaw, the court added "the arbitrators have emphasized that the staff of the laboratory of Châtenay-Malabry had acted in good faith and that the overlap of the different analysis operations performed by the staff was due to a heavy workload in the laboratory."
Cyclingnews Newsletter
Sign up to the Cyclingnews Newsletter. You can unsubscribe at any time. For more information about how to do this, and how we hold your data, please see our privacy policy