Best gravel handlebars 2023: Drop bars for all your all-road and off-road needs
The best gravel handlebars for stability and comfort no matter the surface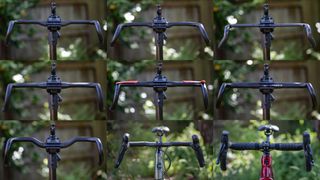 (Image credit: Josh Ross)
If you are searching for the best gravel handlebars, you are most likely thinking something with flared drops. If that's as far as you've gotten with the thought process, don't worry because we've got you covered. The truth is though that there is a lot more to finding the best gravel handlebars for you.
The reason there are a lot of options is because gravel cycling means different things to different people. For some people, gravel cycling is under-biking single track while for others it's road cycling that starts on the pavement and keeps going when the pavement ends. There's also a growing understanding that the best gravel bikes are great all-around bikes. They are just as likely to show up on a fast group ride, serve as a commuter option, or be a vehicle for carrying bikepacking gear for an off-the-grid weekend.
Like many of you, my experience of gravel cycling covers a wide range of those uses. Given that there are almost no long distance road bike races around anymore, I spend some time participating in gravel races. Other times I find myself hopelessly underbiked and well over my skill level on trails I'd rather have a mountain bike for. There's also times when I leave my front door and ride through the city before exploring logging roads and forest service roads.
Given that experience, and the opportunity to test lots of different options, I've put together some options for the best gravel bike handlebars. I tried to cover not only all the various trends in gravel cycling but also different price points; read on to see my favourite options for a whole range of gravel cycling needs.
The best gravel handlebars on the market today
You can trust Cyclingnews Our experts spend countless hours testing cycling tech and will always share honest, unbiased advice to help you choose. Find out more about how we test.
1. Shimano Pro Discover
The best gravel handlebar for those who want lots of choice
Specifications
Available Width Options:
400mm, 420mm, 440mm
Weight:
265 grams in 40cm aluminium
Material:
Carbon or aluminium
Reasons to buy
+
Small backsweep reduces reach
+
Tons of space for accessories
+
End of the drops are parallel to the bike
Reasons to avoid
-
Only one flare option with carbon construction
There's nothing that says you have to run a Shimano groupset with the Shimano-owned Pro handlebars, but the brand does say the two complement each other, and I see no reason to disagree. Shimano was the first to recognise that gravel cycling had needs that a specific groupset could solve. It only makes sense that its Pro brand of accessories created a handlebar to compliment the design of the groupset.
Overall though what you get with the Shimano Pro Discover lineup is an incredible amount of choice. I've spent forever using the alloy version in a 40mm width and a 20-degree flare. It's inexpensive and the gentle backsweep along with the round shape on the tops is really comfortable in a static position as you climb. For me the combination was such a joy outside that I ended up moving it indoors to the bike I use when testing the best smart trainers. The reason I decided to highlight this set of handlebars though is not because of my specific choice but rather because Shimano offers so many. You can choose between 12, 20, and 30 degrees of flare ranging from just a little to truly wild. Sadly though, if you want to save 55 grams and make the jump to carbon fibre that does limit you to the 20-degree option.
2. Zipp Service Course SL 70 XPLR
The best gravel handlebar for riding on the hoods
Specifications
Available Width Options:
400mm, 420mm, 440mm, 460mm
Flare:
11° of outsweep and 5° flare puts the drops position 6cm wider than hoods
Weight:
285 grams in 42cm
Reasons to buy
+
Lots of clamping area for accessories
+
Controls stay mostly vertical
+
Short reach and a slight backsweep
+
Pre-drilled holes for Di2 junction box
Reasons to avoid
-
Premium aluminum means a more costly product
Modern bike design dictates that resting on the hoods is most people's primary riding position. SRAM, and its Zipp brand, has responded by making the Zipp Service Course SL 70 XPLR a hoods-first design. There's a small 3-degree backsweep from the clamping area and 5 degrees of flare. That small flare keeps the controls mostly vertical with just a little angle that helps wrist position. To get the drops wider for more control there's an 11-degree outsweep instead of lots of flare. In the end the result is similar but the path to get there is different.
As you look at the prices out there, you might find that Zipp ends up being a little more expensive compared to other aluminium bars. The brand is quick to point out that the reason is the upgrade to 7000 series aluminium compared to 6000 series for less expensive options. That change should mean a stiffer bar but I wasn't able to tell a difference so you'll have to decide if that matters to you. For most people the choice is likely to come down to weight and the shape of the bar rather than the aluminium. To that end, if the design sounds great but you don't mind trading a little extra weight for more affordability Zipp also offers the Service Course 70 XPLR (non SL) with the same design.
Overall, this option from Zipp and the Pro Discover handlebars from Shimano are very similar. There are a couple of differences worth noting though. One of the biggest is the difference in drop which is part of the already mentioned "hoods first" design. Zipp also keeps the controls much more vertical in their design and the ends of the drops point away from the bike, while Shimano keeps the ends of the drops parallel. In case you are worried, even though Zipp is owned by SRAM the brand still pre drills for Di2 junction boxes.
3. Bontrager GR Elite
The best gravel handlebar for comfort on a budget
Specifications
Available Width Options:
380mm, 400mm, 420mm, 440mm
Weight:
322 grams in 42cm
Reasons to buy
+
Inexpensive
+
Very similar to a road bike handlebar shape
+
Integrated foam padding reduces buzz
Reasons to avoid
-
Heavy
-
Foam padding is less effective than gel
With only a small 13-degree flare, the Bontrager GR Elite Road handlebars won't look out of place no matter what bike you pair them with. They've also got a bigger drop than a lot of gravel-specific handlebars making for a very all-road style handlebar. We've listed that as a plus because that's the point, but your preferences might actually mean that becomes a negative if you want a shallower, more flared option.
The important detail though is the focus on padding and vibration reduction. There's nothing that makes for a comfortable ride like padding on your bars. To that end, there are options for adding padding after the fact but that can mean bars with weird lumps after wrapping. Bontrager makes space for the pads and then pairs that with pads perfectly fitted to the space provided. Once you wrap the bars the traditional round shape is all you see and feel.
The downside of this approach is that you've taken an already heavy bar and added weight to it. You can debate if that matters but it does stand out in the specs. Personally, I don't put much thought into a few grams here and there, but if padding is your goal then gel padding works better. It is more of a hassle to wrap though and it adds expense. The Bontrager bar is an inexpensive choice that does a great job making your life easy while taking the buzz out of aluminium bars.
4. 3T Aeroghiaia
The best gravel handlebar for aerodynamics
Specifications
Available Colour Options:
400mm, 420mm, 440mm
Weight:
234 grams in 40cm
Reasons to buy
+
Controls mount vertically
+
Internal cable routing
+
Aero-optimised
+
Choice of cable exit through centre into a stem
Reasons to avoid
-
Limited accessory mounting options
Almost every modern road bike is aero optimised. When it comes to gravel bikes there has been less focus on aerodynamics but that's starting to change. As long gravel races gain in popularity, and as the differences between an all-road bike and a road bike shrink, aero optimisation becomes more important. Not only that but the winged shape of an aero handlebar inherently makes a lot of sense off-road. While it's not the specific focus in this bar from 3T, there's always more vertical compliance in a bar of this shape.
Bottom line, the advantages exist for a bar of this style, but there are also very few options. The 3T Aeroghiaia takes the shape of a road-specific aero handlebar and adapts it with a flare on the drops. The controls remain vertical but after the initial curve of the drops the bars angle out. The angle continues through a short 110mm drop before coming back to parallel with the bike before the bars end.
Not only is this a great option for anyone wanting to aero optimise off-road but these bars from 3T could also be a great choice for a road bike; as gravel specific bars have gained in popularity a lot of people have decided they love having flared drops on every bike. The fact that the cables not only route internally but also have the option of exiting through a central hole into a stem makes them even more of a universal option. The only downside to this bar is that 3T doesn't have any integration with a computer mount system. There's enough room to mount an outfront product at the sides of the stem but that can fill up fast in ultra-endurance gravel situations.
5. Ritchey WCS VentureMax Carbon Handlebar
The best gravel handlebar if you ride in the drops
Specifications
Available Width Options:
400mm, 420mm, 440mm, 460mm
Weight:
232 grams in 42cm
Material:
Carbon or aluminium
Reasons to buy
+
Small backsweep reduces reach
+
Internal cable routing
+
Aero-optimised
Reasons to avoid
-
Not enough space for clip on aerobars or lights
Ritchey offers the WCS VentureMax handle bar in a carbon or alloy version. There are two main differences between the two. The Carbon fibre option adds partial internal routing and saves 42 grams of weight compared to the triple butted aluminium alloy. Aside from those differences there are some small differences in specifications but all the broad strokes remain the same: In both cases the flats remain ovalized and the flare remains a generous but not exaggerated 24 degrees. You'll also find a subtle backsweep on the flats although the carbon version is a little straighter with only 4 degrees. The defining "bio bump" in the drops is there whatever material you decide on, and adds a little kink that aims to fill the void in your palms while in the drops and reduce pressure.
Overall, these bars represent a balance between an all-out aero option like that from 3T and a round bar option. You get an ovalized top that's comfortable for the hands, provides some vertical compliance, and some aero optimization, but you also get a lot of focus on comfort for the drops position.
One challenge with any option that uses an ovalized top section is that it can limit the space for mounting accessories. The Ritchey WCS VentureMax isn't actually not the worst offender as they've got a bit wider on the clamp area. Not only that but the oval section isn't as deep as 3T so you might still be able to clamp to it depending on the accessory design. Also, if it does come up for you, then Ritchey offers the Universal Stem mount which solves the challenge by adding clamping space out in front of the stem.
6. Surly Truck Stop
The best gravel bike handlebars to add height
Specifications
Available Width Options:
420mm, 450mm, 480mm
Weight:
340 grams in 42cm
Reasons to buy
+
30mm of rise from the clamping area
+
Controls stay mostly vertical
+
Enough clamping room for accessories
Reasons to avoid
-
No sizes for small riders
-
Lacks Di2 holes or cable recesses
Surly never uses the hoods first language in their marketing but that doesn't mean it's not the thought process. The Surly Truck Stop Bar is a completely opposite hoods first design to what Zipp has available. Instead of a backsweep there's a slight forward sweep and the biggest feature is a 30mm rise from the clamping area to the flats.
You could use this to adjust geometry on a bike without much rise but it also opens up possibilities in hand positions. If you bring the hoods up by 30mm you gain a more upright position for cruising but it also brings the drops up 30mm. With an already short drop number that makes the flared drops nearly as high as the tops of some road bars and the drops are a whole lot more accessible.
As you consider this just keep in mind that there are no provisions for a Di2 junction box. I suspect the overlap between running Di2 and also a Surly aluminium bar is low but if that's you then you may need to make other arrangements. Oddly though there's not even the usual depression in the underside for cables to nestle. Instead, the bar gets slimmer meaning the addition of the cables adds less to the overall diameter.
As I said, there's probably not a huge need for Di2 provisions here but there might be riders who prefer a 380 or 400mm width. I'm not especially small and I prefer a 40mm width which, unfortunately, Surly doesn't offer. There are other options on this list that don't have smaller sizes but given the focus on fit for this, it seems like a bigger mis-step.
7. Cadex AR Handlebar
The best gravel handlebar for weight
Specifications
Available Width Options:
400mm, 420mm, 440mm, 460mm
Weight:
190 grams in 42cm
Reasons to buy
+
One piece construction is ultralight and stiff
+
Lots of clamping room
+
Small backsweep is very comfortable
Carbon fibre handlebars aren't typically built as a single piece. The exact construction will vary a bit between manufacturers but brands combine different pieces in the same way that carbon bike frames have different pieces. It's a system that saves money and produces a quality product but it does mean a slightly heavier end result. If you want to make handlebars as light as possible then that means as little material as possible.
A single piece construction uses less resin, and while it's more expensive to produce it is lighter too. There's an open question as to how important a few grams are but, if you are trying to optimise every piece of a bike, the Cadex AR handlebar is the lightest option on our list. It's also an option that's one of the closest to a standard road bike handlebar. If you are looking for an adventure bar for rough riding then you'll want to look elsewhere. If you'd rather add something light to a mixed surface race bike then Cadex makes an excellent option.
The other reason you might want to consider the Cadex AR handlebar is that it's incredibly comfortable across the tops. The design routes cables internally and doesn't slim down from the clamping area, which means the tops feel really good in your hands. I don't tend to ride on the tops a whole lot but anytime I do, these bars are a joy to do it on. It also makes clamping accessories easy since there's no step down to negotiate.
If you make this choice, just consider what you want. Cadex refers to these bars as the AR, or all-road, bars and the brand isn't kidding. You could easily put these on a road bike and no one would question the decision.
Another brilliant option for road and gravel
Specifications
Available Width Options:
420mm, 440mm, 460mm, 480mm
Flare:
12cm of flare from the hood to the drop
Weight:
246 grams in 42cm
Reasons to buy
+
Easy to rest your forearms for a TT-style position
+
Clever bar plug design
+
Lots of room for both accessories and hands on the tops
Reasons to avoid
-
Controls are heavily angled
-
Bar end accessories aren't useable
The kind of riding I like is road riding, I just don't care anymore if the road is paved or gravel. That mindset fits well with many American style gravel races but it also means I trend towards liking narrow bars with minimal flare. It also means I should hate the Enve G Series gravel handlebar. Instead, it's the opposite and this is one of my favourite options on the list. The reason is the split personality of the Enve design.
Across the top you've a perfectly straight and flat design that ends in an abnormally tight bend. There's plenty of room for lights, bags, phone, whatever you need to mount for long rides. There's also a ton of room for resting your forearms if you like the UCI illegal, quasi TT bars position. The 90-degree bends at each edge make for a comfortable place to rest your hands if you prefer to ride on, or at least near, the hoods. They also provide a comfortable place if you like to take the most aero position possible with your forearms parallel to the ground and hands on the hoods.
That kind of riding isn't what Enve is known for though. Instead, Enve is all about rough and technical riding that verges on mountain bike routes and that personality starts to show as you move down to the drops. The controls themselves sit at a little more of an angle than I'd prefer but the flare gets big by the time you get to the ends of the drops. It's great if you like to take a wide hand position on technical sections and it's also comfortable to stay aero even after long hours in the saddle. The combination of the two designs makes this a great option for one bike that does it all.
One of the most unique things about all Enve bars is the bar end design. Instead of just an open hole, Enve comes to a closed point and has integrated rubber caps. It's fantastic for wrapping your bars but if you want to use a Di2 junction box be prepared to get a hacksaw. It also means you can't use things like the Dynaplug Covert system which puts tubeless plugs in your handlebar ends.
9. Whiskey Spano handlebar
The best gravel handlebar for vertical compliance
Specifications
Available Width Options:
400mm, 420mm, 440mm, 460mm, 480mm
Flare:
12 degrees at the hoods and 20 degrees through the drops
Weight:
244 grams in 44cm
Reasons to buy
+
Low reach
+
Short drop
+
Comfortable tops
The farther from round the top section of a handle bar is, the more the design will introduce flex. At least, generally speaking, that is what manufacturers will tell you. In reality, even the 3T bar which has the thinnest oval section of anything here is crazy stiff. I can't feel flex on that bar. The Whisky Co. Spano does things a little differently.
Instead of just leaving flex as an added bonus, the design intentionally engineers it in. The top of the flats is flat but underneath you'll find two facets that create part of a triangle. You might recognize the design as being similar to seat posts designed to flex and in both cases it does work. I don't want to set expectations too high though, it's still subtle. It is there though and it's just enough to take the worst sting out of a big bump.
Beyond that, the Whiskey Spano has the shortest reach on our list. It also almost matches the Surly Truckstop for drop but does so with a more traditional shape. There's some details that are reminiscent of the Enve bar too, like the tight curve on the ends of the tops and the long tail of the drops. It's easy to move between the top, the hoods, and the drops and there's lots of room to comfortably hold the end of the drops or rest on the upper surfaces. The headline is the engineered flex but this is a bar for those who really want to move their hands around.
On top of all the great features, the price is lower than many of the other top self carbon bars. It's hardly a bargain, but compared to Enve, 3T, or Cadex it might feel like one. The only odd detail is that while there is a hole for Di2, there's no internal routing.
How to choose the best gravel handlebar for you
I touched on this briefly up above, but the first thing to think about is what kind of gravel cycling are you trying to find the best gravel handlebar for? If you are upgrading then there's probably a reason. Whatever it might be, at this point there's someone making a specialty choice for it. You don't have to settle, just consider what you need.
Gravel racing is one big reason why you might want to upgrade. If that's why you are here then aerodynamics should be a consideration. That might mean an outright aero bar, it could mean a bar that runs the cables inside for better aerodynamics, or maybe the best gravel handlebar isn't specifically aerodynamic but it lets you get into a more aero position. Any of those are solid ways to help shape the direction you want to go.
Another consideration might be some kind of bikepacking. That could mean with a clock ticking or it could mean a casual weekend. Either way though it leads to considerations for the best bike lights and the best bikepacking bags and those are both things you might need to mount on the handlebars. Mounting considerations are another great way to narrow down your choices.
The last thing to think about is fit. Fit is also the most important but you can usually start with a focus then choose something that fits you. Sometimes not though and in that case, you might need to keep looking until you find what you need. When it comes to the best gravel handlebars, width is one big one that I struggle with personally and you may as well.
Gravel bikes tend to come with wider bars because that's the style. If the bars don't fit you though, the style doesn't matter. People might also tell you that wider bars help with control but, again, it doesn't matter if they don't fit you. No matter who you are, although this is likely a bigger issue for women, keep looking until you find the handlebar that fits you. You deserve to be comfortable no matter what.
What makes a gravel handlebar different?
The defining feature of a gravel specific handlebar is flare. Sometimes that actually means sweep and different companies define those two terms differently. What's important to understand though is that no matter what terms you use the drops are wider than the controls.
The idea behind this concept is stability. Keeping control of a bike on loose surfaces means you want all the control you can get. That, in turn, means a wider hand position. At the same time, drop bar bikes gobble up long miles and an ultra-wide hand position would be uncomfortable as the hours ticked away. To satisfy both needs gravel focused handlebars keep the tops where bike fit dictates they should be. The drops being wider allows for a second position only when you need it.
Can I use gravel handlebars on my road bike?
Inherent in the decision to leave the controls at a standard width and drops wider is a recognition that most people don't use the drops most of the time. That's true beyond gravel bikes and applies equally to road bikes. Gravel handlebars also tend to have shorter drop and less reach than road handlebars.
All those characteristics that make gravel handlebars what they are have the effect of making a really comfortable handlebar for most people. For the youngest and most flexible riders there might be a slightly faster position possible. For everyone else a comfort focused handlebar makes a lot of sense on a road bike.
More and more bikes are do-it-all options nowadays. In those cases, gravel handlebars are an obvious choice as they handle whatever you want to do. Even if you've got a dedicated road bike the extra comfort of a gravel handlebar design makes a lot of sense for a lot of people. Don't worry about labels and rules. If you want to run a gravel handlebar on a road bike do what makes the ride best for you.
Do I want carbon fibre or aluminium handlebars?
Carbon fibre has a couple of advantages over alloy, the most obvious of which is lower weight. If you are wanting to save 40-50 grams, carbon handlebars will do it. The other often quoted advantage of carbon is vibration reduction. Road vibration travels easily through aluminium and switching to carbon does reduce the buzz that gets to your hands.
Like with carbon fibre bike frames weight and vibration aren't the only advantages, just the most obvious. There are other, more subtle advantages. Carbon fibre lends itself to complex shapes and allows tuning of flex very specifically, or creating aero optimised profiles. Even if you don't care that much about weight it's worth considering carbon fibre.
While the advantages to carbon fibre are real that doesn't mean it's the only thing worth considering. Aluminium handlebars are inexpensive and work great. If you can make the financial leap to carbon that's great. If you'd rather save the money, don't worry you will still have high quality options available.
How much flare is best?
The answer to this depends on your riding habits. The bigger the flare, the wider your hands will be when riding in the drops, which will mean greater and more finite leverage over the front wheel, and thus, more control. However, the tradeoff is that the wider position will be less comfortable for extended periods.
If your gravel riding commonly includes short gnarly descents, then wider bars will probably add to your ride experience. However, if your riding is more about 'lite-gravel' and high average speeds with long descents, then a smaller flare will help you remain comfortable - and probably more aerodynamic - so you can spend more time in the drops.
What width handlebars should I get?
A common school of thought with the best road handlebars over the years has been to choose a width that most closely matches the width of your shoulders, so for gravel riders who are predominantly riding on the road or smoother gravel, this is a good starting point for the width of the hoods, opting for the preferred amount of flare from there.
However, since wider handlebars will generally mean an increase in control, there's plenty of room for interpretation here. If you tend to ride rough gravel and want increased leverage on your front wheel, then the only trade-offs when going wider are aerodynamics and comfort.
Of course, bear in mind that as you go wider, the distance - or reach - to the handlebar is increasing, which you might want to offset by shortening the stem. This in turn will affect the handling, so there's a bit of a balance to find.
My one piece of caution though, and I already mentioned this once, is that you shouldn't be swayed by style or common wisdom. There's a trend to go for ridiculously wide gravel bars (660mm is the current widest, the Crust Towel Rack) but for me, wide bars are painful. Over the years I've learned that I have to be firm about my needs even when I'm being told something different. The widest handlebars that work for me are 420mm and I actually prefer 400mm bars. Women might even need to go smaller. If that's you, don't be afraid to keep looking as there are not a lot of options out there.
How do we test the best gravel handlebars?
I tested these options by riding bikes. I ride drop bar bikes in a wide range of situations and across a wide range of surfaces. Whenever it makes sense, I swap handlebars and see if there's a better choice for the riding I'm doing. Sometimes that means I'm riding American style gravel roads while for other times that means rough singletrack. From that experience, I pulled together a group of drop bars that I felt represented the best available options for a wide range of riding styles and budgets.
Get The Leadout Newsletter
The latest race content, interviews, features, reviews and expert buying guides, direct to your inbox!
Josh hails from the Pacific Northwest of the United States but would prefer riding through the desert than the rain. He will happily talk for hours about the minutiae of cycling tech but also has an understanding that most people just want things to work. He is a road cyclist at heart and doesn't care much if those roads are paved, dirt, or digital. Although he rarely races, if you ask him to ride from sunrise to sunset the answer will be yes.
Height: 5'9"
Weight: 140 lb.
Rides: Salsa Warbird, Cannondale CAAD9, Enve Melee, Look 795 Blade RS, Priority Continuum Onyx