Best bike brake levers
By Mildred Locke published
Keep your speed in check with our pick of the best bike brake levers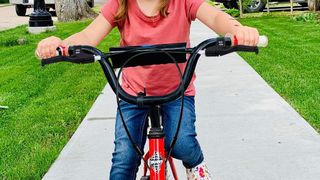 (Image credit: VORCOOL)
Whether you're replacing a broken lever or building a bike from scratch, the brakes are undeniably the most important part of your bike. Aside from making sure your brake pads are replaced when they're worn, it's vital that your bike has working brake levers that fit your hand size and are easily within reach from your natural riding position.
Most importantly, it's always a good idea to replace plastic brake levers with metal ones, since they're a lot stronger and more durable, whereas plastic levers can bend if there's an impact.
That's why we're making it as easy as possible for you to choose the best bike brake levers, regardless of whether you're buying them for a road bike, hybrid, mountain bike, or kids bike.

Enjoy your first month for just £1 / $1 / €1
*Read 5 free articles per month without a subscription

Try your first month for just £1 / $1 / €1
Mildred joined as Reviews Writer for Cyclingnews and BikePerfect in December 2020. She loves all forms of cycling from long-distance audax to daily errand-running by bike, and does almost everything on two wheels, including moving house, and started out her cycling career working in a bike shop. For the past five years she's volunteered at The Bristol Bike Project as a mechanic and session coordinator, and now sits on its board of directors.
Since then she's gone on to write for a multitude of cycling publications, including Bikeradar, Cycling Plus, Singletrack, Red Bull, Cycling UK and Total Women's Cycling. She's dedicated to providing more coverage of women's specific cycling tech, elevating under-represented voices in the sport, and making cycling more accessible overall.
Height: 156cm (5'2")
Weight: 75kg
Rides: Liv Devote, Genesis Equilibrium Disc 20, Triban RC520 Women's Disc, Genesis Flyer, Whyte Victoria, Cotic BFe 26, Clandestine custom bike
Sign up to the Cyclingnews Newsletter. You can unsubscribe at any time. For more information about how to do this, and how we hold your data, please see our privacy policy
Thank you for signing up to Cycling News. You will receive a verification email shortly.
There was a problem. Please refresh the page and try again.