Best bike brake levers
Keep your speed in check with our pick of the best bike brake levers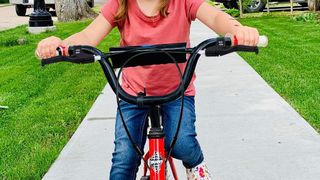 (Image credit: VORCOOL)
Whether you're replacing a broken lever or building a bike from scratch, the brakes are undeniably the most important part of your bike. Aside from making sure your brake pads are replaced when they're worn, it's vital that your bike has working brake levers that fit your hand size and are easily within reach from your natural riding position.
Most importantly, it's always a good idea to replace plastic brake levers with metal ones, since they're a lot stronger and more durable, whereas plastic levers can bend if there's an impact.
That's why we're making it as easy as possible for you to choose the best bike brake levers, regardless of whether you're buying them for a road bike, hybrid, mountain bike, or kids bike.
Mildred is a Reviews Writer for Cyclingnews who enjoys everything from road cycling to mountain biking, but is a utilitarian cyclist at heart. Determined to do everything on two wheels, she's even moved house by bike, and can regularly be found pedalling around Bristol and its surrounding areas. She's spent over four years volunteering as a mechanic and workshop coordinator at the Bristol Bike Project, and now sits on its board of directors. Her expertise comes from previously working in a bike shop and learning the ins and outs of the industry, and she's previously written for a variety of cycling publications, including Bikeradar, Cycling Plus, Singletrack, Red Bull, Cycling UK and Total Women's Cycling. At home on slicks and knobblies alike, her ideal ride covers long distances through remote countryside, on mixed terrain that offers a bit of crunch, followed by a gourmet campfire meal and an overnight bivvy beneath the stars.
Sign up to the Cyclingnews Newsletter. You can unsubscribe at any time. For more information about how to do this, and how we hold your data, please see our privacy policy
Thank you for signing up to Cycling News. You will receive a verification email shortly.
There was a problem. Please refresh the page and try again.