Best electric bikes
By Ian Radstock
Ease your commute and have more fun with our pick of the best electric bikes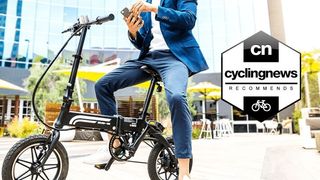 (Image credit: Swagtron)
E-bikes or electric bikes have exploded in popularity over recent years. The option of assisted pedalling opens cycling up to a whole new audience, and we are seeing everything from slick commuters and long-travel enduro e-MTBs to haul-everything assisted cargo bikes and electric road bikes. E-bikes come in so many guises, including folding bikes, fat bikes, trikes and cruisers - there's just so much to choose from! That's why we've rounded up our pick of the best e-bikes here.
Legal restrictions
In the US, rules for e-bikes vary from state to state; 30 states classify e-bikes as ordinary bicycles, while the remaining 20 label e-bikes as mopeds, scooters or something else altogether.
Federal law defines an electric bicycle as 'a two- or three-wheeled vehicle with fully operable pedals and an electric motor of less than 750 watts, whose maximum speed on a paved level surface, when powered solely by such a motor while ridden by an operator who weighs 170 pounds, is less than 20mph.'
It's worth noting this statute defines the maximum assisted speed of the bike when being only powered by the motor, not when it's being pedalled. To make things more confusing, state regulations can supersede the federal statute.
The Bicycle Product Suppliers Association has proposed a three-class system which divides electric bikes up based on their maximum assisted speed:
Class 1: the motor provides assistance only when the rider is pedalling and cuts out a 20mph
Class 2: the motor can contribute regardless of pedalling but is governed to 20mph
Class 3: the motor provides assistance when the rider is pedalling but cuts out at 28mph and must be equipped with a speedometer.
For all three classes, the motor can only put out a max of 750 watts, and the class needs to be clearly labelled. This system also defines where the bikes can be ridden; class 1 and 2 are permitted anywhere bikes are allowed, while class 3 can be ridden on roads and bike lanes but not multi-use paths, and may be subject to minimum user age and helmet requirements.
So far, 22 states have legislation creating a class system and our friends over at People for Bikes have put together a full state by state run down.
Sign up to the Cyclingnews Newsletter. You can unsubscribe at any time. For more information about how to do this, and how we hold your data, please see our privacy policy
Thank you for signing up to Cycling News. You will receive a verification email shortly.
There was a problem. Please refresh the page and try again.