The best action cameras
Capture and share your adventures with our pick of the best action cameras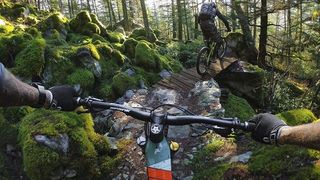 (Image credit: GoPro)
Action cameras have become a huge industry and now offer a wealth of features beyond simply being a small, waterproof and crash-proof camera that can be mounted to anything. With all these extra features, choosing the best action camera is now a lot more complicated. But don't worry, we're here to make it simple.
Action cameras don't just capture video these days, as they come with a wealth of photo and time-lapse features as well as livestreaming and GPS. Whether you're on a family holiday or shooting a TV show, you can rest assured that you have everything you need to capture amazing moments.
Here are some of the best options available, as well as some of the key considerations to make when picking an action camera.
Video quality
Many action cameras are now able to record in 4k, and if you want to record slow-motion action look for cameras with high frames per second (FPS) settings, 240fps will allow footage to be slowed down by 8x and even budget cameras will allow at least 2x.
With the rise in popularity of vlogging and producing video edits, high-end cameras offer advanced features to achieve the highest quality. Higher quality optics, stabilisation and audio make a huge difference to a video's quality as well as the ability to record in advance log format. Log formats such as GoPro's Protune or DJI's D-LOG settings capture more data and allow greater flexibility when editing in post-production.
Stabilisation
Stabilisation is important as it helps to smooth footage, making content shot in bumpy environments more watchable. Optical stabilisation offers the best results however electronic stabilisation such as GoPro's HyperSmooth are very capable of removing the camera shake effectively. Even budget cameras are starting to see the benefit of image stabilisation although do not expect the same results as the top of the range models.
Controls
A touch screen is the most popular method of control and allows easier shot framing, menu navigation and video replay. However, touch screens are useless in environments that are very wet or require gloves, if you ride in all weathers it's worth considering whether important shooting modes are still accessible through buttons.
Connectivity
Most camera manufacturers offer a mobile phone app that allows remote camera control, video playback and uploads to social media. Some apps have editing features to combine clips and add music before uploading allowing quick edits to be shot, edited and uploaded without needing a computer.
Sign up to the Cyclingnews Newsletter. You can unsubscribe at any time. For more information about how to do this, and how we hold your data, please see our privacy policy
Thank you for signing up to Cycling News. You will receive a verification email shortly.
There was a problem. Please refresh the page and try again.