The best action cameras
Capture and share your adventures with our pick of the best action cameras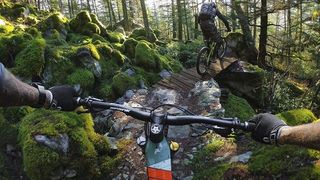 (Image credit: GoPro)
Action cameras have become a huge industry and now offer a wealth of features beyond simply being a small, waterproof and crash-proof camera that can be mounted to anything. With all these extra features, choosing the best action camera is now a lot more complicated. But don't worry, we're here to make it simple.
Action cameras don't just capture video these days, as they come with a wealth of photo and time-lapse features as well as livestreaming and GPS. Whether you're on a family holiday or shooting a TV show, you can rest assured that you have everything you need to capture amazing moments.
Here are some of the best options available, as well as some of the key considerations to make when picking an action camera.
Video quality
Many action cameras are now able to record in 4k, and if you want to record slow-motion action look for cameras with high frames per second (FPS) settings, 240fps will allow footage to be slowed down by 8x and even budget cameras will allow at least 2x.
With the rise in popularity of vlogging and producing video edits, high-end cameras offer advanced features to achieve the highest quality. Higher quality optics, stabilisation and audio make a huge difference to a video's quality as well as the ability to record in advance log format. Log formats such as GoPro's Protune or DJI's D-LOG settings capture more data and allow greater flexibility when editing in post-production.
Stabilisation
Stabilisation is important as it helps to smooth footage, making content shot in bumpy environments more watchable. Optical stabilisation offers the best results however electronic stabilisation such as GoPro's HyperSmooth are very capable of removing the camera shake effectively. Even budget cameras are starting to see the benefit of image stabilisation although do not expect the same results as the top of the range models.
Controls
A touch screen is the most popular method of control and allows easier shot framing, menu navigation and video replay. However, touch screens are useless in environments that are very wet or require gloves, if you ride in all weathers it's worth considering whether important shooting modes are still accessible through buttons.
Connectivity
Most camera manufacturers offer a mobile phone app that allows remote camera control, video playback and uploads to social media. Some apps have editing features to combine clips and add music before uploading allowing quick edits to be shot, edited and uploaded without needing a computer.
Best overall
The best just got even better
This feature-rich, range-topping option is the best action camera out there. It's incredibly versatile and powerful, with a new 23.6MP sensor and front display making very useful additions.
With 5K video, you can capture even more detail than ever before: thanks to a resolution of 5,120x2,880 pixels, you can play your videos back on the big screen and feel like you're still there.
For vloggers, the new color front display will be a favourite new feature. It allows you to frame yourself in the video, see exactly what the lighting is like, and catch things that go wrong so you don't end up with a bunch of video that's unusable.
Plus, you never need to worry about bumpy rides, thanks to HyperSmooth Boost, GoPro's strongest electronic image stabilization, and this is available for all shooting modes. No matter how rough that trail is, you can capture a memory with crystal clarity that you'll relive for years to come.
Runner up
Still an exceptional camera in GoPro's lineup
Packed with features, the GoPro Hero8 Black is at the forefront of what is possible from an action camera whether capturing action sports or vlogging. Video quality is the best it's ever been, thanks to Hypersmooth 2.0 and TimeWarp 2.0 as well as higher bit rates and 1080p live streaming.
To meet the increasing demands of vloggers and home filmmakers, GoPro's Mod features allow you to boost the capabilities of the standard camera. The most important Mod is a multi-directional mic with an additional 3.5mm external mic port for much better audio. The mic Mod features two cold shoe accessory mounts which can be used to attach a flip-up display for self-framing when talking to the camera or a 200 lumen LED light for dark conditions.
Two screens
Dual screen, great features and a simple-to-use interface
A robust exterior features a unique front colour screen which makes framing simple when setting up shots, taking selfies or vlogging. This is combined with a video mode that will automatically detect faces to base exposure metering, which will make the Osmo Action an appealing option for those that frequently turn the camera on themselves.
The Osmo Action can shoot sharp colourful HDR footage up to 4k/60fps and DJI's own RockSteady stabilisation technology does a great job of smoothing out vibrations. A responsive rear touch screen allows easy navigation of settings or video playback.
Easy to use
Create stunning footage with a simple interface
The slimmed-down Hero 7 Silver produces beautiful stabilised 4k footage at 30fps and Wide Dynamic Range (WDR) photos, despite not having the Hypersmooth, ProTune and the various recording modes seen on the higher model.
It offers the same rugged waterproof exterior and intuitive touch user interface and relies on the rear touch screen, a range of beeps and LED flashes to let you know when it is recording.
Best for vlogging
Designed for less extreme conditions, it's a vlogger's best friend
If you're looking for a camera to simply record the action rather than being a part of it the Osmo Pocket puts all electronic stabilisation to shame and produces smooth professional-looking footage. The ActiveTrack feature keeps a selected subject in frame, while Motionlapse creates perfect panning time-lapses.
It isn't designed to be strapped to a helmet and ridden down a mountain in the rain. However, if you are looking for a pocket-friendly camera that can produce professional shots for vlogging then the Osmo Pocket is going to fare well.
Recently upgraded
New 2020 upgrade delivers image stabilizing
The Campark 4K 20MP action camera is already excellent for those on a budget, but its recent 2020 upgrade has delivered even more fantastic features to make it a great all-rounder. Whether you're new to filming your adventures, or you're a professional film maker looking for an extra accessory to make life easier, you'll be sure to make good use of the Campark.
It comes with built-in Electronic Image Stabilization (EIS), doing away with the need for a gimbal, which would usually add great expense to your setup. If you're filming road rides and light trails, you can likely get away with the anti-shaking function and still come out with a great picture at the end.
Mounted on your helmet, you can make use of the external microphone included, which can capture sound from all directions. Catch those great conversations with friends, or the sounds of local wildlife, for example.
The Campark camera comes with its own improved waterproof case, and can itself dive below 131ft, so if you're also aquatically inclined, you can get plenty out of this budget-friendly action camera.
Best for beginners
Does a basic job for a fraction of the price
If you're not looking for professional quality and want to spend less, then opt for the Akaso action camera. The results won't be the same as you'd get with a more high-end and high-tech camera like those listed above, but it comes with full wifi connectivity, as well as a wrist remote control.
The Akaso has two filming options: 4K at 25fps and 2.7K at 30fps. You can also take still photos using its 12 megapixel camera, and take it under water to about 100 feet. It's a nifty camera that does a basic job if that's all you need.
Sign up to the Cyclingnews Newsletter. You can unsubscribe at any time. For more information about how to do this, and how we hold your data, please see our privacy policy
Thank you for signing up to Cycling News. You will receive a verification email shortly.
There was a problem. Please refresh the page and try again.