Giro d'Italia 2019: Stage 11
January 1 - June 2, Carpi, Italy, Road - WorldTour
Refresh
Live coverage of stage 11 of the 2019 Giro d'Italia, a 221km flat route from Carpi to Novi Ligure.
Stage 10: Demare wins sprint in Modena
Demare criticises fellow sprinter Ackermann
Authorities working to clear Gavia of snow ahead of Giro d'Italia queen stage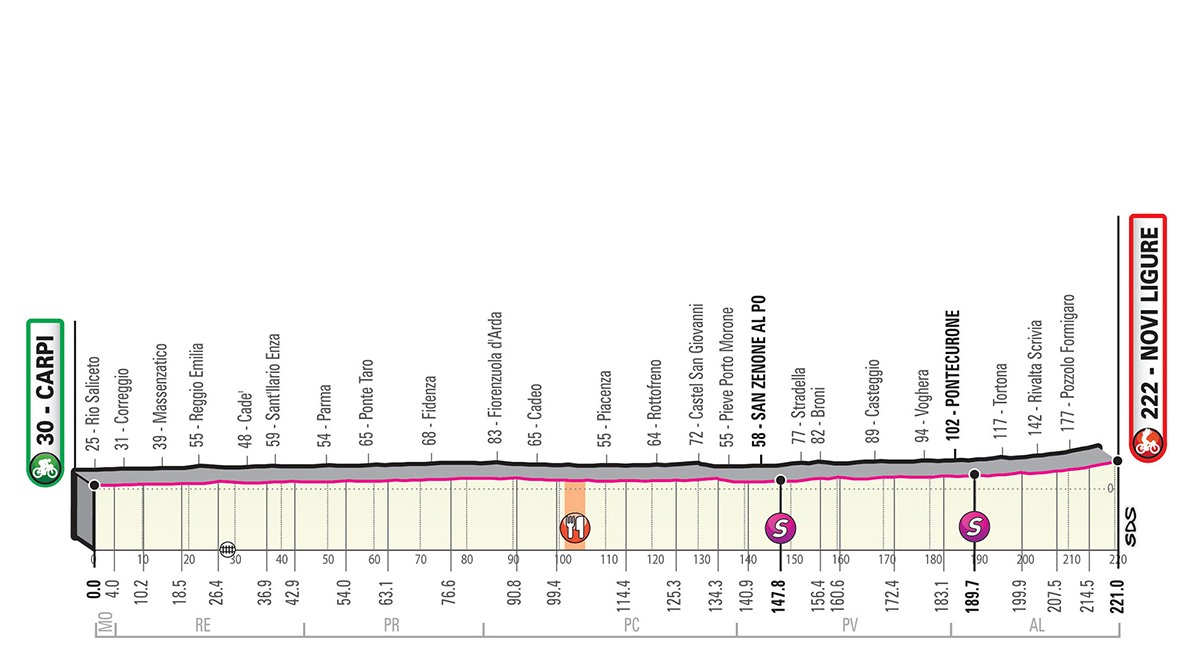 Hello and welcome to another flat stage of the Giro d'Italia. The mountains are definitely coming, we promise. In fact, after today, there's only one opportunity for the sprinters, and the rest of the race is set to be dominated by the battle for the pink jersey. First, though, 221 kilometres through the Po Valley and into Piemonte.
The race has assembled in Carpi and the riders are signing on ahead of the roll-out, which is coming up at 11.55 local time. After a short neutralised section we'll be racing from around 12.05.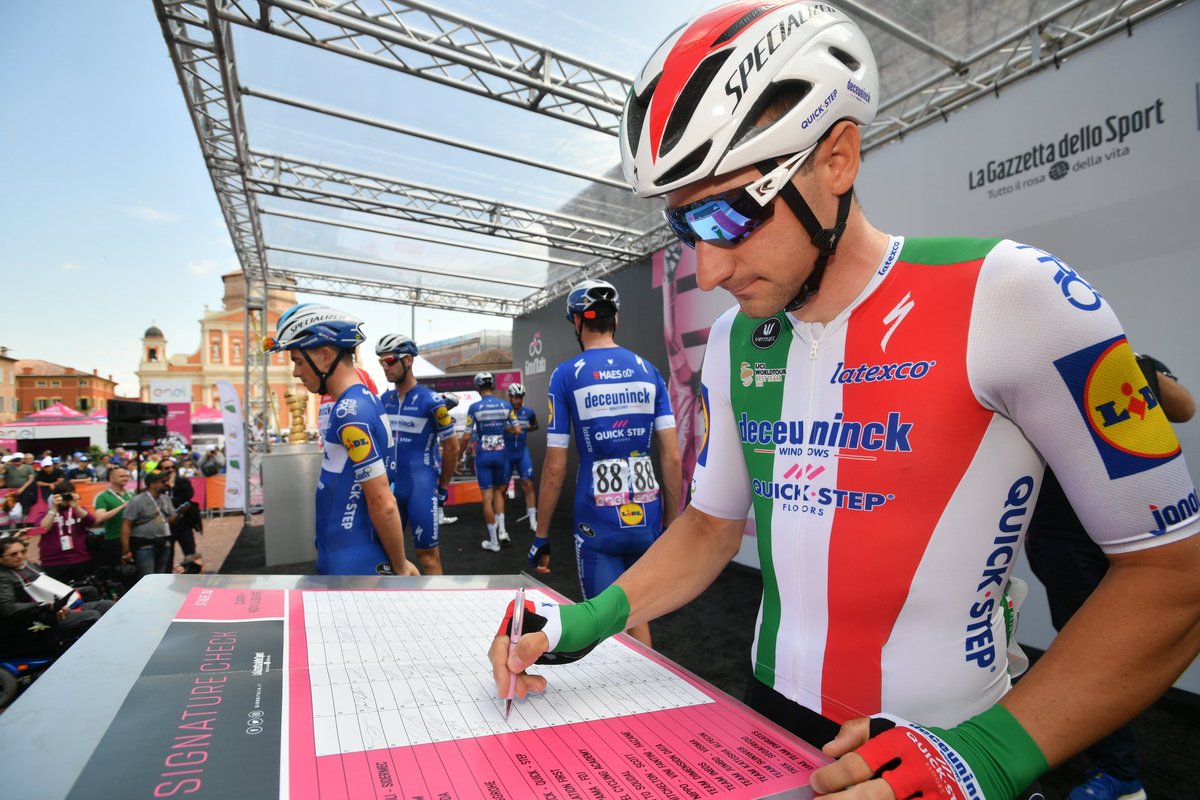 This is what's on the agenda. Another painfully flat one, though you'll notice it does tilt uphill towards the line. That's nothing to prevent a full bunch gallop but, depending on how steep it is in reality, it might just suit a lighter, more aerodynamic sprinter like Caleb Ewan (Lotto Soudal).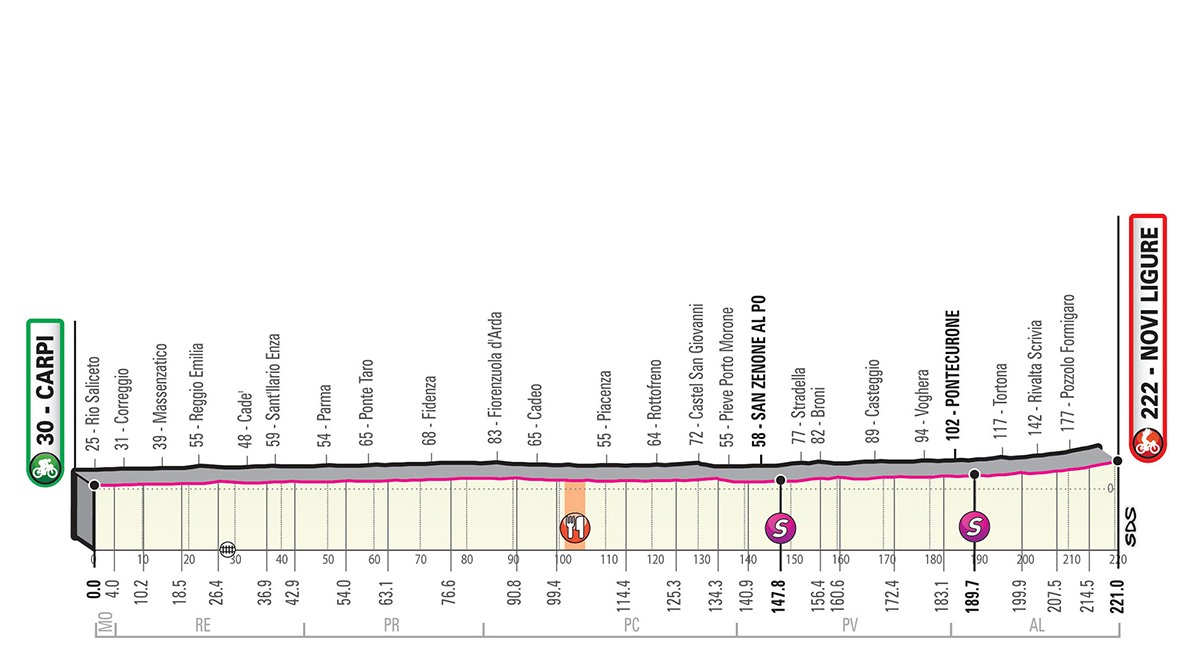 Before we get going, why not catch up on yesterday's action? Arnaud Démare (Groupama-FDJ) finally got his hands on a stage win, beating Elia Viviani (Deceuninck-QuickStep), Rudiger Selig (Bora-Hansgrohe) and Ewan.
Giro d'Italia: Démare wins stage 10 sprint in Modena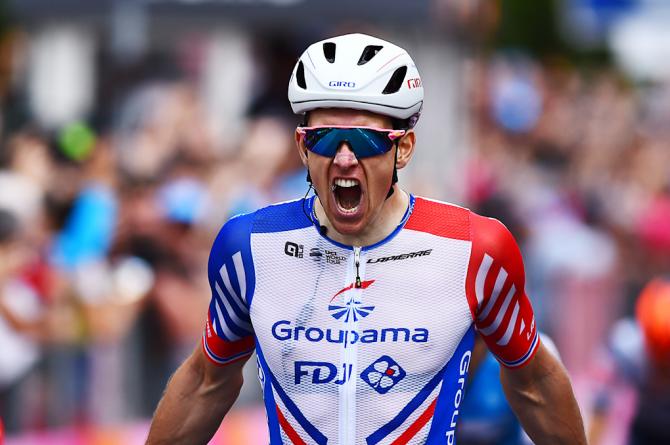 It seems the wins are being shared around at this Giro. The big name that hasn't won one is Viviani, who won four stages and the maglia ciclamino jersey last year but is having a tougher time of it this year. He'll argue he should have won stage 3, as he crossed the line first but was later relegated for a dangerous sprint. Today is likely to be the Italian champion's last chance, as he's expected to leave the race tonight to swerve the mountains and prepare for the Tour de France.
Here's Pascal Ackermann (Bora-Hansgrohe) who has won two stages and leads the points classification. He hit the ground heavily in the late crash yesterday and was pretty banged up, so it remains to be seen how that affects his chances.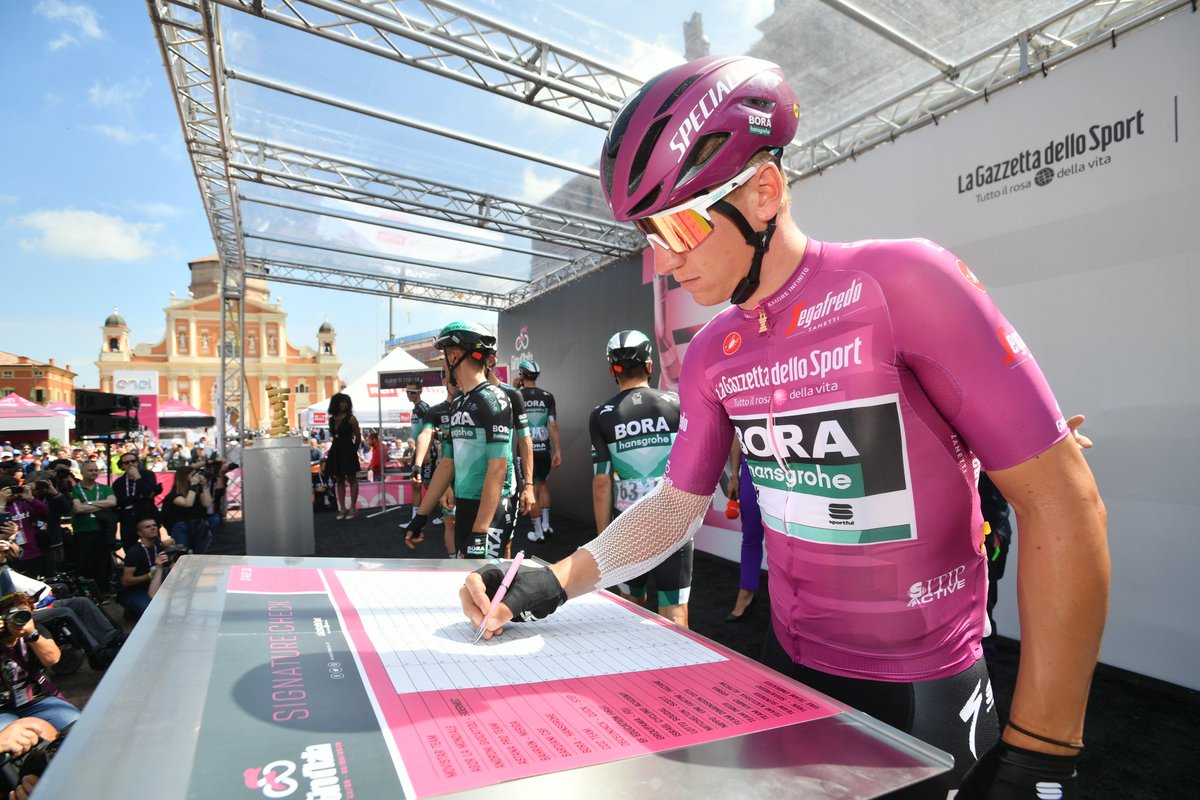 There was no change yesterday, but here's a reminder of how things stand overall.
1 Valerio Conti (Ita) UAE Team Emirates 39:44:39
2 Primoz Roglic (Slo) Team Jumbo-Visma 0:01:50
3 Nans Peters (Fra) AG2R La Mondiale 0:02:21
4 José Rojas (Spa) Movistar Team 0:02:33
5 Fausto Masnada (Ita) Androni Giocattoli-Sidermec 0:02:36
6 Andrey Amador (CRc) Movistar Team 0:02:39
7 Amaro Antunes (Por) CCC Team 0:03:05
8 Valentin Madouas (Fra) Groupama-FDJ 0:03:27
9 Giovanni Carboni (Ita) Bardiani CSF 0:03:30
10 Pello Bilbao (Spa) Astana Pro Team 0:03:32
The riders have just rolled out of Carpi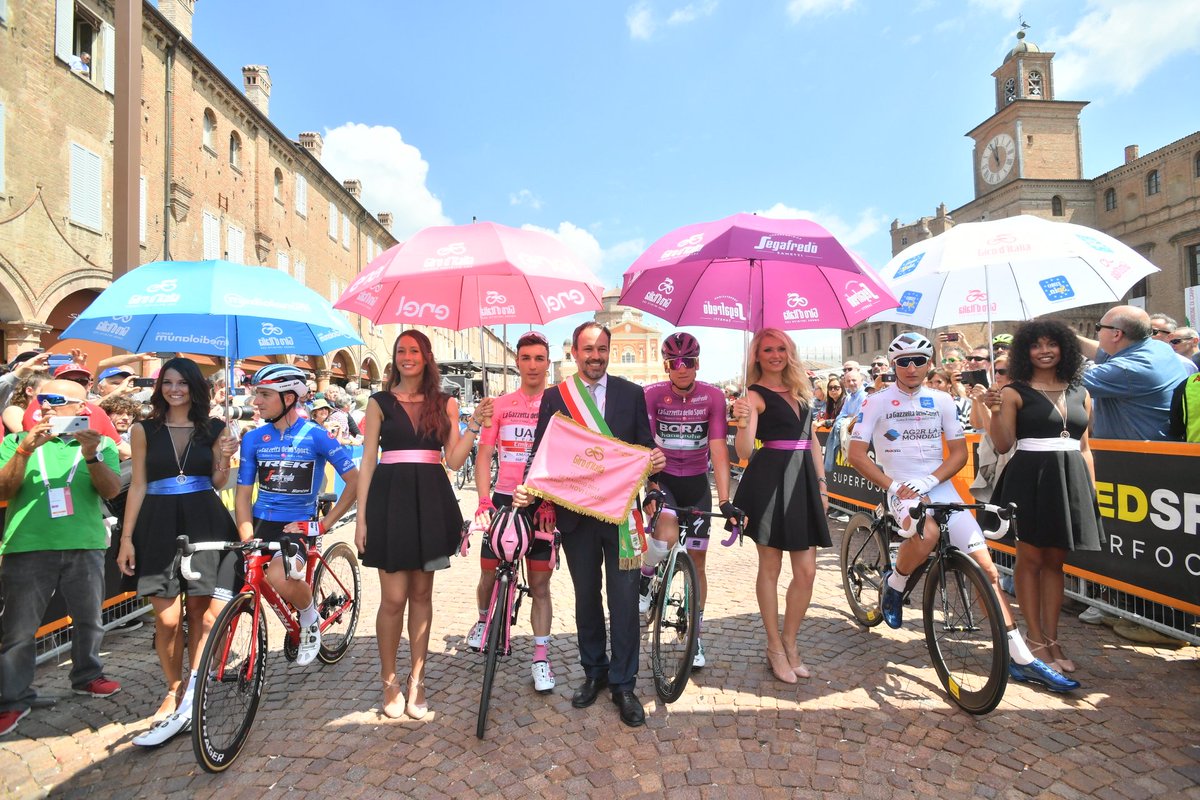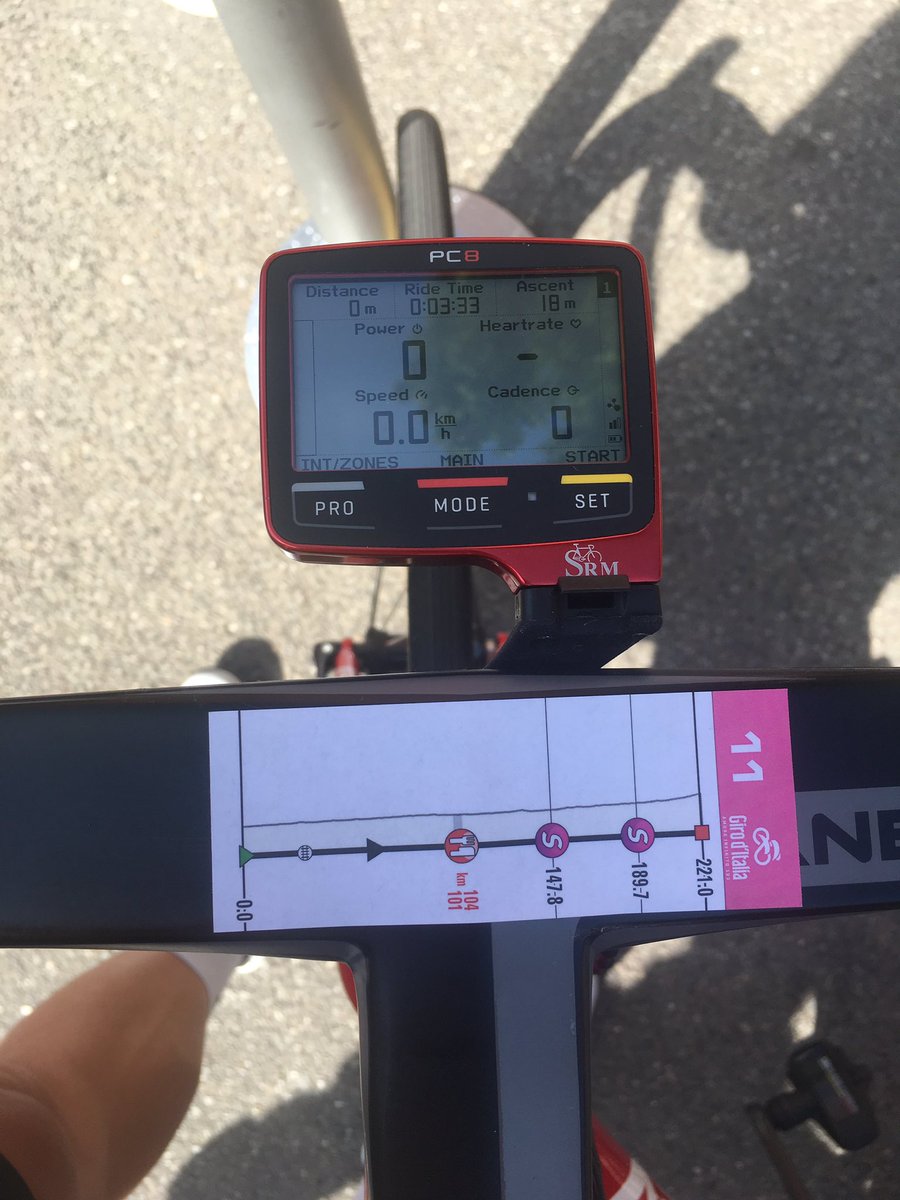 We're off!
The flag has been waved and the race is officially underway.
Yesterday the break formed inside 500 metres. Let's see if we'll have more of a battle today.
We have another early break, containing some familiar names.
Marco Frapporti (Androni-Giocattoli-Sidermec)
Mirco Maestri (Bardiani-CSF)
Damiano Cima (Nippo-Fantini-Faizanè)
209km remaining from 221km
The trio have quickly built a lead of five minutes after 12 kilometres of racing.
It's another small break being easily let go by the peloton, and that will not assuage those who feel this has been a tedious Giro so far. None of these riders represent a threat in the overall standings, and the size of the group is more than manageable, especially over 200 kilometres. That means the peloton is in for another quiet day.
We said these three breakaway riders were familiar. Well, the proof is that they are the top three in the 'Fuga Pinarello' standings - the classification for most kilometres spent in the breakaway over the course of the Giro.
1 Marco Frapporti 620 km
2 Damiano Cima 564 km
3 Mirco Maestri 374 km
One non-starter today, and that's Matteo Moschetti, the Trek-Segafredo sprinter who crashed very heavily in yesterday's late pile-up. Nothing broken, but a string of nasty injuries for the young Italian promise, who was having a decent Giro up to that point.
Moschetti out of Giro d'Italia after stage 10 crash

196km remaining from 221km
The gap extends to six minutes after 25km of racing.
Some complained yesterday was boring but we did get a bit of post-stage beef, which is becoming increasingly rare in the public relations incubator of modern professional sport. Demare accused Ackermann of "excessive confidence and a bit of arrogance". More here.
168km remaining from 221km
The gap to the break has come down slightly and stabilised at five minutes.
Is this is replay? It's Miles Scotson (Groupama-FDJ) once again doing the bulk of the work on the front of the bunch, chasing a small breakaway. FDJ have never shied away from pulling their weight at this Giro and got their reward yesterday.
Lotto Soudal and Deceuninck-QuickStep also have representatives doing turns, working for Ewan and Viviani, respectively. No need for Conti's UAE Team Emirates to hit the wind today.
The race is heading through Parma and the streets are lined with fans.
Our top story at the moment concerns the transfer market, on which the biggest name is surely Julian Alaphilippe. Patrick Lefevere obviously wants to keep the Frenchman, who's been on fire this season, but doesn't have bottomless pockets. He's had to let star riders leave in recent years, and word is Total Direct Energie are coming in for Alaphilippe with a big offer. Here's the full story:
Lefevere: Keeping Alaphilippe comes down to money
148km remaining from 221km
The gap continues to fall slowly as Mikkel Honoré sets a decent tempo on the front of the peloton. 4 minutes now.
Nature break time in the breakaway and they're going to lose some more time here.
139km remaining from 221km
3:55 is the gap as the trio reassemble and get back up to speed.
After two hours of racing, the average speed stands at 42km/h, putting us slightly ahead of the slowest predicted schedule.
131km remaining from 221km
The riders are on painfully long, straight, flat roads at the moment. The peloton is in one long line but the pace isn't too high at the moment.
Scotson, Honoré, Campenaerts... has anyone else done a turn on the front of the peloton?
It's been pretty much a three-on-three pursuit so far over the first 100 kilometres of this stage.
It has to be said, the Italian tifosi don't seem bored by this Giro. Very impressive spectator numbers out on the roads today.
We must be in Jacopo Guarnieri's hometown, because the FDJ rider has just hopped off his bike to greet some family and friends. It's that kind of day.
118km remaining from 221km
The gap continues to fall slowly. We're down at 3:35 now.
Lunch time. The riders grab their musettes as they head through the feed zone.
As for me, on stages like this I can afford to have my lunch at my desk. Fish finger sandwich and a miserable pot of veg, but my boss has just brought me a McFlurry...
You know it's bad when we start live blogging our lunches...
The breakaway trio have passed the half-way mark. We're heading through the flatlands of the Po Valley and towards Piemonte. Interestingly, today's route borrows from Milan San Remo. Later on, in between the two intermediate sprints, we join the route for La Classicissima, heading down to Tortona before peeling off for the finale in Novi Ligure.
From La Classicissima to Il Campionissimo... Novi Ligure is the hometown of the great Fausto Coppi, a five-time winner of the Giro.
A nice shot of the break with a local lad watching on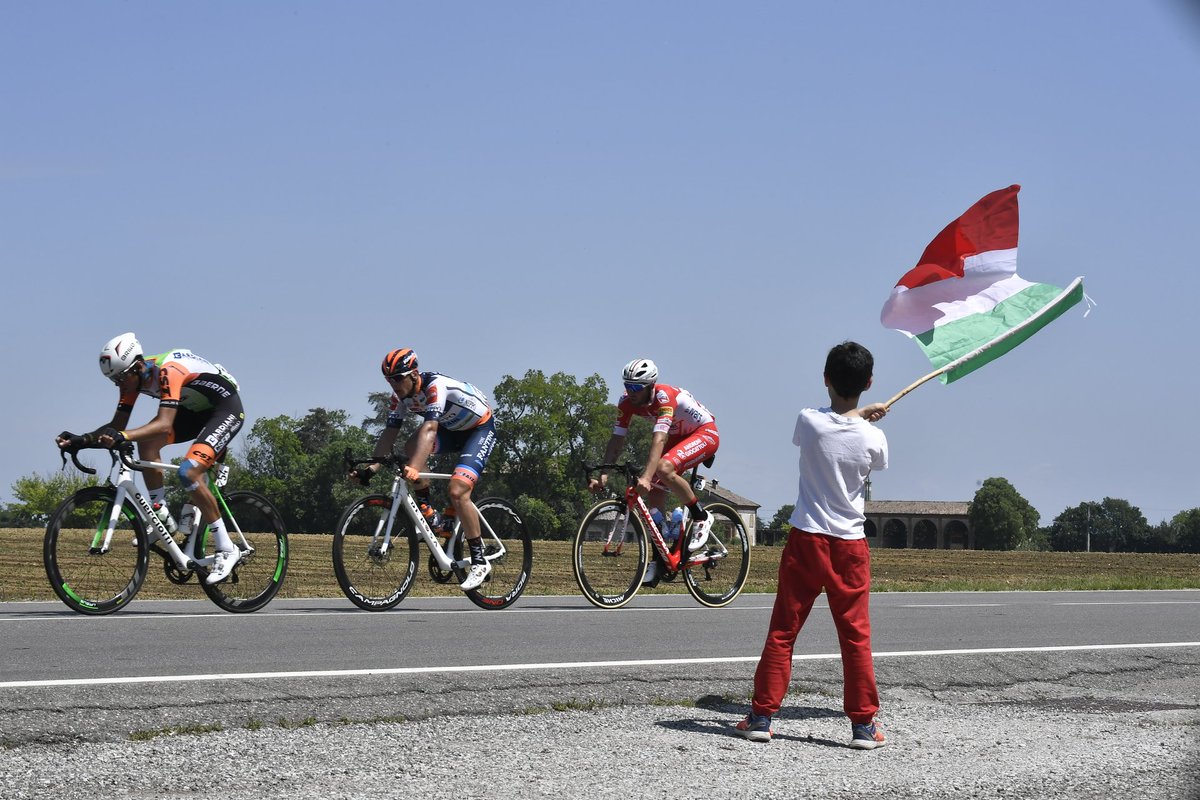 98km remaining from 221km
Inside 100km to go now and the gap between Frapporti/Maestri/Cima and the breakaway is down to three minutes.
"I've got the same role in the team, and even after a day like Sunday, nothing will change."
That's Esteban Chaves, whose teammate and leader Simon Yates suffered a setback in Sunday's time trial. The Colombian was runner-up at the Giro in 2016 and won a stage last year before falling ill and taking an extended break from racing. He's here quietly making his way back towards top condition, as he told Alasdair Fotheringham.
88km remaining from 221km
We're 15km away from the first intermediate sprint, at San Zenone al Po. There we should see a fight for points from the sprinters in the peloton. Well, from Demare and Ackermann at least - the only big names who seem set on going all the way to Verona and the end of this Giro. After yesterday, Demare closed the gap to Ackermann to just one point.
1. Ackermann - 155 points
2. Demare - 154
3. Ewan - 109
And it was the first intermediate sprint yesterday that sparked the beef between Démare and Ackermann. Apparently the German asked the Frenchman why he was bothering going for minor points in the intermediates, when he was some way behind in the maglia ciclamino standings. Safe to say Démare didn't appreciate that one bit. More on all that here.
78km remaining from 221km
The intermediate sprint is coming up with just over 73km to go, so in around 5km time.
The gap to the break has fallen to 2:30.
Still don't think anyone other than Scotson, Honoré or Campenaerts has done a turn in the peloton.
The breakaway trio come to the first intermediate sprint. Will they contest it?
Yes. Cima hits out, and the other two are happy to watch him head off to collect the points.
Now comes the the battle in the peloton, with Demare and Ackermann expected to come to the fore. We might get an indication here of how Ackermann is feeling today after losing a lot of skin in yesterday's crash, and of his chances in the sprint for the stage win later on.
FDJ take it up for Demare, Ackermann is on the wheel.
They both sprint and Demare gets the better of it but Ackermann's lead-out man Rudi Selig is also up there, neck-and-neck with Demare.
Demare is confirmed as the first to the line, taking the maximum complement of the remaining points. Selig was second and I'm not quite sure what he's doing there as he's effectively taken points away from Ackermann. I guess he was trying to take second place from Demare in the hope Ackermann would win but that has backfired. Demare is the new provisional leader of the points classification.
65km remaining from 221km
The gap is back up to three minutes.
The second intermediate sprint comes in around 30km time, just over 31km from the line. There are bonus seconds on offer but there'll be no Demare-Ackermann duel there as there are no maglia ciclamino points.
Roglic is helped back to the bunch after a trip back to the team car.
The lead of the three breakaway men starts to fall again. It's down to 2:10 with just over 50km to go.
42km remaining from 221km
An hour to go now, and the gap to the break is down to 1:55. This stage is dragging so badly that the intermediate sprint back then seemed like the most exciting thing ever in cycling.
We're coming into Pontecurone and up towards the second intermediate sprint. A reminder that there are no maglia ciclamino points on offer here.
The pace has been steadily ratcheted up another notch in the peloton. The gap to the three leaders is down to 1:10.
It's windy out there, which could break the monotony. It's blowing from the south, so it's a cross-headwind.
The leading trio come to the intermediate sprint. This time there's no contest - not even from Cima. Maestri leads as they calmly cross the line.
30km remaining from 221km
No contest in the peloton, either. Honoré leads the bunch across, with the gap having nudged back out to 1:35.
The pace rises in the bunch and the breakaway riders start to ease up. It's down to 30 seconds and still falling and the catch is not far away.
Frapporti, Maestri and Cima look around at each other. They can see the bunch behind and they know the game is up.
25km remaining from 221km
That's it. Break caught. Gruppo compatto.
There's a change to the shape of the peloton now the break has been caught. The work of Scotson, Campenaerts, and Honoré is done. Now we have multiple team trains spread across the road. Mitchelton-Scott are on the left - they've been prominent on every run-in, protecting Simon Yates. Jumbo-Visma, Movistar, and Androni are there in the middle, with QuickStep and Soudal on the right.
Predictions please
Who's winning this? Let me know via Twitter @paddyfletch.
Ackermann, Ewan, Demare have all won stages. Ackermann has even won two, but may well be hampered by the effects of his crash yesterday. Viviani hasn't got a single one, and we'll see whether that pressure will be productive or counterproductive. Ewan might like the slight uphill drag while Demare will be full of confidence after yesterday's impressive display.
Outside the big favourites, there's Giacomo Nizzolo for DiData, Jakub Mareczko for CCC, and Davide Cimolai for Israel.
17km remaining from 221km
Israel make their presence felt now. They've been pretty prominent on the run-ins so far, but Cimolai's best placing has been sixth.
15km remaining from 221km
The pace is still pretty steady but things should ramp up in the final 10 kilometres.
All the votes so far going the way of Viviani. The fans would love to see him win in the Italian champion's tricolore jersey. Word is he's leaving the Giro tonight, so this is perhaps his last chance.
Bora-Hansgrohe get organised in the middle of the road. That's a sign Ackermann is feeling ok and will contest this sprint as normal. Even if there is some pain, there's reason enough to grin and bear it and see what you can do.
9km remaining from 221km
9km to go and the pace is picking up now. Mitchelton, Movistar, Bora, QuickStep, Soudal. That's the spread across the front of the bunch, from left to right.
7km remaining from 221km
And now it ramps up properly and we go above the 50km/h mark.
Mitchelton are still up there protecting Yates, Movistar doing the same for Carapaz and Landa. Then it's QuickStep and Lotto Soudal working for their sprinters. It's that usual funny mix of sprint trains and GC teams. That'll change when we reach the sanctuary of the 3km-to-go banner, after which any time losses due to crashes will be neutralised.
5km remaining from 221km
Viviani moves up to third wheel but drops back a little now.
CCC are up there with Ventoso in front of Mareczko.
FDJ hit the front now for Demare. They have four riders there.
Oof. A little shoulder barge from an FDJ rider on a Bora.
4km remaining from 221km
Christian Knees takes a flyer.
Ventoso did this yesterday but Knees doesn't manage to carve out the same kind of margin. He's been brought back, and it's Ventoso who does so.
3km remaining from 221km
Ventoso takes command of the peloton as it strings out. Mareczko in the wheel.
3km remaining from 221km
Ventoso holds position through a left-hander. That's the final bend. It's pretty much straight all the way to the line now.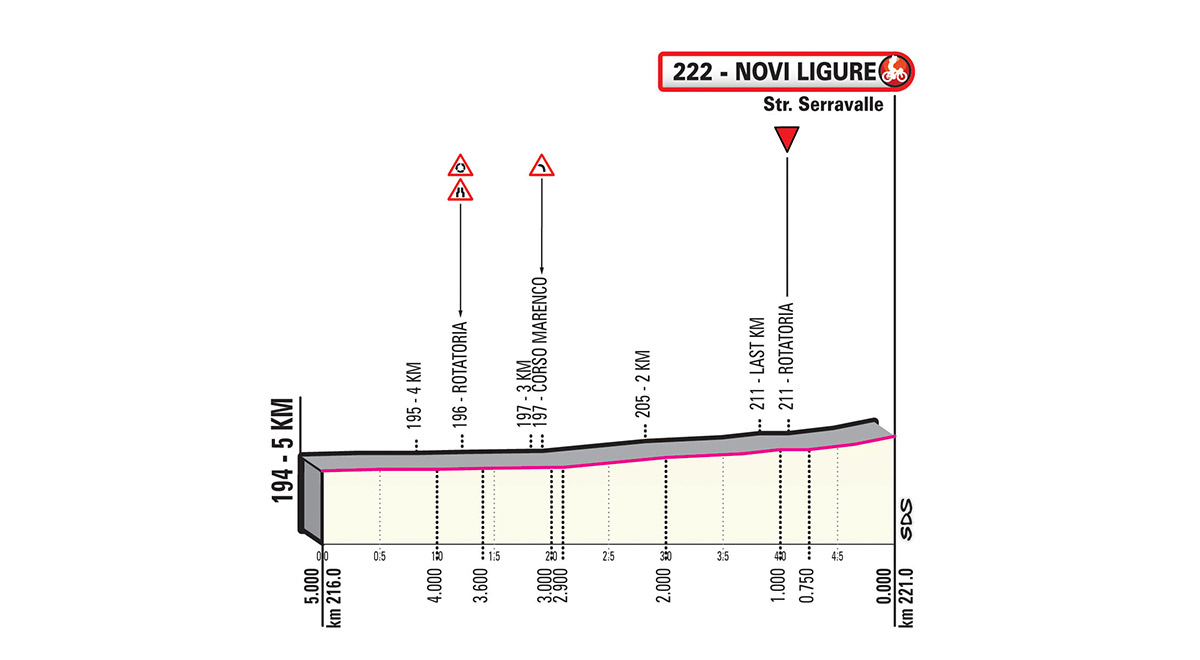 Cerny moves up now to take a turn for CCC.
2km remaining from 221km
2km to go and now QuickStep hit the front and DiData move up in numbers.
Demare's men hit the front now. Just beside them is the DiData train.
1km remaining from 221km
DiData hit the front as we near the flamme rouge and the final kilometre
1km remaining from 221km
Under the flamme rouge and Conor Dunne takes it up for Israel
And now FDJ take it up again with three.
FDJ on the front. Bora behind
Bora move up with Ackermann, Demare gets onto the back of Ewan
Caleb Ewan (Lotto Soudal) wins stage 11 of the Giro d'Italia
Demare takes second place
Ackermann held on for third, with Viviani in fourth.
FDJ had the front position with Guarnieri but Selig moved Ackermann up and past, and then Demare had to try and latch on to the back, but Ewan got to the wheel first. Ackermann went early, from around 250m - probably too early given the slight drag and the cross-headwind. Ewan was in the perfect position in the slipstream and punched clear from around 150m to claim his second win of this Giro. Demare fought back but couldn't match Ewan, while Viviani might have pipped Ackermann for the podium but had to ease up slightly as the road was blocked on the right of the German.
Top 10
1 Caleb Ewan (Aus) Lotto Soudal 5:17:26
2 Arnaud Demare (Fra) Groupama-FDJ
3 Pascal Ackermann (Ger) Bora-Hansgrohe
4 Elia Viviani (Ita) Deceuninck-QuickStep
5 Davide Cimolai (Ita) Israel Cycling Academy
6 Simone Consonni (Ita) UAE Team Emirates
7 Ryan Gibbons (RSA) Dimension Data
8 Giacomo Nizzolo (Ita) Dimension Data
9 Jakub Mareczko (Ita) CCC Team
10 Sean Bennett (USA) EF Education First
General classification after stage 11

1 Valerio Conti (Ita) UAE Team Emirates
2 Primoz Roglic (Slo) Team Jumbo-Visma 0:01:50
3 Nans Peters (Fra) AG2R La Mondiale 0:02:21
4 José Rojas (Spa) Movistar Team 0:02:33
5 Fausto Masnada (Ita) Androni Giocattoli-Sidermec 0:02:36
6 Andrey Amador (CRc) Movistar Team 0:02:39
7 Amaro Antunes (Por) CCC Team 0:03:05
8 Valentin Madouas (Fra) Groupama-FDJ 0:03:27
9 Giovanni Carboni (Ita) Bardiani CSF 0:03:30
10 Pello Bilbao (Spa) Astana Pro Team 0:03:32
Demare finishing ahead of Ackermann puts him into the maglia ciclamino as leader of the points classification.
Let's hear from the stage winner
"I think Ackermann has proven he's one of the quickest here, and to be honest he was the first sprinter who came past me with a good train, so I decided to jump on him. My guys got me into a really good position where I didn't have to fight for the wheels too much. That just made my run a whole lot easier. He went quite early so I could just sit there and time my sprint to perfection.
"I think my team's done a great job all week. I think I was a little more relaxed going into this stage because I already had the one win. When you're a bit relaxed you save more energy and everything seems to fall into place a little easier."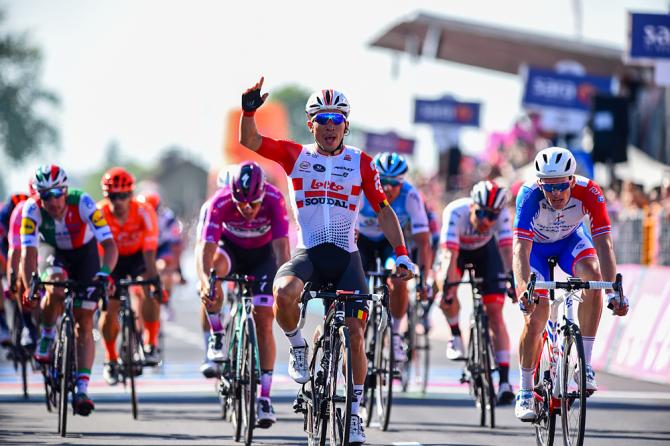 Viviani has apparently told Italian tv Rai that his Giro is indeed over today.
Here's Demare, the runner-up
"The difference was a headwind today, and there was a narrowing of the road with 750m to go. That is where it became difficult for my lead-out men to take me to the line."
The new points classification standings
1. Demare - 194
2. Ackermann - 183
3. Ewan - 159
Here's what's in store tomorrow. The first category-1 climb of the Giro.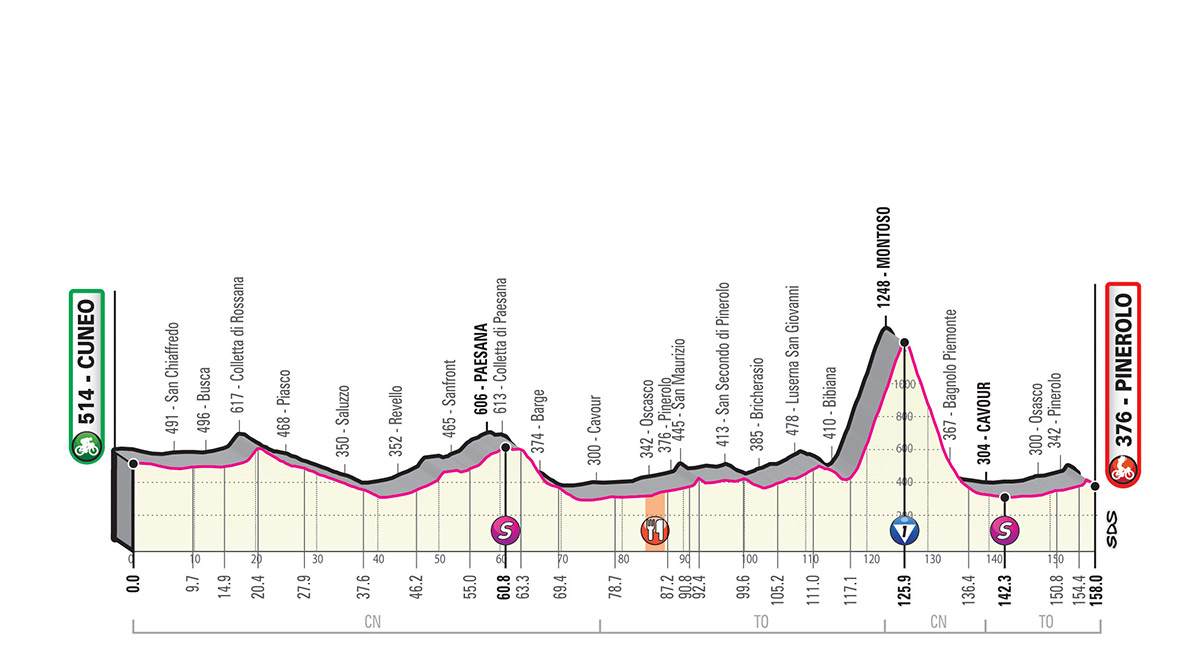 We'll be back right here tomorrow for live coverage of that. In the meantime keep an eye on Cyclingnews for all the latest from Italy. Thanks for joining today, catch you tomorrow.

Thank you for reading 5 articles in the past 30 days*
Join now for unlimited access
Enjoy your first month for just £1 / $1 / €1
*Read any 5 articles for free in each 30-day period, this automatically resets
After your trial you will be billed £4.99 $7.99 €5.99 per month, cancel anytime. Or sign up for one year for just £49 $79 €59

Join now for unlimited access
Try your first month for just £1 / $1 / €1
Get The Leadout Newsletter
The latest race content, interviews, features, reviews and expert buying guides, direct to your inbox!
Thank you for signing up to The Pick. You will receive a verification email shortly.
There was a problem. Please refresh the page and try again.