Live coverage
Giro d'Italia 2019: Stage 10
By SadhbhO'Shea published
January 1 - June 2, Ravenna, Italy, Road - WorldTour
Refresh
Live coverage of stage 10 of the Giro d'Italia, from Ravenna to Modena
Giro d'Italia 2019 race hub page
Giro d'Italia 2019 rider start list
Giro d'Italia: Primoz Roglic wins stage 9 time trial
Authorities working to clear Gavia of snow ahead of Giro d'Italia queen stage
Not over yet: Roglic takes command but Giro still in opening phase
Simon Yates: Everybody has to attack Roglic now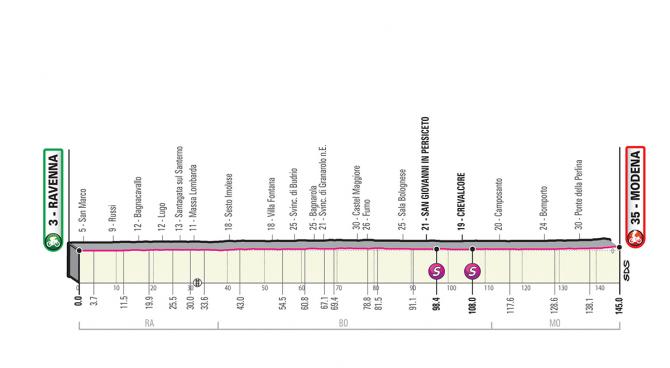 Welcome. There is a square mile of land just outside Ousefleet, near Scunthorpe in the UK that the people who produce OS maps once dubbed the dullest square mile in the UK because it contains only an electricity pylon. Today might be the Giro d'Italia's equivalent of that square mile. But, then again, this is the Giro d'Italia and we could be in for the most exciting day of the entire race. Who knows? Why not join us on this journey and find out what we have in store.
The stage is due to start in just under 10 minutes and the riders will be making their way through a 5.5k neutral zone before we reach the start proper. We have a whopping 150 metres of climbing today, so I don't think that I'm being too controversial when I say it should be a day for the sprinters.
Pascal Ackermann will be looking to add to his tally in the points classification. Here he is signing on a little while ago.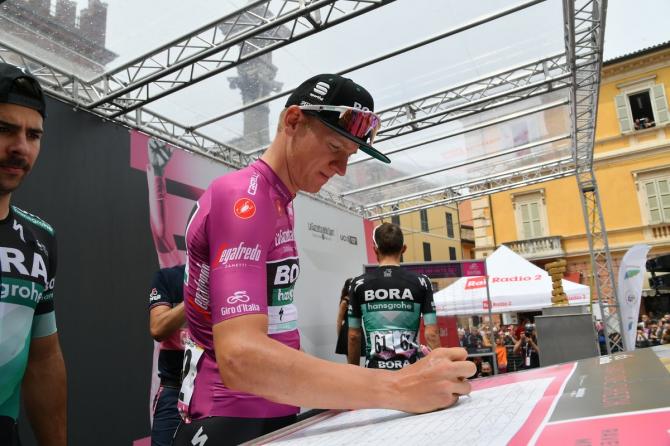 As you can see, Pascal Ackermann has a serious lead on the rest in the points classification with Arnaud Demare his nearest rival.
1 Pascal Ackermann (Ger) Bora-Hansgrohe 150 pts
2 Arnaud Demare (Fra) Groupama-FDJ 98
3 Caleb Ewan (Aus) Lotto Soudal 91
4 Richard Carapaz (Ecu) Movistar Team 50
5 Primoz Roglic (Slo) Team Jumbo-Visma 42
6 José Rojas (Spa) Movistar Team 32
7 Matteo Moschetti (Ita) Trek-Segafredo 32
8 Valerio Conti (Ita) UAE Team Emirates 29
9 Damiano Cima (Ita) Nippo-Vini Fantini-Faizane 28
10 Pello Bilbao (Spa) Astana Pro Team 27
The man in the main jersey remains Valerio Conti. He made it through a couple of scares at the end of last week to keep the maglia rosa for the rest day. He leads former holder Primoz Roglic by 1:50.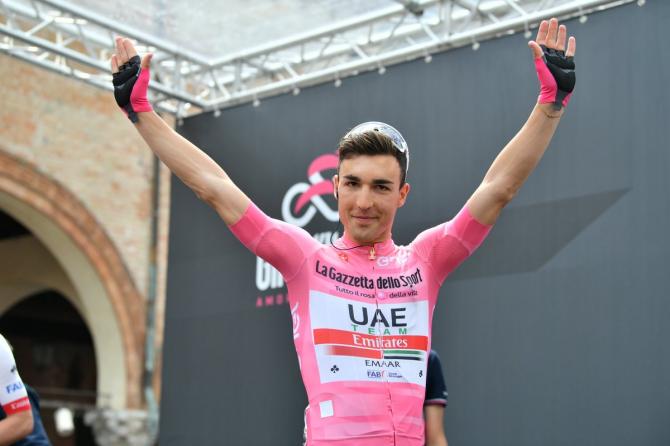 As the riders approach kilometre zero, this is what the overall standings look like.
1 Valerio Conti (Ita) UAE Team Emirates 36:08:32
2 Primoz Roglic (Slo) Team Jumbo-Visma 0:01:50
3 Nans Peters (Fra) AG2R La Mondiale 0:02:21
4 José Rojas (Spa) Movistar Team 0:02:33
5 Fausto Masnada (Ita) Androni Giocattoli-Sidermec 0:02:36
6 Andrey Amador (CRc) Movistar Team 0:02:39
7 Amaro Antunes (Por) CCC Team 0:03:05
8 Valentin Madouas (Fra) Groupama-FDJ 0:03:27
9 Giovanni Carboni (Ita) Bardiani CSF 0:03:30
10 Pello Bilbao (Spa) Astana Pro Team 0:03:32
Thomas De Gendt is sitting on the front of the peloton, but it's unlikely that we'll see him in the breakaway today. He'll be managing things for his team's sprinter Caleb Ewan. The Australian got his first Grand Tour win in Lotto Soudal colours on stage 8 and he'll be hoping to add another to that today.
We're through kilometre zero but the flag has not yet dropped. We're still waiting for the racing to begin. Not sure what the issue is, perhaps a mechanical problem for a rider.
The flag has dropped now, and we're off!
And it looks like we might already have our breakaway for the day. Luca Covili (Bardiani-CSF) jumped off the front and Sho Hatsuyama (Nippo-Vini Fantini) followed and then the peloton sat up. Job done.
Unlike some of the stages that we saw last week, the breakaway took no time at all to form. In fact, it took all of about 500 metres to go.
138km remaining from 145km
The breakaway's lead has grown out pretty quickly to 1:54. The peloton won't give them too much space as this stage is so short.
If you want something to entertain yourself in the early part of this stage, why not listen to the latest edition of the Cyclingnews podcast, with myself, Daniel Benson and Patrick Fletcher. You can find it here.
Both riders in the breakaway are riding their first Giro d'Italia. This is the first time that we've seen Covili in a break during the Giro, while Hatsuyama went on the attack on stage 3. Hatsuyama will be happy to have some company today as nobody went with him when he attacked after 15 kilometres on the third stage.
The gap is still going out to our two leaders and they now have over four minutes on a very relaxed looking peloton behind. No offence to our two in the breakaway, but it's unlikely that they'll be able to keep the peloton at bay today. This is very much a transitional stage, but rider do have to be careful on days like this as accidents can happen when the riders get a bit too relaxed.
While the riders are currently enjoying the sunshine and dry weather, further along this year's course is covered in snow. The Giro's queen stage is scheduled to go up the Gavia, but the authorities are having to work hard to clear it of snow before the start of next week. It's tough going, but they're confident they can get it sorted. Read the full story here.
Miles Scotson is currently leading the peloton, working for Arnaud Demare. Scotson has been putting a good shift on the front of the peloton over the last week in what is his first Grand Tour. Demare has not come out with a win yet, but he has had five top 10 finishes. There are only three more chances for the sprinters, and this stage is one of them, so he doesn't have much time to get that stage win.
Sitting behind Scotson in the peloton are four Deceuninck-QuickStep riders. They really would like a win from today too. They thought that they had one on stage 3, until Elia Viviani was relegated. Interestingly, Bob Jungels is one of the four up near the front. He is last in the line though, so he has a fair bit of protection from his teammates.
12km remaining from 145km
QuickStep and FDJ seem happy with the four-minute mark and the two leaders' advantage has hovered around that number for quite some time.
119km remaining from 145km
QuickStep and FDJ have pulled the gap down from just under four minutes to 3:19.
Interestingly, the two teams that do have sprint wins, and the team of race leader Valerio Conti, are nowhere near the front at the moment. There is no pressure on them at the moment and they can force the other teams put in the effort. CCC Team, with Jakub Marezcko, is another team helping to set the pace.
After a strong of top-five finishes, Caleb Ewan finally got a stage win at this year's Giro d'Italia in Pesaro on Saturday afternoon. He was by far the fastest in the bunch sprint and he will be a big favourite for the win today. This is what Ewan had to say about today's stage.
Of course, Ackermann is a big favourite for today, too. He has won two stages, he leads the points classification and his worst finish in the sprint stages is fourth. He was involved in the same crash as Primoz Roglic earlier in the race, but he doesn't seem to be too badly affected by it.
This person is living their best life right now, sitting in a camp chair and watching the Giro d'Italia go by. What more could you want? Other than live text coverage from Cyclingnews, of course.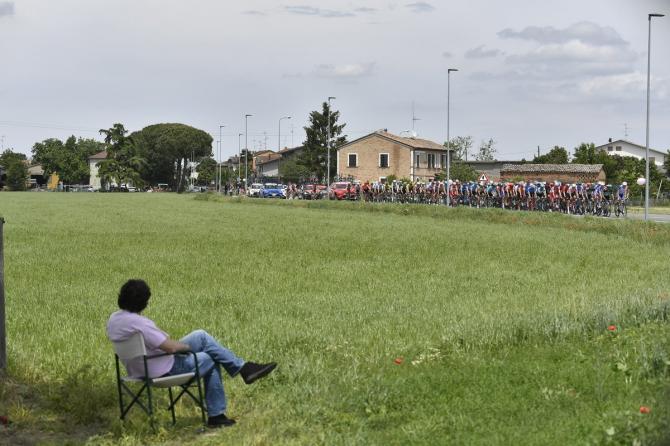 Today should be a relatively safe day for the general classification riders, which I'm sure plenty of them will be happy about. The GC had quite the shake up in the time trial on Sunday with Primoz Roglic the big winner. The first big mountain stages are almost upon us, when things will likely shift around again. Barry Ryan wrote this great piece on the current lay of the land in the GC and why things are not over yet.
Hatsuyama is sitting right on the wheel of Covili in the breakaway, some might say too close. The pair are trundling along as the distance clock ticks under the 100km to go. They have just 2:54 on the peloton as the bunch edges nearer and nearer.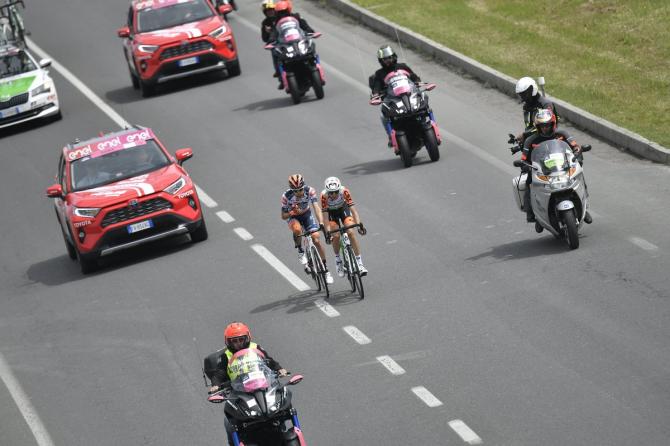 At the moment, the riders are well behind schedule with an average speed of just 38kph. I mean, with some brutally long stages last week, who could blame them, but it means that we've still got 94 kilometres to go.
Today's stage is short enough that there isn't actually a feed zone for the riders. There are two intermediate sprints, but they are some time away. Does anyone have any good book recommendations?
I mentioned a few of the big favourites for today's stage. Other riders to keep an eye out for are Giacomo Nizzolo, Matteo Moschetti, and Davide Cimolai. Of course, Fernando Gaviria and Sacha Modolo abandoned the race last week so they will not be in the mix in today's finale.
The two riders in the breakaway will be adding to their tally in the overall breakaway competition. Covili started at zero today while Hatsuyama started on 144 following his stage 3 breakaway. Neither of them are anywhere near the competition leader Marco Frapporti, who won the classification last year.
1 Marco Frapporti (Ita) Androni Giocattoli-Sidermec 620
2 Damiano Cima (Ita) Nippo-Vini Fantini-Faizane 564
3 Mirco Maestri (Ita) Bardiani CSF 374
4 Giulio Ciccone (Ita) Trek-Segafredo 221
5 François Bidard (Fra) AG2R La Mondiale 214
6 Lukasz Owsian (Pol) CCC Team 195
7 Sean Bennett (USA) EF Education First 151
8 Will Clarke (Aus) Trek-Segafredo 150
9 Sho Hatsuyama (Jpn) Nippo-Vini Fantini-Faizane 144
10 Louis Vervaeke (Bel) Team Sunweb 134
There is a hint of wind in the air and it has put the nerves into a few of the teams. A few more of the sprint teams and the GC teams have moved closer to the front of the bunch, just in case things begin to break up.
The peloton has relaxed now and a few teams drop back down the order. Doesn't appear to be any serious risk of crosswinds happening.
Bora-Hansgrohe has kept one rider up towards the front though, having decided to sit further back for a lot of the opening part of the stage. The pace has picked up a little bit as they bring the gap to the two leaders down to around two minutes, but the riders aren't at panic stations just yet. Still a long way to go. Sorry.
75km remaining from 145km
If you haven't listened to the latest Cyclingnews Podcast, why not? It's ok, I'll forgive you if you listen to it today. It's here. Don't worry, you'll have plenty of time to listen to it and come back for the last 50k of today's stage.
Meanwhile, the Giro d'Italia race director Mauro Vegni has said that there is a 60 per cent chance that the race will go up the Gavia next week. You can read more about the clean up efforts here and Vegni's comments below.
"As things stand today, there is a 60% chance of being able to ride the Gavia. If the weather remains favourable, we are certain that the stage will be unchanged. Otherwise, we have an alternative route which does not involve two climbs of the Moritirolo."
The moto with the white board goes back to the peloton to tel the riders that the gap is just 2:16. The peloton has kept this two-man break on a very tight leash.
Today is one of three last chances for the sprinters to get a win. Tomorrow is another and the last one is tucked away between the mountains of the final week. It's likely that a lot of the fast men won't be contesting that finale on stage 18. Many are talking about leaving the race after tomorrow's stage so they don't have to toil in the mountains.
Speaking with Eurosport, Pascal Ackermann says that he'll probably try to take the sprint from behind after losing out in the last couple of sprints when he and the team decided to take things from the front. With a laugh, he also says that there is no need for the team to work today given that there are other teams looking for the win that they've already got.
It's worth noting that Luca Covili, who is in the breakaway today, is from just up the road from today's finish in Modena so he's likely got family along the route or at the finish line. Victory is highly unlikely for him or his companion, but you can't discount the pride he'll feel riding through his home region at the front of the race. It will be a big moment for the 22-year-old.
If things go as usual, the leaders should make it to the final 5-10 kilometres before they're brought back by the peloton. As ever, the bunch will not want to bring them back too soon as that will only encourage some late attacks, which they won't want.
His telemark podium salute aside, Primoz Roglic's self-containment is such that he makes Miguel Indurain seem like Conor McGregor. In Espelette last July, for instance, after Roglic had lost his place on the Tour de France podium in the final time trial, journalists hurried to his team van expecting to interview a man overcome by the emotion of falling short at the last. Instead, they found Roglic as composed as ever. "I did what I could," he shrugged.
Read more here from Barry Ryan on Primoz Roglic during yesterday's rest day.
Thomas De Gendt posted this picture on Twitter earlier, of the profile stuck to his handlebars. He said it was the "most useless profile sticker" he'd ever seen. I'd say he'd have been better with a kindle stuck to his handlebars to pass the time. (Other e-readers are available).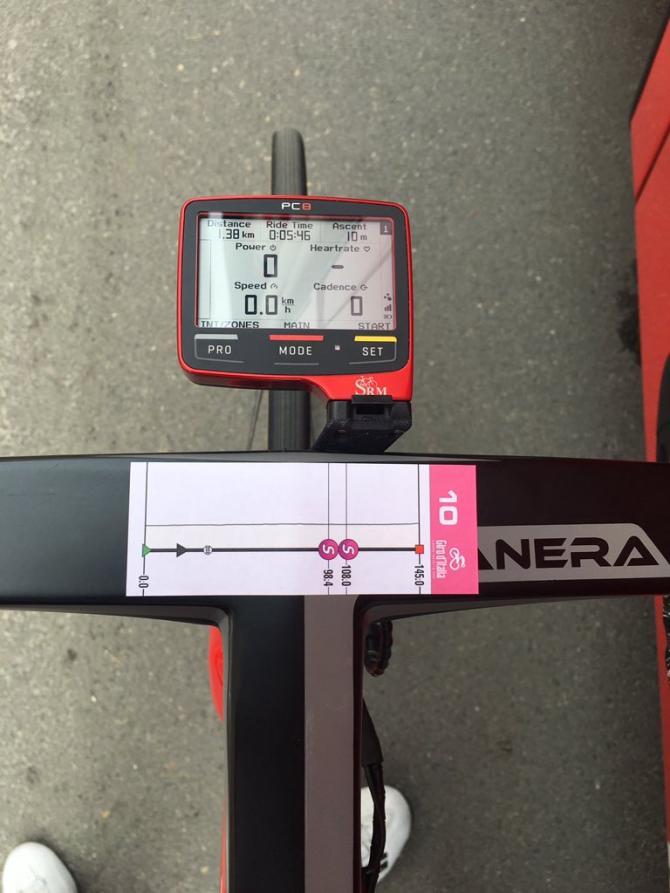 I have been reliably informed by a colleague that the riders are currently 20 minutes behind schedule. The average speed has actually dropped to 37.8 over the second hour of racing.
46km remaining from 145km
The leaders are approaching the first of two intermediate sprints and their gap has been reduced to 1:37.
There is no contest in the breakaway for the intermediate sprint and Covili rolls through with Hatsuyama in his wheel. Back in the peloton we see the most action for the entire day with Bora-Hansgrohe and Groupama-FDJ going up against each other for the six points available for third. Arnaud Demare takes the points ahead of Pascal Ackermann to close the gap marginally in the points classification.
There will be no such action at the next sprint as there are no points available for the ciclamino jersey.
Hearing news that Enrico Battaglin has been involved in a crash and he came down pretty hard. It has not been a great Giro d'Italia, with four of their riders being involved in that big stage 4 crash. Daniel Navarro had to leave the race after that due to a long list of injuries. Fortunately, Battaglin is back on his bike but he's in some discomfort.
Adding puncture to injury for Katusha-Alpecin, Kuznetsov has to stop for a front wheel change. No panic, though as there's still 40km to go.
Going back to Battaglin, this is not his first crash at this year's Giro d'Italia. He's already got a few bandages after a crash earlier in the race.
37km remaining from 145km
The leaders go through the second intermediate sprint, with Hatsuyama claiming the full points this time around. Meanwhile, the peloton has closed down their gap to just 35 seconds.
In the bunch Cima strikes out to have a go at taking the final point at the intermediate sprint. Maybe a bit bored, Kluge decides to follow him and eases past him to take the point. Kluge is Ewan's last man in the bunch sprint.
Deceuninck-QuickStep have taken control of the peloton again with Pieter Serry at the helm. Rather than try and knock things off, they're still pulling back the breakaway bit by bit. The duo out front have just 26 seconds and it won't be too long before they're brought back.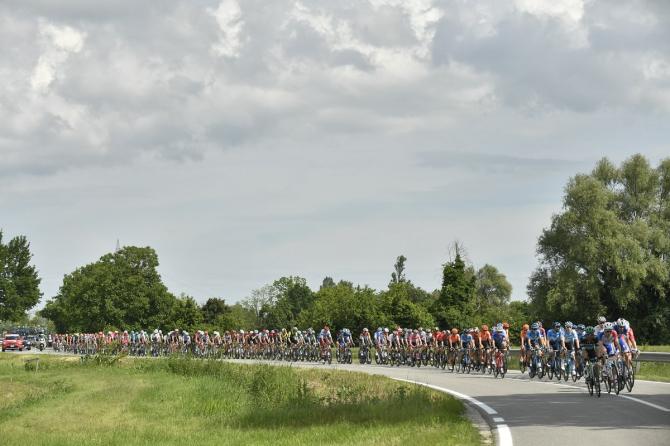 The gap has really come down very quickly in the last few minutes and the breakaway has been caught with less than 30 kilometres to go. It's gruppo compatto and there's no sign of a counter attack just yet.
27km remaining from 145km
With the breakaway back in the bunch, lots of teams have moved to the front. Movistar, Bahrain-Merida, Mitchelton-Scott, Lotto Soudal, Katusha Alpecin, CCC Team and Groupama-FDJ are all coming to the front. Nobody wants to be caught out if something happens.
Pascal Ackermann and his Bora-Hansgrohe teammates are working their way up the bunch. It's not clear if he had to go back to the car or he took a comfort break, but the German was briefly off the back of the bunch. He doesn't look too concerned, though.
There's not much room for his team to get to the front with so many teams taking up the full width of the road. By blocking the road like this, it makes it next to impossible for any chancer to try and go up the road to force the bunch to chase. They're been taking it easy today, and they don't want to burn more energy than necessary.
20km remaining from 145km
As we get closer to the finish, the bunch will speed up and string out again, but they're all bunched up right now. It has allowed Battaglin to get back into the bunch, which is good news.
We've had some very technical finishes in this year's Giro d'Italia, which several of the riders have complained about. Today is a very different prospect with a long straight road leading to the finale. Arguably, they can be tougher with so much more road to use allowing for much more lateral movement from the sprinters.
Israel Cycling Academy are up there near the front of the peloton. They're working for Davide Cimolai. He's had some top 10s but he's not really been at the sharp end in the bunch sprints.
12km remaining from 145km
It is possible to be too relaxed and there's a bit of a moment of panic as some riders almost come together in the middle of the bunch. Thankfully, nobody comes down and we're all back to normal. Panic over.
Bob Jungels puts his hand up for the bunch to tell his fellow riders of an obstacle. We're heading into town and there is a lot more road furniture to contend with.
7km remaining from 145km
The pace is gradually ramping up but it's still not quite as quick as you might expect at this point in the stage. We still have a wide range of teams working on the front.
Almost as if a switch has been flicked, the pace has dramatically changed. Thomas De Gendt is leading the charge and he's stringing the bunch out.
A few teams caught out by the bunch change in speed and FDJ are having to work hard to move up the peloton.
4km remaining from 145km
While the finishing section might not be too technical, the approach to it is and the riders are having to navigate quite a bit of road furniture and roundabouts.
QuickStep are moving up to the front but it's Mitchelton-Scott setting the pace. Jumbo-Visma are also very present near the front.
We can expect the GC teams to move off the front in a moment, but they're dominating things at the moment.
We can expect the GC teams to move off the front in a moment, but they're dominating things at the moment.
As we pass the 3k to go banner, the GC teams slide back and the sprint teams resume the pace setting. Israel Cycling Academy and CCC working on the front.
2km remaining from 145km
Ventoso has attacked.
Lotto Soudal is chasing him down.
With two kilometres left, there are no more turns for the riders to negotiate.
Ventoso is pulling out a lead, but it's still small. Can he hold on?
Ventoso passes under the flamme rouge but the peloton is on his tail.
A big crash. Ackermann has gone down
It looked like Ewan might have enough to come past Demare, but the Frenchman was strong enough to hold his long sprint.
Meanwhile, Ackermann is riding to the line and he's missing a lot of his shorts and jersey. He came down really hard.
It looks like Moschetti was involved and he looks in bad shape. He was briefly standing, with some assistance but quickly needs to sit down. We'll give you an update on his injuries as soon as possible.
A replay from the helicopter shot shows the crash and it appears that Ackermann touched wheels with the rider in front of him, which caused him to go down and then took out Mareczko.
Interestingly, Ackermann's leadout man Rudi Selig managed to take third place, ahead of Ewan. Ackermann still has the ciclamino jersey but that victory for Demare will really narrow the gap and puts him well into contention now.
This is how things finished in today's stage.
1 Arnaud Demare (Fra) Groupama-FDJ 3:36:07
2 Elia Viviani (Ita) Deceuninck-QuickStep
3 Rüdiger Selig (Ger) Bora-Hansgrohe
4 Caleb Ewan (Aus) Lotto Soudal
5 Giacomo Nizzolo (Ita) Dimension Data
6 Davide Cimolai (Ita) Israel Cycling Academy
7 Manuel Belletti (Ita) Androni Giocattoli-Sidermec
8 Giovanni Lonardi (Ita) Nippo-Vini Fantini-Faizane
9 Jasper De Buyst (Bel) Lotto Soudal 0:00:02
10 Jacopo Guarnieri (Ita) Groupama-FDJ 0:00:04
Demare often does well in these long sprints because he can go from a long way out and it payed dividends here. The other sprinters didn't have enough power to get into his wheel, let alone pass him, when he got up to full speed.
Here's a great image of that sprint finish with the riders at full tilt.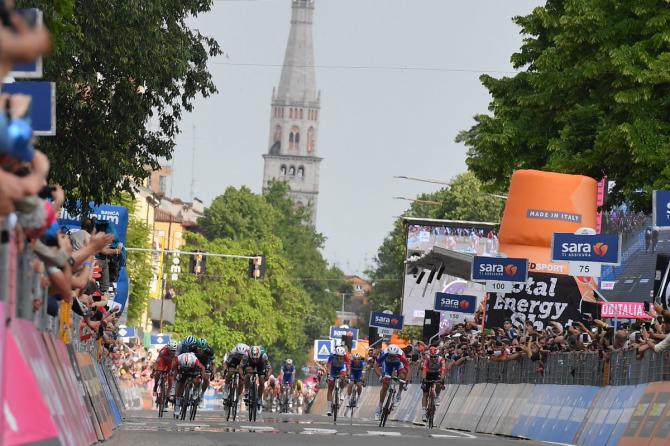 There has been one small change in the GC top 10 with Nans Peters moving up to second on the same time as Roglic. There were some gaps as a result of the crash so that might change when the results are fully calibrated.
1 Valerio Conti (Ita) UAE Team Emirates 39:45:10
2 Nans Peters (Fra) AG2R La Mondiale 0:01:50
3 Primoz Roglic (Slo) Team Jumbo-Visma
4 José Rojas (Spa) Movistar Team 0:02:33
5 Amaro Antunes (Por) CCC Team 0:02:34
6 Fausto Masnada (Ita) Androni Giocattoli-Sidermec 0:02:36
7 Andrey Amador (CRc) Movistar Team 0:02:39
8 Valentin Madouas (Fra) Groupama-FDJ 0:03:27
9 Giovanni Carboni (Ita) Bardiani CSF 0:03:30
10 Pello Bilbao (Spa) Astana Pro Team 0:03:32
Once again, Miles Scotson did a lot of work for Groupama-FDJ in the early part of the stage. He has been doing that throughout the Giro so far and it was a good reward for him to see his team leader take the victory today. This is what he had to say after the stage.
"It's been a tough time for Arnaud [Demare], he's our leader and there's a lot of pressure on him. After the last sprint stages we had, the mood was pretty low on the bus and we were all pretty tired from the effort and we did a lot of work and it wasn't coming off. Today we though do we even ride from the beginning and finally he delivered.

"I saw the crash coming through there after with a few of the sprinters on the ground. I came through a bit later as I had done my work earlier and I think Arnaud kept ahead of it and safe so that's good.

"My role was to make sure a big break didn't go and it was only two guys, so after that just controlling it and making it come back not too early and not use an extra guy. The job today wasn't too hard compared to last week but I think I had the motivation to really work as a team and try again, it's super."
As I said, the GC standings might be changed when the jury accounted for the gaps created by the crash. That has been the case and Nans Peters is back to third place with Roglic in second. This is the updated standings - or not updated as it hasn't changed since yesterday.
1 Valerio Conti (Ita) UAE Team Emirates 39:44:39
2 Primoz Roglic (Slo) Team Jumbo-Visma 0:01:50
3 Nans Peters (Fra) AG2R La Mondiale 0:02:21
4 José Rojas (Spa) Movistar Team 0:02:33
5 Fausto Masnada (Ita) Androni Giocattoli-Sidermec 0:02:36
6 Andrey Amador (CRc) Movistar Team 0:02:39
7 Amaro Antunes (Por) CCC Team 0:03:05
8 Valentin Madouas (Fra) Groupama-FDJ 0:03:27
9 Giovanni Carboni (Ita) Bardiani CSF 0:03:30
10 Pello Bilbao (Spa) Astana Pro Team 0:03:32
Another image of the finish. You can see the disappointment in the face of Elia Viviani. He's been close so many times in the sprint stages but it just hasn't worked.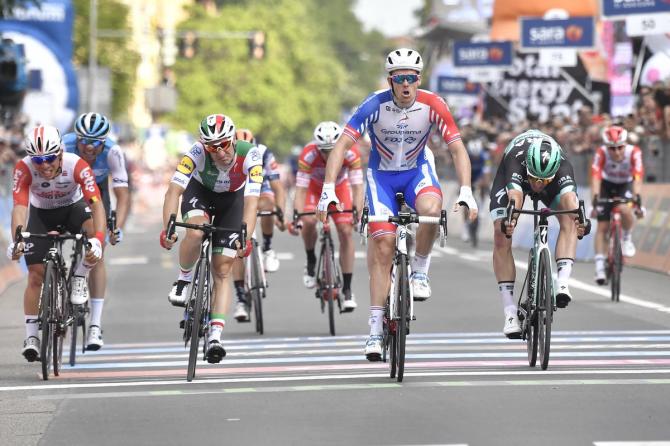 Rudi Selig found himself sprinting instead of Pascal Ackermann after the later came down in a crash in the final kilometre. After the finish Selig described how the incident happened.
"I think [Pascal Ackermann] crashed off my back wheel as I started my lead-out for him. Unluckily, one rider, I think it was Guarnieri came from the left and blocked me and I had to break really hard then I just heard a really big noise and looked back and saw Pascal on the bottom so it's not a very nice feeling.
"I can see it doesn't look very good, we will see how he is after a shower and then again tomorrow but he is a fighter.
"Today we tried a different way and came from the back after 150 kilometres to preserve some energy and then come with one quick move to the front. Then with 1km to go we were never in the wind but then it's like a poker game, sometimes you win, sometimes you lose."
Trek-Segafredo has confirmed that Matteo Moschetti has been taken to the x-ray truck, which is normally situated near the press room at a Grand Tour. He looked like he came down pretty hard so let's hope that he's not too badly injured.
For more on today's action, along with photos and results, then head to our race report here.
Sign up to the Cyclingnews Newsletter. You can unsubscribe at any time. For more information about how to do this, and how we hold your data, please see our privacy policy
Thank you for signing up to Cycling News. You will receive a verification email shortly.
There was a problem. Please refresh the page and try again.