January sales: the best cycling deals available in the USA today
There are still plenty of great discounts in the January sales, we bring you some of the best deals for shoppers in the US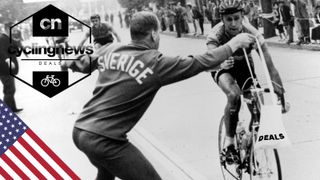 (Image credit: Getty Images)
We are quickly moving through January and there is nothing better than a little treat to bolster your enthusiasm to stick to your new year cycling resolutions for 2020. If your old bib shorts from the last decade could do with a refresh or you fancy a wheel upgrade to keep you rolling smoothly into the new year, retailers are still offering some great deals for you to spend what's left of your Christmas money on.
The January sales are still in full swing and retailers are offering some great discounts on many products. After the Christmas period, you can be forgiven for wanting to avoid the stresses of more shopping so the Cyclingnews team have taken on the arduous task for you.
These deals are for those based in the US, so if you are based elsewhere they may not be available to you. Looking for deals in the UK? Check out our pick of the best January sales cycling deals.
If you are looking to start training indoors, check out our cheapest Zwift setup guide for advice on getting set up.
After-Christmas deals that are still available today
The January sales are often launched well before January even begins and this year, most were launched on December 23rd. While Christmas might now seem like a distant memory, many of the deals remain available. If you missed them then, here they are again.
These aren't the only deals available and for those who have something specific in mind that hasn't been mentioned above, there is still a good chance a deal is waiting for you. Check out our retailer roundup below to find out what they're up to in the January sales.
Alternatively, if you are specifically looking for a new bike for 2020, then our guide on the best road bike deals in the January sales is a must-read, or if you're not yet ready to brave the great outdoors this winter, check out our guide to the cheapest Zwift setup.
Cyclingnews Newsletter
Sign up to the Cyclingnews Newsletter. You can unsubscribe at any time. For more information about how to do this, and how we hold your data, please see our privacy policy