Giro d'Italia 2023 contenders - Analysing the pink jersey favourites after the first week
A closer look at the form and fortunes of the overall hopefuls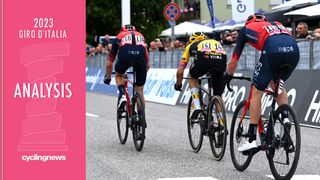 (Image credit: Tim de Waele/Getty Images)
The Giro d'Italia reached its first rest day in a state of upheaval, as the race leader dramatically pulled out just hours after winning the stage 9 time trial.
Remco Evenepoel (Soudal-QuickStep) was the pre-race favourite and appeared to be delivering on that status with wins in the two TTs that bookended the opening week, but now the race has been turned upside down.
Ahead of the Giro, we ranked all the general classification contenders based on pre-race form, and now, with nine days of racing in the legs, we return to assess their progress as we get nearer to Rome.
The general classification has itself provided us with an order, so we'll go through the top 10 and analyse how their races have unfolded so far, as well as looking at their prospects for the next couple of weeks.
Age: 36
Grand Tour experience: Tour de France winner and two-time podium finisher, 17 GT appearances
2023 results: 15th Tour of the Alps, 45th Volta a Catalunya, 88th Tour Down Under
Giro so far: 1st overall
The Welshman finds himself as the surprise leader of the Giro d'Italia heading into the second week. He finished up the opening week second overall after the stage 9 time trial but Evenepoel's withdrawal hands him the pink jersey from stage 10.
Thomas came into the Giro with no results to speak of after the first few months of his season were disrupted by illness, but he appears to once again be finding top form just when people were starting to question him. Thomas made a slight pacing error in the opening time trial but still placed a solid ninth, before finishing second to Evenepoel by a single second in the stage 9 chrono.
In between, he has been present and correct throughout the opening week. Granted, the race hasn't really opened up from a climbing perspective - with a notable non-event of a first summit finish at Gran Sasso on stage 7 – but for someone so plagued by misfortune, just getting through with no hiccups must feel like a victory in itself.
Thomas is the Giro's leader but he cannot be taken in isolation. Ineos are definitely the strongest team in the race, and Thomas is sharing leadership with the equally impressive Tao Geoghegan Hart, who was actually sharper in responding to Primož Roglič's attack on stage 8's late kicker. In fact, the 2020 Giro winner would be in pink were it not for the 19 seconds he lost due to the late crash on stage 2.
Still, Thomas said he produced his best-ever five-minute power output during that attack, which would suggest the 2018 Tour de France champion is approaching some of the form of his life. He has experience and a calm head, while the collective approach is something that becomes an even sharper focus with just one big rival to focus on now.
Age: 33
Grand Tour experience: 3x Vuelta winner, podium finisher at Tour and Giro
2023 results: 1st Volta a Catalunya, 1st Tirreno-Adriatico
Giro so far: 2nd overall at three seconds
Primož Roglič came into the race as one of the two big favourites alongside Evenepoel, and now surely heads into the second week as the rider to beat, if not the rider in the lead.
Roglič is the Olympic time trial champion and has previously built Grand Tour challenges on the races against the clock, but his powers appear to have faded, with 'only' sixth place finishes on the two TTs so far. Punchy climbs are where he's most at home, and he did give everyone a hiding on stage 8.
Only the Ineos duo of Geoghegan Hart and Thomas were able to follow him over the top, and even then they didn't come through to offer a turn on the run-in. In fact, Thomas said he produced his best-ever five-minute power output, while clinging onto the wheel, which itself says a lot about how strong Roglič was that day.
It's worth pointing out that Roglič has suffered a few falls, coming down twice on stage 5, but appears to have come through in decent shape physically, and now his main rival is out of the way. He'll have to be careful about the Ineos collective. When you consider the relative weakness of his own squad – ravaged by COVID-19 and injury ahead of the race – that represents his biggest headache now.
However, Roglič, who won Tirreno-Adriatico and the Volta a Catalunya ahead of the Giro, sees this Giro opening up nicely for him.
Age: 28
Grand Tour experience: 2020 Giro d'Italia winner, six GT appearances
2023 results: 1st Tour of the Alps, 3rd Tirreno-Adriatico, 6th Ruta del Sol, 3rd Volta Valenciana
Giro so far: 3rd overall at five seconds
We've already mentioned Tao Geoghegan Hart in our discussion of Geraint Thomas, but it's worth repeating the notion that the 2020 Giro winner is arguably the stronger of the two Ineos leaders, and would definitely be the race leader, were it not for the misfortune of being stuck behind a crash on stage 2.
Geoghegan Hart lost 19 seconds that day, which will be frustrating but could also have been much worse. As such, he'll take heart from the strength he has shown, both against the clock and uphill.
Fourth in the opening time trial and third on stage 9, he has put his time trialling improvements into practice to put himself into a great position overall. However, it was his effort on stage 8 that most caught the eye. After Evenepoel and the pnik jersey Andreas Leknessund scrambled after Roglič's attack, Geoghegan Hart calmly worked himself and Thomas back, and it was striking that he was the one who was straight on the wheel over the top, with Thomas scrambling across several seconds later.
Thomas himself has suggested Geoghegan Hart is in "the form of his life". After a rough couple of years since his surprise Giro victory in 2020, the Londoner has found his groove again in 2023, gaining consistency and building momentum throughout the early months. The physical and the mental seem to be feeding into one another, too. When a reporter told him, after the opening TT, that he "looked sad", Geoghegan Hart replied: "Nah I'm just calm mate... you might be excited but it's only stage 1."
He's racing with strong legs and a level head. There's a long way to go, and you sense Ineos will have to get tactical at some point soon, but right now Geoghegan Hart looks a credible winner of this Giro.
Age: 24
Grand Tour experience: 4th at 2020 Giro, 6th at 2021 Giro, 5th at 2022 Vuelta
2023 results: 3rd Volta a Catalunya, 2nd Tirreno-Adriatico, 6th Volta ao Algarve
Giro so far: 4th overall at 22 seconds
Third place in the opening time trial raised excitement over João Almeida's prospects, but that has been tempered slightly in the past couple of days. The Portuguese champion was unable to follow Roglič and the Ineos duo on stage 8, and he was a disappointing ninth in the stage 9 time trial.
Having gained time on everyone but Evenepoel on the opening day, the 35km stage 9 test was one of his big opportunities to lay down the foundations of a podium bid but he ended up losing half a minute to the Ineos duo.
Almeida has a strong string of results this season but he hasn't really sparkled at any point. The opening day of this Giro suggested that might be about to happen but the outlook has dulled slightly in the past couple of days.
Still, we're yet to scale any proper mountains so there's a long way to go, and Almeida is certainly there or thereabouts.
Age: 23
Grand Tour experience: 1 appearance, 27th at 2022 Tour
2023 results: 20th UAE Tour, 18th Tirreno-Adriatico, 26th Itzulia Basque Country
Giro so far: 5th overall at 22 seconds, five stages in pink jersey
Andreas Leknessund enjoyed five days in pink after infiltrating the stage 4 breakaway, and remains in the mix despite losing a minute to most of the favourites in the stage 9 time trial.
The 23-year-old Norwegian was deemed a safe pair of hands to which to loan out the jersey but really he is more than that. Touted as a top talent since coming through the Uno-X set-up and then going WorldTour with DSM in 2021, he is a potential stage race contender in the future, and this Giro could yet end up being something of a breakthrough.
His efforts to follow Roglič's scorching attack on stage 8 might have been driven by youthful exuberance and patience may have rewarded him better, but it still showed strength and desire. Leknessund may well come undone, especially when the third week bites, but don't bet against him remaining in the mix for a while yet.
Age: 27
Grand Tour experience: 5th at 2022 Tour, 4th at 2021 Giro
2023 results: 46th Liège-Bastogne-Liège, DNF Tour of the Alps, 9th Tirreno-Adriatico, 5th Volta Valenciana
Giro so far: 6th at 1:03
Aleksandr Vlasov has had a slightly disappointing start to this Giro d'Italia, although there's a long way to go and he'll console himself with the fact that the first true mountains tests are still to come.
The Russian was 10th in the opening time trial and 8th in the stage 9 time trial, which was solid enough, even if it was perhaps a little less than he was hoping for. Instead, with the uphill finishes at Lago Laceno and Gran Sasso failing to produce any action, it was the stage 8 fireworks that put a dent in Vlasov and Bora-Hansgrohe's ambitions.
Vlasov crossed the line in 23rd place alongside teammate Lennard Kamna. They were 34 seconds down on Roglič, Thomas, and Geoghegan Hart but, more worryingly, they weren't even in the first chase group. Seven other contenders came to the finish in the first chase group, with Vlasov and Kamna coming home 20 seconds behind them.
There's a long way to go, but it didn't bode well.
Age: 37
Grand Tour experience: 16 appearances, top result of 2nd at 2021 Giro
2023 results: 7th Ruta del Sol, 14th Tirreno-Adriatico, 6th Giro di Sicilia, 3rd Tour de Romandie
Giro so far: 7th overall, at 1:28
Damiano Caruso's Giro got off to a flat start as he finished 31st in the opening time trial. However, he starts the second week with fresh impetus after placing 10th in the stage 9 time trial.
The Italian spent much of his career as a domestique but came out with a stunning second place finish at the 2021 Giro and appears to still be going strong at 35. He was prominent in the chase behind Roglič and the Ineos duo on stage 8 and the time trial would suggest he's moving in the right direction.
Caruso possesses the sort of engine that should see him come into his own during an attritional third week. He leads Bahrain Victorious alongside Jack Haig, who finds himself down in 16th due to dome lacklustre time trialling, but both riders could be a force when the mountains do hit.
Age: 26
Grand Tour experience: 5 appearances, stage wins at Giro and Tour but no GC pedigree
2023 results: 6th Tour of the Alps, 4th Tirreno-Adriatico, DNF Volta Valenciana
Giro so far: 8th overall, at 1:52
Lennard Kämna was one of the pre-race wildcards, the swashbuckling German knuckling down to the more prosaic graft of a general classification bid for the first time in his career. He has made a solid start so far, with a slightly disappointing 22nd in the opening time trial followed by a more encouraging 12th on stage 9.
He was the one who kicked off the hostilities alongside Roglič on stage 8, so there's every sense that he intends to race with verve and aggression. However, he ended up finishing with Vlasov in the second chase group. As such, it's still hard to read how Kämna's Giro unfolds from here.
Age: 25
Grand Tour experience: 7 appearances, top result of 9th at 2019 Giro
2023 results: 5th Etoile Besseges, 10th Ruta del Sol, 9th at Paris-Nice, 7th Tour of the Alps, 14th Liège-Bastogne-Liège
Giro so far: 9th overall, at 2:15
One of three Ineos riders in the top 10 – and five in the top 14 – Pavel Sivakov is an outsider and tactical card for the British team.
The Frenchman has never quite broken through as a Grand Tour leader and, with top-20 finishes in the two time trials, appears to remain in that position of being just outside the cusp of Grand Tour leadership level. However, he's in the top 10 for a reason and he could be of great use as Ineos take the fight to Roglič.
Sivakov might ordinarily be required to simply work for Thomas and Geoghegan Hart, and that may well end up being the case, but with Thymen Arensman and Laurens De Plus both looking really strong, he might just be used in a slightly more creative way.
10. Jay Vine (UAE Team Emirates)
Age: 27
Grand Tour experience: 2 appearances, 2 stage wins at 2022 Vuelta
2023 results: 1st Australian time trial championship, 1st Tour Down Under, DNF UAE Tour.
Giro so far: 10th overall, at 2:24
Jay Vine came into the Giro as a dark horse, having no experience of riding GC in a Grand Tour but with newfound time trialling ability to go with the climbing prowess he showed at last year's Vuelta.
His showings against the clock – 7th and 11th – have put him in a decent position here, but his bid was dented by a late crash on the slippery stage 5, which saw him cross the line over a minute down. That added to the stage 2 damage - when he was also caught up in a crash - of 19 seconds. Without those losses, Vine would be sixth overall, less than a minute down on Thomas.
However, he'll take heart from the fact that the real mountain stages haven't even begun yet. After his pair of stage wins at last year's Vuelta, there's plenty of excitement over what Vine can do in the big mountains of this Giro, and there could be plenty of scope to recover that lost time.

Thank you for reading 5 articles in the past 30 days*
Join now for unlimited access
Enjoy your first month for just £1 / $1 / €1
*Read any 5 articles for free in each 30-day period, this automatically resets
After your trial you will be billed £4.99 $7.99 €5.99 per month, cancel anytime. Or sign up for one year for just £49 $79 €59

Join now for unlimited access
Try your first month for just £1 / $1 / €1